Nothing beats a warm, calming light facial on your skin, and your mood being uplifted and replenished after a long day out. 
The good news is that you no longer have to schedule an appointment at a dermatologist clinic for such a treatment anymore, thanks to the existence of professional-calibre, quality, portable LED face masks that you can use at the convenience of your own time and home. 
The HigherDOSE Red Light Face Mask is amongst the best of the best, which we're reviewing today to see how it stands out. 
First thing first, let's take a look at the aspects you need to consider before purchasing a LED face mask so you can yield the best results.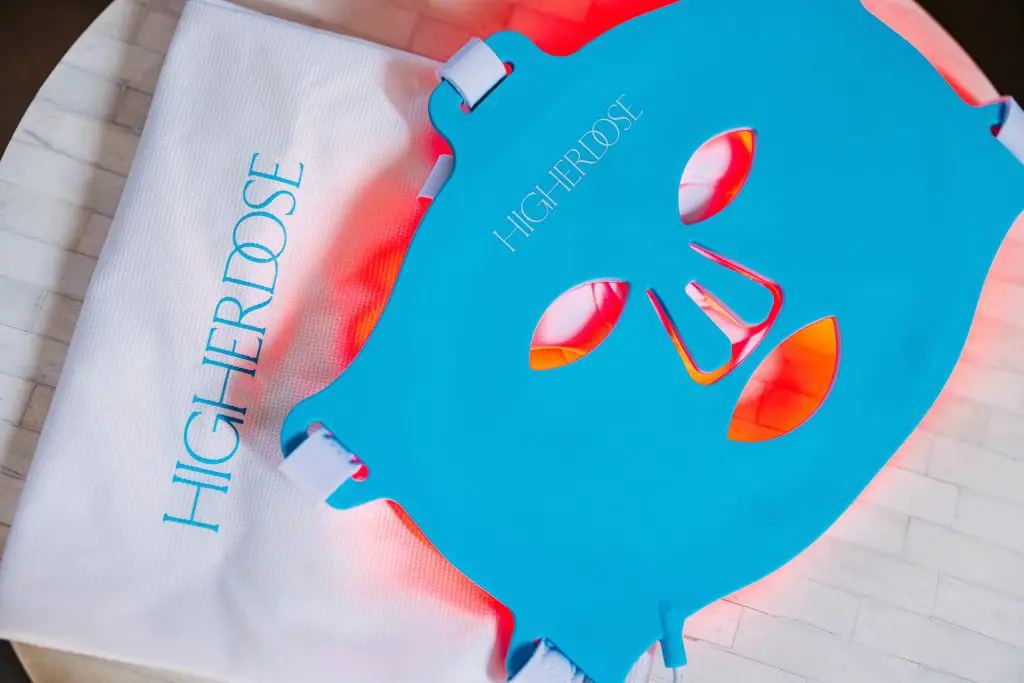 What to Consider When Buying an LED Face Mask?
A LED face mask harnesses the power of (of course) LED technology to address a myriad of skin issues, including dull skin tone, acne, fine lines, wrinkles, and blemishes alike. This is what makes it ideal for users looking to improve their complexion without having to leave the house.
This type of device penetrates deep into the tissue layers, helping your skin better absorb nutrients from your skincare products. Therefore, if you're looking to get the most out of your expensive moisturizers, serums, toners, and many more, an LED face mask could be your best bet.
However, not all LED face masks are created equal. To help choose a suitable mask, below are some of the primary aspects you need to consider before purchasing one.
Multi-Functional Design
If you lead a busy lifestyle and are planning to use the LED face mask on-the-go, then it's important to opt for one with a functional design that enables you to do so. 
Say some masks are cordless, you'll be able to move about freely performing your house chores while wearing them as opposed to being confined to a single space during the treatment.
You should also look for an LED face mask with head straps so you can still use it while standing. Nevertheless, if you choose to use the mask while laying down, make sure that the head straps are removable so you can easily do so. 
There are lightweight and heavier masks available in the market, so you should also bear that in mind when selecting one based on your needs.
LED Light Therapy
Red light therapy, in particular, delivers near-infrared and red light to the skin, similar to the wavelengths of light produced by the sun. With that being said, it does so without involving any damaging UV rays or excessive heat of the sun, making it safe for use on your face as well as other parts of your body. 
It's also proven to be able to reach below the skin's surface more than other forms of light. 
With that in mind, you want to look for an LED face mask that contains at least a red light should you be looking for deep healing—increased collagen production, improved blood circulation—for a healthing glowing skin.
Easy to Maneuver 
An LED face mask that's easily maneuvered ensures it's simple to use, so you're free to benefit from professional results without applying complex techniques. 
Money-Back Guarantee
Products that come with a warranty and/or a money-back guarantee show that the manufacturer is confident about their product, which in return, helps make you more confident about your purchase, too.
HigherDOSE Red Light Face Mask Review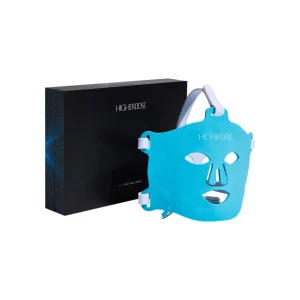 The HigherDOSE Red Light Face Mask is a high-technology, rejuvenating LED face mask that promises to deliver a natural glow to your skin and boost your mood, using 62 red light LED bulbs for intense healing. 
It's brilliantly designed with a flexible shell and no cord, so you can enjoy its spa-grade results whilst completing various house chores, working out, and more. Not to mention that its flexible design also makes it versatile enough to use on other parts of your body, and you can opt for either the 10-minute or 20-minute session. 
Pros 
Its flexible design makes it more convenient and easy to use.
It uses red light therapy—a gentle yet highly effective treatment for damaged skin.
It can also be used on other parts of the body, thus adding to its value.
Delivers visible results after a single session; however, consistent usage is needed to maintain its effectiveness.
Cons
Beneficial only for users whose skin concerns can be addressed by red light therapy.
Doesn't cover the face and the neck at the same time.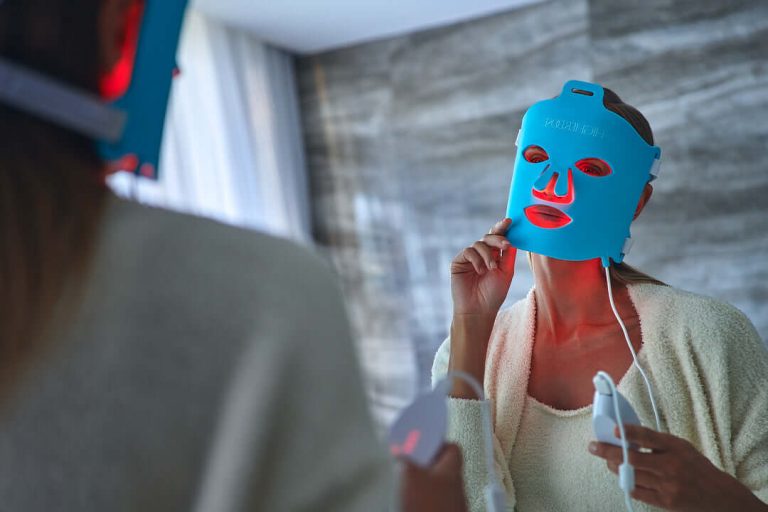 Features & Benefits of HigherDOSE Red Light Face Mask Review
The HigherDOSE Red Light Face Mask is designed with eye holes and comes with extra head straps to increase its functionality for daily use. 
Plus, it's made of medical-grade silicone with LED bulbs attached to fit your face, thighs, arms and more seamlessly. 
1. Red and Near Infrared Light Therapy
The mask utilizes both near-infrared and far-infrared wavelengths to deliver the most gentle yet effective results to your skin, this includes help boosting white blood cell- and collagen production, protecting your skin from UV damage, and many more.
It imparts a gentle, warm sensation that can help relax the muscles on your body. So upon completing your session, you'll feel refreshed and invigorated all over. 
2. Easy to Use
The beginner-friendly HigherDOSE Red Light Face Mask includes an easily programmable controller you can simply press to shut the device on or off. It also comes with two buttons for you to select either the 10-minute or 20-minute session. 
3. Additional Attachments/ Accessories
When you purchase the HigherDOSE Red Light Face Mask, it comes with a carrying bag, power supply and adaptor, USB C to USB A connector, user manual, and a pair of goggles for added protection.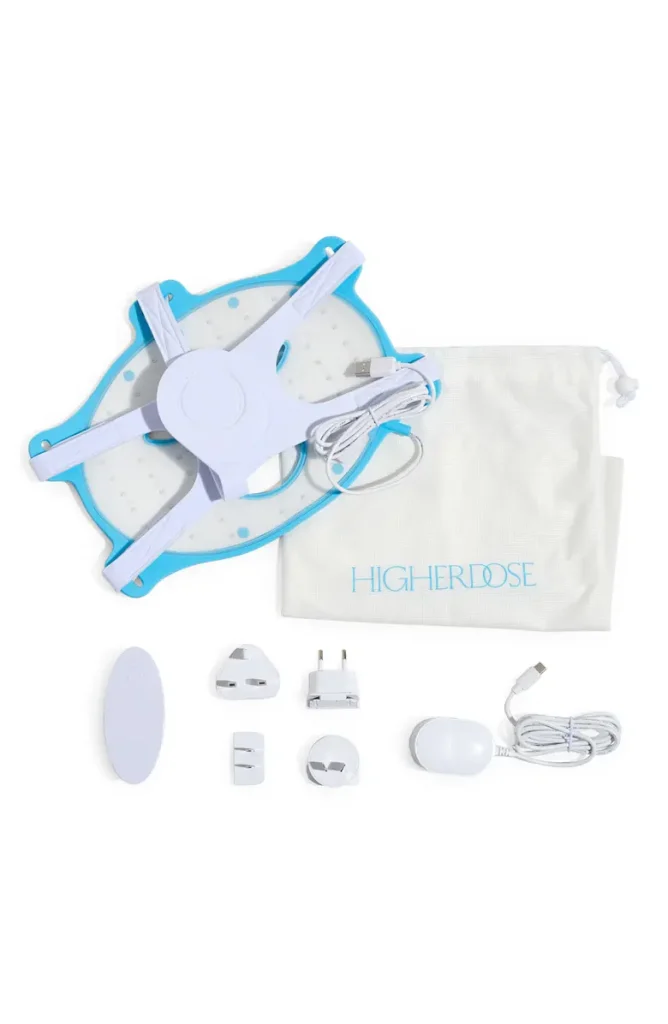 4. Money Back Guarantee
The manufacturer of the mask guarantees it with a 14-day return policy on defective units and a 1-year limited warranty. However, if you purchase it on Amazon, your defective item is eligible for return, refund or replacement within 30 days of receipt.
How to Use the HigherDOSE Red Light Face Mask?
Step 1: Cleanse your face thoroughly with a gentle cleanser and lukewarm water. Avoid using the mask when you have a lot of makeup, heavy sunscreen or creams on your face. You need not use an SPF because it doesn't use UV light.
Step 2: Put on the face mask and depending on whether you're standing up or laying down, feel free to use the head straps, or not. 
Step 3: Select your desired session—10 minutes or 20 minutes—by pushing the relevant button.
Step 4: After your session is done, gently clean the inside of your face mask using a nontoxic cleaning cloth. 
How Often Should You Use It?
You may use it every other day or a few times a week, it's totally up to you. 
Is the HigherDOSE Red Light Face Mask Worth Investing In?
Wrinkles, fine lines, blotchy and dull skin can leave you feeling aged beyond your years, causing you to lose self-confidence. So our answer is yes, you should definitely invest in this device. The HigherDOSE Red Light Face mask is uniquely designed to address many skin concerns related to aging skin and more, with the use of red light, which is scientifically proven to deliver amazing results. So if you're tired of your skin looking tired and washed out, and want a professional-calibre at-home device that can help refresh your skin, get your HigherDOSE Red Light Face Mask today!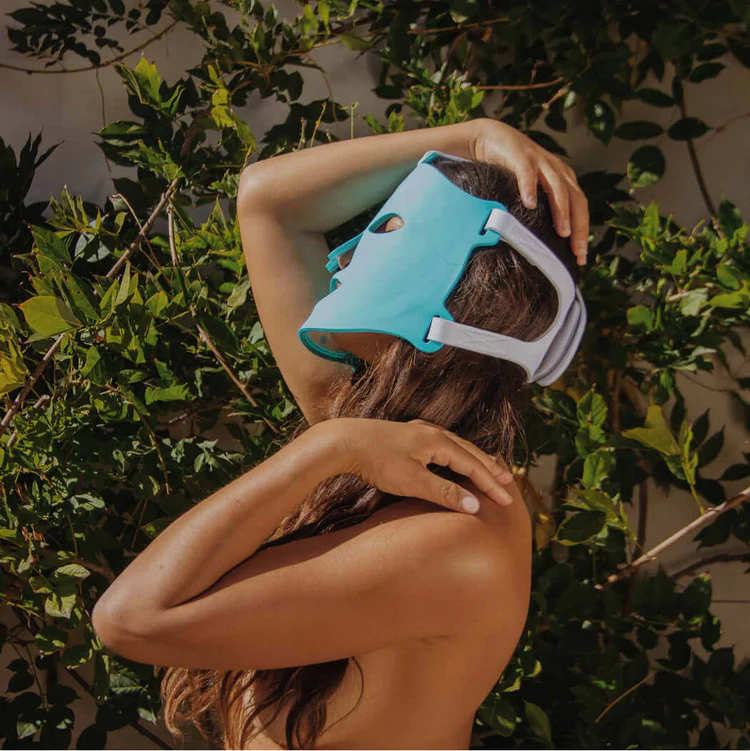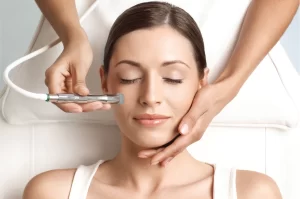 Skin Care
Editor's Choice Microderm Glo Mini Diamond Microdermabrasion and Suction Tool Latest price 2nd Best Choice
Read More
Subscribe to our newsletter