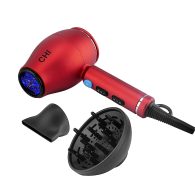 Chi 1875 Series Advanced Ionic Compact Hair Dryer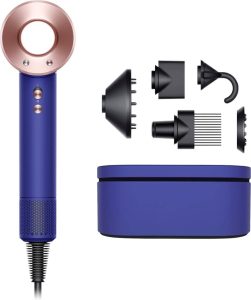 Dyson Supersonic Hair Dryer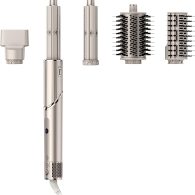 Shark FlexStyle Air Styling and Drying System
If you have natural, curly hair, you can't deny that there's often a love/hate relationship with blow dryers. Of course, they can save you ample drying time, but the rapid, hot winds can leave your originally luscious curls end up feeling frizzy, dry, and looking less than defined. These handy, bowl-shaped hair diffuser attachments distribute air evenly throughout your hair, helping you achieve perfect, defined curls. 
To make this doable for you, our team at Beauty Signal Lab conducted hours of research on the best diffusers for curly hair, evaluating each brand and model by its design, benefits, and the type of hair it works best on. And if you are new to the world of hair diffusers or achieving frizz-free curls in general, this article covers everything you need to know of.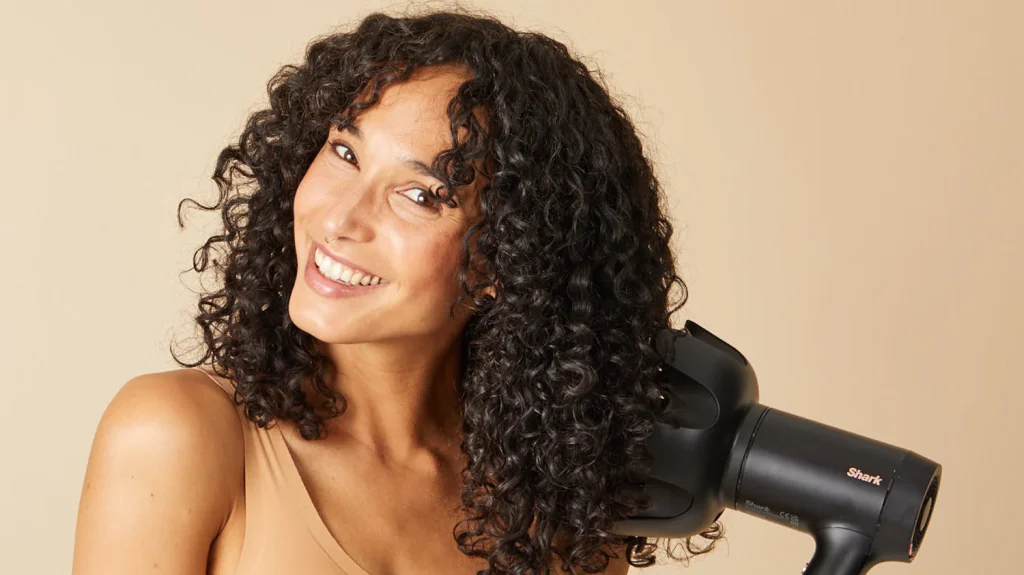 What is a Hair Diffuser?
A hair diffuser is an attachment that either snaps or slides onto your blow dryer to manage the airflow it distributes. Instead of having heat directly pour out onto your hair, the diffuser disperses the air around the curls to enhance definition, mitigate frizz, and add volume. Without a hair diffuser, curly and coily hair is prone to tangle, break, and lose its shape.
The nozzles are usually made of plastic, bowl-shaped and feature prongs inside the attachment. That said, some can look like "fingers" or a sock. Finding a suitable diffuser boils down to your curly type and/or texture.
What are the Benefits of Using a Hair Diffuser?
A diffuser is designed to control the way heated air flow reaches your hair. This allows for less frizzy hair and more defined curls. The best hair diffusers on the market should help dry your hair much quicker than normal air-drying.
10 of the Best Hair Diffusers for Curly Hair that Guarantee Zero Frizz
1. Chi 1875 Series Advanced Ionic Compact Hair Dryer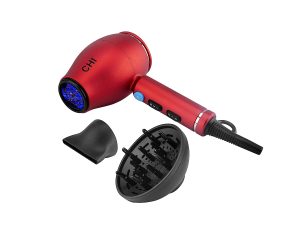 When you are hunting for all of the bang of a quality hair dryer with less bulk, this compact ionic dryer makes for the perfect solution—and certainly, it comes with a handy diffuser attachment. Offering three heat settings and two speed settings, you are allowed to adjust the heat you will be applying to your hair while diffusing the airflow for a more precise drying experience. This may require a bit of a splurge, but trust us, you will be getting a whole drying system, not just a single attachment.
All-in-one hair dryer and diffuser attachment.
2. Dyson Supersonic Hair Dryer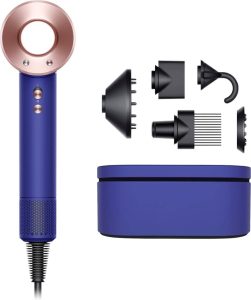 Realistically speaking, this Supersonic hairdryer is quite the splurge, but users who are fond of it say it is worth every penny. This pick from Dyson offers power and heat but does not displace the hair even on the maximum air setting. It is super game-changing because your hair can dry in half of the time with minimal frizz. Its cutting edge technology takes blowdrying to another level by shielding your hair from heat damage with 75% increased smoothness and 132% decreased frizz. Yes, it is expensive, but it has also won the hearts of many by its results, therefore, we think it is worth the spend.
Advanced supersonic hair dryer for fast drying and precision styling.
3. Shark FlexStyle Air Styling and Drying System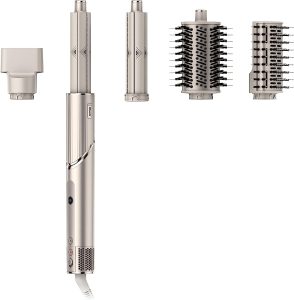 This is not a hair diffuser, nor is it a hair dryer, and it is certainly not any regular hot tool. There are not one, not two, but three varying attachments, this includes a blow-dryer head, two differently sized curling wraps, a round brush, and a unique, flower-shape diffuser. If you are looking for the best hair diffusers for curly hair, look no further. The attachment is a cult-favourite, thanks to its retractable and extendable prongs that help shape your curls to perfection. Not only that, it can also give you the option of wearing your hair smooth should you want to blow it out, or adding back waves with the curl wraps. Most significantly, it measures and regulates the air temperature at a whopping 1,000 times per second, helping you reduce the likelihood of heat damage.
Advanced hair styling and drying system.
4. Drybar the Bouncer Diffuser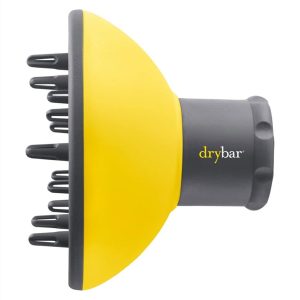 This amazing diffuser receives major points thanks to its large shape that is able to dry big sections of hair at a time. The circular shape cups hair to distribute heat evenly from roots to tips for defined shape and volume. Do not be deceived by its bulky design because it is surprisingly lightweight, making your daily hair wash easier than ever!
Hair diffuser attachment with large, circular shape.
5. Ouidad Made For Curls 3-In-1 Universal Hair Diffuser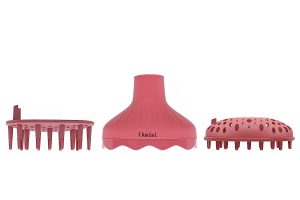 Getting the Ouidad universal hair diffuser is almost like getting a 3-for-1 deal. This set comes complete with three unique attachments you can use to customize the way you style your mane, despite its length or texture. It works by releasing concentrated heat that helps accelerate drying time, helping you prevent frizz. Plus, you will appreciate its universal diffuser design that makes it compatible with most blow dryers on the market (fits nozzles between 1.77" to 2.16" without any rubber ring). Made from high-temperature-resistant silicone and nylon material, rest assured that this is that hair diffuser attachment set that will last you for years to come.
3-in-1 universal hair diffuser.

6. CURLSMITH Defrizzion Hair Dryer with Extra Large Diffuser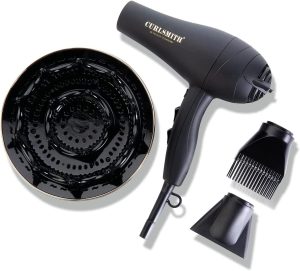 CURLSMITH prides this product as a revolutionary hair dryer and diffuser designed with the needs of wavy, curly, and coily users in mind. The hair diffuser is a solid huge 8", so it covers more hair at once. Using a patented ionising de-frizzing technology and far infrared heat, this tool releases an even airflow that helps keep frizz  and damage to a minimum. What is more? It even has deep reaching prongs at the back so you do not have to hold it while using it.
Hair dryer and 8" diffuser set with a patented ionising de-frizzing technology.
7. InfinitiPro Hair Dryer Diffuser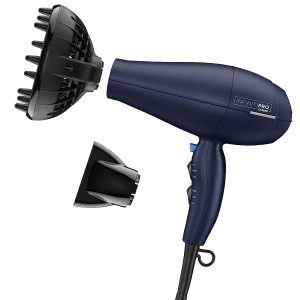 Some hair dryers accommodate curly and coily hair and others are specifically designed for it. This Conair dryer and diffuser set is definitely the latter. It is made with a unique circulating airflow system that is designed to dry and add volume to natural hair without causing heat damage or frizz. Above all that, it offers three heat and two speed settings, as well as a cold shot button to lock in curls, waves, and styles. Being an industry leader for hair styling tools, from hair dryer bonnets to advanced hair dryers, Conair is one brand you can rely on to achieve healthy, gorgeous tresses. 
Hair dryer and diffuser set with circulating airflow system.
8. Bio Ionic Universal Diffuser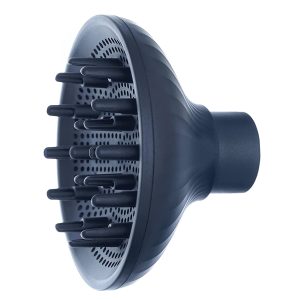 One of the best hair diffusers for curly hair, this lightweight tool comes with 12 air outlets that allow for faster drying time, while promising frizz-free results. You are given the flexibility to control the vents for higher or lower airflow depending on the areas of your hair you are targeting. Bear in mind that it fits over most Bio Ionic dryers except for the Power Diva model.
Hair diffuser with 12 air outlets.
9. T3 Micro Softtouch Diffuser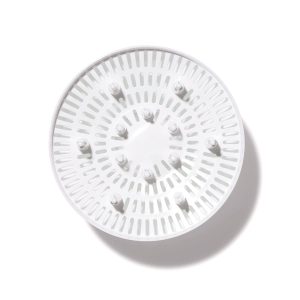 Living up to its name, the T3 Micro Softtouch Diffuser promises to dry your hair and be as gentle as possible to your scalp. It is designed with small finger extensions that help distribute heat, improve volume, and cut down drying time. While it is only compatible with T3 models, it still has garnered a loyal fan base rallying behind it for curly and fine locks.
Gentle hair diffuser attachment with small finger extensions.
10. Hairizone Universal Hair Diffuser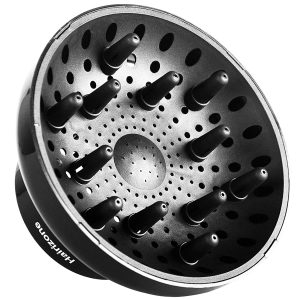 When it comes to thick, dense hair, you are looking for three features: heat distribution, drying time, and frizz reduction. This universal hair diffuser checks all the boxes. The larger sized bowl disperses air evenly and gently without damaging locks or producing additional frizz. Not to mention the prongs hold thick hair in place, while maintaining your natural hair texture.
Hair diffusers with a large sized bowl for even and gentle hair dispersion.
What to Look for When Shopping for a Hair Diffuser for Curly Hair
As mentioned earlier, the shape, size, and/or prong lengths will determine what diffuser works best for your waves, curls, or coils. To make sure you achieve the best possible curls, here are a few things you should factor in when you shop:
A. Hair's Thickness
Certain hair diffusers are capable of accommodating more portions of hair at once than others, or are designed to get closer to your root if you have shorter hair. The fuller your hair, the deeper your diffuser should be. A deep cup will hold more sections of hair while long appendages can reach into thick, full hair. 
B. Compatibility With Hair Dryer
If you are purchasing a hair diffuser that does not come with a hair dryer, it is important to check its measurements to ensure its compatibility with your blow dryer. The best hair dryers for attaching diffusers are often those with long nozzles.
C. Design
Diffuses exist in different types, sizes, and styles. The deeper the cup the more hair it will accommodate. You also want to shop for diffusers with several openings as they dry hair quicker.
How to Use a Diffuser on Curly Hair
Found a diffuser you like? Yay! Now, here is a step-by-step tutorial on how to use it correctly.
Step 1 – Wash Your Hair
You yield the best results when you start with a clean slate. Wash and style it as usual, then apply a leave-in conditioner before you start drying your curls.
Step 2 – Apply A Heat-Protectant
Whether it is a serum, a cream or a spray, applying it before drying your strands can eliminate frizz, breakage, and damage.
Step 3 – Attach Diffuser to Hair Dryer
Once it is snapped or slid on, place your dryer on a low to medium setting. Refrain from using high heat as it creates more damage in the long run, especially for those with curly and coily hair.
Step 4 – Flip Your Head Upside Down
Not only does this help dry hard-to-reach areas such as the nape of your neck, but it also provides more volume. You may start by hovering the diffuser a couple inches away from your curls, and spend 30 seconds or so in each area.
Step 5 – Focus on the Root and Tips
After that initial hover-dry, divide your hair into equal parts. Then, cup each section of hair into the bowl of the diffuser and try to get the attachment as close to your scalp as possible. Next, twirl the diffuser in a circular motion. Spend about 30 seconds or so drying each area before you move on to the next section. The dry time will depend on your hair length, hair type, and hair porosity.
Step 6 – Shake Out Your Curls
If you are looking to add more volume to your hair, use your finger or a hair pick to gently fluff up the roots.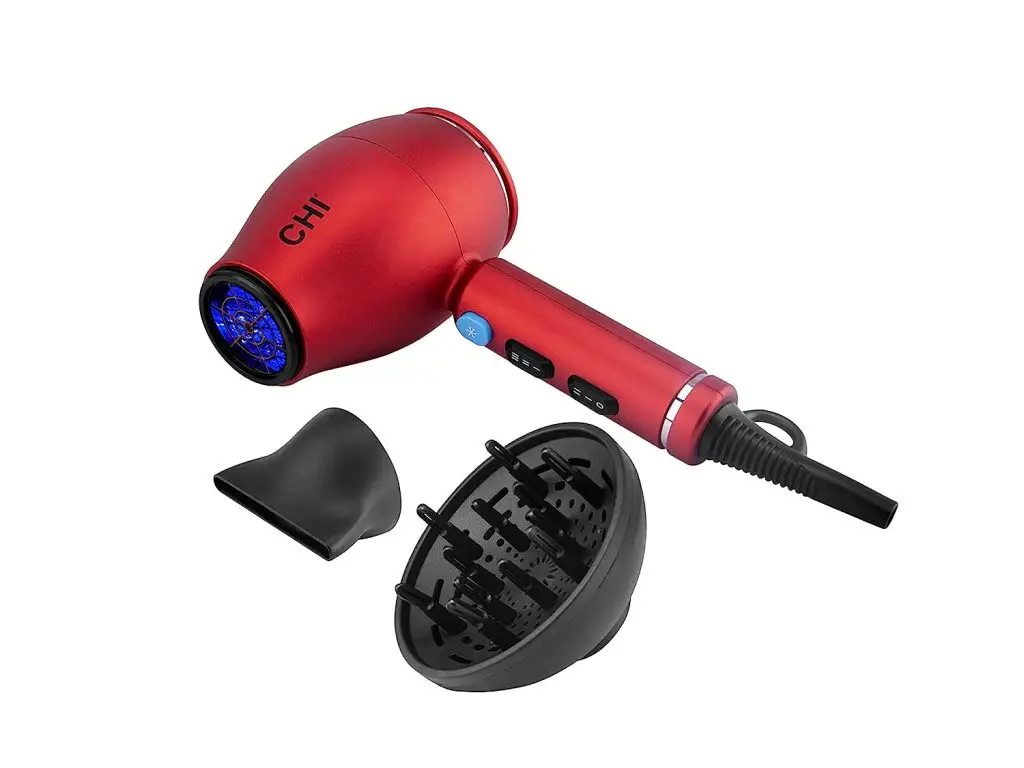 Chi 1875 Series Advanced Ionic Compact Hair Dryer
This hair dryer and diffuser set offers three heat settings and two speed settings, you are allowed to adjust the heat you will be applying to your hair while diffusing the airflow for a more precise drying experience.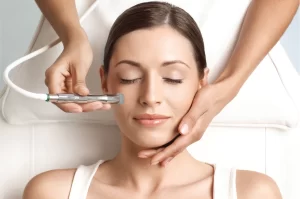 Skin Care
Editor's Choice Microderm Glo Mini Diamond Microdermabrasion and Suction Tool Latest price 2nd Best Choice
Read More
Subscribe to our newsletter