8 Best Hair Steamers To Enhance Your Curls And Coils – Natural Hair Must Haves!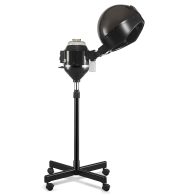 Artist Hand Professional Hair Steamer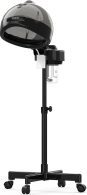 TASALON Standing Hair Steamer
DENFANY 3-In-1 Hair Steamer
My Coily and curly besties know moisture is key to not only achieve hydrated locks, but also an effortless washday, without what feels like hours to detangle your stands. And there is one tool that can help you all these: a steamer. 
Hair steamers help gently lift your hair cuticles to allow your products, such as deep conditioners, curl creams, and leave-in conditioners to penetrate deeper into your hair shaft, thus intensely moisturizing your strands. You can see them as a magical hydrating wand for curls and coils ranging from hi, 4a, 4b, and 4c.
Having said that, it is not always easy to find the best hair steamers if you are needed to the game. And this is where our guide comes in handy: continue reading to find out our top picks and everything you need to know about buying and using one.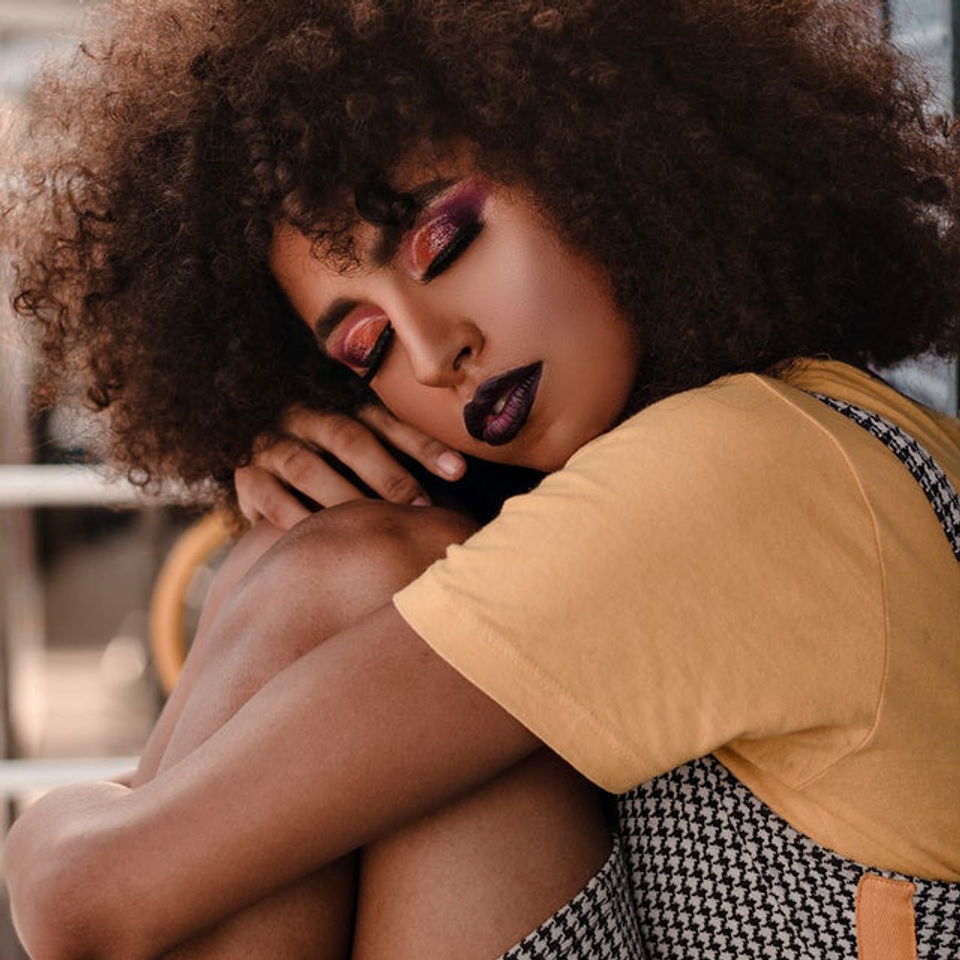 The Benefits of Hair Steamer
We use steam for everything from eliminating wrinkles from clothes to prepping our skin for a facial treatment. But how does steam help hair? You may ask. 
As a matter of fact, adding a hair steamer into your hair care routine benefits anyone with low-porosity hair, as it helps ensure the moisture and nutrients from a conditioner do not just wash down your strands without actually penetrating your hair shaft. You can either use steam prior to your wash or during the cleansing process. If you are prone to dandruff, this strategy can be especially helpful, as steam can stimulate blood flow to the scalp.
With the help of a hair steamer, you only need 5 to 15 minutes to "marinate" your curls with conditioner to yield its benefits. So that means less conditioning time.
8 of the Best Hair Steamers for Professional and Home Use (Updated List)
1. Artist Hand Professional Hair Steamer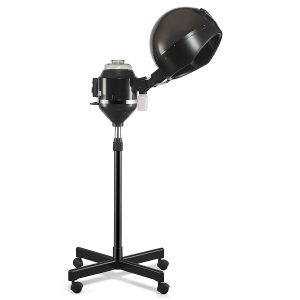 One of the best professional hair steamers if you own a salon, this piece of equipment from Artist Hand is very easy to assemble and offers an adjustable timer that goes up to 60 minutes. So does its temperature which you can easily adjust using the high and low switches. You will appreciate its swivel rolling base that gives it ultimate mobility, allowing you to move it anywhere easily. Besides, it is specially designed to provide your clients with excellent air coverage for a smooth and even drying experience. Moreover, it comes with a vented hood so you can adjust the steam level. 
Professional-grade hair steamer with adjustable timer and temperature.
2. TASALON Standing Hair Steamer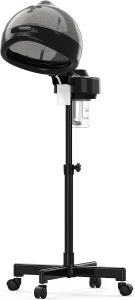 The TASALON standing hair steamer comes equipped with several functions, including a timer setting to make it easier for you to track the treatment. It has four wheels for easy mobility, making it easy for both professional and home use. This smart steamer is capable of keeping hair healthy and adding shine to it by providing ample hydrating via steam. It releases micro-fine mist that allows for deeper absorption and conditioning of the scalp and hair shaft.
Ergonomic standing hair steamer with customizable timer feature.
3. DENFANY 3-In-1 Hair Steamer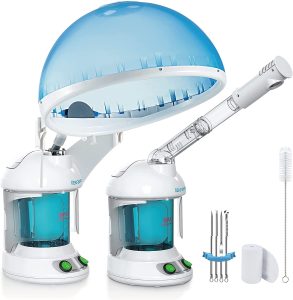 Many girls with defined curls and definition swear by this multifunctional tabletop steamer, which comes with both a cap attachment for your hair and a wand attachment for your face. You are right, this handy gadget offers both hair and facial steam. Designed to release an advanced ultra-fine mist with ozone function, it is ready to steam your hair in seconds. Though bulkier than a cap, it features a bigger dome that helps steam strands of various lengths. We love that it comes equipped with an intelligent safety warning system that alerts you with a beeping sound when the water supply is running low, and shuts off automatically when there is no water left in the tank. 
3-in-1 tabletop hair steamer with an intelligent safety warning system.
4. Elitzia Store Hooded Hair Steamer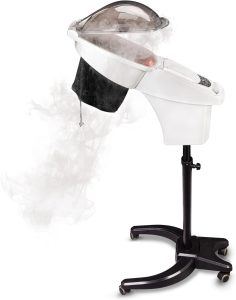 One of the best hair steamers that comes complete with all the bells and whistles—this pick from Elitzia Store features a high temperature and cold mist dual water tank and large-capacity water tower design that can last up to 4-6 hours of steaming session. We like that it offers a series adjustable settings, this includes the fog temperature (low, medium, high), and other non-polar adjustments to meet diverse requirements. Other amazing features include anti-drying design and automatic power-off function, both of which help to ensure an effective and safe hair steaming experience. 
Hooded hair steamer with a dual water tank, anti-drying, and 99-minutes timing design.
5. Buy-Rite Salon & Spa Hair Steamer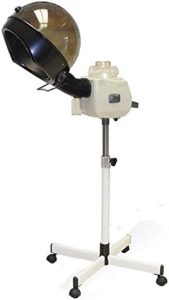 One of the best hair steamers on the market, this pick from Buy-Rite is highly sought after for its ability to generate fine mist and nutrients that penetrate hair shafts seamlessly, leaving you with soft and silky tresses. It works in synergy with the hair's healthy oil to mitigate damage and excessive dryness while giving strands an extra moisture boost. The temperature and timer of this hair steamer can be controlled, allowing you to personalize the settings to yield the best results. Simple yet professional, this equipment makes for a perfect addition to anyone's hair care routine be it at a home setting or professional salon.
Professional-grade hair steamer with smooth rolling casters and adjustable settings.
6. Skin Act Elite Hair Steamer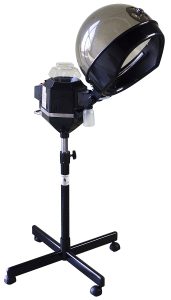 Incorporate this powerful equipment to your hair salon or bring the ultimate spa experience to your home with this Skin Act hair steamer. This unit offers two modes: light steam and full strength for you to adjust the intensity. It comes equipped with a large and quiet plastic hood that covers the hair completely and distributes steam evenly to moisturize locks in order to reveal a healthy and shiny appearance. 
CE-certified hair steamer with large plastic hood for complete hair coverage and even steam distribution.
7. OMWAH Professional Hair Steamer and Color Processor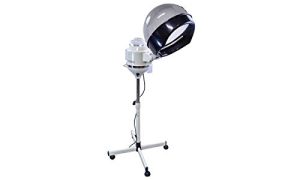 One of the best professional hair steamers that is designed with offering bespoke treatment in mind, this unit from OMWAH allows you to customize the temperature and steam settings according to you or your clients' needs. There is also an automatic shut-off feature for added safety. To ensure comfort and ergonomics, it has a height-adjustable hood that is both telescopic and tiltable. We like that it operates quietly, unlike many other steamers on the market. Easy to move around and store away, this hair steamer is equipped with a sturdy and maneuverable base and features a space-saving design. Therefore, you need not worry about it taking up too much room in your salon.
Professional hair steamer with a telescopic and tiltable hood for ergonomics.
8. Athena Beauty Professional Hair Steamer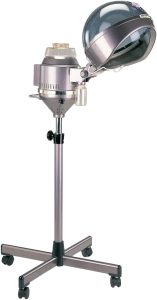 Hailing from Taiwan, the Athena Beauty professional hair steamer boasts a durable base and an adjustable height to fit your liking. The steamer releases fairly low noise and comes with a convenience timer that notifies you when the treatment is complete. It is specially designed to expand hair follicles for them to absorb nutrients from hair oil or color in order so they yield maximum effects of the products used. When used as instructed, you can achieve excellent results for your and your clients' hair. 
Industrial-grade hair steamer and processor with low noise. 

Things to Consider When Buying a Hair Steamer
A. Adjustable Heat Settings
Opting for a hair steamer with adjustable heat settings allows you to decide the temperature to prevent overheating and damage.
B. Type of Hair Steamers
There exists four types of hair steamers on the market:
This type of hair steamer often comes with a sturdy base so you can place it on the table. It is lightweight, compact, and affordable. You can also store it away easily. The perks of using such a steamer is that they often come with a 2-in-1 function, and that is steam for the hair and face. The downside, however, is that the hood height comes fixed.
This type of steamer works wonders for natural hair. It is also incredibly compact and light. That said, the downside is that it can only cover a small portion of hair at one time, hence not the most efficient.
Professional Hair Steamer for Salon
Professional hair steamers typically come with a stand on three to five swivel casters, allowing you to move it around freely. They feature an adjustable hood that covers your entire head and steams in one sitting. Though expensive, they come with guaranteed quality.
Hair steamer caps are extremely portable, and the best part about it is that you can put it on your head and carry on with your chores. However, they do not produce as much mist as the other types of steamers.
C. Timer
Opting for a hair steamer with a timer and  an auto-shutoff function is helpful as it lets you sit through the process without worrying about your hair overheating. It alerts you whenever the steaming is complete so you don't have to keep track of time every few minutes.
D. Hood
Some hair steamers come with an adjustable hood which allows you to tilt or turn as per your height. 
How to Use a Hair Steamer at Home?
Step 1 – Prep your hair with a rich leave-in conditioner or oil.
Step 2 – Place a cotton strip or a thin piece of cloth around your hairline to avoid burning.
Step 3 – Wrap a towel around your neck and shoulders to prevent water from dripping on your clothes and on the floor.
Step 4 – Place the steamer's hood at least 6 inches away from your scalp.
Step 5 – Set the time limit on the unit according to your preference and proceed to steam your hair. Your steaming session should not exceed 30 minutes. 
What is the Difference Between a Hair Dryer and a Hair Steamer?
A hair dryer generates dry heat whereas a hair steamer generates moist heat.
The former is a hand-held electrical device that helps in drying and styling your hair, unless you are talking about hair dryer bonnets, which carry the same working principle, except in standing or tabletop form. The latter, on the other hand, functions to hydrate and condition your hair, thereby offering you a haircare treatment.
You may purchase a hair steamer to use it at home for that ultimate in-salon experience. When used as instructed, you could easily achieve healthy and moisturized hair. Therefore, it is important to opt for the one that suits your needs and go through the features to master its technique.
FAQs
How long should I sit under a hair steamer?

Ideally speaking, you should sit under a hair steamer for 20-30 minutes and no longer than that.

Can I steam my hair everyday?

No. Instead, do it every once or twice a month as excessive steaming can damage your locks.

What does steaming my hair do?

Steaming your hair opens up your hair follicles and allows for better product absorption into the scalp.

Should I wash my hair after steaming?

Yes. If you wish to deep clean your hair, steam before washing your hair with a shampoo. Having said that, if you are looking to deep conditioning your hair, we recommend washing it before steaming.

Can steaming hair lead to hair loss?

No. Hair steam simply does not cause hair loss,  but over-steaming may damage your hair. 

How long does the effect from hair steaming last?

One hair steaming session of about 20-30 minutes may offer you your desired effect for three to four days or till your next wash.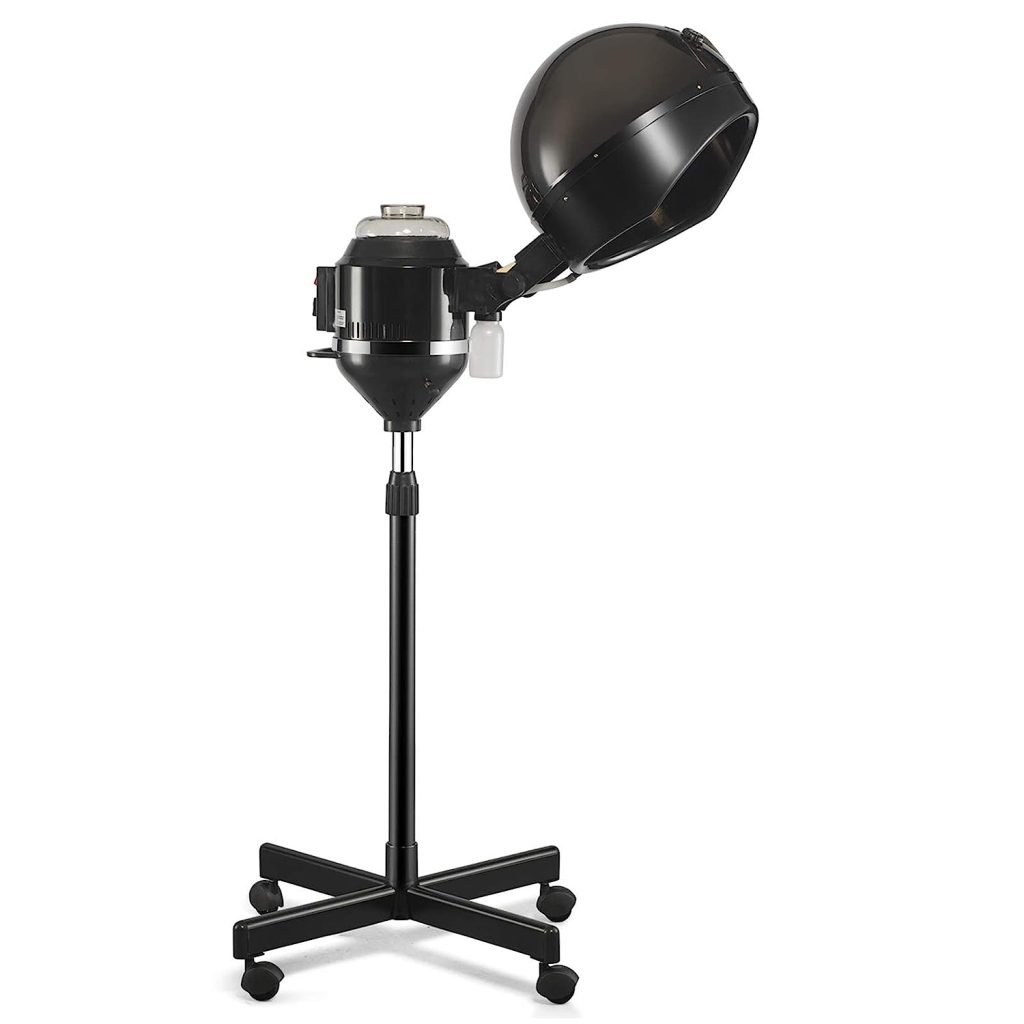 Artist Hand Professional Hair Steamer
This hair steamer from Artist Hand is very easy to assemble and offers an adjustable timer that goes up to 60 minutes. So does its temperature which you can easily adjust using the high and low switches. You will appreciate its swivel rolling base that gives it ultimate mobility, allowing you to move it anywhere easily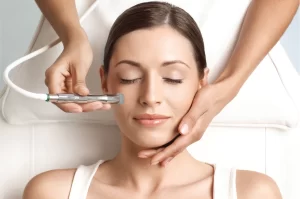 Skin Care
Editor's Choice Microderm Glo Mini Diamond Microdermabrasion and Suction Tool Latest price 2nd Best Choice
Read More
Subscribe to our newsletter