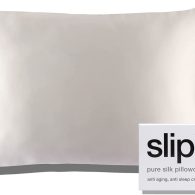 Slip Silk Queen Pillowcase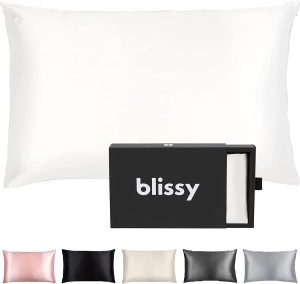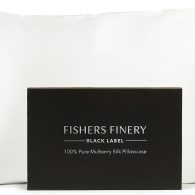 Fishers Finery Silk Pillowcase
Chances are a night of beauty sleep has wreaked havoc on your tresses or skin at some point—but the best silk pillowcases are here to help take away that concern. 
Not only do silk pillowcases feel incredibly soft and luxurious to lie on,  but they also carry notable benefits that will help enhance your sleep: their smooth surface allows your hair and skin to easily glide over the fabric thus less friction on your skin and hair. Little did you know that the friction caused by traditional pillowcases can cause skin creases which may transform into wrinkles if not treated, along with bedhead and frizz that can be a hassle to style the morning after.
Silk pillowcases have become more sought after in recent years courtesy of their benefits to skin and hair. However, it is important to note that not all silk pillowcases are created equal. The most superior of quality is mulberry silk, which is made from silkworms who feed off leaves from the mulberry tree. It is the most durable and softest silk, hence an ideal material for pillowcases. There are grades within silk—A, B, and C as the benchmarks. 
Grade-A silk features long strands that are white in nature with a noticeable sheen. From there onward, there is a different number—starting with 2A and going up to 6A, with 6A being the priciest to produce. 
Here is a lowdown of the best silk pillowcases made with 6A silk, the highest-quality silk there is today.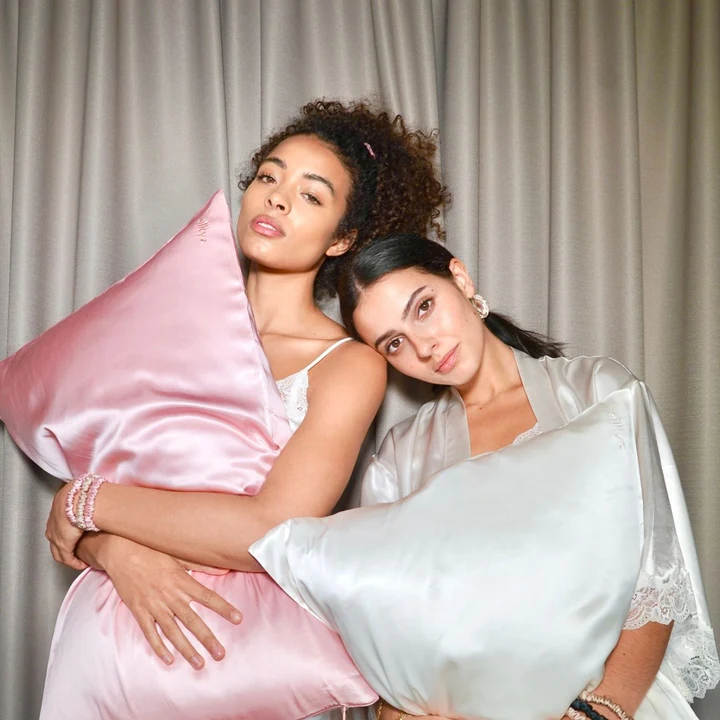 10 of the Best Silk Pillowcase Made With the Highest Quality 6A Silk
1. Slip Silk Queen Pillowcase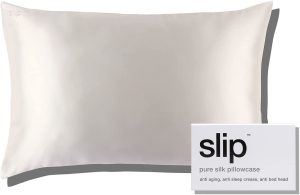 Though all silk pillowcases are beneficial for skin and hair, celebrities like Kourtney Kardashian and celebrity dermatologists like Dennis Gross are swearing by this dermatologist-developed Slip silk pillowcase. This pick is great for keeping hair moisturized and giving it a beautiful shine. The slippery, smooth texture of this silk pillowcase helps minimize frizz, breakage, and split ends. It is a pioneering brand in the silk pillowcase industry and has been around for over 15 years. Though the silk is washable, it tends to become less silky after a regular-cycle wash. Therefore, we highly recommend hand-washing it with the brand's patented detergent that will hold up the pillowcase much better. 
Premium-quality silk pillowcase made with 22 momme mulberry silk.
2. Blissy Silk Pillowcase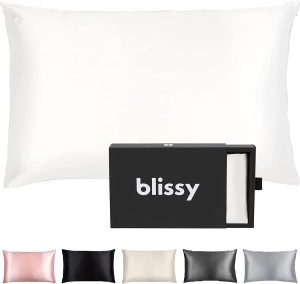 One of the best silk pillowcases with a loyal fanbase, this product from Blissy is created to address thick, curly, and frizzy hair post-bed. This pillowcase is extremely durable and is handmade from pure mulberry silk, with thousands of reviews singing its praises. Though there exists many affordable options out there, this one withstands washes and wears beautifully, and is luxuriously soft and cool to the touch.
Silk pillowcase made with 100% pure mulberry silk and temperature-regulating properties.
3. Fishers Finery 30 Momme 100% Pure Mulberry Silk Pillowcase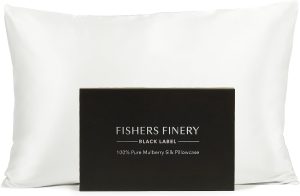 It goes without saying that a good night's sleep can do wonders for your skin. However, did you know that silk pillowcases can help regulate acne? By taking away the rough, irritating, and bacteria-ridden surface of traditional cotton pillowcases you would normally sleep on, you will be surprised to find out how much silk can do for your skin. Fishers Finery produces one of the best silk pillowcases there is—particularly this one made with 30 Momme Mulberry Silk. Not only is the surface gentler and less abrasive, but its breathable, natural fibers are less likely to exacerbate existing acne or make them appear more inflamed. Though it is not the solution to all, at least it is keeping skin irritation to the minimum. 
Luxury silk pillowcase made with 30 Momme Mulberry Silk suitable for users with acne-prone skin.
4. Brooklinen Mulberry Silk Pillowcase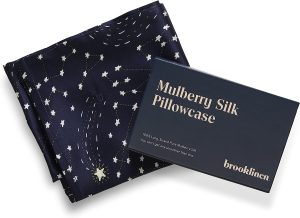 Most of the silk pillowcases on this list come in fairly basic colors such as white, black, and beige. However, Brooklinen is known to be creative in their designs, featuring this funky, limited-edition graphic pillowcase that will revive your bedscape. Besides its exciting colorways, it has all the markers of a genuinely quality pillowcase: sturdy, soft to the touch, and made from 100% Mulberry silk.
Graphic silk pillowcase made from skin- and hair-friendly Mulberry Silk.
5. 25 Momme Mulberry Silk Celestial Silk Pillowcase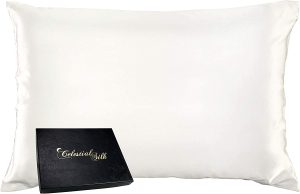 Whether you are a side sleeper or a stomach sleeper, you have probably noticed pillowcase creases on your face at one point or another. Cotton pillowcases tend to hold a lot of friction and tension throughout the night, causing tugging and creasing on your skin. Over time, this can result in wrinkles. A silk pillowcase, however, minimizes the opportunity for wrinkles to form courtesy of its smooth surface and that allows your face to glide over it rather than crease up against it. Being one of the best silk pillowcases on the market, this pick from Celestial Silk features a high momme count of 25, which is more powerful in preventing sleep-induced wrinkles. It is also important to manage your expectations—this pillowcase is not going to completely halt the skin's natural aging process, but it can help prevent some of the tugging and smushing. 
Quality silk pillowcase with 25 momme Mulberry Silk.
6. Tafts Pure Mulberry 6A Silk Pillowcase
If you are looking for something a little more creative, Tafts produce one of the best silk pillowcases with numerous hues and prints. Not only that, they also aim to keep your hair frizz-free and leave you feeling refreshed and revitalized each morning with their line of products. Available in both "envelope" flap and zipper closure styles, this pillowcase is sure to make a luxurious addition to your bedroom. 
6A silk pillowcase with 22 momme Mulberry Silk.
7. MYK Silk Luxury Mulberry Silk Pillowcase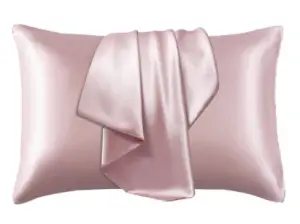 At 25 momme Mulbery Silk count, this pick from MYK Silk is one of the softest we have tested, and many rave that it is a total game changer for skin. The fabric feels substantial and comes with a sheen that makes it look even more luxurious than it already is. At $46,  it is in the middle of the pack in terms of price, but it is as well-made as the more expensive ones on this list. The only drawback is its large tag on the outer corner that can get pretty annoying.
Hypoallergenic 25 momme Mulberry Silk pillowcase.
8. Casper Silk Pillowcase + Sleep Mask Set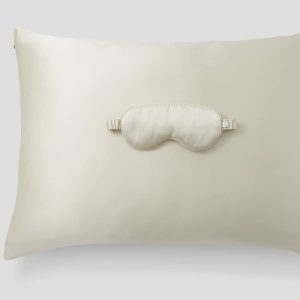 Looking for the perfect gift for your sleep-deprived self? Check out Casper's silk pillowcase and sleep mask set, which comes in standard and king sizes. Made with 100% Mulberry Silk, the pillowcase is luxuriously smooth and breathable, it also prevents the formation of creases on your skin while you sleep. Soft and cool to the touch, if you are prone to sweat while you sleep, this silk pillowcase contains temperature-regulating properties that may help you get a good night's sleep. 
100% Mulberry Silk pillowcase and sleep mask set.
9. THXSILK 100% Silk Pillowcase with 25 Momme Mulberry Silk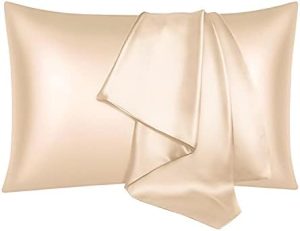 Comprising a high silk count of 25 momme, this machine washable, envelope style pillowcase from THXSILK carries 35% more silk per square inch than any average silk pillowcase. Made with a charmeuse weave, you will adore its supple, luxurious caress. Comes in an envelope enclosure form, this pillowcase is a cult-favourite amongst celebrities and Hollywood superstars for their excellent skin and hair benefits. 
25 Momme Mulberry Silk pillowcase.
10. Colorado Home Co Silk Pillowcase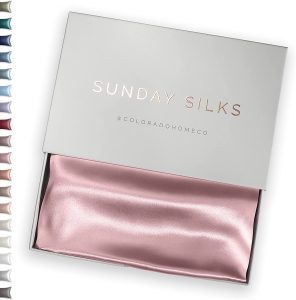 If you love having options, this 100% Mulberry Silk pillowcase is available in a dozen of different colors. Certified by OEKO-Tex, this item contains 18 amino acids that act as a natural organic protective defence for your skin by increasing serotonin levels and collagen production. Your acne-prone skin will definitely love it! Being machine washable, this pillowcase uses reinforced hidden zipper protection technology to make it easier for users to slip it over their pillow.
OEKO-Tex certified 100% Mulberry Silk pillowcase that contains 18 amino acids.
Things to Consider When Buying a Silk Pillowcase
A. Momme Count
When choosing for a silk pillowcase, note the number of mommes—known as the metric used to measure the weight of silk. The higher the number, the softer your silk pillowcase. The average number ranges from 19 to 25.
B. Maintenance
Prior to your purchase, it is important to understand that caring for a silk pillowcase requires much more than just tossing it in the washes with the rest of your laundry. It really depends on the pillowcase you choose, but, in general, you will have to hand wash or use the washer's gentle cycle to clean your silk pillowcase. When it comes to drying, you should only be air drying—either handy drying or laying it flat.
C. Size
Similar to beds, pillows come in varying sizes, including standard, queen, and king. To ensure you yield full benefits of your silk pillowcase, check the size of your pillow and buy the correct size. This goes without saying, a pillowcase that is too small will not cover the entire pillow, and, in contrast, a pillowcase that is too big might slip off.
D. Closure
Zipper closures keep the pillowcase tight over your pillow, making silk's natural wrinkles less noticeable. Envelope closures, on the other hand, have more give.
E. Color
Today you can easily find a silk pillowcase in virtually any shade. From classics like white, beige, and black, to jewel tones like royal blue and orange. Bear in mind that silk is highly susceptible to stains, so opt for a darker color or a busy print if you think the marks will bother you.
FAQs
How do you wash a silk pillowcase?
Product care for silk pillowcases often vary from one brand to another. Today, you can find most that are washable by machine, though it is still recommended to toss it in a mesh laundry bag and put it to wash on a delicate setting. Air drying by laying it flat will extend the lifespan of the product. You should understand that wrinkles are inevitable and they will typically smooth out after a few days.
Are silk pillowcases good for skin?
Definitely! Silk pillowcases are extremely beneficial for skin because they do not pull as much as other fabrics like cotton. This will prevent creasing of the skin and the formation of fine lines and wrinkles over time. Also, because silk is less absorbent, silk pillowcases will not absorb as much skin care product as other pillowcases might, leaving products on your face so they can do their job overnight.
Why are silk pillowcases good for hair?
Silk pillowcases are beneficial for the hair just like how they are to the skin, by reducing tugging and pulling. Silk is smooth and soft by nature, hence causing less friction and static on the hair. Friction from traditional cotton pillowcase or other fabrics obstruct the cuticle layer, leading to frizz, tangles, breakage, and dry strands. With silk, hair slides on the pillowcase instead of producing tension. 
The benefits do not stop there, though. Aside from curls, straight strands will notice significantly reduced static when sleeping on silk, too. They also help prolong a blowout you had done with your favourite hair dryer the night before because silk encourages the outer layer of the hair cuticle to lay flat, maintaining your style and keeping your tresses looking and feeling smooth.
Are silk or satin pillowcases better?
They are both different. Silk is a naturally occurring, organic fiber whereas satin is an artificial material, commonly made from polyester. The former is certainly the more luxurious option hence the higher price point. Satin makes a great, budget-friendly alternative that offers more or less the same effects. However, if you have sensitive skin or are prone to irritation from synthetic fabrics, it will be worth investing in silk.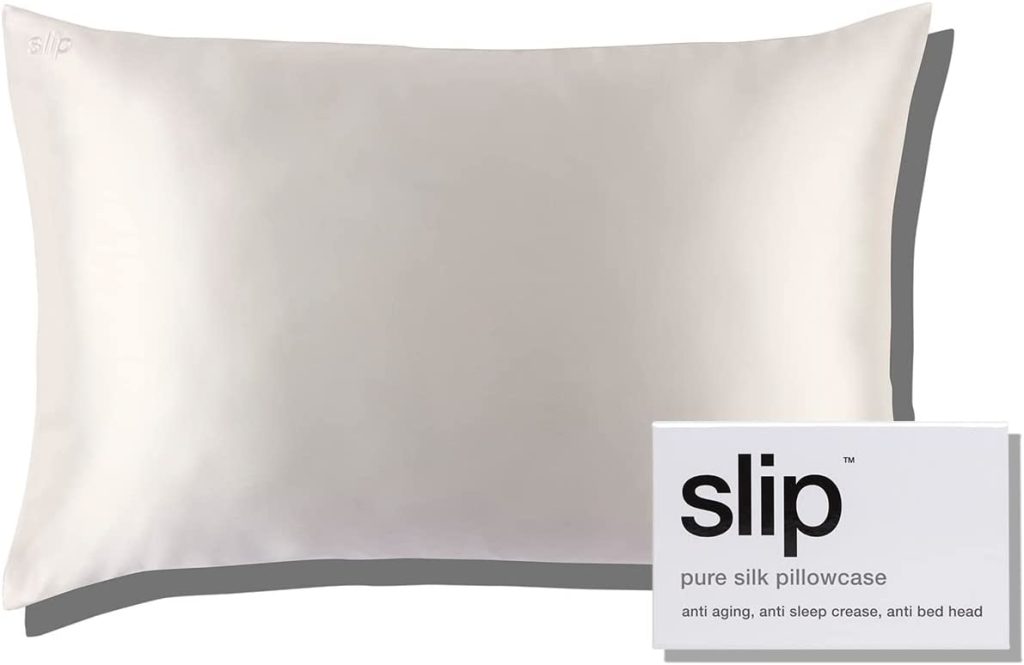 Slip Silk Queen Pillowcase
Though all silk pillowcases are beneficial for skin and hair, celebrities like Kourtney Kardashian and celebrity dermatologists like Dennis Gross are swearing by this dermatologist-developed Slip silk pillowcase. The slippery, smooth texture of this silk pillowcase helps minimize frizz, breakage, and split ends.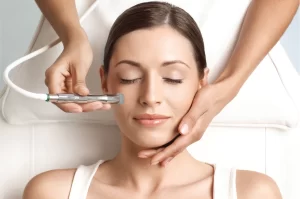 Skin Care
Editor's Choice Microderm Glo Mini Diamond Microdermabrasion and Suction Tool Latest price 2nd Best Choice
Read More
Subscribe to our newsletter