Do you really know your hair brushes? We can bet you don't know what are the many types of hair brushes available in the market. Most people would just purchase random type of hair brushes that could give them the look they desire and be done with it.
But in order to fully utilize the many hair brush types, you'll need to know the different types of hair brushes and watch yourself pull of any hairstyle you desire!
Let's introduce you the things you need to know about brushing your hair before finding out what are the different types of hair brushes available.
Tips to brush your hair the correct way
You probably didn't know there are ways to brush your hair correctly, right? Along with using the right types of hair brushes, there's a proper way of brushing your hair too. We don't blame you – not many of us are well-educated when it comes to hair knowledge like brushing your own hair.
Well, we're sure you usually brush your hair from the root to the tip, which is actually wrong!
Why? Because you will cause your hair strands to go through breakage as your hair follicles gets pulled off. Instead, you should begin brushing your hair slightly a few inches from the bottom and go up slowly to your roots using short strokes.
Another general rule of thumb is to not brush your hair too often because it'll just cause potential hair loss.
Did you know when your hair is wet, it's more fragile than when it is dry. But of course, if you are in a rush with no time to let it air dry (though this is recommended), here are a few helpful tips:
Apply a detangling product on your hair: This helps to smoothen your hair stands, especially if you have thick or curly hair.
Dry your hair with a towel: Once you've washed your hair, use a towel and dry it first or let it air dry for atleast 10 minutes.
Choose the correct hair brush: Like we mentioned earlier, using the right hair brush makes a difference. Consider using a wet hair brush which is created just to brush wet hair. Other than that, you can also use a wide tooth comb.
There isn't much risks involved when your hair is dry compared to while it's wet. But there are still some suggestions such as brushing from the scalp down (roots to ends), however it's recommended for those with straight hair or a little wavy. This enables you to make your hair look shinier and more natural.
Do you really need that many types of hair brushes?
We totally get it – sometimes you think using any type of hair brushes would be sufficient enough, but did you know using the right hair brush makes a whole lot of difference? Not just in terms of looks, but overall hair health too!
For instance, if you have curly hair, of course you wouldn't use a hair brush with a thin comb right? It'll just wont comb properly and you'll end up getting frustrated! Instead, you would use the right curly hair products for your hair.
So yes, using the right hair brush does make a difference – here are the 14 different types of hair brushes you need to know about!
14 different types of hair brushes
Paddle brushes are great for those with long, straight hair thanks to the wide base whereby you can comb quite a handful of hair and smoothen it at the same time. Although it can't create much volume to your hair, you can however tame your endless frizziness.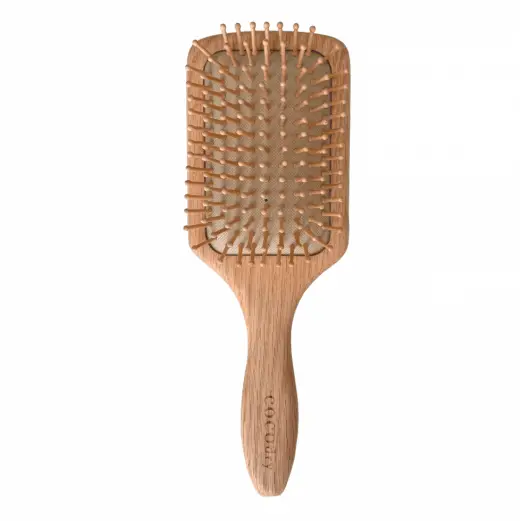 These type of hair brushes are created with various heat-conducting materials. This makes blowdrying much faster. Choosing the right thermal brush can prevent a certain amount of heat damage too.
The bristles of thermal brushes are made with a mixture of synthetic and natural ones to give you a professional finish while blowdrying your hair. Thanks to the metal base, it will heat up your hair in a natural way together with your hair dryer.
If you have tangles all over your hair, a detangling brush would do the trick! Similar to a wide-tooth comb, the bristles are quite hard to tackle those knots and tangles together with the plastic tips found at the ends of every bristle that massages your scalp. This helps to improve the overall blood flow of your hair to your roots!
Another type of hair brushes which helps eliminate static in your hair! Cushion brushes comes with synthetic bristles and a rubber pad which does the job to prevent static but do take note you should only use it on dry hair, not wet hair.
Round brushes are usually used after getting a perm while blowdrying your hair. This is mainly because they are made to smoothen and detangle curly hairstyles, though the size of the round brush affects how tight or lose your curls are.
Despite metal bristle brushes being uncommon, it still exists in the market and are used specifically for hair which are too frizzy. But since it is made with metal bristles, it can be too hard on your scalp, hence why it works really well to combat tangles of any sort in your hair.
Make your hair shiny naturally with the help of a boar bristle brush! These type of hair brushes are great to smoothen your hair's natural oils along every hair strand. It's also why those with greasy hair tend to benefit the most from this hair brush. Besides, boar bristles are great for detangling purposes too!
The boar bristles are gentle enough for all hair types – whether it is curly or straight hair. If you use dry shampoo often, boar bristle brushes would help to remove any leftover reside from the dry shampoo.
Teasing brushes are made to be small and commonly used to provide texture or volume to thin, limp hair. If you need to make your hair appear fuller or more volumized, especially you're experiencing hair loss, a teasing brush would work wonders.
The recommended way to use a teasing brush is to begin from your roots (a few inches from your scalp) and brush towards the scalp.
When your hair is soaking wet, a vented brush would fasten the process when blowdrying. The vents created enable the heat to flow through which means that your entire hair will feel the heat. On the plus side, you will spend lesser time blowdrying your hair so it gets less heat damage too.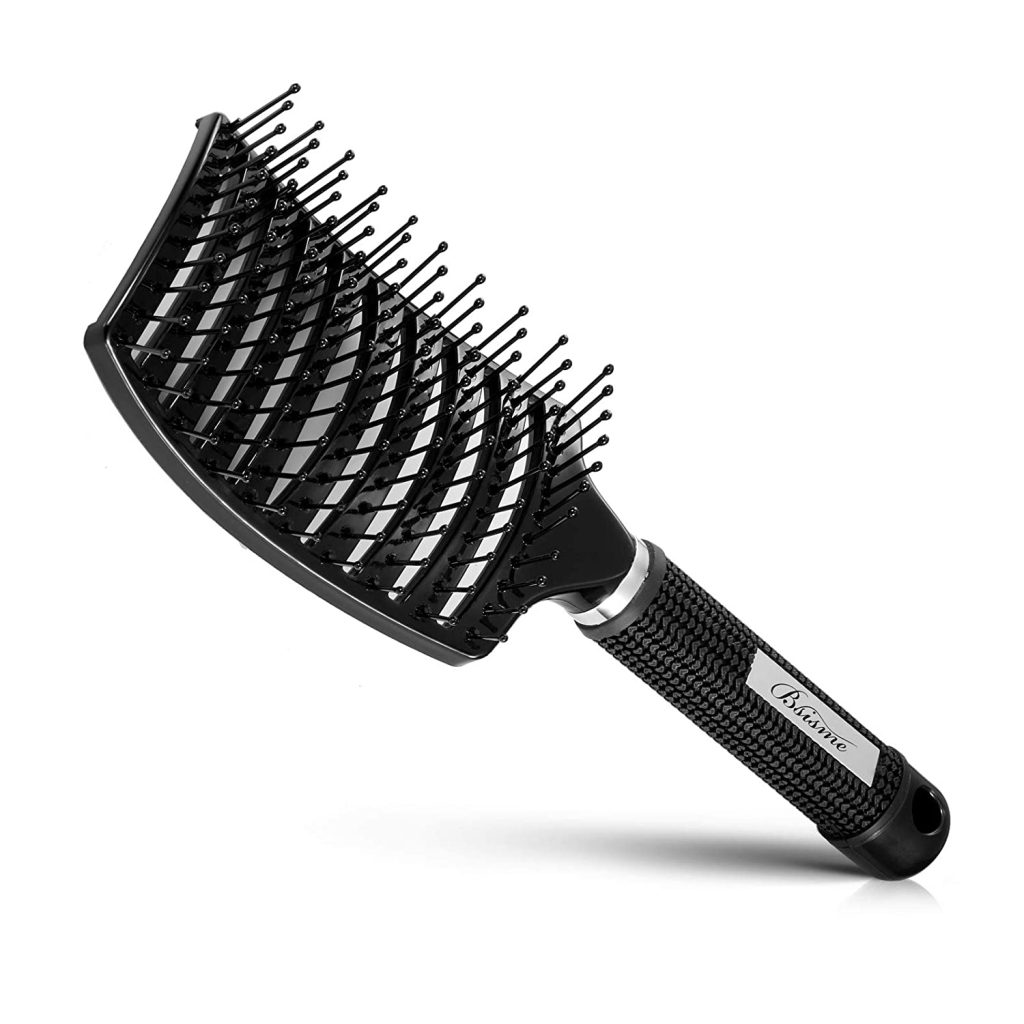 This type of hair brush is made with synthetic nylon bristles which work the best for those with thick hair. The bristles are hard enough to detangle hair too, hence why you can brush thick hair easily without causing any static at the same time.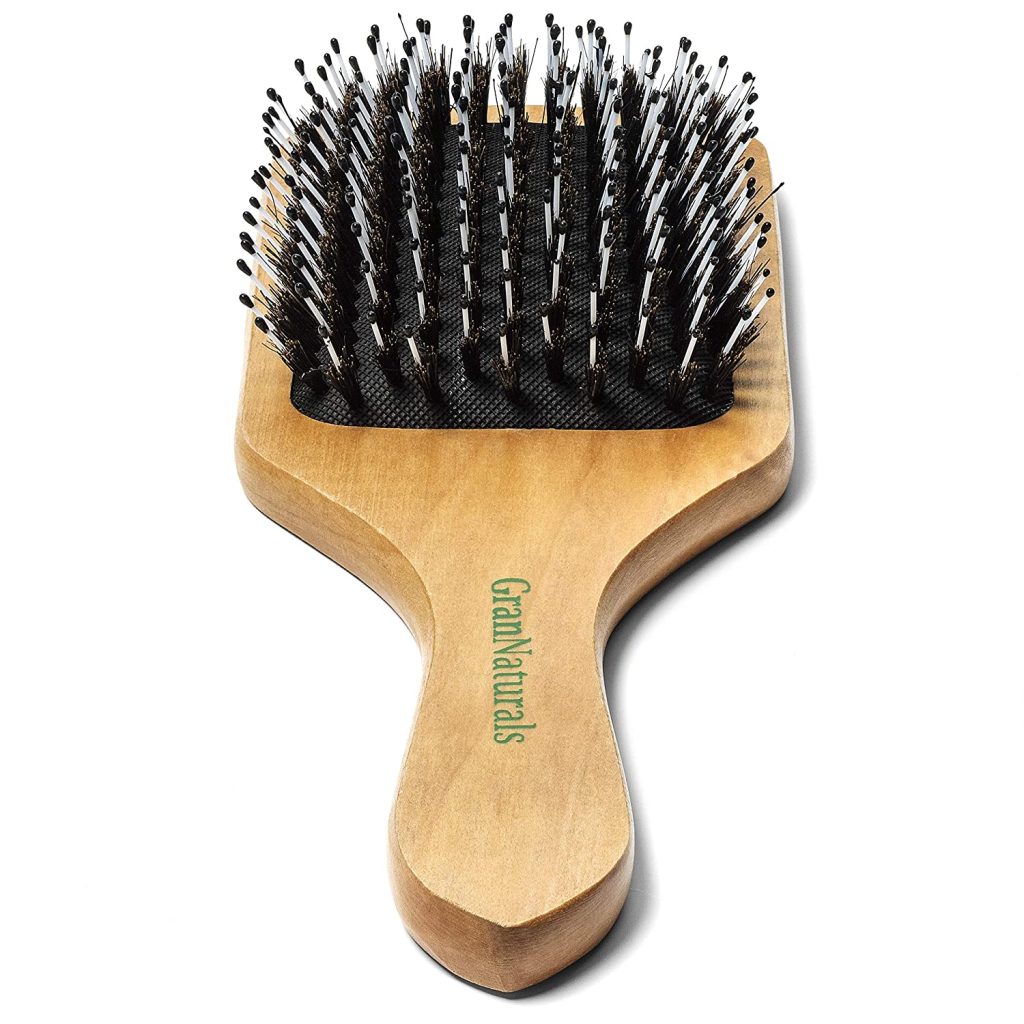 Yup, there are specific brushes designed just for wet hair strands! If you have super textured hair such as insane curls, you should brush your hair while it's still wet. The bristles are usually made to withstand heat, hence you will not experience it melting or breaking when you blowdry your hair.
A mixed bristle brush usually has a combination of synthetic materials such as nylon and natural boar bristles. The synthetic material such as nylon would help prevent any tangles whereas the natural boar bristles help to evenly distribute your hair's natural oils.
These type of hair brushes work great for people with medium or thick hair.
As the name suggests, this hair brush is made ergonomically to make sure it fits the shape of our human head. This type of hair brushes are usually created with a plastic that's lightweight and has various vents in between.
It's best to be used if you want to speed up your hair drying process or when you're travelling. You can even bring it along to the gym!
These type of hair brushes are made with nylon or soft boar bristles. With this hair brush, you can prevent any potential bumps while you're creating a ponytail or a bun. Aside from that, you can also create various sleek hair styles.
We all want perfect hair, don't we? That can be achieved effortlessly with the help of our handy hair brushes! With countless types of brushes available in the market, it can get confusing trying to know which one works the best for you. Just take into account our tips above, and you are good to go!
Be sure to also try out some of these types of hair brushes in order to find out which one works the best for your hair type. After all, every one of us have different hair, so it takes experience to know what suits you, rather than just reading up information about all these hair brush types.
Subscribe to our newsletter