Imagine a tropical-scented body cream that smooths skin, provides fast-absorbing hydration and leaves skin slightly shimmering—that's what Sol de Janeiro Brazilian Bum Bum Cream promises to deliver. 
One of the best-selling and must-haves of Sol de Janeiro, Bum Bum Cream claims to visibly tighten and smooth skin that's lost its firmness whilst imparting a healthy glow. It's infused with ingredients that serve to moisturize moisturize and visibly restore skin's elasticity in areas such as the thighs, belly and arms. What made it a highly-raved-about product is its fragrance, tasteful shimmer and luxurious texture.
We decided to put Brazilian Bum Bum Cream to the test and see if it actually lives up to its name. Below is our verdict.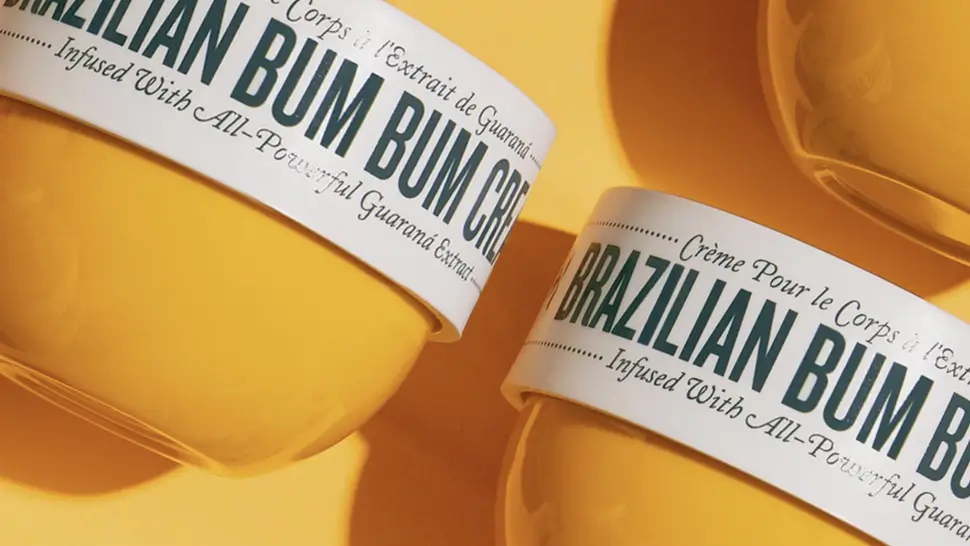 How We Tested Sol De Janeiro Brazilian Bum Bum Cream?
Our team used the product daily for several weeks. Better yet, we applied the body cream right after showering to maximize its moisturizing potential.
How to Use Sol De Janeiro Brazilian Bum Bum Cream to Its Fullest?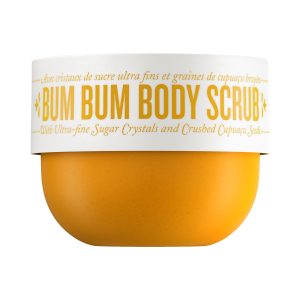 Since the Bum Bum Cream prides itself on firming up skin, improving elasticity, and tackling multiple skin concerns such as roughness, sagging skin, dullness and cellulite, it's meant to be massaged into the skin in a circular motion to promote better absorption.
The moisturizer can be applied onto any body parts, but Sol de Janeiro recommends using it specifically for your arms, legs, belly and buttocks—anywhere that could use a contouring effect of the shimmer and the firming ingredients. 
Bum Bum Cream boasts a buttery, luxurious texture, yet absorbs instantly and seamlessly without leaving a sticky residue on the skin. We also found that a little product goes a long way. 
What are the Benefits of Sol de Janeiro Brazilian Bum Bum Cream?
Sol de Janeiro has harnessed a multitude of nourishing ingredients when producing this body cream. Caffeine-enriching guaraná extract helps skin improve its texture by stimulating microcirculation, which helps to reduce the appearance of cellulite. Cupuaçu butter restores skin elasticity and locks in moisture, while coconut oil functions as a fast-absorbing hydrator. To ensure optimal skin health in the long run, this lotion possesses selenium-rich Brazil nut oil, which helps fight free radicals and support skin's natural defenses. The formula also includes antioxidant-packed açaí oil, which protects the skin from environmental stressors.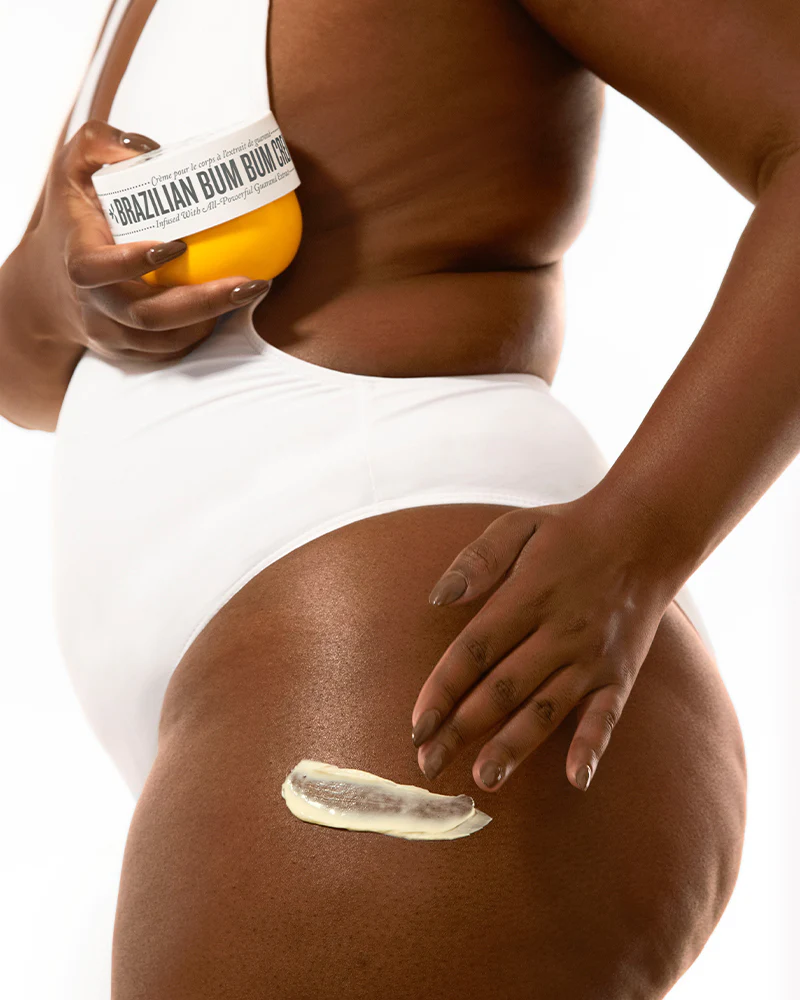 What are the Key Ingredients in this Brazilian Bum Bum Body Cream?
a) Guaraná
Found in Amazon, Guaraná is a climbing plant that has five times more caffeine than coffee itself, and is known for its ability to tighten sagging skin. Other benefits of this caffeine rich guarana include stimulating blood flow, removing excess fluids, and preventing excessive accumulation of fat in cells.
b) Emollients
This cream consists of a variety of emollients, including coconut oil, açaí seed oil, cupuaçu seed butter, Brazil nut oil, and many more. These fatty-acids-rich emollients are able to soften and moisturize dry skin, thereby preventing water loss. Açaí oil is an antioxidant packed powerhouse that can help protect skin from free radicals, hence preventing premature wrinkles and fine lines. Finally, the selenium-rich Brazil nut oil functions to support the skin's natural self defense whilst imparting a healthy glow. 
c) Fragrance
As the brand emphasises the presence of fragrance in this body lotion, we recommend that you opt for other alternatives if you have sensitive skin. This is because fragrance is prone to cause skin irritation. On the other hand, if you love body creams and lotions with fragrance, despite it not doing your skin any favour, go for it!
Is Sol de Janeiro Brazilian Bum Bum Cream a Cruelty-Free Product?
All of Sol de Janeiro's products are formulated with skin-loving ingredients that have long been utilised in Brazilian skincare for generations. These ingredients are sustainably sourced from certified suppliers for the protection of the Amazon Rainforest, hence cruelty-free and vegan. Even better, they're free from phthalates, sulfates and parabens and utilise only recyclable packaging. 
Bum Bum Cream comes in 80% FSC-certified recycled materials, and the container's plastic pieces are recyclable in certain regions in Brazil.
How Much Does the Brazilian Bum Bum Cream Cost?
Sol de Janeiro Brazilian Bum Bum Cream costs $48 per 240ml, $22 per 75ml, and $10 per 25ml. To see if it suits you, we recommend that you start with the smaller jar and move your way up to the bigger one. As mentioned above, a little of the product goes a long way, you can expect to see results with only small amounts of the lotion used. Even when used daily, a full-size jar is able to last several months.
What We Like and Dislike About the Brazilian Bum Bum Cream
Pros
The application of this nutrient-rich body cream is fairly straightforward. It melts quickly into the skin and we love that the shimmer imparts a contouring effect on the skin. When used as a hand cream, the Bum Bum Cream can leave the skin feeling soft even after using tons of hand sanitizer and washing your hands. 
There are mixed results as seen in users when it comes to the product's claim of smoothing and firming the skin. Some users noticed improvement in skin texture when they used this lotion on their thighs, belly and buttocks. Dimples in their skin did somewhat fade and their overall skin texture felt more elastic and hydrated than it was before.
The most popular attribute of the lotion is its addictive scent. We think it's one of the best-smelling lotions out there. The scent is made up of coconut, pistachio and salted caramel—a perfect reminiscent of a tropical vacation by the beach. We also love that the scent is long-lasting without being too overwhelming.
Cons
Albeit its skin tightening ability, the effect isn't much different. The majority experienced a slight countering effect though, courtesy of the shimmer in the lotion, along with the overall healthier appearance of moisturized skin. It makes the skin look great, but does not reduce cellulite.
Some users also reported that the body cream took too long to absorb and left some residual greasiness. If this happened to be your experience, we suggest you give the product enough time to absorb before putting on tight, fitting clothes.
Lastly, some also claimed that the fragrance seemed unpleasantly synthetic or overwhelmingly strong. We believe it's a matter of preference.
Our Final Thoughts On Sol de Janeiro Brazilian Bum Bum Cream
The formula of this body cream delivers long-lasting moisturizing effects, and we love that a small amount goes a long way for that luxurious hydration. All in all, Brazilian Bum Bum Cream is better at preventing sagging skin rather than correcting it, but we find that the tropical fragrance alone make this moisturizer worth trying.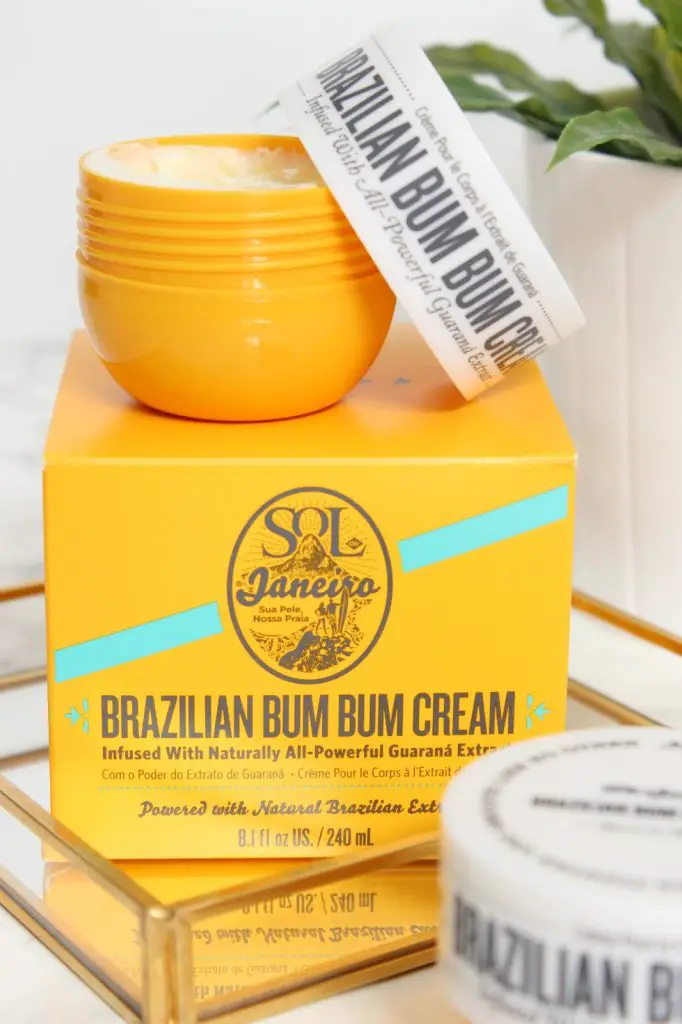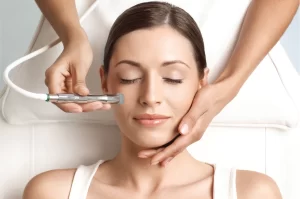 Skin Care
Editor's Choice Microderm Glo Mini Diamond Microdermabrasion and Suction Tool Latest price 2nd Best Choice
Read More
Subscribe to our newsletter