When you're looking through which lash & brow tinting kit to choose from, you would have stumbled upon a Intensive Lash & Brow Tinting Kit Review and thought of giving it a try. To some of us ladies, we can never leave our house without getting our brows and lashes done. Without beautiful brows and lashes, our overall look isn't complete! Here's what you need to know about the Intesntive Lash & Brow tint kit!
Intensive Lash & brow tint kit: What is it?
For the uninitiated, lash and brow tint is basically dyeing your eye lash and eye brow to make it darker which would typically last about a month or so. It doesn't hurt at all compared to other eye brow and eye lash procedures, however it won't last as long. In comparison with drawing your own eye brows with a pencil, using the brow tinting kit would have a more natural look instead of the 'drawn' look. And as for eye lash tinting, you are able to have gorgeous lashes without the need to use mascara.
The Intensive Lash & Brow Tinting Kit is made by trusted professionals with more than 20 years of experience. It is made out of natural, safe ingredients such as sunflower and lanolin oil. This make it suitable for almost anyone to use.
You are able to use the Intensive Brow Tint or Lash Tint for up to 6 weeks long before re-applying it once again. It also comes with an easy 1:1 mixing ratio (Cream Developer, you need to purchase this separately) which enables you to mix will. Save more time as it only takes about 3 minutes to do your brows and 10 minutes for your lashes. The Intesntive lash & Brow Tinting Kit offers up to 40 treatments for each tube.
If you're wondering to yourself, is the Intensive Brow Tint natural? Well, it is definitely make your brows look more natural than a pencil or other methods ever could.
The Intensive Lash & Brow Tint Kit comes in 8 colours: Ash Grey, Middle Blonde, Graphite, Natural, Middle Brown, Brown, Deep Black and Blue Black.

Intensive Lash & Brow Tinting Kit Review
Customers have used this Intensive Lash & Brow Tinting Kit for years! They particularly love the fact that it only takes a short period of time to do up their brows and lashes, along with the strength of the pigments. The best part about the colours is that you could mix any of the colours to produce the right colour for your lashes or brows.
The Intensive Bow Tint natural colours are what the customers love as well, since it makes their eye brows appear more natural. That's also why customers tend to be loyal and stick with this brand because of the amazing results.
Worried about the Intensive Lash & Brow tint kit causing you reactions? Don't worry because customers never even complained about skin or eyes irritation.
Many customers who wrote a Intensive Lash & Brow Tinting Kit Review and tried other brands simply could not help but go back to the Intensive Lash & Brow tint kit because of how it meets their expectations better compared to the rest. This lash and brow tint tend to last way longer than the other brands as well.
Intensive Brow Tint Instruction Guide (Works For The Lash Tint too!)
It is really simple to use both the lash & brow tint. The Intensive Brow Tint instruction guide apple to the lash tint too.
Step 1: Cleanse the areas.
Be sure to put on your gloves and use a make-up remover foam to clean the eye lashes or eye brows. You need to make sure that there is no make up or oil around the brows and lashes along with ensuring the area is completely dry before applying the tint.
Step 2: Mix the Cream Developer.
You should use a 50/50 ratio when mixing the Intensive Tint and Cream Developer using a plastic cup or any medium you'd like. Continue mixing it until you achieve a creamy paste. Bear in mind the texture must not be too thick or thin – just in between.
Step 3: Apply the tint.
When applying the lash tint, you should start with a thick relaxing eye cream at the bottom of your eyelid and place a protection pad to prevent the tint from staining your skin. Start with the lower lashes first before proceeding with the upper lashes. Leave it on for about 10 minutes.
As for the eyebrow tint, apply the mixture with the brush and make sure not to accidentally touch the skin. Then, leave it on for about 3 minutes.
Step 4: Remove the protection layer.
Lastly, take off the eye protection pads and clean up the area with a downward motion to remove any remaining residue. You should also remove any stains that you've accidentally touched on your hands or skin (not the face) with the help of the Intensive Tint Remover.
Among the best lash tint made available in the market, based on every Intensive Lash & Brow Tinting Kit review, we can say that the Intensive Lash & Brow Tinting Kit meets customers' expectations while never disappointing them as well.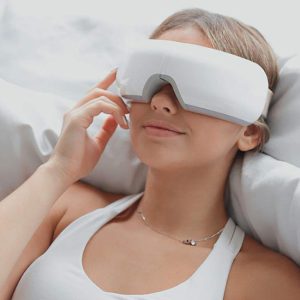 Skin Care
Editor's Choice Worxvell Eye Massager Latest price 2nd Best Choice SereneLife Eye Massager Latest price
Read More
Subscribe to our newsletter