If you're yearning for longer lashes in a flash, fLash Eyelash Serum might just be the thing for you. With an ophthalmologist-tested, conditioning formula, fLash Eyelash Serum guarantees results within six to twelve with a once-a-day application. 
That's extremely quick for an eyelash serum to work if you ask me, but can it really deliver results in a flash?
Techniques to getting your lashes appear longer such as eyelash extensions are getting immensely popular today as it adds natural volume to your eyelashes and makes them look luscious. As bizarre as it may sound, some even believe that crying can make their eyelashes longer, what do you think? 
fLash Eyelash Serum Review: Our Unbiased Verdict
Lucky are those with natural, long lashes; however, if any of you are seeking an effective alternative for thicker lashes, then eyelash growth serums can work their magic out for you. 
Eyebrows are amongst the major aspects enhancing your features, regardless of your gender. Many of us have seeked various remedies just to attain the ideal pair of eyebrows, most of which were unfortunately scams or just pure inaccuracies.
This article weighs the pros and cons of fLash Eyelash Serum to see if it can really give you the instantaneous results it promised, and whether it's worth your time and money. 
What Do We Love About fLash Eyelash Serum?
Safe & Easy to Use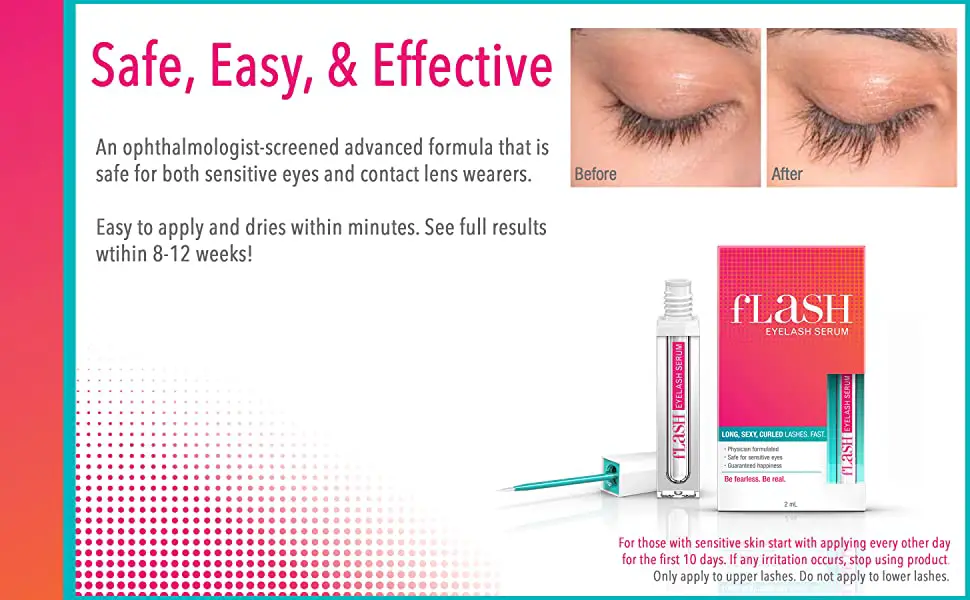 First of all, we love that it is safe to be used by those with sensitive eyes and avid contact wearers. As per usual, be extra cautious when you're applying even though it's proven safe, you don't want to get it into your eyes. 
That shouldn't be too difficult of a task, though, fLash Eyelash Serum comes with an applicator brush that features a pointed tip similar to a liquid eyeliner wand. Simply swap it across your lash region, and let it do its work.
fLash Eyelash Serum Ingredients
This eyelash growth serum is enriched with a special ingredient called Bimatoprost that stimulates your lash growth. Note that this ingredient isn't offered by many of the lash serums on the market. You're lucky if you bought one with this ingredient in it. 
Bimatoprost is known to nurture a natural lash growth as it works as sort of an eye treatment that pressurize the eyes which results in dark, thick and dense lashes. 
Other ingredients involved in this eyelash growth serum are water, hydroxyethyl cellulose, glycerin, panthenol, hydrolyzed soy protein, butylene glycol, carbomer, polysorbate 20, palmitoyl, oligopeptide, tetrapeptide-7, sodium hyaluronate, soluble collagen, isopropanol phenylhydroxypentene dihydroxycyclopentylheptenate, hydrolyzed wheat protein, pg propyl silanetriol, disodium EDTA, phenoxyethanol and ethylhexylglycerin.
Packaging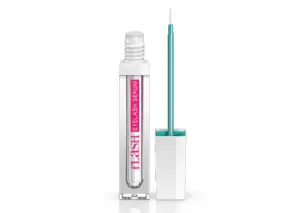 Another thing we love about this product is that it comes in a transparent, clear container. It's easy to tell how much product you have left when you can just look directly into the container. 
90-Day-Money-Back Guarantee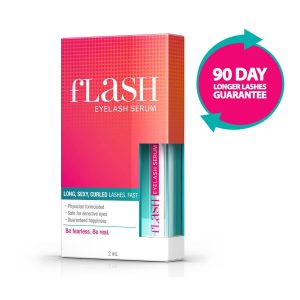 A 2ml bottle of fLash Eyelash Serum can last you up to three months. Within that three months, suppose you're not seeing the results you anticipated as they promised, you're entitled to a money-back. 
We like that the guarantee shows how much the brand stands behind its own product, and it doesn't make buying it as much of a gamble. 
fLash Eyelash Serum certainly keeps its promise to deliver long lashes, and as an added bonus, you'll see some curls to your lashes as well. 
We like that this means you can put away your falsies, eyelash curlers or mascara, which might've been causing damage to your lashes. Nonetheless, it's also important to note that nothing works like a magic potion. As long as you're not expecting lashes that are dramatically thicker, this eyelash serum can definitely work out something for you.
What We Don't Love About fLash Eyelash Serum?
This is the only one con to consider when it comes to this eyelash growth serum. If you're on the hunt for a product that makes your lashes look fuller or darker, this may not be the one for you. 
fLash Eyelash Serum does deliver optimal results in terms of lash length, but your lash volume may likely not be affected by using this product. 
How to Apply fLash Eyelash Serum?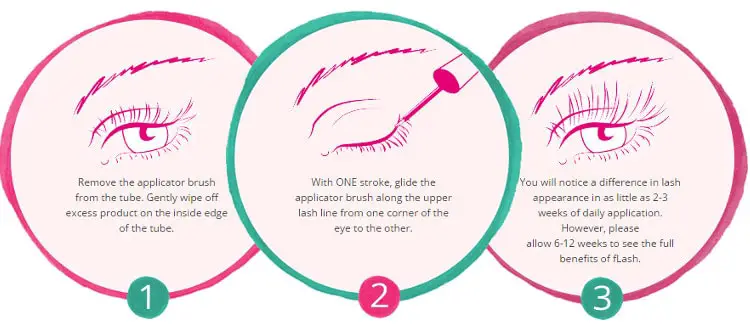 Application in anything affects the results so make sure you apply it correctly and accordingly.
Step 1: Remove Your Contact Lenses and Makeup 
Make sure you take off your contact lenses and makeup if you wear any. Remove all the traces of the mascara thoroughly before you apply the eyelash growth serum.
Step 2: Apply the Eyelash Serum 
Carefully apply a thin line of the serum on the upper lash line using the applicator that comes with the product.
If you're all about quick results, then make sure to apply it on a daily basis. Having said that, a customer did mention in his or her review that applying the serum once a day at any time on the dry eyelids beneath the lash line is most effective. The product usually takes two to three minutes to dry after you apply it, and ensure that the applicator is cleaned thoroughly after use. 
Beauty Signal Lab's Handy Tip!
Apply the serum an hour before bed because this is the time for the product to be fully effective and absorbed. Be sure to not rub your eyes after application to avoid getting it into your eyes. 
If you're getting ready for a day or night out, we would highly recommend you to wait until it completely dries before you proceed with your makeup. However, stay away from eyeliner and mascara because they can hinder the function of the serum. Based on the product manual, you'll start noticing the results within six to twelve weeks after you start using it. 
fLash Eyelash Serum Before and After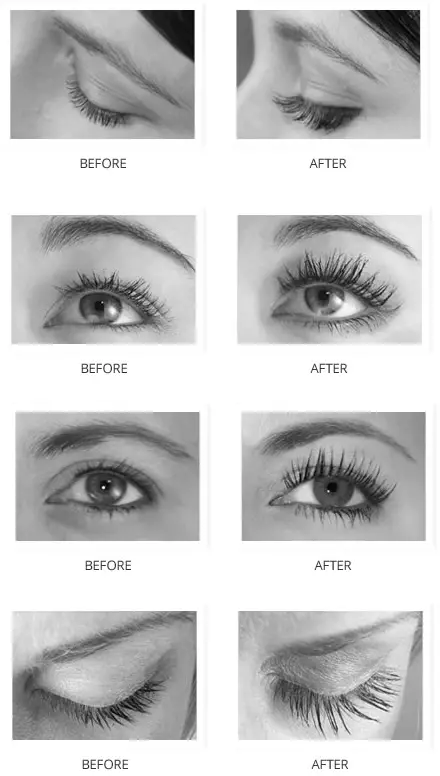 Our Final Thoughts on fLash Eyelash Serum: To Buy or Not to Buy?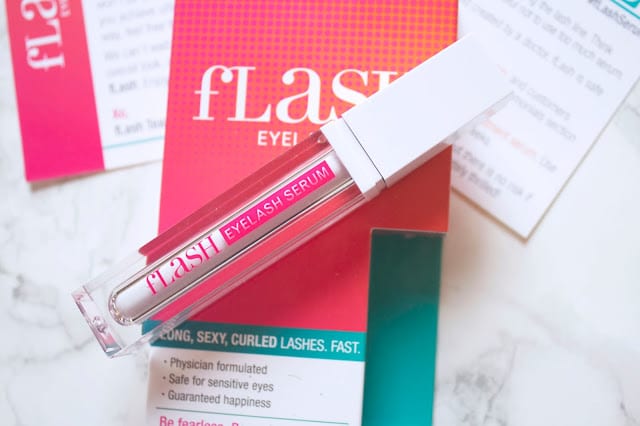 To benefit from likely results and a lower price tag than other lash serums in the market, fLash Eyelash Serum is definitely worth a shot. At a very reasonable price, you get enough product for six months. 
Just a heads up, Amazon has the lowest price amongst all online shopping platforms so click on the CTA button below and head straight over there to immediately save a good chuck off fLash Eyelash Serum's regular price!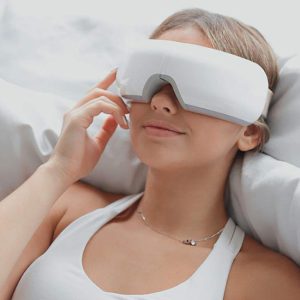 Skin Care
Editor's Choice Worxvell Eye Massager Latest price 2nd Best Choice SereneLife Eye Massager Latest price
Read More
Subscribe to our newsletter