Long, thick eyelashes can never be out of trend, and are still incredibly fashionable to date. They amp up your eyes. Putting on falsies on a daily basis nonetheless, can be extremely time-consuming and frustrating if it doesn't go right. Plus, you have to deal with taking them off and caring for them. Due to that, many people are resorting to growth serums to enhance their natural eyelashes, hoping to add length and fullness. 
Rapidlash and Grandelash are two popular brands specializing in eyelash serums. Both are veterans in the eyelash scene, they are amongst the highly sought after brands on the market today. In this article, we will look at the ingredients and effectiveness of both counterparts so you can grasp an idea of which suits you better. 
Rapidlash Vs Grandelash | A Fair & Just Comparison
Rapidlash and Grandelash are outstanding products owned by reputable companies that have been around for almost a decade. None of the two is expensive for anyone to afford, fits the budget, and clearly works wonders. The minimum time for these lash serums to work is around 4 to 8 weeks. That is basically the time required for your lashes to grow in number and thickness. 
Both eyelash serums are packed with active ingredients that accelerate the rate of hair growth. However, to grow longer hair isn't the whole point. To provide it with nourishment and nutrients is another goal to achieve. These serums are made to nourish your hair from the root to the tip and ensure the strength of your eyelashes are at their peak. 
Ingredients
Rapidlash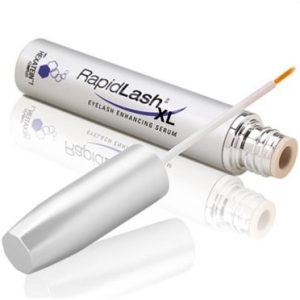 The active ingredient used in Rapidlash is the Hexatein 1 complex which consists of six highly effective elements. It is specially formulated to condition, moisturize and strengthen your lash hair. On top of that, it works well in enhancing the look of your lashes.
Other ingredients in the formula are as follows: 
This polypeptides mix contains three powerful ingredients, Vitamin C, retinol and peptides. Suppose sparse hair is thinning in your lashes, this trio can help to fortify and build a protective barrier for your hair. Enriched with hair-healing properties, you can count on them in minimizing radical damage and breakage, and reducing inflammation. To stimulate hair growth, they support protein production and supply the hair follicles with adequate oxygen. 
Vitamin H, or Biotin, is amongst the best stimulators for keratin production. It also works well in increasing the rate of hair follicle growth. Regular intake of biotin can result in healthier, stronger hair. Not only does it combat hair loss, it can also add shine and gloss to your mane. 
Panthenol functions in enhancing hair's shine, softness and strength. It also protects the hair from any potential environmental damage. It works extremely well in locking in moisture and hydrating the hair, and not to mention it also slows down thinning hair. 
Amino acids are a cult-favourite when it comes to nurturing a sustainable and healthy hair growth. In fact, nearly all the tissue in your body requires amino acids. They present in the form of keratin in the hair and make your eyelashes appear well taken care of and nourished. 
Soybean oil delivers nourishment and care for dull and damaged hair by moisturizing and conditioning hair deeply. It comes with proteins that grow hair and keep it healthy at all times. Finally, it adds shine and sheen to your eyelashes too. 
Grandelash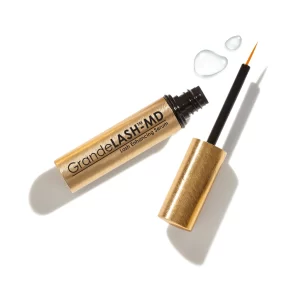 Prostaglandin is an active ingredient used in Grandelash, which is known for prompting lashes growth and ancillary hair around the eyelids. It also increases thickness and length of the lashes. Consistent intake of Prostaglandin can result in additional lash rows and an increase in pigmentation of the hair. 
Following are other ingredients found in Grandelash: 
Proline can be found doing its work in the collagen and cartilage making of the body. It is often used in cosmetic products as an anti-aging and cell-renewal ingredient. Prolines break down protein and help to form healthy cells and connective tissues. In result, your lashes will appear healthier and stronger than ever before. 
The holy grail for moisture, Hyaluronic acid is a humectant that draws moisture to itself. It moisturizes and hydrates your eyelashes. Furthermore, it retains moisture and binds it to the skin surface. It fills in the cracks of the porous hair shaft and moisturizes your eyelashes deeply.
Grandelash is packed with a powerful blend of naturally derived nutrients and antioxidant-rich compounds such as ginseng root, chamomile flowers and bearberry leaves. They improve blood circulation in the region and then, promote hair growth. These are the nutrients you should be on the lookout for in strengthening your eyelash follicles. 
This hard-to-pronounce ingredient does its work in hair growth and promotes longer eyelashes. It helps to lock in moisture in and adds luster to your eyelashes, and also boosts lash resiliency and adds shine. 
Aloe Vera, Matricaria Flower Extract and Hydrolyzed Yeast Extract are three other additional ingredients in Grandelash which provide strength and nutrition to the eyelashes.
Benefits
Rapidlash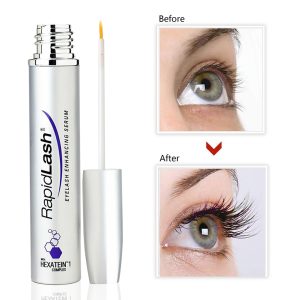 Here are some of the benefits Rapidlash serum carries:
Eyelashes appear fuller, thicker, and healthier.
The serum is enriched with active ingredients and hair-loving vitamins that serve to enhance your eyelashes. 
Promotes hair growth and healthier eyelashes.
Provides eyelashes with essential nourishment and nutrients for growth.
It takes six weeks to see noticeable changes in your eyelashes.  
Restores healthy and long eyelashes.
Heals and repairs your eyelashes. 
Reduces eyelash breakage and prevents hair from falling out. 
Dermatologist tested and physician-approved serum. 
Paraben and fragrance-free.
Cruelty-free.
88% of users saw improvement in the appearance of eyelashes. 86% of users noticed fuller eyelashes. 86% of users saw thicker, fuller, and blacker-looking eyelashes in 8 weeks.  
Grandelash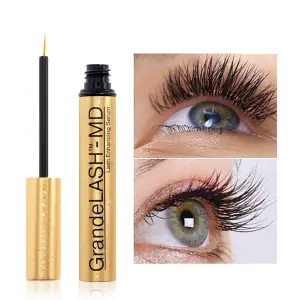 Below is a list of the benefits of the Grandelash eyelash growth serum: 
Conditions your eyelashes and makes them much softer.
Does not dry out your hair follicles and keeps them hydrated throughout.
Enriched with nutrients and flower extracts that strengthen your eyelashes. 
Reduces falling out of the eyelashes upon using any product and increases hold from the hair follicle. 
It takes roughly 6-8 weeks for the results to show. 
Eyelashes appear firmer, fuller, and thicker by the end of 6-8 weeks. 
Coexists with eyelash extensions.
Unisex.
Reduces breakage and falling out of eyelashes. 
Reduces damage and heals the follicle cells. 
Packed with active ingredients and other vitamins aid in eyelash growth and healing. 
97% of users reported visible eyelashes. 94% reported healthier-looking eyelashes, and 91% of users reported longer-looking eyelashes.
Side Effects
Rapidlash
Shedding is a massive complaint amongst Rapidlash users. Eyelash shedding generally occurs due to an allergic reaction toward certain ingredients. Kindly check the ingredients list and consult a physician before use. 
Many users have reported irritation and redness to the eyes. 
One of the customers mentioned having eyesight and vision issues when started using the serum.
Blurry vision was amongst the major concerns. Considering one was on some medications for eyes, this could be a possible reaction. This has not happened to anyone else, so this could be an exceptional case.
Some complained that they did not see results after two months of use. That is illogical as the time required is around 6-8 weeks. It does take time and continuous usage for the results to show. If the serum is used daily for a certain period, results will show.
Grandelash
Many have reported eye redness and irritation. Not following the instructions and making direct contact with the eye could also be another possible reason for this complaint. 
Some users mentioned having eyelash breakage problems. They started losing more eyelashes every day. Some of them posted pictures. This could be a possible allergic reaction to an ingredient. Once and for all, kindly check the ingredients before buying the serum and consult a physician. 
Grandelash could take a much longer time for its effects to be noticeable. Expecting results in 6 weeks is not at all realistic. 
It may dry out your eyes. 
It may cause your eyes to look puffy. 
Costs
Rapidlash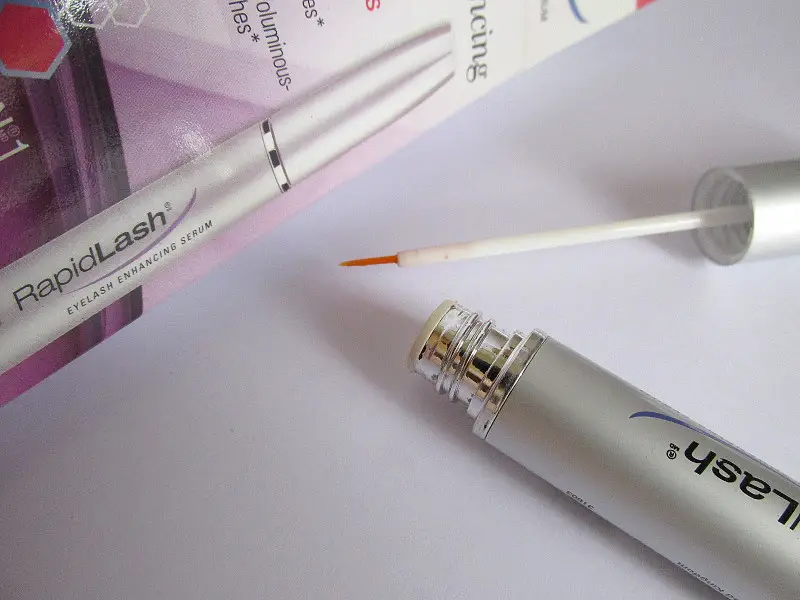 Rapidlash is definitely one of the most affordable eyelash growth serums out there. As of today, it retails for $33.98 on Amazon for a 3ml bottle. 
Grandelash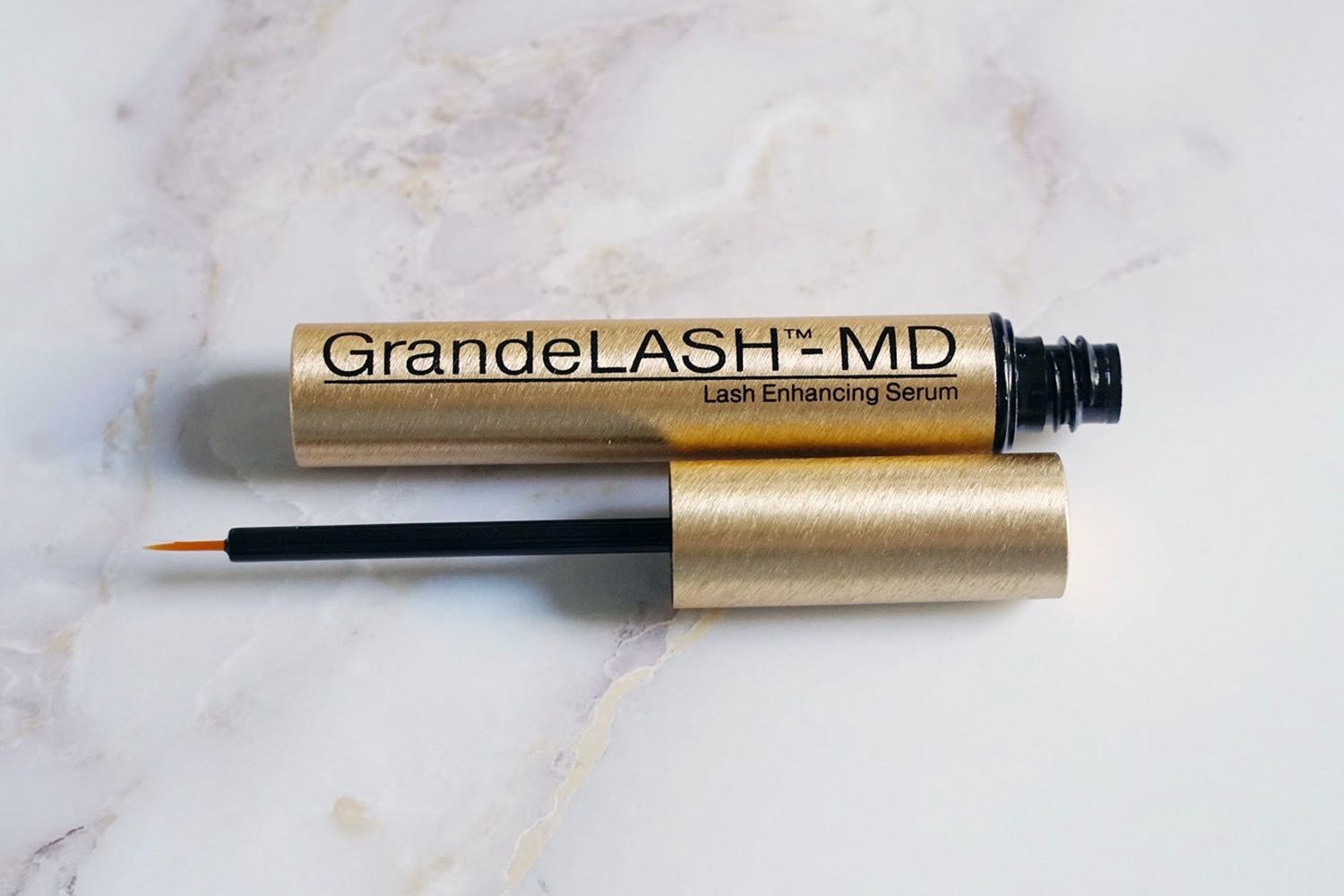 A 1ml bottle of starter Grandelash will last you around 6 weeks and is only priced at $36. A 2ml bottle for $68 that will last you for 3 months and a 4ml bottle for $125 for 6 months long.
Rapidlash and Grandelash, Which One Should You Opt for?
Rapidlash and Grandelash both have very similar formulas and side effects, along with reviews in terms of reported results. 
In terms of cost, Rapidlash wins because its 12 month supply costs much less than Grandelash. However, we'd like for Grandelash to be the overall winner due to its solid track record for delivering optimal results. Its active ingredients are efficient, and it is also affordable. 
It all comes down to what you're prioritising. Nevertheless, if you are looking for long-term benefits, then Grandelash shouldn't be a disappointment. 
Check out this article and find out if crying makes your eyelashes longer.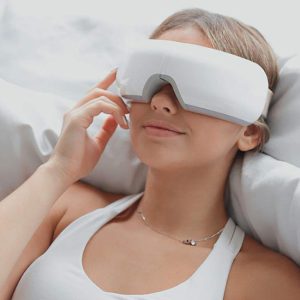 Skin Care
Editor's Choice Worxvell Eye Massager Latest price 2nd Best Choice SereneLife Eye Massager Latest price
Read More
Subscribe to our newsletter