Nearly everyone who has had their body hair nicked and grabbed knows best how painful it is, making investing in a quality electric razor more important than ever. We're glad to know that Braun offers the best electric shavers for men on the market.
Similar to big brands like Apple, Braun has been churning them out roughly every five years and the differences between these 3 seem pretty sparse.
We are looking for an electric razor that allows close shave, easy to maintain and most importantly, reliable. If the fundamentals are met, then anything more than that is surely worth it. 
Braun is renowned for their close shaves and breakthrough razor technology. A well-regarded brand like them, possesses a history of reliable razors and is consistent with upgrading their technology in a timely manner. 
Splurging on a product means you're investing in whatever that comes with the product. In terms of electric razors, it's all about their quality matching up with the quantity of these hefty price points. 
Luckily, this brand boasts a history of reliable razors you can count on. They strive to produce long-lasting products that maximizes users' comfort. If you're looking for either your first, or an upgrade for your razer, look no further than Braun. 
Since these razors are pioneering the shaving industry, they are expected to be a little pricey. This doesn't necessarily make them a deal breaker when you have enough funds to back it up, for beginners however, it may seem daunting. 
When you're shopping for the best Braun electric razors, keep in mind what features will benefit you. That means, some could easily live with a Series 7 whereas others appreciate as many features and options as possible. 
As you read, you'll find every component of the three latest Braun razors so you can make a wise decision before purchasing. 
Pros and Cons of Each Series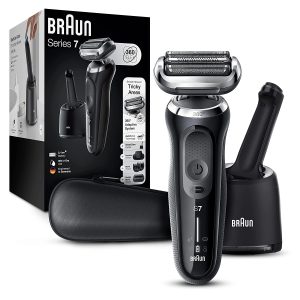 a) Braun Series 7
Pros:
The razor features a cleaning station that uses an alcohol cleaning solution.
The razor head moves in 8 different directions, making shaving hard-to-reach spots such as the bottom of your chin easier. 
Suitable for those with sensitive skin and/or those shaving for the first time. 
Boasts 5 speed settings.
Cons:
The replacement heads extremely pricey which ranges around $36. Those with thicker, coarse facial hair may experience razors dulling quicker than those with thinner, finer hair, the need for replacement is hence more frequent. 
Its battery screen is located oddly at the bottom of the handle.
Only the 7856 model has fully wet and dry capability.
b) Braun Series 8
Pros:
Has an LED Battery indicator.
Boasts 20 percent more battery life.
Allows closer shave with 30,000 cutting actions per minute.
Features an automatic voltage adaption for North American and European outlets.
Cons:
Comes with a charging and cleaning station that consumes counter space.
The trimmer has a rather odd design.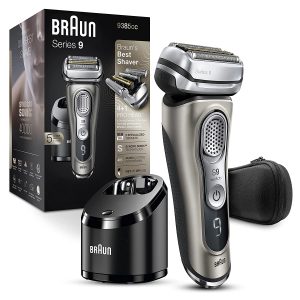 c) Braun Series 9
Pros:
Enables closer shave with 40,000 cutting actions per minute.
Comes with a 10d Contour flex head, a mounted trimmer, and a travel lock function.
Cons:
Braun Series 7 vs 8 vs 9—What's the Difference?
Designs and Additional Attachments: 
a) Braun Series 7
The Braun series 7  790cc was released 5 years ago, and is still loved by its fans. It boasts a unique design, specifically developed by Braun itself. Courtesy of the silver simple design, the razor is lightweight and has a nice grip.
While it does come with a trimmer, it was oddly placed on the side and does feel rather cheap. It's important to note that this Braun electric razor doesn't offer fully wet and dry shaving. The 7856 model is the only one that offers the said feature in this of Series 7, so keep that in mind when you're making your purchase.
Other than that, it comes with a curly charging cord and a mobile travel case, along with a cleaning and charging station respectively. This electric razor is especially easy to use and maintain. 
When it comes to speed, the Series 7 also offers five different speed settings which haven't been translated into the newer models. The variability of options in this respect may appeal to people who have different routines every morning and aren't always rushing to get somewhere.
When you unbox this product you'll be receiving:The razor body and head
Charging cord
A travel case
MicroComb cleaning brush
Cleaning and charging station
One case of the alcohol based cleaning solution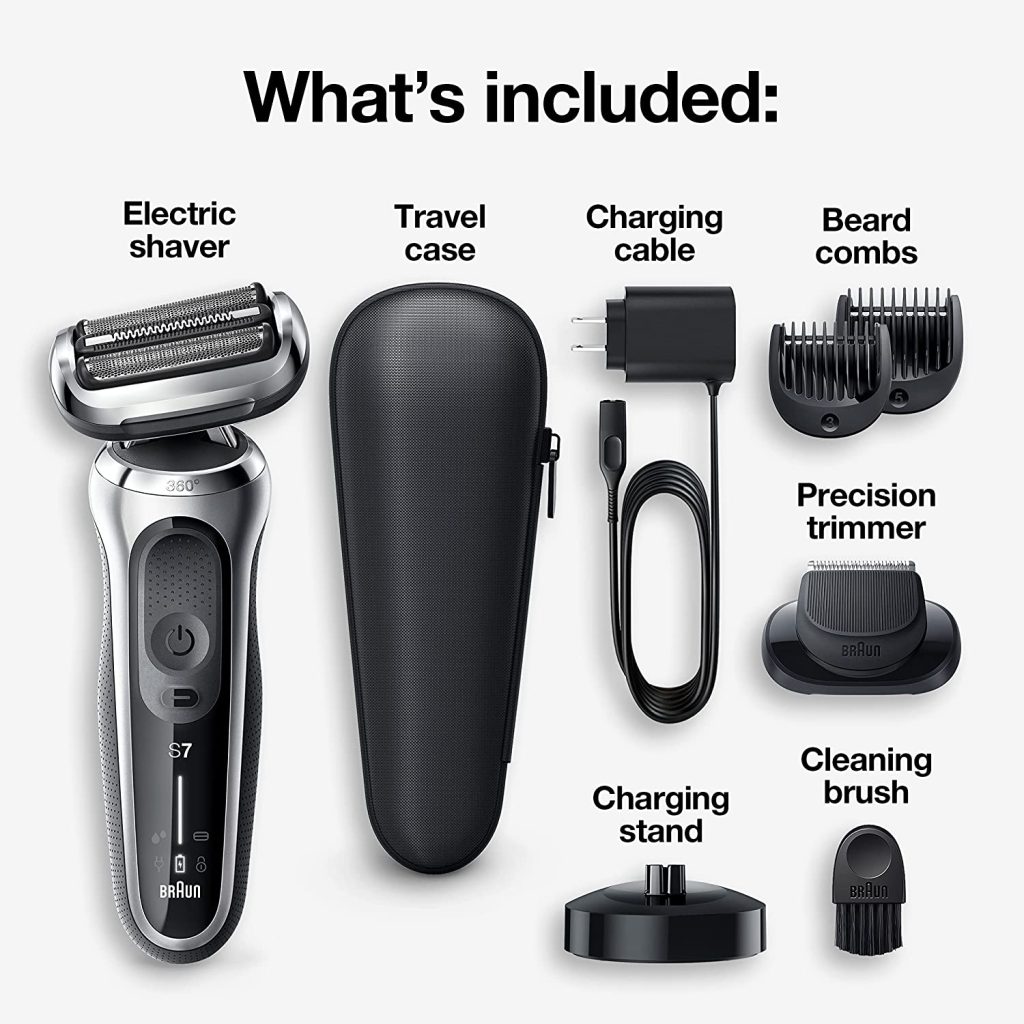 Needless to say, this razor comes with some reliable shaving and features, but this is an outdated razor for an expensive price. This just might be the best option for first time buyers. You'll be able to experience the best technology Braun has to offer, but at a fraction of the cost.
Then, when your razor runs out of life down the road you'll have a better sense of what it means to have a Braun razor without having to break your bank in the beginning. If you're looking to upgrade your old Braun razor for something sleek and modern then you might consider buying something a bit more up to date, considering it might be missing features you were really looking forward to.
b) Braun Series 8
With a quiet release, this razor shared many similarities with its predecessor. They share the same razor head, but the Series 8 has a slimmer grip with an updated modern design. Braun is also known for their waterproof qualities, luckily every model of their razors has this technology.
They also decided to leave behind the awkwardly placed battery life display from the Series 7 and gave the Series 8 a modern LED display on the front. They also decided to leave the curly charging cord behind and provide a sleeker one.
Now the best part about this updated product is the extended battery life. With the Lithium-Ion battery, it gives the Braun Series 8 an extra ten minutes of shaving. There are definite upsides from the Series 7, that they decided to upgrade and given the expensive prices it's very much appreciated.
Also, unlike the Series 7 and its previous incarnations, the Series 8 offers a voltage adaptation for North American and European outlets. Wherever you travel among these continents, you can be worry free about finding a charge for your razor.
When you unbox this product you'll be receiving:
The razor body and head
A travel case
Charging cord
MicroComb cleaning brush
The cleaning and charging station
One case of the alcohol based cleaning solution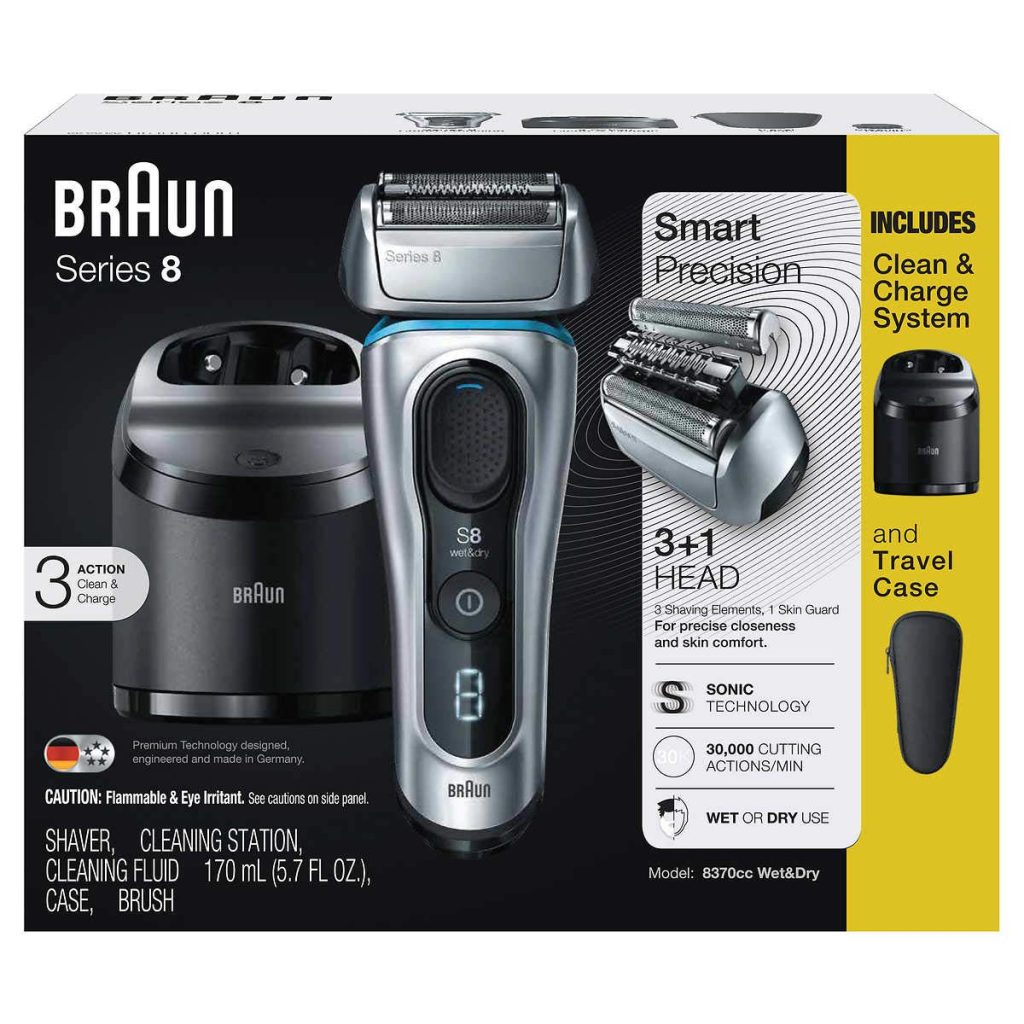 These razors are very well regarded with those who have very sensitive skin. Razor burn is something we wish could never exist, so a razor that is built for delicate skin is the razor for us. It's also available at a better price than the Series 9.
For those looking to upgrade an old razor without paying from a deep pocket, then the Series 8 might be for you. It shares many of the same features as the Series 9 and may make a great placeholder until you're ready to afford the next impending razor when it hits the market.
This process is more akin to that of climbing a ladder slowly, but steadily. More importantly, we want a razor that will last in the long run, because that's what it means to truly invest in something.
Notable Specs
60 minute shaving time
Precision head lock feature
32 bit MCU chip that adapts to your beard density
c) Braun Series 9
This is the most up to date razor in the Braun series, and given the hefty price there's a lot to love about this electric razor. Both the Series 7 and 8 had a 4 element razor head whereas the Series 9 has 5 cutting elements! The razor head is where its efficiency lies.
The contouring on the razor has been upgraded from 8 directions to 10 directions, meaning tough to shave areas such as the neck and under your chin can be reached with ease. The LED display screen is also similar from the Series 8 edition, same as the design of the razor. The slender, sleek design with the easy grip is here to stay.
The downgrade from the Series 8 is the return to the 50 minute shaving time rather than the 60 minute shaving time that the Series 8 provided. Another upgrade from the other series is the cleaning and charging station. They added an advanced drying system, making it a cleaning, charging, and drying station.
When you unbox this product you'll be receiving:
The razor body and head
A travel case
Charging cord
MicroComb cleaning brush
The cleaning and charging station
One case of the alcohol based cleaning solution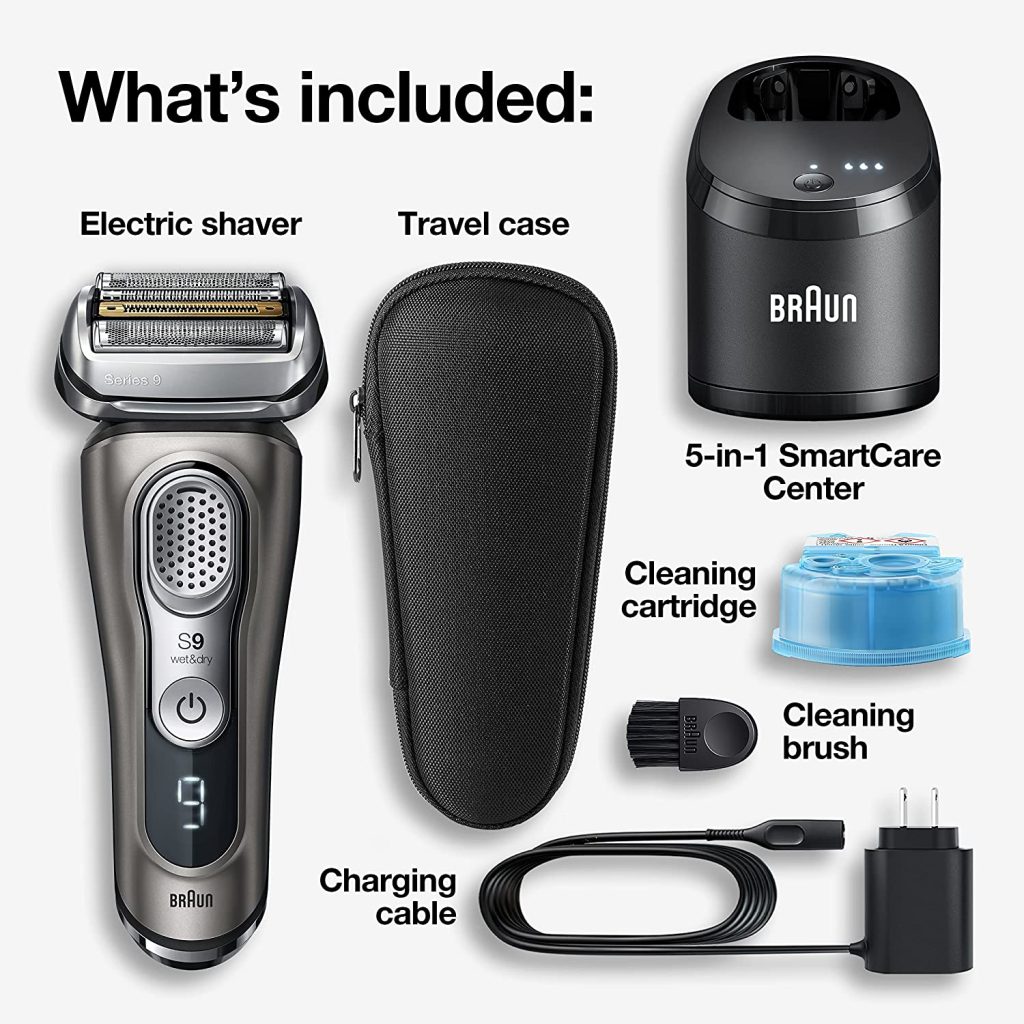 This is the most up to date razor technology out on the market at the moment, making this a very valid choice when investing in something expensive. With all the features, options, and adaptability that this razor offers it's no surprise why Braun prices it so highly.
They promise Braun shavers that work and that work the best out of any other electric razor brands on the market. Of course, prices can lie, but we found that this razor lives up to the hype that comes with an expensive price tag.
Notable Specs
50 minute shaving time
5 element razor head
Adaptive shaving motor
Construction, Ergonomics, and Design
Braun specializes in their own unique razor head design. It encompasses Opti-foil cutting elements with skinguards, and a hair trimmer. The design is perfect for those with very sensitive skin. Their models are all 100% waterproof and don't need to come with waterproof covers that some razors apply to their designs.
We wouldn't recommend submerging any razors under water, but if you'd rather shave in the sower then you can do that worry free with these lines of razors. You can shave, rinse, and apply cream worry free.
The gripping properties are also meticulously considered and play a big part in the electric shaving process. Your hands get wet when you're doing a wet shave, causing electric razors to possibly get slippery.
With the textured rubber featured on the sides of these Braun razors, it combats that slippery feel and keeps your fingers in place. People don't typically stick to one shave over the other often and tend to encompass both, so a razor that takes that into consideration is important.
The razor is coated in titanium which helps with the hygienic quality of the product and adds to the aesthetic properties of the razors. Isn't it great when a razor can do both? We find that aesthetic properties matter because it usually adds to the overall feel of the razor.
People have their preferences and a brand that recognizes that and tries to implement a clean design that can be liked by everyone, is recognizable. All in all, these razors are built to last whilst being efficient.
Whether you prefer an electric razor head with the most up to date features or choose an older model with less features, there's no going wrong with choosing a Braun Series.
That said, something we really appreciate is how the change in design with each subsequent series really improved. The Series 9 is by and large the most sleek and sophisticated Braun shaver among the three options.
They're a little bigger, which all for a better grip and ease of maneuverability around your facial hair, but are basically the same weight as the other two. Braun really pulled out all the stops with this newest version.
Battery Life
Shaving can sometimes take time, and considering the battery life of a razor is important! Luckily these models promise a 50 minute shaving time before needing a charge. The Series 8 also boasted that it could go one month with one charge, though we haven't tested the theory out.
These models utilize a Li-on battery and starting with the Series 8, give LED displays on the battery level. In case your battery power is low and you need a quick shave, there's a quick shave feature that lets the razor start after charging for only five minutes.
We believe this is an important feature to consider because it also reflects the product's life longevity. If your razor is consistently dying on you, then it's reliability in the long run may also be in question.
Braun razors are usually consistent with their shaving times and their charging times. We find that these features are important to those who consistently shave, and have their electric razors be a big part of their morning routines. If shaving every day is not something you sympathize with, then buying an older model might just be your speed.
Cleaning
Each of these series come with a charging and cleaning station that are convenient and innovative. The alcohol based cleaning solution disinfects and lubricates the razor's blades. Refilling the cleaning solution may seem like a hassle or an extra cost to some, but the easy usability of the clean and charge station is one of my favorite things about Braun Series razors.
To activate the self-cleaning process all you need to do is just place the shaver head side down into the port and press the power button on the cleaning station.The different models will come with slightly different stations that utilize different LED displays to light the way.
We also wondered if the cleaning and charging stations could be interchangeable between the models and found that they could charge different Braun Series razors, but could not activate the cleaning. This is due to the different razor heads that each model has.
Braun Series cleaning and charging stations offer hands-off maintenance becoming the best time saver for your morning. The only downside to the cleaning stations are the replacement of the cleaning solution cartridges.
You can find packs of them on Amazon for around 20 to 30 dollars. It may seem cumbersome to those who are used to rinsing out razor heads and being done with it, but it's hardly comparable to the ease that cleaning and charging stations provide. Just understand that replacing the solution will have to happen every 6 months or so.
Of all the three, we found that the cleaning station of the Series 9 has a very minimalist user interface that allows you to work everything with just one button. It has a fan to dry the shaving head so you don't need to worry about moisture staying on the head or needing time to let it sit for the water to evaporate.
Shaving Performance
Of course, the most vital thing to keep in mind is these razors' actual shaving performance. I'm always looking for something that will work extra hard at keeping a close shave and spare me the itch and rash from razor burn.
Though it may seem alarming at first, Braun Series razors utilize a back and forth motion for their razors. No matter how your hairs are standing, these razor heads were built to catch every one. Series 7 and 8 use three cutting elements with skin guards to catch even the most stubborn hairs.
The Series 9 has four of those elements, making it even more clear as to the expensive price. If you are looking to invest more money into a razor that's going to treat your skin sensitively and get as close of a shave as possible then, the Series 9 might be your best bet.
It's built to handle flat, unruly, and thick hair than their past models. If you struggle with curly thick hairs, then you know the struggle of getting a close shave. Another aspect of your shaving experience is being able to give beards and sideburns precise trimming.
All the Braun models come with some attachments or mounted trimmers. The Series 9 has a trimmer that can flip up. We found that the trimmer available with the Series 7 is more precise, but the Series 9 is great at encompassing all other parts about personal grooming.
The other Series 7 and 8 are reliable, but if the price still seems too high for outdated models then you'll know that buying their most recent razor will give you the payoff you're looking for.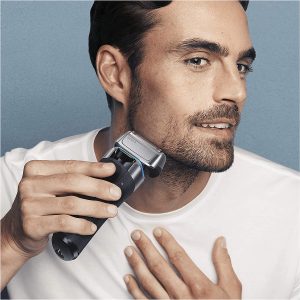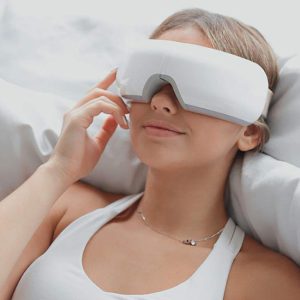 Skin Care
Editor's Choice Worxvell Eye Massager Latest price 2nd Best Choice SereneLife Eye Massager Latest price
Read More
Subscribe to our newsletter