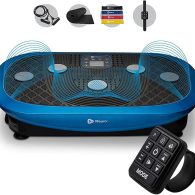 LifePro Rumblex Plus 4D Vibration Plate Exercise Machine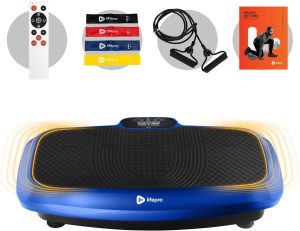 LifePro 3D Vibration Plate Exercise Machine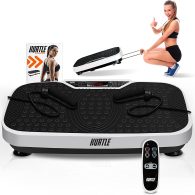 Hurtle Vibration Platform Machine
Putting together your perfect home gym takes time. However, once you figure out what you need, getting a full-body workout from the comfort of your own home is easy. While a whole-body vibration plate might not be the first thing that comes to mind, it can add a serious boost to your at-home exercise routine. 
A vibration plate helps to 'turn on' your muscles by giving them a slight shake and more input. This additional muscle activation has been shown to improve strength and muscle engagement and even promote bone mineral density. 
Vibration machines come in diverse shapes and sizes, all with different features at various price points. To help you find the best options, we tried and tested multiple models in the market by examining their size, weight, weight capacity, vibration intensity and speed, price, and so on.
Based on our research, here are the best full-body vibration machines to round out your workout with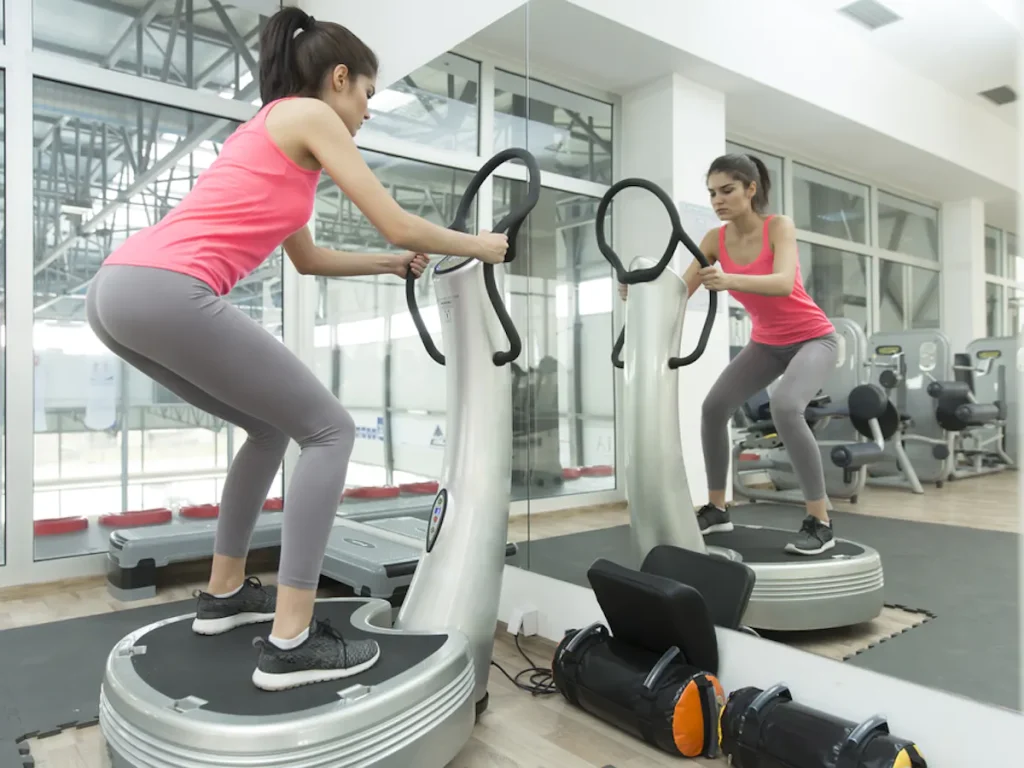 10 Best Vibration Machines On Amazon for Effective Weight Loss
1. LifePro Rumblex Plus 4D Vibration Plate Exercise Machine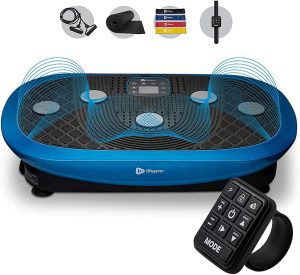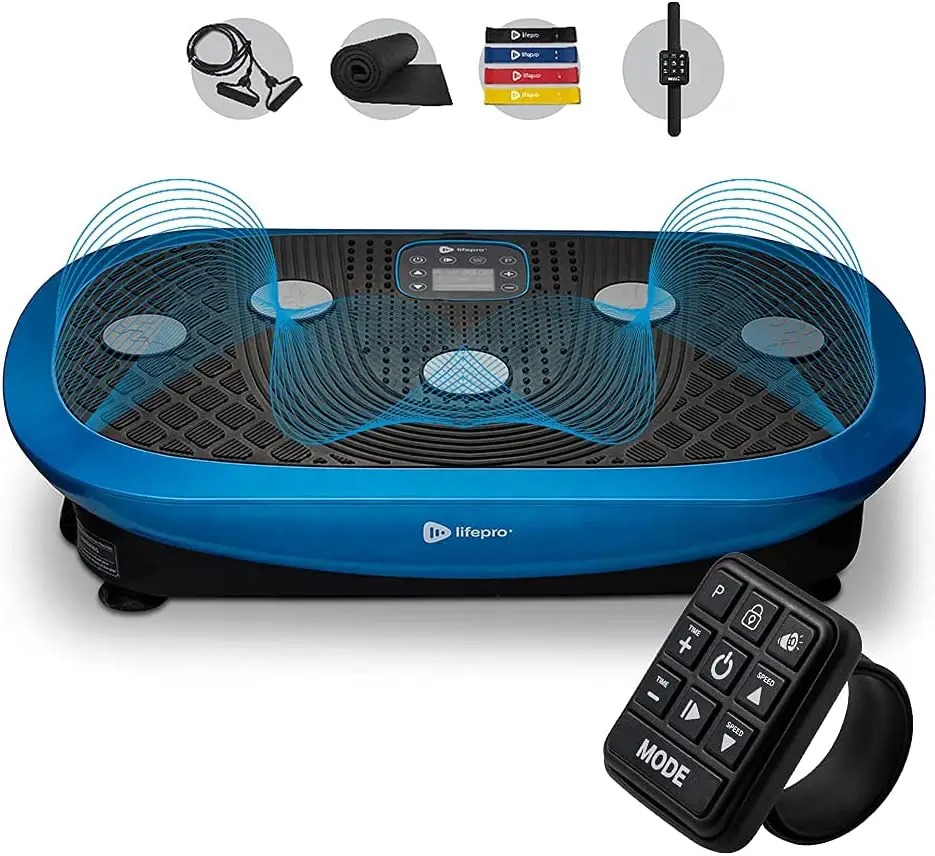 If you're searching for the best whole body vibration machines that oscillate, we recommend LifePro's Rumblex Plus 4D vibration plate. It features oscillating vibration and tri-plane vibration, which means you're given plenty of options when it comes to your workouts. The Rumblex Plus also comes with 60 adjustable speeds and a wide range of programs and training modes for you to choose from, plus a remote designed to be worn as a watch, so you won't have to stop moving to switch up the plate's settings. Despite its rather high price point, we love that it features built-in Bluetooth speakers and a full library of workouts you can follow. Above all that, it offers a higher weight capacity of up to 500 pounds, as opposed to many others that can only handle 300 or 350 pounds. 
4D full-body vibration machine with oscillation and tri-plane pulsation.
2. LifePro 3D Vibration Plate Exercise Machine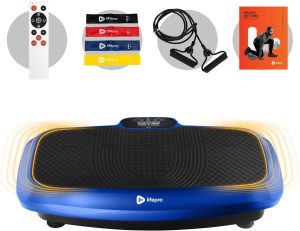 Among the best vibration machines with a tri-plane vibration, the LifePro 3D Turbo features two separate motors. Aside from oscillating, the plate also pulses, and you can use it in any of the three customizable modes: oscillation, pulsation, or a combination of the two. You'll appreciate the wider surface area that makes it easier for you to balance while exercising. This machine weighs almost 40 pounds but it has a handle and a wheel on the bottom to increase portability. On the flip side, this plate's display doesn't have as many options as others on the market. 
3D full-body vibration machine that oscillates and pulses.
3. Hurtle Vibration Platform Machine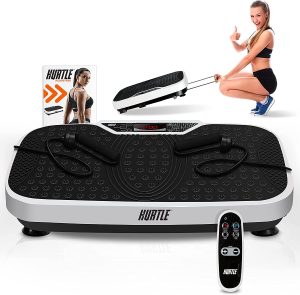 Searching for the best whole body vibration machine that's portable? We recommend this model from Hurtle, which features a retractable handle and built-in wheels. It's also comparatively smaller and weighs less than other plates, at only 30 pounds. We like that this option is budget-friendly and comes with an extra large display. That said, it only offers 40 speeds, in comparison to other plates that offer 99. It also has a lower weight capacity of up to 256 pounds. Since it's smaller, the base isn't as wide; some users hence may not find it as comfortable or easy to balance on as other machines.
Portable and lightweight vibration machine.
4. LifePro Rumblex 4D Pro Vibration Plate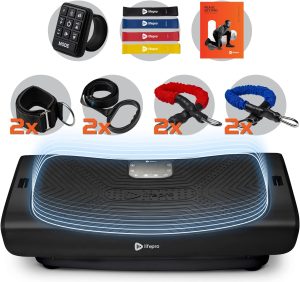 When splurging on a vibration machine for weight loss, you want to invest in one that comes with all the accessories you'll require. In this case, we recommend LifePro's Rumblex 4D vibration plate. In addition to the 4D vibration and oscillation, this machine comes with a workout mat, ankle straps, six long resistance bands of varying intensities, four mini looped bands, and a remote control that can be worn like a watch. Boasting a concave platform, quiet motors, and silent buttons, you'll like that this plate has a state-of-the-art, thoughtful design. It also comes with built-in Bluetooth speakers that allow you to stream music, podcasts, or your favorite workout program. While this plate offers bountiful features, it's also more expensive than others. Weighing a substantial 50 pounds, it's not the easiest to move around. 
4D full body vibration plate with a range of accessories.
5. Bluefin Fitness 4D Triple Motor Vibration Plate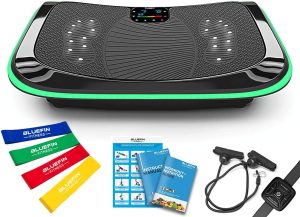 Bluefin Fitness' 4D Triple Motor ranks number 1 for the best design courtesy of its Bluetooth speakers that are perfect for streaming music and bright LED lights to help you keep track of how intense your workout is. The machine also includes a wearable remote control, resistance bands, and 30 adjustable speeds. We like that the board has three silent motors and foot massage beads, allowing for a comfortable, stable workout. Boost your motivation with stronger beats and brighter lights, or unwind for a few minutes at the end of a long day at a lower speed. Keep in mind that since it's equipped with three motors, it's bulkier than other models. 
Vibration machine with 4D triple motor and bright LED lights.
6. EILISON FitMax 3D XL Vibration Plate Exercise Machine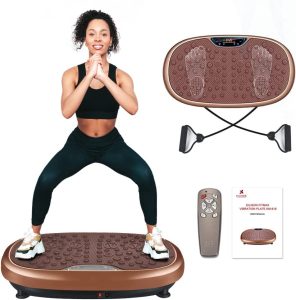 One of the best vibration machines to treat overall pain and improve blood circulation and bone density, the EILISON FitMax 3D XL model comes with a unique acupressure surface that presses into the various pressure points on the feet. Offers vibration intensity levels ranging from 1 to 120 and contracts the muscles 50 times more than usual, you can trust this product to address your headaches, insomnia, stress, and anxiety. It comes with a touch panel and a remote control for seamless speed control. The inclusion of Bluetooth speakers allows you to vibe to your favorite music while working hard to get into shape. The top of this plate is made of anti-slip rubber, and the base is fitted with suction cups to ensure maximum safety while operating. 
3D whole body vibration machine with an acupressure surface.
7. Natini Vibration Plate Exercise Machine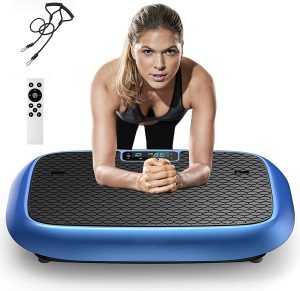 Amongst the best vibration machines with a high weight capacity, the Natini model can accommodate up to 441 lbs, making it a good choice for plus-size users. The main standout feature of this machine is the music feature. While it's fitted with Bluetooth to access your music, it also includes an external USB port. Interestingly, there's even an LED light bar that lights up with the music—making any workout fun and enjoyable. The machine has two rollers at its base, making it easy to move and store away. There are also four anti-slip suction cups to keep the machine steady while it operates. Finally, if you're experiencing stiff joints and sore muscles, there's a magnetic foot massage option that'll help address those concerns. 
Full body vibration machine with 441 lbs maximum weight capacity.
8. RAVS Vibration Plate Exercise Machine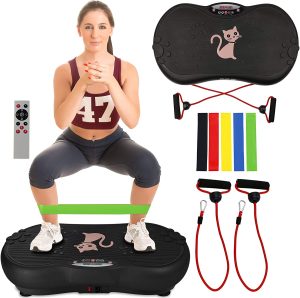 On top of toning the body and yielding optimal workout results, the RAVS model is one of the best vibration machines ever invented to offer the best massages. Its sturdy body can support up to 330 lbs and is highly durable. Equipped with a powerful motor to provide steady and even vibrations, the machine also features rounded edges and multiple voltage protection systems, making it one of the safest options on the market. Last but not least, it has a wide range of intensity levels ranging from 1 to 999. 
Vibration plate with massaging functions.
9. JUFIT Vibration Platform Workout Machine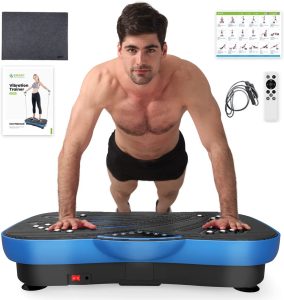 This platform workout vibration machine by JUFIT features 11 fitness modes and an upgraded vibration speed ranging from 1 to 99. It also comes with 3 kinds of foot acupressure massage functions that help with pain relief and the increase of blood circulation. The surface of this device is manufactured with double thickness for improved durability. There's also an LED display and rubber base that'll support your workout sessions. Other prime features include the remote control, intelligent programs, and a powerful motor.
Full body vibration machine with a maximum weight capacity of 330 lbs and 11 fitness modes. 

10. Bluefin Fitness Vibration Platform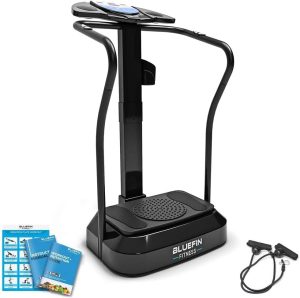 The upgraded Bluefin Fitness whole body vibration platform has a system that includes workout exercise cords to tone the arms and upper body. If you're a beginner, fret not, as there will be a guide filled with 10 built-in automatic programmes for you to choose and follow. Equipped with a silent drive motor power and 180-speed level range, there are also integrated Bluetooth speakers that'll help enhance your workout experience, helping you lose weight, reduce cellulite and tone your muscles in the most indulging way possible. 
Vibration platform with 180-speed level range and 10 built-in exercise programmes.
What Is a Full-body Vibration Machine and How Does it Work?
A full-body vibration machine consists of a vibrating platform on which you can stand on and perform exercises to help maximize your exercise output. The machine stimulates your muscles to contract and relax multiple times in a second. The stimulation helps in promoting blood flow throughout the body, and the movement also helps in burning fat. You can choose to simply stand on this machine or perform simple exercise such as squats or pushups which improves the efficiency of your workout. These machines are very easy to use and can be used for everyone, converting even those who don't usually exercise into avid fitness enthusiasts. 
How to Use a Full-body Vibration Machine?
Using a full-body vibration machine is straight-to-the-point and doesn't require any prior machine knowledge for operation. Simply turn on the machine, and choose your desired vibration level and voilà! Depending on the machine, there could be multiple modes or levels, we recommend starting with the lowest setting and gradually working your way up. There may or may not be support handles, so brace against a wall or any other support if you're just starting out. 
If you're still debating whether to invest in one of these machines, let us remind you just how beneficial they could be in your fitness journey.
Full-body Vibration Machine Benefits
Here's an encapsulated list of all the benefits of a full-body vibration machine has to offer:
Promotes weight loss
Boosts metabolism
Reduces stress
Stimulates blood and lymph circulation
Enhances balance and flexibility
Improves muscle strength and bone density
Alleviates pain and sore muscles
Increases the efficiency of your workouts
Now let's discuss how to choose the right machine for your fitness goals.
What to Look for When Buying a Vibration Machine
A. Weight Capacity
Most vibration plates are designed to support a minimum of 230 pounds, but it varies from machine to  machine. Ideally, look for a machine that can support at least 300 pounds. Machines with a higher weight capacity also tend to be sturdier overall.
B. Speed
Adjustable speeds are an important criterion for vibration machines. You want to make sure the plates of your choice come in varying speeds and intensities so you can customize it to your needs. Say you want to use higher speeds when standing still or doing lower body exercises like squats, but lower speeds when sitting on the machine or doing upper body exercises. 
C. Type of Vibration
Typical vibration plate styles consist of oscillation plater or tri-plane plates (or a combination of both). Tri-plane vibration means the plate vibrates up and down, side-to-side, and front-to-back. This type of plate is often seen in gyms and fitness studios. 
Oscillation plates on the other hand, move more like a pendulum, rocking from one side to another. This motion stimulates walking and tends to be gentler, with more uses in therapy and holistic health rather than sports or workouts. 
D. Safety Features
Make sure your vibration machine is sturdy and won't slip and slide around when in use. Suction cups or rubber feet are common features that can help prevent unwanted movement. Besides, look for a plate with good traction, like a non-slip rubber or carpeted surface. Some plates even come with removable handles or rails to maintain your balance. 
E. Additional Features
Some vibration plates come with additional, prime features like remote controls, Bluetooth speakers, exercise mats, resistance bands, detachable handles, or removable seats. Opt for a plate that offers all of the equipment you need to feel safe, comfortable, and motivated while using it.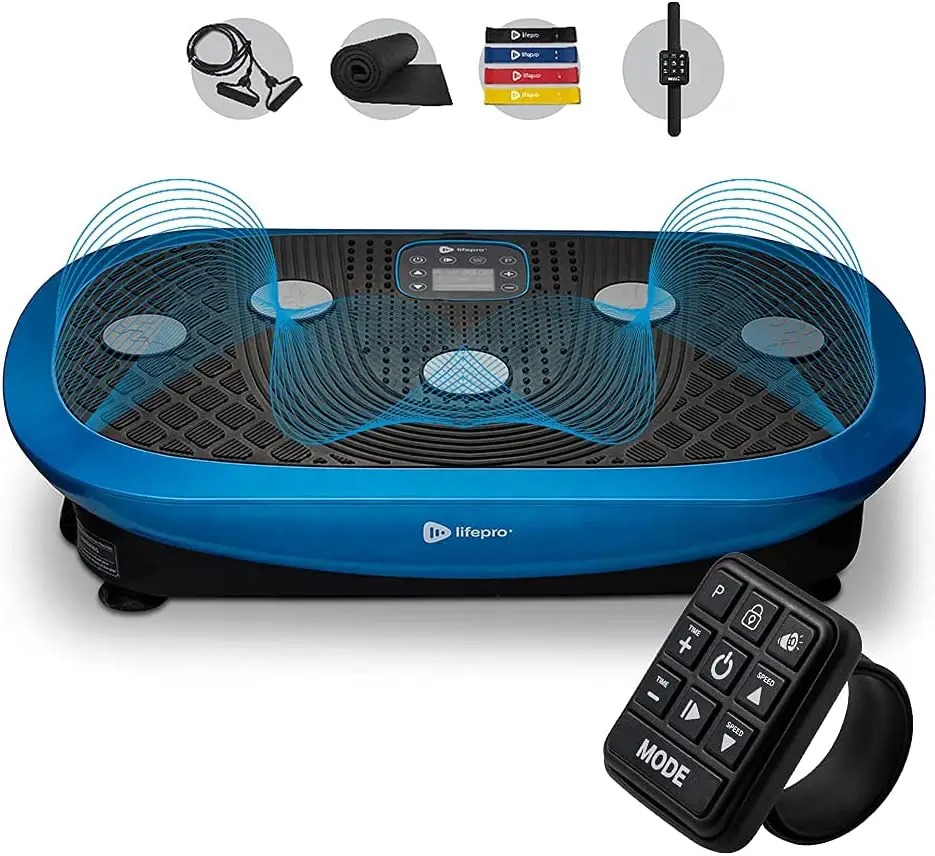 LifePro Rumblex Plus 4D Vibration Plate Exercise Machine
The Lifepro Rumblex Plus comes with 60 adjustable speeds and a wide range of programs and training modes for you to choose from, plus a remote designed to be worn as a watch, so you won't have to stop moving to switch up the plate's settings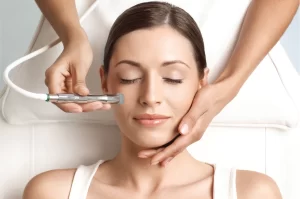 Skin Care
Editor's Choice Microderm Glo Mini Diamond Microdermabrasion and Suction Tool Latest price 2nd Best Choice
Read More
Subscribe to our newsletter