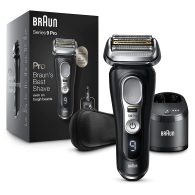 Braun Series 9 Pro 9465cc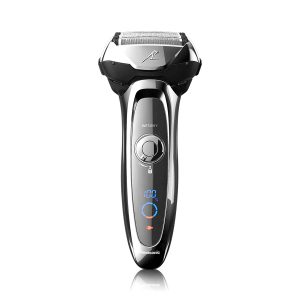 Panasonic Arc5 Electric Razor
Powered by motors and advanced cutting mechanisms, electric razors are undoubtedly one of the most efficient options for achieving baby-smooth skin with minimal maintenance and prep. To be frank, there was a time when electric razors would burn the skin and not get a very close shave, but it was a thing of the past. That's partly because technology has improved. Today, many razors are designed to work on dry and wet hair. 
Not only are electric razors less irritating on the skin, they're also better for your wallet and the planet in the long run. If you use one regularly, the cost per shave will work out far less than if you use traditional cartridge razors.
The best electric razors for men are convenient and versatile—eliminating scruff with just a few swipes and leaving your skin unharmed. To find the best models, we've tried and tested 10 options and here are our recommendations.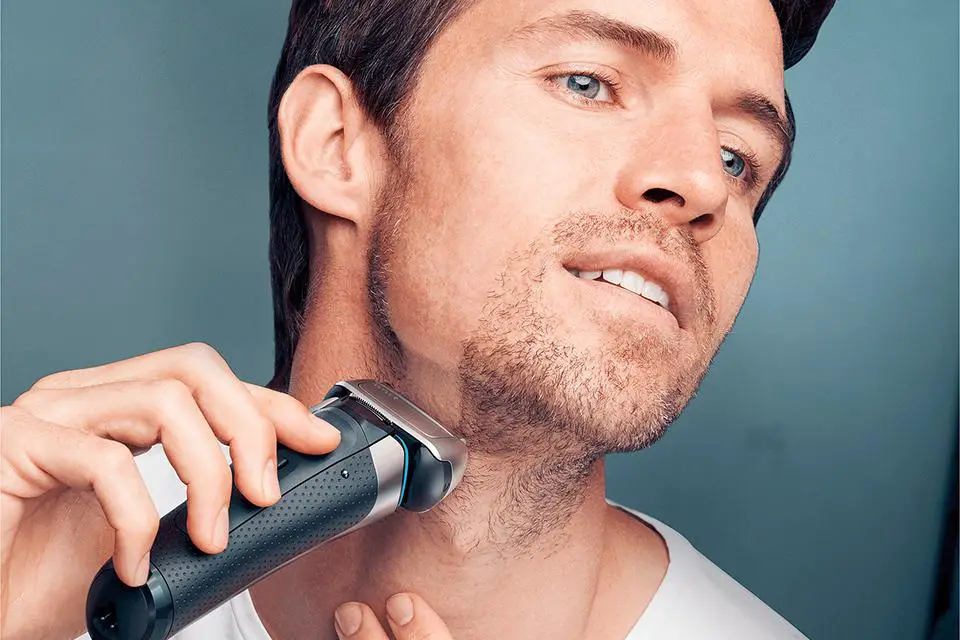 10 Best Electric Shavers for Men In 2023
1. Braun Series 9 Pro 9465cc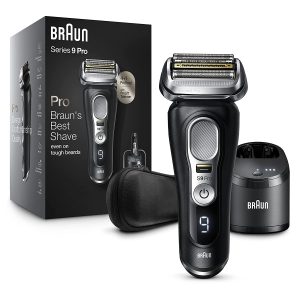 After conducting our Braun series 7 vs 8 vs 9 review, we found the razor reduces shaving time into a fraction of what other electric razors typically put out. It features all the bells and whistles you're looking for in a high-end electric shaver (even a self-cleaning charging station) and even ones you didn't know you needed, like the AutoSense technology that automatically adjusts power based on the density of your beard, allowing it to plow through even 7 days-worth of stubble easily. There's even Sonic technology that lifts hair to deliver a closer shave in less time.
Cutting-edge electric shaver with AutoSense and Sonic technology.
2. Panasonic Arc5 Electric Razor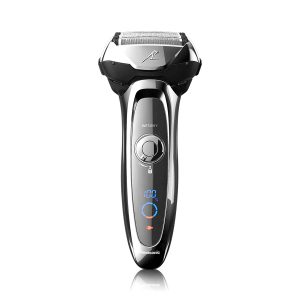 One of the best electric shavers for men that are gentle on sensitive skin—the Panasonic Arc5 features 5 ultra-sharp blades to deliver a closer shave than any razor and cream combination we've tried, and the pivoting head ensures you don't miss a spot (even hard-to-reach spots like your jawline and neck). The body is rather lightweight and virtually whisper-quiet. Other versions of this razor also come with prime features like the Intelligent Shave Sensor that automatically adjusts to your hair thickness, but this version still delivers an excellent shave without as many bells and whistles.
Electric shaver with 5 blades and a pivoting head for a precise, ultra-close shave.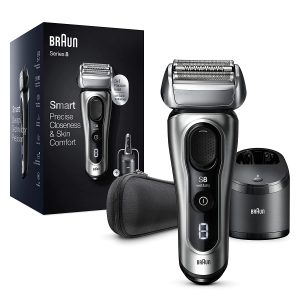 The Braun Series 8 boasts four synchronized shaving elements that cut in one strike what other razors do in two. You get most of the features in the Series 8 as you would the Braun Series 9. The primary difference is that you receive an extra cutter on the latter, making it easier to cut down longer wiry hairs, which would push the Series 9 to better tackle stubble that's grown out for a couple days. 
Generally speaking, what you get with the Series 8 is a premium quality trimmer for about $75 cheaper than the industry leader. What you compromise on is less power when cutting thicker hairs and less range of motion in the flexible head (it only moves in 8 directions compared to the 10 directions in the Series 9), but if you're using someone using a razor everyday then this Braun electric razor will definitely perform with flying colors. 
Electric razor with four synchronized shaving elements.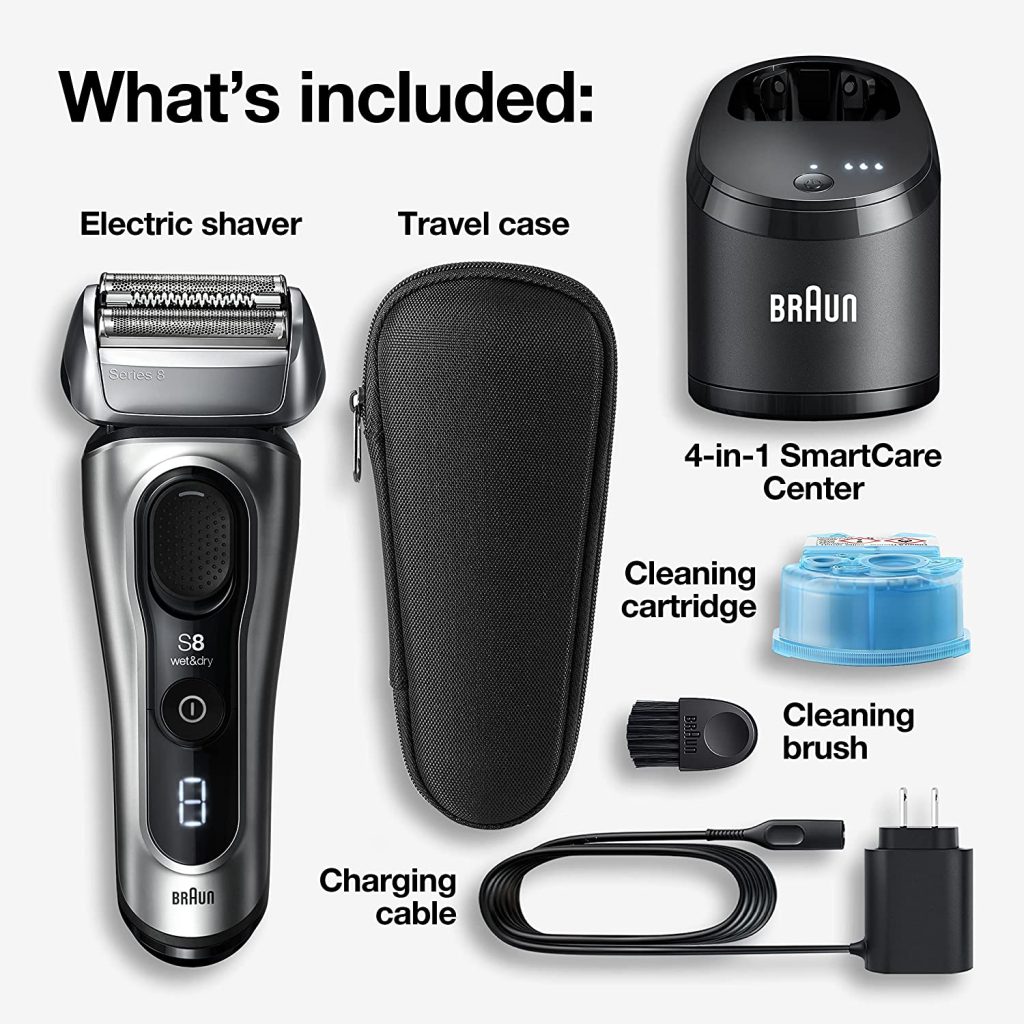 4. Philips Norelco 9800 Wet & Dry Shaver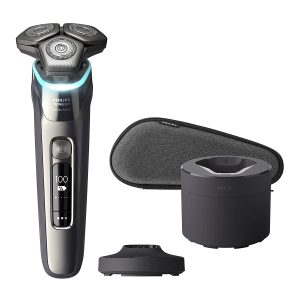 If you're someone who's constantly fighting those after-shave pesky neck hairs, then this powerful shaver brings AI into your bathroom and harnesses it to deliver a second-to-none close shave. The Philips Norelco 9800 features rotary heads, making it easy to glide on your skin, and the pressure sensors alert you when you're pressing too hard or not enough. The Dual Steel Precision blades deliver 150,000 cuts per minute so no hair is left behind regardless of how quickly you have to get ready. And if that's not impressive enough already, the accompanying app tracks your shaves and suggests tips to improve. 
Wet and dry electric razor with dual steel precision blades and a mobile app.
Rechargeable electric nail file with an LED light.
5. Philips Norelco 3800 Electric Shaver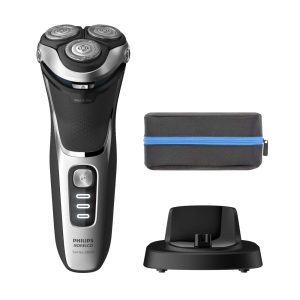 If you're looking for the best electric shavers for men that don't cost an arm and a leg, the Philips Norelco 3800 retails at $79.86 (as of 16/4/2023) and can tackle just about any hair. It works well in grasping hairs in hard-to-reach areas like your neck and takes on hairs of various lengths. While it doesn't come with many fancy features like the others, this model is still a great tool with plenty of the standard functionality. It has the same battery life and can be used both wet and dry. Mind you that the heads still pivot, just not as dynamically as the others, and it consists of a pop-up trimmer for touching up mustaches, sideburns, and edges.
Affordable electric shaver with a pop-up trimmer.
6. Manscaped The Lawn Mower 4.0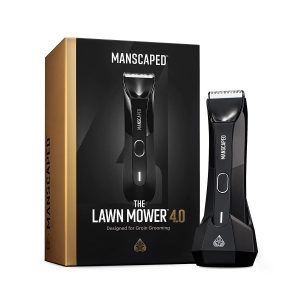 Gone are the days of hacking away at the nether regions with a regular razor which often leaves behind a trail of nicks and cuts. Let's admit it, you probably don't just shave or trim on your face. The SkinSafe ceramic blades on this upgraded shaver minimize nicks and cuts and make body grooming less of a hassle. Use it either wet or dry and with or without the adjustable guards for a truly bespoke and comfortable manscaping experience. It's a game changer.
Electric shaver with SkinSafe ceramic blades for grooming the back, body and groin.
7. Gillette Intimate Men's Pubic Trimmer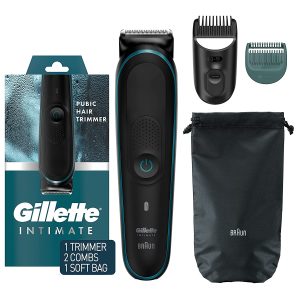 One of the best electric shavers that are gentle even on the most sensitive skin, the Gillette Intimate model features blades that are closely spaced together to prevent the skin from getting caught leading to nicks and cuts. Plus, they stay sharp longer to help deliver  a smooth, pull-free shave. It also comes with length guards, including a sensitive comb to help further protect your skin when you're performing a close shave.
Electric shave with closely-spaced blades.

8. Andis Profoil Foil Shaver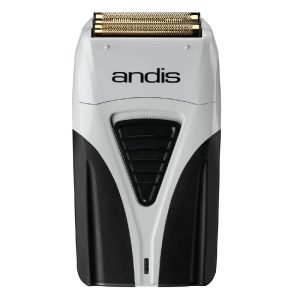 Whether you're shaving your head, your face, or touching up your fade between haircuts, this easy-to-operate and powerful model is one of the best electric shavers on the market barbers turn to. With 80 minutes of run time on a single charge, this handy tool is everything you need to make sure there's no stubble in sight.  It's not exactly designed for consumers—note the clunky box shape and less appealing gray plastic—but it's the model most experts trust to deliver professional-grade shave and handle a high volume of use. It gives you a super-close shave without any razor burn. Most importantly, it's lightweight, durable, inexpensive, and doesn't require a frequent charge.
Powerful electric shaver designed for professional use.
9. Wahl Lifeproof Foil Shaver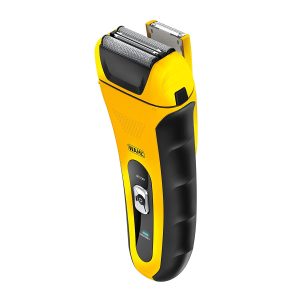 The straightforward and beginner-friendly shaver is designed with a rubberized, shock-absorbing coating to resist slip and is waterproof down to 1 meter of water—ideal for travel and if you're accident prone (or careless). It's on the simple side in terms of features, but that doesn't mean it compromises on power. The dual foil blades give a quick, close shave whenever and wherever you need it. 
Electric razor with an anti-slip, rubberized, shock-absorbing coating.
10. Panasonic Electric Body Groomer and Trimmer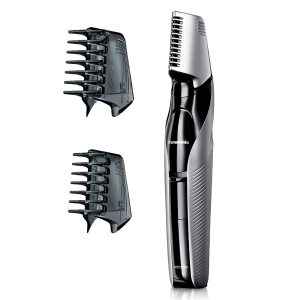 One of the best-selling electric razors on Amazon, the Panasonic electric body groomer and trimmer has received hundreds of five-star reviews for getting the job done for a reasonable price. It's true that there are other great body trimmers, but what this one does exceptionally well is its performance in the shower courtesy of its waterproof design and unique v-shaped head. On top of that, you can lather on shaving cream and use it in the shower to achieve a super close shave. 
Waterproof electric razor with a unique v-shaped head.
What are the Benefits of Using an Electric Shaver?
It really boils down to your shaving style and what you're looking to achieve. Electric razors offer more benefits than traditional razor and cream combos would. First of all, they reduce the need for multiple products. Most electric razors don't necessitate the use of shaving cream or any other products to achieve a close shave. Secondly, they're efficient. Most electric shavers can shave a full beard in half the time (or less) it takes to shave the traditional way. 
If you struggle with razor bumps, post-shave irritation or even acne, an electric razor may be just the thing you need.
How to Achieve a Close Shave with an Electric Shaver?
Unlike shaving with a traditional razor, an electric razor has a pretty low learning curve. However, that doesn't mean you should just take your electric razor out of the box and start zooming without first knowing how to get a close shave.
Step 1 – Prep Your Skin
For starters, make sure your skin is properly cleansed before you start shaving. If you have a wet and dry shaver, you can go ahead and scruff right out of the shower (or even in the shower) after washing your face. If you have a dry shaver only, you may use a light amount of pre-shave oil or you can wash your face and then pat it dry with a towel—these types of shavers work best with stubble that doesn't work on any moisture. 
Step 2 – Use Proper Positioning 
Next, hold your razor perpendicular to your skin at all times, that way you aren't trimming your hair at an angle. You want to hold your razor gently too: avoid pressing down hard into your face to achieve your desired shave. In fact, pressing down on your skin when shaving can cause uneven patches, especially if you're pressing down with more force when coming up around your chin and the rest of your jawline. So it's important to hold your electric razor in the same manner as you would a traditional razor. 
In terms of shaving motions, you may stick to back-and-forth paths on a foil shaver. If you have a rotary shaver, you can combine the back-and-forth path with circular motions. 
Step 3 – Read the User Manual
One final note: make sure to read over your razor's manual to ensure you're utilizing the best technique possible. Some brands include tips designed for their product alone, so you might find a couple of pieces of advice that can help you optimize your shave further to yield the closest and smoothest results possible.
What to Look for When Purchasing an Electric Shaver?
To choose the best electric shaver for you, it's important to factor in your personal shaving routine and frequency. Here are the top factors you should consider when choosing the best electric shaver.
A. Types of Blade
The situation is different if you aren't an everyday shaver. Electric razors can struggle with longer growth since longer hairs have trouble making their way through the foil. So if you shave once in a while, you'll benefit from a razor that comes with at least one trimming blade on top of the foil blades. While the foils are best suited for dealing with short stubble, these trimming blades have a larger opening ideal for capturing long or low-lying hairs.
B. Cleaning Station
You should also consider the need for a cleaning station. While most electric shavers are easy to clean yourself by simply popping off the head cover and running under the faucet; however, if you shave daily, the frequency of this process can be a pain in the neck. A dedicated cleaning station uses a solution to thoroughly clean your razor head at the push of a button. These stations can be slightly noisy and add to the overall price, but in the long run, you'll notice that they do all the work for you, and most double as a charging dock as well.
C. Razor Types
When it comes to the types of razor, there isn't much difference between the performance of foil compared to that of rotary models. Having said that, rotary razors do deliver a slightly-less-close shave though, and they can be more irritating to those with sensitive skin.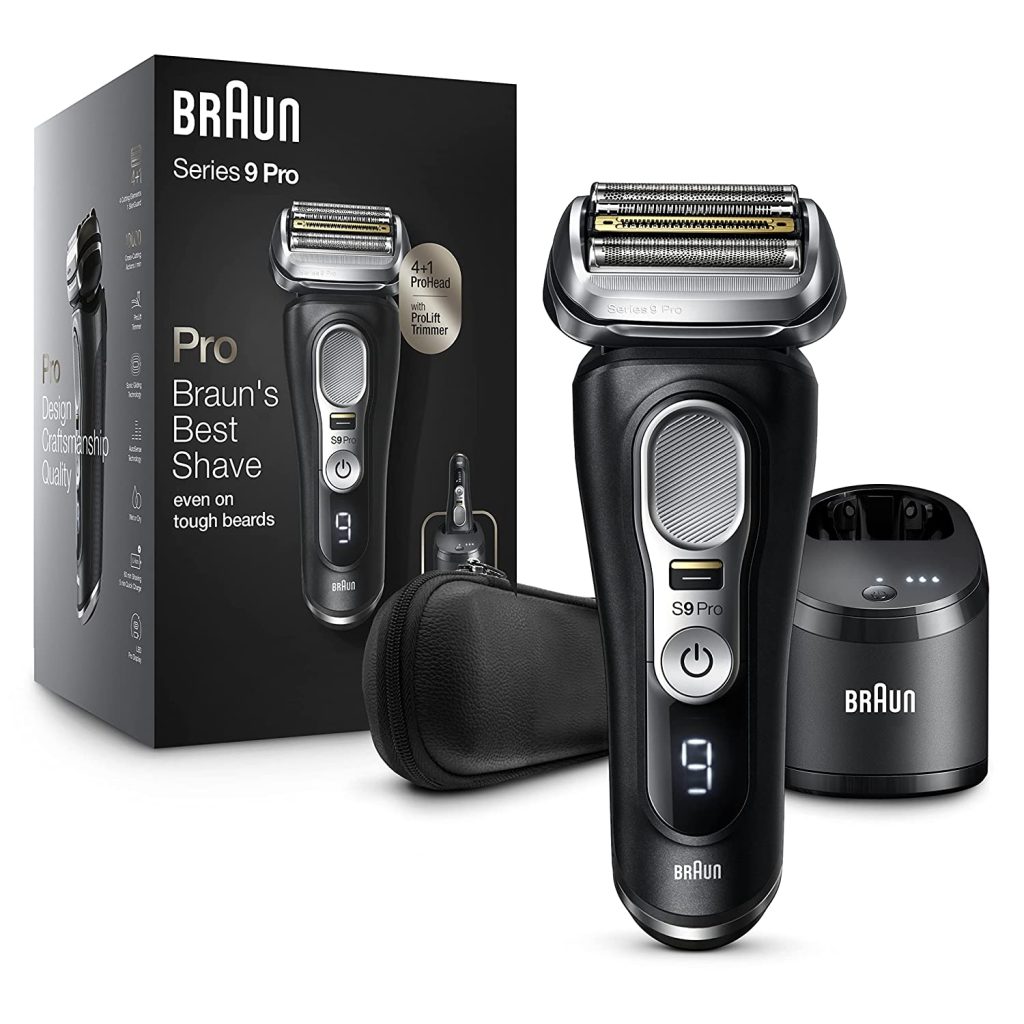 Braun Series 9 Pro 9465cc
This Braun razor features AutoSense technology that automatically adjusts power based on your beard's density, as well as Sonic technology that lifts hair to deliver a closer shave in less time.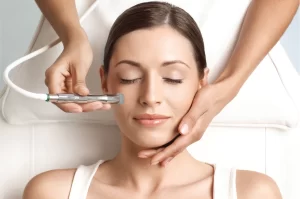 Skin Care
Editor's Choice Microderm Glo Mini Diamond Microdermabrasion and Suction Tool Latest price 2nd Best Choice
Read More
Subscribe to our newsletter