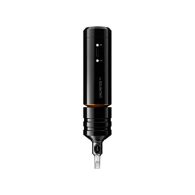 Cheyenne SOL Nova Unlimited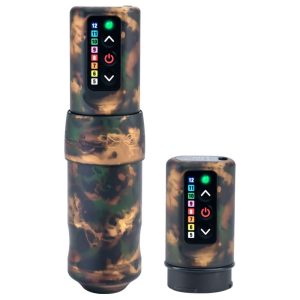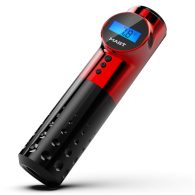 Mast Archer Wireless Tattoo Machine
Tattoo is amongst the oldest forms of art ever adorned by humanity, and as more and more people wear tattoos, artists are taking a keen interest in making this art form customized and unique.
If you're looking for the best tattoo pen machines, we have exactly what you need. To create a good tattoo requires proper tools, and without a tattoo pen, even the most experienced tattoo artist can't give you the results you desire. 
There are numerous machines to go for, and the one with the most significant vote being tattoo pen machines. Here are the 10 most recommended models to choose from.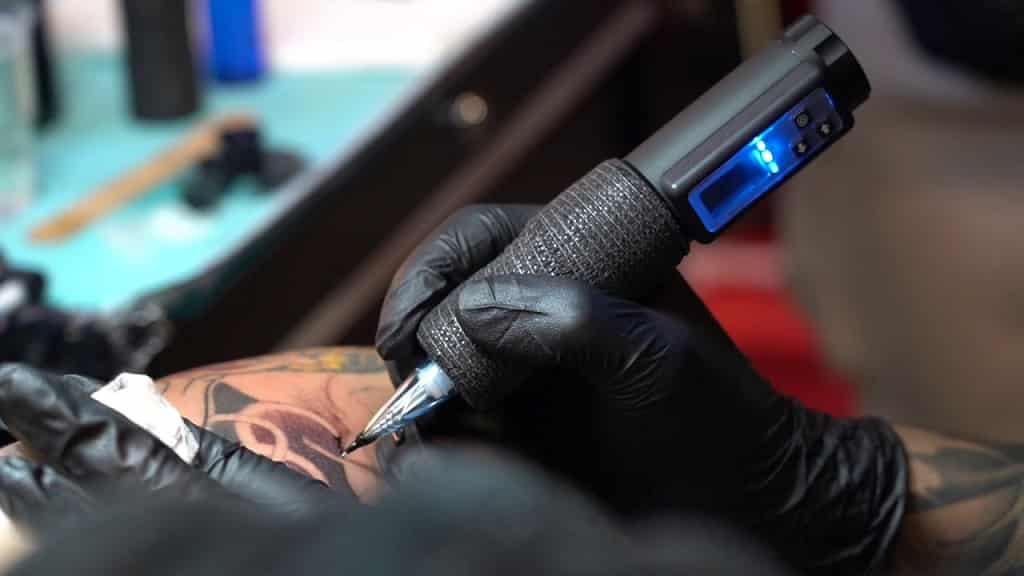 What Is a Tattoo Pen Machine & How Does It Work?
To put it simply, a tattoo pen is a type of tattoo machine designed to mimic a pen. These pens are replacing traditional tattoo guns due to the sheer convenience of using them. Its slender structure allows for better grip and control of the artist. Unlike traditional tattoo guns that run on an electromagnetic oil that moves the needle up and down, a tattoo pen machine uses a motor for needle movement and inking. This makes the entire process quieter and less vibrative. Nonetheless, it's just as effective as any type of tattoo machine. On top of that, they're adjustable, user-friendly, and utilize needles that come in replaceable cartridges.
Now, let's delve into our list of the best tattoo pen machines.
10 Best Tattoo Pen Machines for Beginner & Experienced Artists
1. Cheyenne SOL Nova Unlimited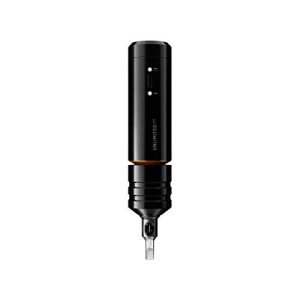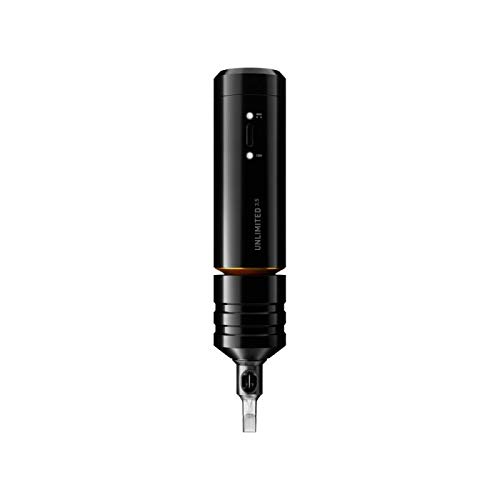 One of the best tattoo pen machines that has taken the industry by storm, the Cheyenne SOL Nova Unlimited model boasts an ergonomic, pen-like shape with a more powerful and softer handling. This durable and robust, yet lightweight rotary tattoo machine has a perfect balance, with its weight shifted to the front, allowing for optimum control and accuracy. It's designed with a powerful brushless DC motor to deliver faster ink saturation—although its quiet and soft operational mode means that it remains gentle on the skin, allowing for a faster healing process. With a stroke range of 0 to 4.0 mm, the pen-style SOL Nova is best suited for precise lining and soft shading as well as bold lines and color packing. It operates between 25 and 140Hz. The low frequency operation of 25 hertz makes it a great model for dotwork and color realism, while you just need to turn it up higher for fuller and more intense lines.
Cutting-edge rotary tattoo pen machine with a brushless DC motor for efficient ink saturation.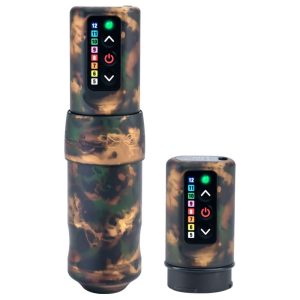 Powered by a detachable battery pack known as PowerBolt, the Spektra Flux tattoo pen machine can be run wirelessly without the need for cables or power supplies. The PowerBolt is also interchangeable, so artists can quickly switch to an auxiliary battery when the charge runs out, meaning that there's no downtime! It's also Bluetooth-enabled, meaning that tattooists can pair the pen with Darklab's app. You can also wirelessly update the Spektra Flux pen with the latest firmware via the Darklab app. This is a direct drive tattoo machine that delivers a 4 mm stroke and precise lining, shading, and color packing.
Bluetooth-enabled pen-style tattoo machine with 2 PowerBolts.
3. Mast Archer Wireless Tattoo Machine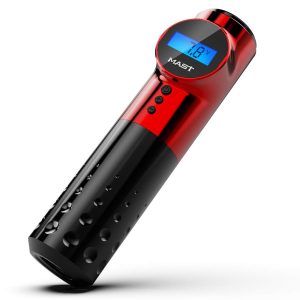 The beginner-friendly Mast Archer pen-style tattoo machine is a rotary device that comes in an easy-to-handle pen casing. With a set of 3.5 mm stroke length—the best "all rounder" option for lining, packing, and shading—there's absolutely no tuning required. It even comes pre-charged, so all you have to do is press the button and get going. You'll appreciate that the clearly visible LCD voltage screen makes it easy for you to set and adjust your desired voltage, and the click-action grip makes it simple for you to move the needle further in or out of the cartridge. On the flip side, its direct drive motor has no "give", meaning it'll be easier to tear up the skin if your needle depth isn't spot-on.
Tattoo pen machine with 3.5 mm stroke length and an LCD voltage display.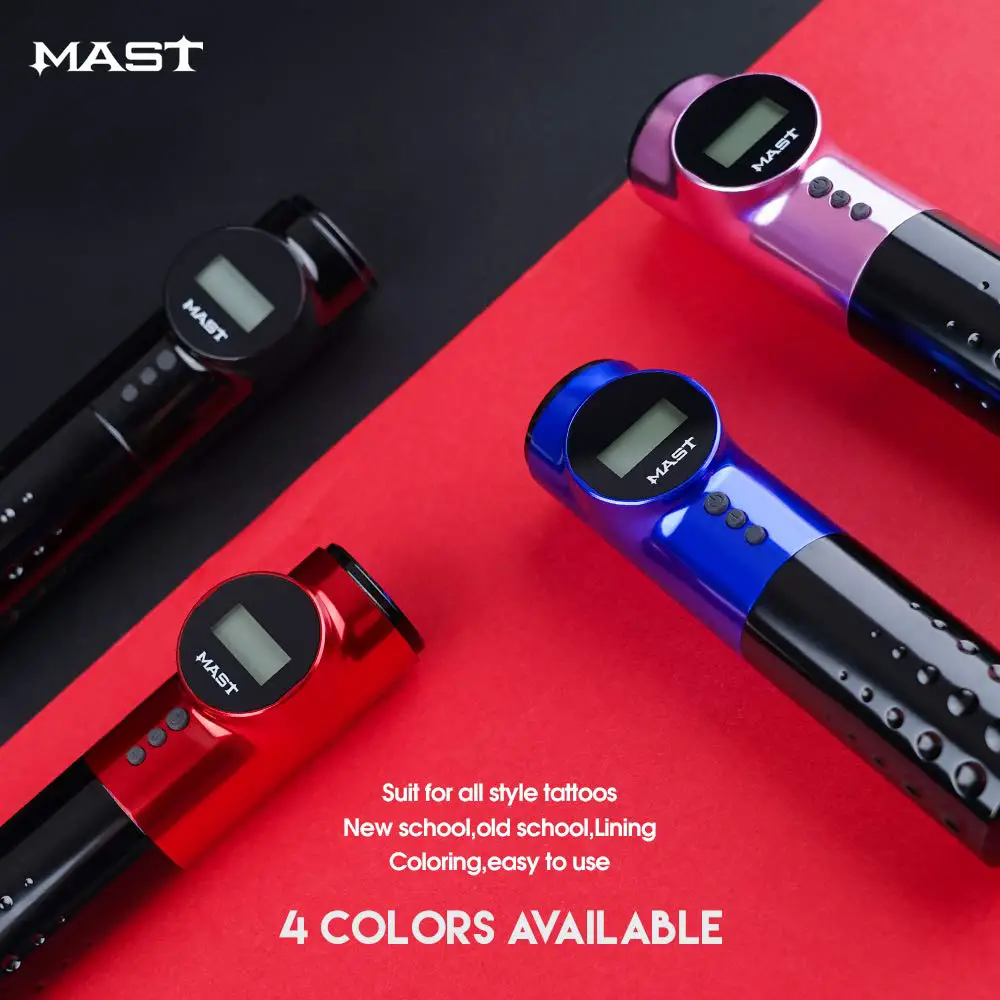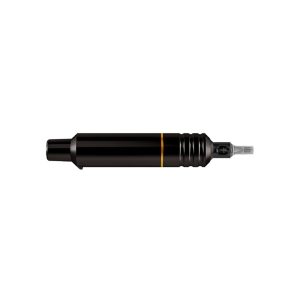 One of the best known pen-style tattoo machines around, the Cheyenne HAWK Pen was the first-ever-pen-style tattoo machine and has inspired countless rotaries since the debut of the prototype back in 2014. Even years after its release, the Cheyenne HAWK pen still shines light in the pen-style rotary machine category, with many world renowned artists using it today. Shaped like a marker pen, the machine is relatively quieter and vibrates less compared to conventional tattoo devices—without compromising the puncturing power. It's powered by a precision DC motor and offers a stroke length of 3.5 mm and needle depth adjustment range from 0 to 4.5 mm. You can use this pen-style machine with any conventional tattoo cartridge that features a Cheyenne-type connection.
Pen-style tattoo machine with a precision DC motor for both lining and shading.

5. SOLONG Rotary Pen Gun Kit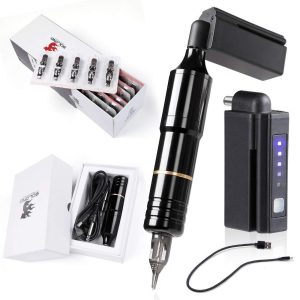 Made from aircraft aluminum alloy with an anodized finish, the  CE-certified SOLONG rotary tattoo pen machine produces 10 watts of power and is surprisingly quiet. This complete kit includes a tattoo pen, 50 needles cartridges, a power supply, a foot pedal, a power cord, and other supporting equipment. While it's designed and constructed with high-quality materials, you won't have to spend much time maintaining and repairing it like you would with other machines. The fact that Solong manufactures this tattoo machine with a one-year warranty tells you that it's of high quality and can live up to its name.
CE-certified tattoo pen machine made of aircraft aluminum alloy and an anodized finish for durability
6. Ambition Soldier Rotary Tattoo Pen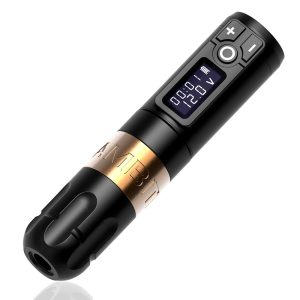 The all-the-rage Ambition Soldier tattoo pen made of durable aluminum alloy frame and CNC carved is a device you can keep for years to come. It's detachable as a whole, with parts that are easy to dissemble, maintain and replace. Features a built-in Japanese Coreless Motor (10V – 9000 RPM), you can rest your mind knowing that it's powerful, gentle on the skin, fast coloring, and doesn't overheat during long-hours of tattoo work. Most importantly, the pen machine is compatible with all types of cartridge needles, and comes with a direct drive system that makes it stronger and better for lining and shading. The package includes the machine itself, a 4.0 mm eccentric wheel, an RCA adapter, a USB fast-charging cable, as well as a convenient box. 
Rotary tattoo pen machine with powerful built-in Japan Coreless Motor.

7. Mast Tour Wireless Tattoo Pen Machine Kit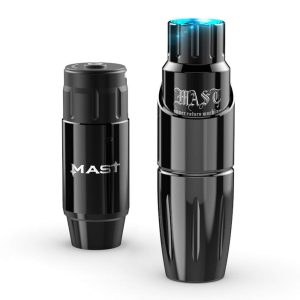 One of the best tattoo pen machines that are lightweight and portable—the Mast Tour wireless tattoo pen machine kit is designed for mobile tattoo artists. Speaking of its power and functionality, this tattoo pen machine features an upgraded Mcore-C series motor and a special mechanism to deliver a good direct hit with enough softness. This device is simple, classic, and is best suited for precise line work, black and gray shading, as well as solid color packing. The protective frame of this machine comes separately from the autoclavable grip for easy packing.  Comes with a needle depth of 0 to 4.0 mm, and a stroke length of 3.5 mm, you can connect this device to a power supply using an RCA cord or use it wirelessly.
Portable tattoo pen machine kit with Mcore-C series motor.
8. Dragonhawk S5 Wireless Tattoo Pen Machine Kit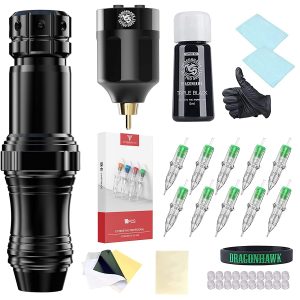 If you're a beginner, look no further than the Dragonhawk S5 wireless tattoo pen machine kit. It's the perfect epitome of simplicity so it doesn't overwhelm you, allowing you to concentrate on the task at hand rather than the tool itself. Its simple power supply system features precise activation and adjustable voltage. If you need two different machines to do a good job, you're in for a treat—this kit also comes with both liner and shader coils. To increase your efficiency, the package also includes a few tattoo skins and four steel machine grips. Finally, it comes in a convenient carrying case for easy movement, including a key, a few disposable grips, and other tattoo-related accessories. 
Wireless tattoo pen machine that comes with a liner and shader coils for versatility.
Amongst the best tattoo pen machines that offer unstoppable power both wired and wirelessly, we have FK Irons Exo. This device is fitted with a 9-watt brushless motor that's especially ideal for color packing. It's designed with a 40 mm ergonomic grip, making it more comfortable to use during longer tattooing sessions. The grip is also pretty forward-weighted, giving the EXO a pen-like feel to eliminate potential wrist pain and allow for maximum needle control. Available with one of three stroke lengths: 2.5, 3.2, and 4.0 mm, this device can be used either wired or wirelessly courtesy of the interchangeable RCA Bolt and PowerBolt. When using the PowerBold, you can connect the FK Irons EXO to the Darklab app via Bluetooth to make the most of the experience. On the other hand, if you prefer a traditional power supply, go for the RCA Bolt version, which also allows you to pair the machine with the Darklab Hover power supply to enable E-Give.
Tattoo pen machine with a 40mm ergonomic grip for optimal comfort.
10. Mast Lancer Wireless Rotary Tattoo Pen Machine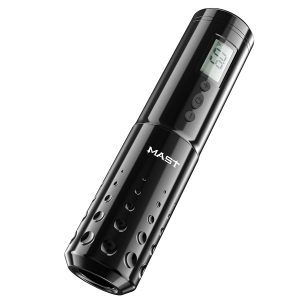 The Mast Lancer wireless rotary tattoo pen machine boasts an LED screen that displays the operating voltage, which can be adjusted in 0.1v increments. It has a 3.5mm stroke length and 12000 rpm speed. The adjustable cartridge needle length is 0 to 4 mm with a grip twist, whilst the battery capacity is 1900 mAh. This machine can work for 8-12 hours after a full charge, featuring one battery and two replaceable wireless batteries.
Wireless rotary tattoo pen machine with an LED screen.
Benefits of Using a Tattoo Pen Machine
While they may not entirely replace your traditional tattoo guns, tattoo pens have come a long way and captured the hearts of many. Here are some benefits of using a pen-style tattoo machine.
Driven by motor and devoid of cables
User-friendly and easily adjustable
Mostly quiet
Stable built
Lightweight and easy to use for long hours
Easy to sterilize in an autoclave
If this list convinces you to go for a tattoo pen machine, here's a complete buyer guide that'll help you make the right choice.
What to Look for In a Tattoo Pen Machine
A. Motor
Go for a powerful motor that provides a steady performance, which will help you create clearer and finer lines.
B. Battery
You need to pick a machine where the battery runs for a long time, at least till the end of one tattoo session. You can also purchase an extra battery to avoid downtime.
C. Needle Compatibility
Eventually, you'll need to replenish the needle in a pen tattoo machine. Make sure that your machine is compatible with most needle cartridges on the market.
D. Needle Depth
The needle depth should be adjustable, and the needle shouldn't go below the second layer of your clients' skin to prevent blowouts.
E. Weight
A lightweight machine is always easier to operate and offers a good grip, and that is what an artist wants while focusing on creativity.
F. Weight Balance
The best tattoo pen machines balance themselves well and take the weight off the back of your hand, giving you the freedom to move around.
G. Diameter
The tattoo machine should accommodate needles of thick and thin diameters; thin ones are used for lining whereas thick ones are used for shading.
H. Voltage
This will divide how fast your machine runs, usually between 4 to 12 volts. It's best to run your machine at 7.5 to 8.5 volts for line work, and 8 to 10 volts for shading. 
If you're looking for the best tattoo chairs, check out this article.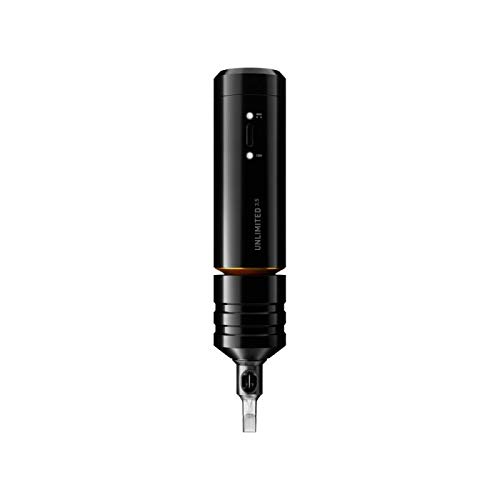 Cheyenne SOL Nova Unlimited
This rotary tattoo pen machine designed with a powerful brushless DC motor to deliver faster ink saturation—although its quiet and soft operational mode means that it remains gentle on the skin, allowing for a faster healing process.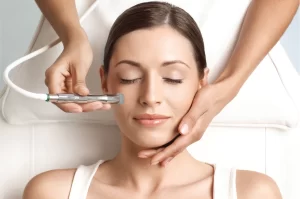 Skin Care
Editor's Choice Microderm Glo Mini Diamond Microdermabrasion and Suction Tool Latest price 2nd Best Choice
Read More
Subscribe to our newsletter