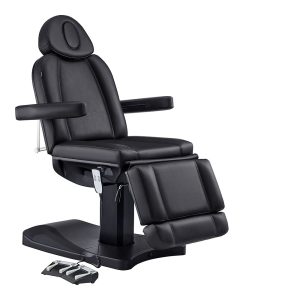 Dream In Reality Electric Tattoo Bed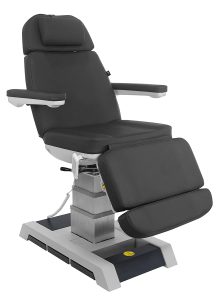 SkinAct Marco Electric Treatment Bed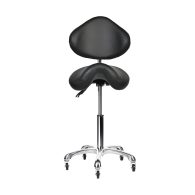 Cadiatio Saddle Stool Rolling Chair
A high-quality tattoo chair can mean a world of difference in the professional appearance of your studio and how comfortable your clients are. Plus, for a tattoo to be complete, it can take up to several hours of constant working. If you're an owner of a tattoo shop, you know what we're implying—cheap furniture can tire you out much faster and it can cause serious back, arm, and leg pain. Good furniture is comfortable, conforms to the body, and is easily adjustable. 
So if you're looking to upgrade the chairs and furniture in your tattoo shop or just about to launch one, look no further. In this article, we've gathered the best tattoo chairs, beds, and armrest for you to choose from.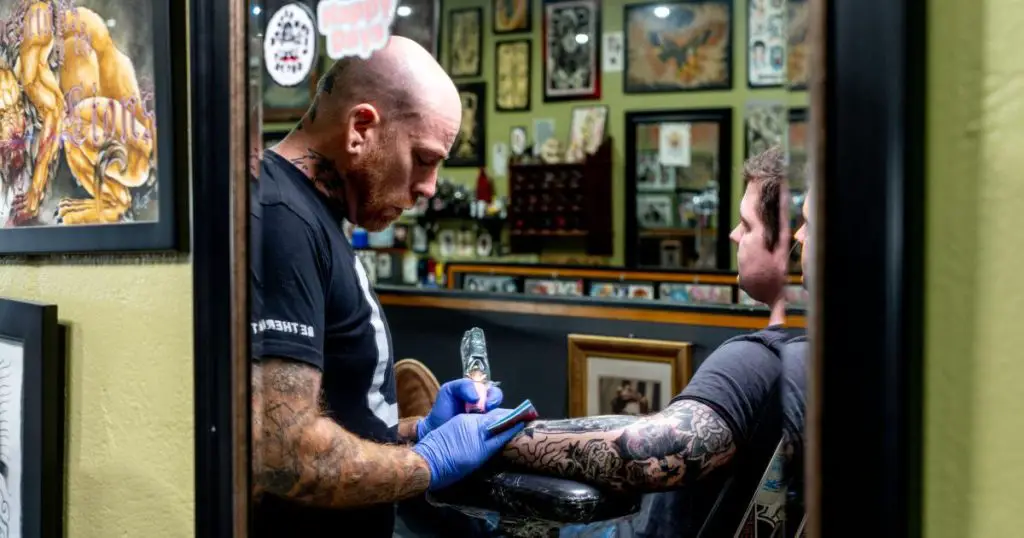 Different Types of Tattooing Chair
Before we delve deeper into our top picks, let's take a look at the various types of tattoo chair with their respective pros and cons.
A. Electric Tattoo Chairs
Electric chairs are catered to those with a higher budget. They cost more and are generally high-end furniture. Having said that, they make a perfect choice if you have a diverse clientele, or you do body arts on disabled clients too. Electric chairs offer ultimate comfort, even in hours-long tattooing sessions. They're easily adjustable, extendable, rest assured that no one will have a hard time climbing onto the chair.
B. Massage Tables or Beds
Massage tables are actually very versatile—they can be easily adjustable and offer tons of comfort for both the tattoo artist and the client. They are excellent for those who are just starting out in the tattooing scene.
C. Hydraulic Tattoo Chairs
These chairs are perfect for those who want to save money, yet still want a high-quality chair for themselves and their clients. These chairs are pretty similar to the electric ones, except they don't run on electricity. However, these chairs need to be manually adjusted or by using the hydraulic system. This can take some time to get used to and might not be suitable for tattoo artists who don't want extra work to interfere with their job.
10 Best Tattoo Chairs, Beds & Armrest Reviewed
1. Dream In Reality Electric Tattoo Bed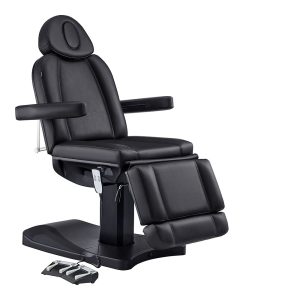 Electric adjustments are great but remotes are another source for potential cross-contamination. The best tattoo chair on our list, this pick from Dream In Reality—it allows you to control the adjustments either with a remote or foot pedals. The height of the chair and angle of the backrest are powered electronically and can move from an upright seated position to entirely horizontal, hence a chair and a bed at the same time. There's a good range of height adjustment that can bring your clients up to a level that's more ergonomic for you. The leg rest and armrests are adjustable as well but must be done manually. That's a little bit of a fly in the ointment but not a huge deal in practice. Other features include removable armrests, a cut-out headrest, and a matching filler pillow. 
Tattoo chair with 2 motor electrical adjustments.
2. SkinAct Marco Electric Treatment Bed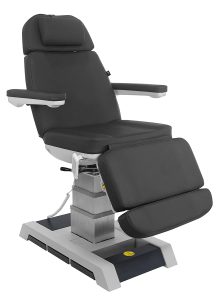 For those providing both traditional tattooing and body art procedures like microblading and cosmetic tattooing, a chair that resembles a procedure table or facial bed is your best bet. The high-end, more medical appearance is reassuring to anxious clients who are new to these services. The Marco by SkinAct is, without a doubt, a good tattoo chair. It's stable, sleek, and comes with a variety of electric adjustments. Its four motors control the height of the chair, angle of the backrest, angle of the leg rest, and angle of the entire chair itself so it can be set on a tilt if necessary. It includes a handheld remote so you can be able to reach the controls from virtually any spot. The armrests and headrest are removable, and the headrest and the leg rest both extend to over more as needed. There's also a removable filler pillow in the headrest which can be removed for face-down positioning. 
4-motor electric chair/table suitable for a wide range of body procedures.
3. Cadiatio Saddle Stool Rolling Chair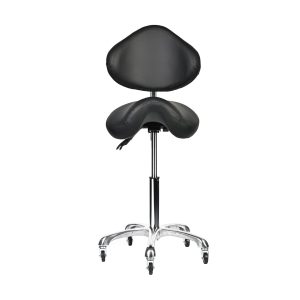 Clients' well-being aside, it's also important that as a tattoo artist, you prioritize your comfort. This saddle stool rolling chair from Cadiario features an ergonomic design, with the seat and backrest adjustable to support and ease the stress or pain on the back, shoulder, neck, legs, and hips—making it one of the best tattoo artist chairs there are. The height can be adjusted from 22.13 to 29.93 inches, and you're able to move on a 360 degree angle with the free rotated seat cushion and smooth caster wheels. Specifically designed for use in tattoo studios, barbershops, clinics, and more, we love that it comes with an easy assembly with no tools required. 
Ergonomic saddle stool rolling chair for tattoo artists with adjustable height.
4. FOHGFNT Saddle Stool Rolling Chair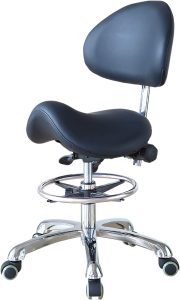 One of the best tattoo artists chairs that's ergonomically designed—the FOHGFNT stool features a curved saddle seat and a backrest that can be adjusted to relieve pain on the back, shoulder, and neck. The height can be adjusted from 33.26 to 41.14 inches, same goes to the footrest. Most importantly, this is a free rolling stool, and you don't have to worry about the wheels scratching your floor because they feature a single caster that's sturdy and quiet. 
Ultimate tattoo artist chair with back support.
5. Eognyzie Adjustable Saddle Stool Chair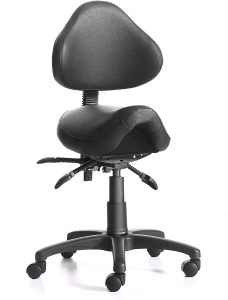 If you're looking for the best tattoo artist chair that can last a long time, this heavy-duty stool from Eognyzie is equipped with a reinforced aluminium base, which is sturdy and durable, and has a maximum weight of 350 pounds. It's made of premium-quality, thicker PVC and leather that are resistant to wear, oil, and water. It's also ergonomic, featuring a reclining backrest and a comfortable saddle seat design to encourage better posture. We love that the back support has a slanted contour that helps relieve back strain. The height of this tattoo artist stoolcan be adjusted with the hydraulic handle, from 21.26 inches to 25.2 inches; same goes to the backrest and pedals, which can also be adjusted to fit different height requirements. The wheels are made of reinforced nylon double swivel casters, making it suitable for all hard or soft floors, including wood floor, laminate, vinyl, tile, and carpet. 
Ergonomic saddle tattoo artist stool chair with back support.
6. BestMasage Multipurpose Table & Bed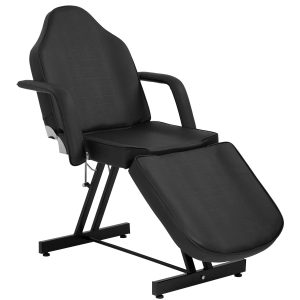 Don't be confused by its name, the BestMssage multipurpose table and bed is a versatile pick that can be used in any salons, be it for tattoo, facial, piercings, you name it. It has a backrest which can be easily adjusted from 65° to 180° while the foot rests, from 0° to 50°—allowing endless positioning possibilities. The table is draped in a luxurious PU leather, making it durable, soft, and easy to clean, and most importantly, it doesn't carry an offensive odour like other synthetic materials. We love that it comes with the necessary hardwares and manual for assembly, making your life as a tattoo artist much easier. 
Multipurpose salon table and bed with adjustable backrest and footrest.
7. Poarmeey XXL Tattoo Arm Rest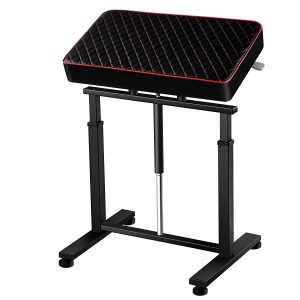 If you're looking for the best tattoo arm rests, this pick from Poarmeey features an XXL pillow to ensure optimum comfort for all arm sizes. The edge of the pillow is so soft that it'll not dig into clients' armpits during long sessions, and in the meantime, the tattoo artist's back will be less tired. The armrest uses a hydraulic system for easy lifting, and the panel tilt can be adjusted up to 180°, giving your clients dozens of options to get comfortable throughout the tattooing process.
Tattoo armrest with an XXL pillow to accommodate arms of all sizes.
8. Poarmeey Red & Black Tattoo Armrest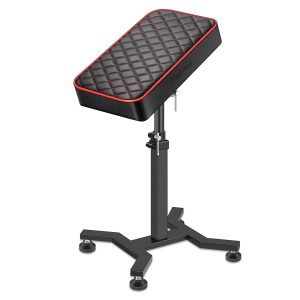 Another armrest from renowned brand Poarmeey, this affordable pick features a soft yet durable handmade pillow made of eco-leather with a unique prismatic web design. The frame of this sturdy armrest is made of handcrafted steel, providing both the client and the artist a reliable support during long sessions. The cushion can also be easily rotated, with the wheel gear up to a full 180° and the T-bar up to 360°. 
Tattoo armrest with a distinctive prismatic web design
9. Ajorah Rolling Swivel Chair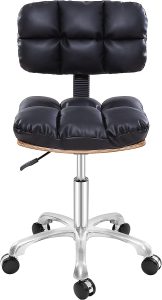 One of the best tattoo chairs that is multi-purpose, the Ajorah rolling swivel chair is built with top-quality and highly elastic sponge and PP cotton combination, making it incredibly strong, more resilient, and more comfortable than other chairs; rest assured that you won't feel tired after long tattooing sessions. It comes with a detachable cushion and backseat, hence easy to clean and install. To assembly, the package comes with the necessary hardware and accessories, as well as clear instructions for you to utilize and follow. 
Rolling swivel tattooing chair made with elastic sponge and PP cotton combination for comfort and durability.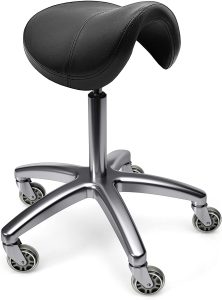 Amongst the best tattoo artist chairs that are built to last, the TASALON saddle stool comes with a premium AAA aluminium base that can handle professional wear and tear with no problem at all. It features quiet roller blade wheels which can not only facilitate 360° rotation, but also allow you to move around your tattoo studio more comfortably without getting up. You can also adjust its height to your liking (24 to 32 inches) with its brilliant chrome gas lift mechanism. 
Saddle rolling stool for tattoo artists with adjustable height.
Things to Consider When Choosing for the Best Tattoo Furniture
In order to choose the best furniture for your tattoo studio, here are some factors you need to consider:
A. The Size of Your Tattoo Studio
Tattoo chairs and tables eat up a lot of space. Many client-intended chairs often come with large head- and footrest, not to mention extendable parts. An average tattoo chair/bed's dimensions are around 74x34x31.
Don't forget you also need to factor in the size of your tattoo artist stool and additional rolling trays and tables. Therefore, depending on how much available space you have in the shop, you can go with either a smaller or a bigger chair.
B. Budget
Tattoo chairs require a huge investment, especially the ones specifically designed for clients. The rolling stools for tattooists are often cheaper. Nonetheless, weigh in your budget for the furniture. To get a high-end tattooing chair expect to shell out thousands of dollars, so keep that in mind.
C. Artist and Client Comfort
It's important to take into account your own and the comfort of your client during hours-long tattooing sessions. The furniture you opt for needs to come with a proper backrest, adjustable head- and footrests, and adjustable height and tilt. Without these crucial features, the chairs will not do you any good, both for you and your clients. 
D. Upholstery 
Since you're working with ink, you will need upholstered, leather, and water-proof furniture. Make sure to confirm whether the tattoo furniture is upholstered with quality materials (that are easy to clean and santize). They should also be well padded to offer comfort during long periods of sitting and lying.
FAQs
Do You Need a Tattoo Chair, Bed, & Armrest?
Your potential client's first impression of your reception area and your furniture play a huge role in whether they believe you are running a clean and safe shop. Don't wait to replace ratty, old furniture and the investment will pay for itself. 
How Do I Choose the Best Tattoo Chairs, Beds & Armrests?
It all comes down to your space, budget, your clientele, as well as your own needs and wants. 
What are the Benefits of an Electric Tattoo Bed?
An electric tattoo chair makes a good choice for those who're looking to create a high-end atmosphere. These beds tend to be highly adjustable and are helpful for the elderly and disabled who may have a harder time climbing onto a high table. 
Should I Get a Hydraulic or Manual Tattoo Chair?
Hydraulic chairs are a good option for individuals who can't afford an electric model but still want some power to help lift the chair to an ergonomic height.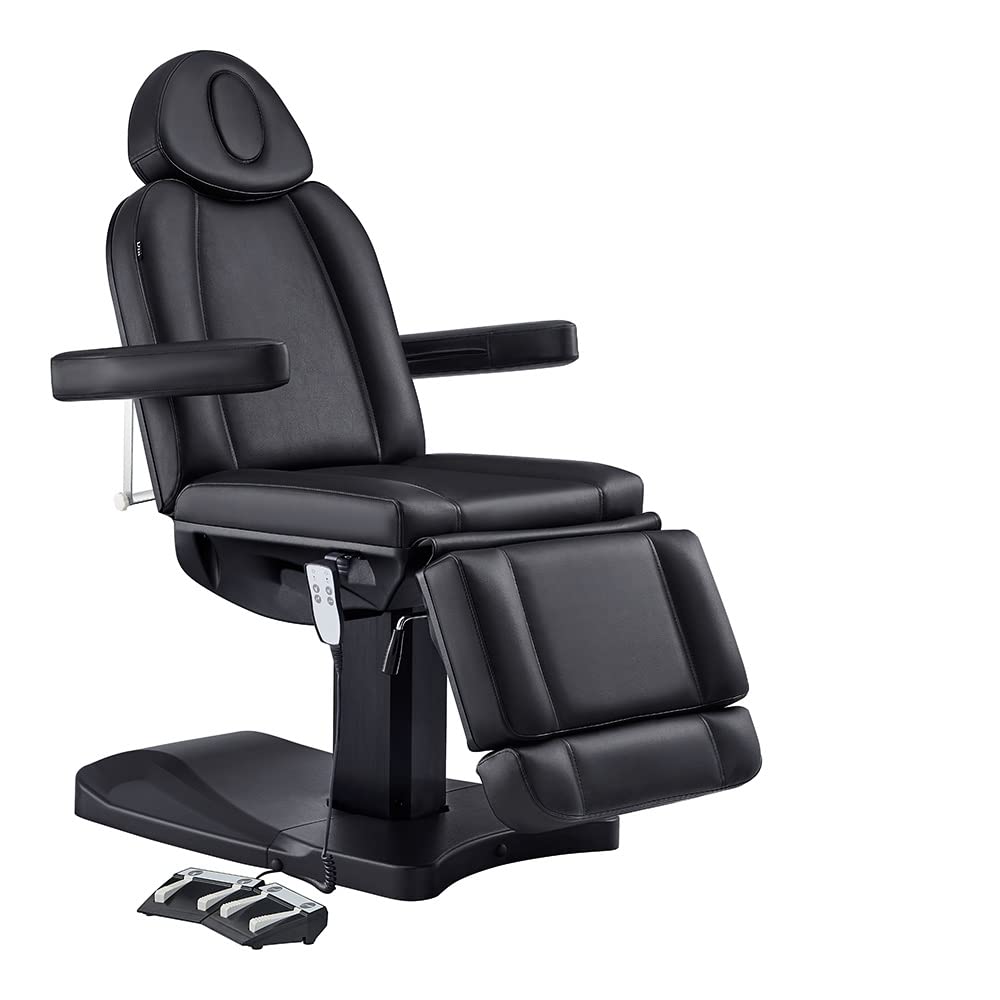 Dream In Reality Electric Tattoo Bed
This comfortable tattoo chair/bed allows you to control the adjustments either with a remote or foot pedals. The height of the chair and angle of the backrest are powered electronically and can move from an upright seated position to entirely horizontal, hence a chair and a bed at the same time.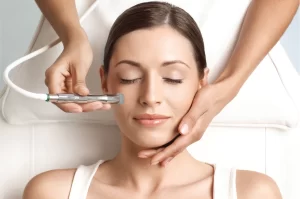 Skin Care
Editor's Choice Microderm Glo Mini Diamond Microdermabrasion and Suction Tool Latest price 2nd Best Choice
Read More
Subscribe to our newsletter