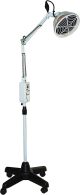 TDP Far Infrared Heat Lamp (KS 9800)

S.Choi Corp Infrared Heat Lamp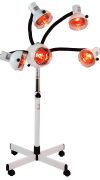 Skin Act 5 Head Infrared Heat Therapy Lamp
Salon heat lamps are your savior when it comes to ensuring that your clients step out of the premises feeling confident with their mane. These lamps produce infrared heat to optimize the intensity of hair colors and enhance the performance of any hair serums used, so they easily penetrate the hair shaft.
Apart from cosmetic motives, salon heat lamps are often used for therapeutic purposes. You can use these lamps to alleviate muscle pain and cramps while they warm you up from head to toe, helping you relax and melt away your stress—much like paraffin wax baths would
With options aplenty in the hair care market, you might feel overwhelmed as to which model to invest in for your salon business. Fret not, as we are here to make things easier for you. Check out our list of the best salon heat lamps of 2023. 
Bear in mind that heat lamps can become extremely hot when used. Therefore, always remember to wear heat-resistant gloves and take all necessary precautions when working with them.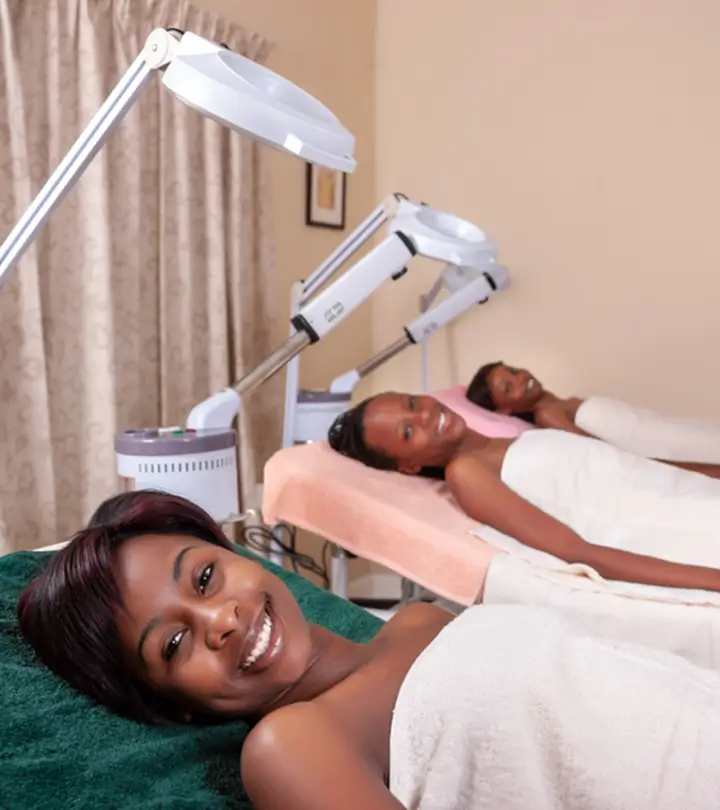 What Do Heat Lamps Do in a Hair Salon?
A salon heat lamp is used to optimize the outcome of hair treatments and coloring due to its ability in intensifying the serums and products used. Besides, they release infrared heat that penetrates deep into the strands, hence making hair color adhere better and last longer.
6 Best Salon Heat Lamps for the Pros
1. TDP Far Infrared Heat Lamp (KS 9800)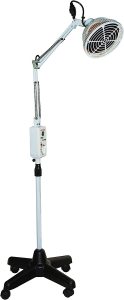 With a 360 degree adjustable neck and body, the TDP is deemed one of the best salon heat lamps with infrared technology that promises optimal heating for tresses. With a sleek construction that is sturdy enough to provide quality, even heating, this piece of equipment gives you full control with its on/off switch and the 60-minute timer, helping you achieve your clients' dream hairstyle effortlessly. Above all that, the device used 100V to provide even heat distribution with its wide-sized head. 
Far infrared heat lamp for salon with a 360 degree adjustable neck and body.
2. S.Choi Corp Infrared Heat Lamp

If you are more drawn toward multiple heating options, then this salon infrared lamp with a convenient heat intensity dial would be ideal for you. Not to mention its modern, sleek design which adds to the aesthetics of your hair salon. This hair heating lamp ensures consistent heating for up to 60 minutes. Therefore, whether you are planning to use this for general heating, hair spas, massages, or treatments alike, this one guarantees the finest quality and all-rounded heating experience with an adjustable neck. Give it a go!
Salon infrared heat lamp with an adjustable neck and heat intensity dial.
3. Skin Act 5 Head Infrared Heat Therapy Lamp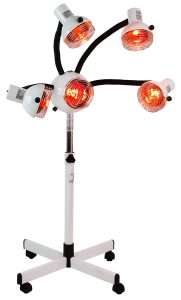 You would be attracted by its design that somewhat resembles an octopus head, this 5-heat infrared heat lamp makes a great addition to salons with intense hair treatments and spa. This device from Skin Act has each light running on 150W, which adds up to 750W, and adjustable arms for a well-rounded heating experience. Besides, it also lives up to its name with its therapeutic attributes, such as improving blood circulation, relieving muscular pain, and so on. The optimal heating this lamp offers will help relax your clients' tresses and make them feel ultimately rejuvenated. 
5-head infrared heat lamp with a holistic, 150w heating experience.

4. Topbarber Infrared Lamp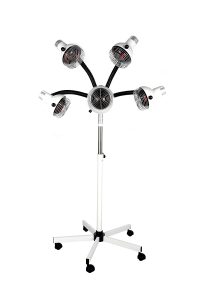 One of the best salon heat lamps that provides an all around heating, this device from Topbarber is a multifunctional infrared lamp that comes with five red lights. You can use it in your salon for drying, hair dyeing, and oil treatment. On top of that, it comes with easy temperature adjustment to suit different hair types and lengths. Also, the flexible arm is adjustable, allowing you to position the lamp as per your needs.
Free-standing infrared lamp with adjustable temperature and lamp position.
5. Flyhero 3-in-1 Professional Free-Standing Hair Dryer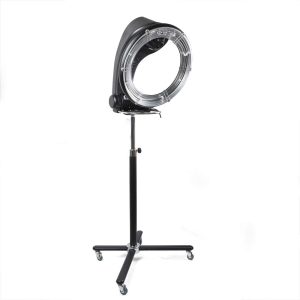 Whether you are looking to amp up perming, hair coloring, hair dyeing, oil treatment, and conditioning performance in your salon, this free-standing hair color processor and dryer is your best choice. Hair styling aside, this salon heat lamp also claims to stimulate blood circulation, relax the scalp and hair with optimum heating. Feature wise, it comes equipped with six hair-related modes and three main functions—fan, rotating, and heating. Furthermore, the temperature and the height of the stand are easily adjustable, too!
Free-standing hair color processor and dryer with a 360 degree rotation.
6. LJHHH 5-Head Infrared Heat Lamp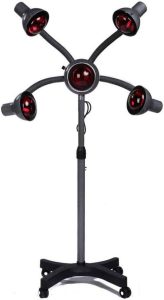 One of the best salon heat lamps for intensifying the base color of highlights, this device from LJHHH has five lamps (offering 750 watts in total) with flexible arms that can be positioned as per your needs. Plus, the stand is adjustable, too. For portability, this device sits on a durable five-caster base which allows it to be rolled around whenever and wherever needed. 
5-head salon heat lamp for efficient color processing.
There you have it!  Those were six of the best salon heat lamps you can consider incorporating to your salon. To ensure that you make the right choice, here are some tips on buying the perfect salon heat lamp.
Things to Consider When Buying a Salon Heat Lamp
A. Temperature Control
Heating lamps are either designed to produce a consistent temperature or multiple temperatures whereby you can control the heat intensity as per your clients' needs. Therefore, double check on the device's temperature control system before investing in it.
B. Adjustable Lamp Head
The lamp head of your device should be flexible enough to move at 360 degree angles. We highly recommend going for a heating lamp with flexible arms so your clients can enjoy a holistic heating experience at your salon.
C. Sturdy Construction
Considering how the heat lamp needs to be moved around and adjusted often, you should ideally opt for a model that features a sturdy and durable construction for it to last through all the tedious workload and movements.
D. Portability
Portability is an important factor when it comes to buying a salon heat lamp. Your device should be lightweight and portable enough to be moved around freely.
E. Heat Protection
Finally, check for heat protection around the bulb. These salon heat lamps can get extremely hot when used for long periods of time, so check if the bulb comes equipped with a strong heat protection coverage and if the lampshade is burn-proof to prevent potential hazards.
FAQs
1. Is it safe to leave the heat lamp on?
No, you must not leave it on and unattended. Instead, make it a habit to switch off the lamp immediately after usage otherwise it could lead to overheating or bulb damage.
2. What does heat do to your hair when coloring?
A heat lamp is used in hair salons for treatments and coloring because it helps intensify the serums and products used. On top of that, infrared heat has the ability to penetrate deep into each strand of hair, hence making the color adhere properly and last longer than otherwise. 
3. Are infrared heat lamps safe?
Extreme or frequent exposure to infrared heat can potentially damage your skin or eyes. However, the salon heat lamps recommended above are completely safe for occasional use.
4. How long should you use a heat lamp?
You can use a heat lamp for 20 to 30 minutes per session.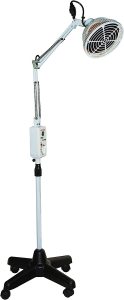 TDP Far Infrared Heat Lamp (KS 9800)
With a 360 degree adjustable neck and body, the TDP uses infrared technology for optimal heating. This piece of equipment also gives you full control with its on/off switch and the 60-minute timer, helping you achieve your clients' dream hairstyle effortlessly.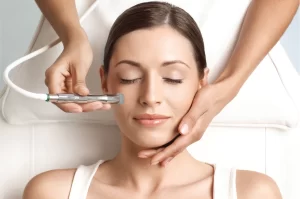 Skin Care
Editor's Choice Microderm Glo Mini Diamond Microdermabrasion and Suction Tool Latest price 2nd Best Choice
Read More
Subscribe to our newsletter