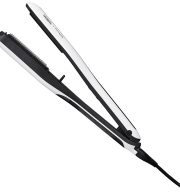 L'Oreal Professional Steampod Steam Straightener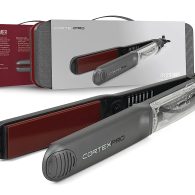 Cortex Professional Vapor Hair Straightener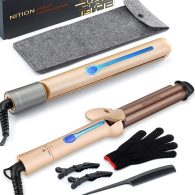 NITION 5-In-1 Platinum Professional Styler
Finding the best steam hair straighteners can completely alter the way you view hair straightening. Not only do these devices straighten your tresses but they also function as a moisture boost to keep them from drying out. They inject water fumes into your hair as you work with them. In return, they are able to mitigate heat damage and keep your hair well hydrated and glossy. In this article, we have tested 7 of the best steam hair straighteners on the market right now. At the end of the article is a helpful buying guide that consists of everything you need to know about these devices. So continue reading!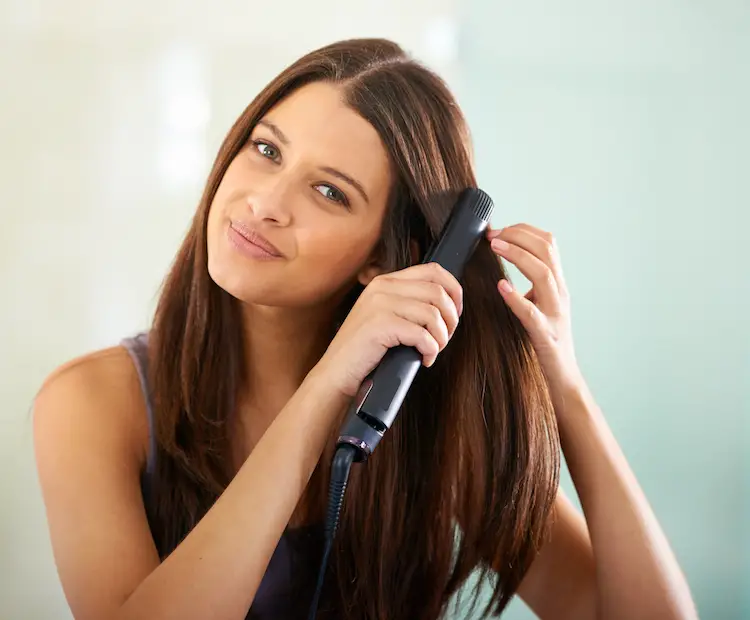 Best Steam Hair Straighteners that are All-The-Rave Right Now!
1. L'Oreal Professional Steampod Steam Straightener
One of the best steam hair straighteners on the market today—this Steampod steam straightener by L'Oreal comes equipped with nano-titanium ceramic iron plates and an extra-long 360-degree rotating cord. Lightweight and compact, you will appreciate that it is easy for on the go, simply toss it into your suitcase and you are set. Heat setting wise, you are given three to choose from, ranging from 350 F to 410 F. This steam iron also uses a patented steam technology that will keep your hair smooth all day long. The capacity of the water container is also pretty decent and there is no need for you to constantly refill it when you are styling your hair.
Steam hair straightener with nano-titanium ceramic iron plates and patented steam technology.
2. Cortex Professional Vapor Hair Straightener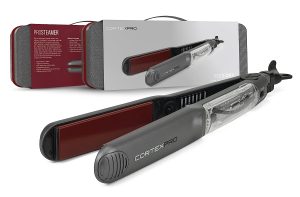 One of the best steam hair straighteners that stay true to its name—the Cortex Professional vapor hair straightener is a 1.25" ceramic premium argan-oil infused device. It comes equipped with the best vented tourmaline-ceramic plates that infuse your flat iron with hair-loving Moroccan argan oil. This oil infusion will then help hydrate the hair and restore its moisture level. When in use, argan oil turns into vapor and infuses the vented plates to offer intense hair conditioning. The steam from this straightener is also customizable, making it easy for you to achieve an all-rounded experience. Not to mention it also uses ionized technology to help keep your tresses silky, smooth throughout the day. 
Steam hair straightener with argan-oil-infused tourmaline-ceramic plates.
3. NITION 5-In-1 Platinum Professional Styler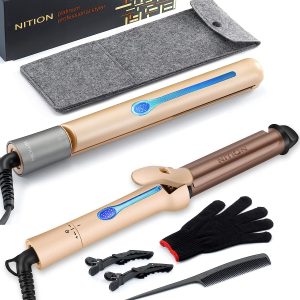 Styling your hair with this steam hair straightener can never go wrong as it is designed with unique elements like nano silver, Tourmaline, argan oil, and titanium, all of which are saviors for fast styling. Its innovative technology prevents hair pulling or any sort of damage caused thereof. After styling, you will notice that your tresses have become shinier, smoother, and less frizzy. To help seal in natural moisture, the ceramic heating barrel of this device is coated with a powerful combination of Nano Silver, Argan oil, Tourmaline, and Titanium. Feature wise, it offers six temperature settings adjustable with a simple one-step-operation: clockwise to power on and select your desired temperature and anticlockwise to decrease the temperature and power off.
5-in-1 steam hair straightener with ceramic coated heating plate that is infused with Nano Silver, Argan Oil, Tourmaline, and Titanium.
4. MKBOO Professional Steam Hair Straightener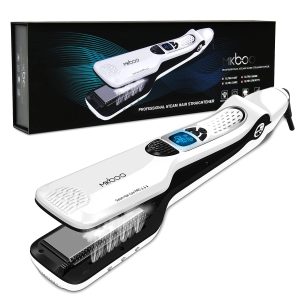 Dealing with damaged hair? We recommend switching to this steam hair straightener that styles your hair the way your professional hair stylist would. It boasts some pretty interesting features, including hydration technology that keeps heat damage to a minimum and lets you enjoy silky smooth, straight hair all day long. This device helps add moisture and volume to flat, dull hair. If the shoes fit, you might want to get this as it does an impressive job of sealing hair cuticles and preventing split ends. Plus, with adjustable heat temperature settings, you have control over the amount of heat being applied to your hair. 
Professional-grade steam hair straightener with hair hydration technology.
5. FURIDEN Steam Hair Straightener Flat Iron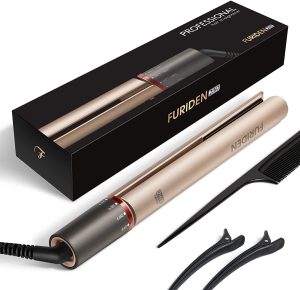 Having to deal with flyaways and frizz everyday? And what if I tell you that is now a thing of the past? The FURIDEN steam hair straightener is a premium-quality heat styling tool that is suitable for use on all types of hair ranging from overly processed strands to coarse, coily locks. It can give you that high glossy finish that you have been yearning for. On top of that, it is designed with a cutting edge steam technology and offers 38 adjustable high heat settings (most devices only offer four). There is also an LED digital display so you can easily keep track of the temperature being applied to your hair. It reached 450 F but still remains safe and gentle on your tresses.
Steam flat iron with 38 adjustable high heat settings.
6. DORISILK Professional Ceramic Tourmaline Steam Straightener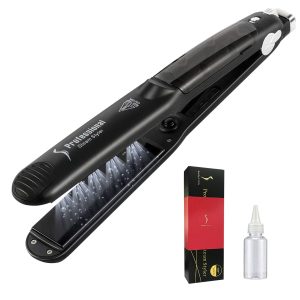 One of the best steam hair straighteners to add to your vanity, this ceramic tourmaline iron by DORISILK is both effective in straightening and curling your locks. Equipped with five steam vents, rest assured that it can deliver results that last you the entire day. It is especially designed to be safe and gentle on natural black hair and only takes around 60 seconds to heat up. If you tend to be forgetful, you will appreciate its auto shut-off feature that activates when left unattended for too long.
Steam hair straightener with floating 3D 1 ¼ inch tourmaline ceramic plates and five steam vents.
7. QUICO Hair Straightener and Curler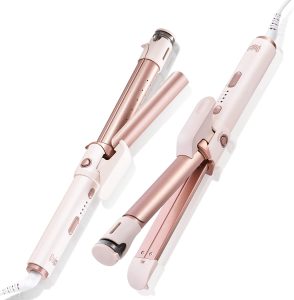 This hair straightener and curling iron from QUICO feature plates made of ceramic coating and steam technology to keep hair moisturized and soft. With four adjustable temperature settings (330°F to 420°F), this device comes with a flexible swivel cord that makes it really easy for you to style your hair without it being tangled. Above all that, it features a temperature lock and auto shut-off function, as well as a super compact design that is perfect for travelling. What makes it so different from the rest is that it has a memory function that automatically reaches your last used temperature each time you switch it on.
Steam hair straightener and curling iron with a smart memory function.
Things to Consider When Buying a Steam Hair Straightener
A. Plate Size and Shape
The size of the plates is a really important factor for it decides the portions of hair you can take each time. The wider the plates, the lesser time it takes to straighten your hair. Besides, the shape of the plates also ensures the device's versatility. Say the plate's edges are round, it doubles as a curling iron. Meanwhile, sharp edges are less versatile but may give you much straighter hair.
B. Steam Vents
Steam hair straighteners are equipped with vents that set them apart from traditional flat irons. If you have thick and curly hair, opt for a device with more steam vents. The higher the number of vents, the more powerful the steam will flow, thus enhancing the straightening effect. They are typically positioned under or within the plates to ensure even steam distribution throughout each section of your hair.
C. Fast Heating
Fast heating is crucial as it determines how quickly the straighter starts emitting steam and ready for use. The quicker it heats up, the less time it will take to straighten your hair. Some flat irons are designed to heat up within 60 seconds. 
D. Capacity of the Reservoir
Reservoir is where you fill water so that it can be released as steam. The tank should be big enough to last a full session without a refill. Also, ensure the water tank is detachable so you can refill it anytime necessary. Liquid reservoirs on these steam hair straighteners usually come with a capacity of 10 ml to 40 ml.
E. Adjustable Temperature Control
Adjustable temperature control allows you to customize the steam and heat flow according to the thickness and texture of your hair. Having more temperature settings also means it is more efficient. 
F. Automatic Temperature Lock
An automatic temperature locking feature stops the flat iron from getting hotter and thus preventing heat damage. It switches off automatically when it is left unattended. It is an important factor to consider if you have delicate, fine hair.
G. Price
The price of a steam hair straightener will vary from brand to brand. Whichever model you laid your eyes on, ensure that it meets all your requirements. Do not settle for an overpriced device only to find out that it does not offer all the necessary features you are looking for.
Different Types of Steam Hair Straighteners
Steam flat irons come in two different types: 
Ceramic Steam Flat Irons
Ceramic steam hair straighteners are the perfect choice for hair textures that can be easily straightened. They are great for thin, wavy, and less curly hair types as they can be straightened with low heat.
Titanium Steam Flat Irons
Titanium steam hair straighteners heat up very quickly thus ideal for thick and coarse hair textures.
How to Use a Steam Hair Straightener to Yield Optimum Results?
Follow these simple steps to maximize the use of your steam hair straightener: 
Step 1 – Shampoo and condition your hair
Step 2 – Towel-dry your hair or let it semi-dry naturally
Step 3 – Apply hair serum and a heat protectant
Step 4 – Section your hair according to its length and thickness
Step 5 – Fill the water reservoir of your hair straightener with the required amount of water according to the manufacturer's instructions
Step 6 – Switch it on and adjust the temperature to your desired 
Step 7 – Once you see the vents releasing steam, straighten your hair section-wise from roots to ends.
Step 8 – Turn the straightener inward or outward at the ends of your hair based on how you want your hair to fall
Step 9 – Repeat the process with your remaining hair sections
Step 10 – Turn off the steam hair straightener and let it cool down before you pack it and store it away
How Does a Steam Flat Iron Work?
Steam flat irons use Vapor Infusion Technology to straighten your hair more efficiently than traditional flat irons would, all while preventing heat damage.
The vapor emitted from the plates of the steam hair straightener adds moisture to prevent over-drying your hair and leave it looking healthy and glossy.
Steam hair straighteners come equipped with a removable water reservoir that holds water.
For most models, the steam function is only activated when you point the unit at a downward angle. The steam flows through vents on the plates when you press the plates together.
Steam-infused hair straighteners can easily straighten hair that is hard to straighten, and give you longer-lasting results. 
Benefits of Steam Hair Straighteners
A. Reduces Heat Damage
The water vapor that comes out of these straighteners protects your hair from heat damage. Strands receive a hydration boost from the water vapor and thus retain moisture. Plus, this will also protect your hair from overheating and falling.
B. Adds Shine to Your Locks
You can trust these saviors to make your hair appear shiny. The vapor mist of the straightener adds smoothness and gloss, ensuring your hairstyle gets that perfect luster. On top of that, spraying the appropriate amount of vapor with proper heat induction helps you achieve salon-like results at home.
C. Ideal for All Hair Types
Say you have color-treated hair or used any relaxers prior, these procedures can cause your hair to thin and become brittle. Traditional hair straighteners are considered too harsh on fragile hair. This is when steam hair straighteners come to the rescue, by adding moisture back to your dull strands, preventing breakage while making them appear healthy.
D. Moisturizes the Hair
Steam hair straighteners are known for providing quick moisturize to frizzy strands. The water vapor, along with fast heating, ensures your hair looks soft and smooth. With the water vapor technology, your hair will learn to become resistant to humidity in the long run, hence the perfect frizz control.
E. Long-Lasting Results
Humid weather will destroy your hairstyle in a matter of minutes. The negative ion technology of steam straighteners closes the cuticle layer to create a smooth surface and retain hair moisture. Besides, it can also reduce static electricity. Not to mention your hairstyle will last longer, almost until your next shower.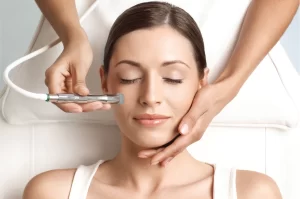 Skin Care
Editor's Choice Microderm Glo Mini Diamond Microdermabrasion and Suction Tool Latest price 2nd Best Choice
Read More
Subscribe to our newsletter