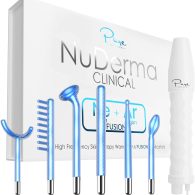 NuDerma Clinical Skin Therapy Wand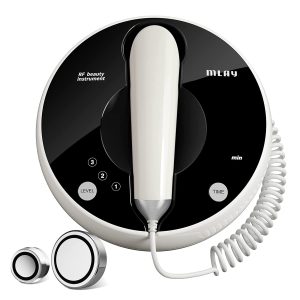 MLAY RF Radio Frequency Facial and Body Skin Tightening Machine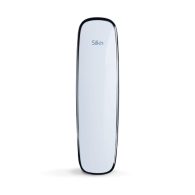 Silk'n Titan Anti-Aging Skin Tightening Device
Researching ways to tighten sagging or loose skin on your face, body, or even your overall feminine wellness? Then the radiofrequency skin tightening is your best solution, or RF treatments for short. These skincare tools are commonly used in cosmetic clinics but what if I tell you that you can now own the best rf skin tightening machine for home use?
The good thing is you actually can! Below are 10 of the best radiofrequency skin tightening machines you can make use of at the comfort of your own home, and everything you need to know about using one.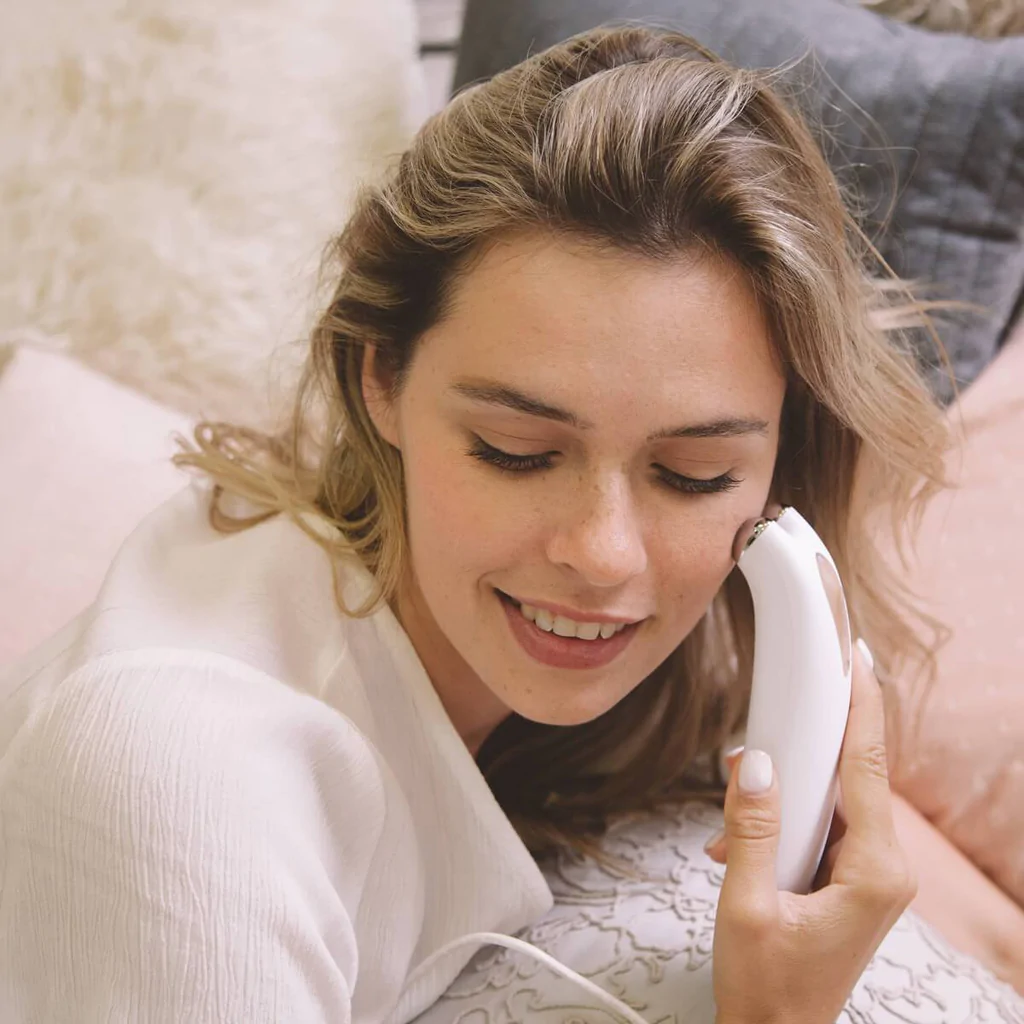 What Is Radiofrequency Treatment?
Radio Frequency skin tightening, also known as RF treatment or RF therapy, is a cosmetic treatment performed to tighten skin. As its name suggests, this is done by using radiofrequency waves that heat up and penetrate deep into the skin layers to tighten the skin tissue, it also helps stimulate collagen and elastic production to treat wrinkles. 
Collagen is an important protein that gives you youthful skin, and you'll lose this more and more as you age. While there are plenty of ways you can treat sagging skin on the face, RF treatment makes a great non-invasive method worth looking into for the development of collagen production and tightening of skin. The best part is that you can use the RF skin tightening machine safely at home!
What are RF Waves and Are They Safe?
RF waves are a type of radiation that releases energy through electromagnetic waves. Depending on the amount of energy released, they can either be low or high in energy. Some common examples of high energy are X-rays and gamma rays whereas radio waves, WiFi, and microwaves are examples of low energy.
If you're doubting the safety of the treatment, the low energy radiation used in RF therapy is roughly a billion times weaker than that of X-rays, making it absolutely safe for use. Scientifically speaking, these radiofrequency waves fall in the non-ionizing radiation category under the lower energy end of the electromagnetic spectrum, meaning that they're safe and don't cause harm to your body.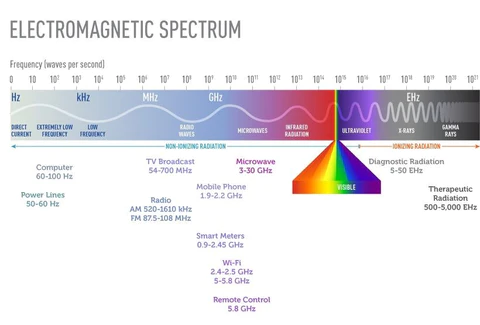 Source: American Cancer Society
How Effective is the Radio Frequency Skin Tightening Treatment For Saggy Skin?
It may come off as odd but raising your skin's temperature does help with skin tightening. In fact, maintaining a temperature over 114.8℉ (46°C) for more than 3 minutes on the skin layers will release heat-shock proteins in the body. These are the proteins that help stimulate your skin to produce new collagen and elastin fibers, then tighten the skin and give you a more youthful appearance. 
Opting for a quality beauty device from top beauty brands in the market will give you optimal skin results. Also, as long as you follow the instructions as per the device manuals and don't overdo your treatments, the RF waves will not damage your skin or affect your health. 
Top 10 Devices for Radio Frequency Skin Tightening At Home
When looking for the right radiofrequency skin tightening machines to use at home, you'll find many emphasizing general facial treatments or skincare. 
Because RF therapy is all about combating aging signs and tightening skin, RF skin tightening machines are recommended for both men and women above the age of 30 or 40 years with any skin condition as that is the age range when you may be experiencing loose, sagging skin due to collage loss. In this case, you may opt for anti-aging skin care products or start with a skin tightening device much earlier in your 20s to help minimize the problems while maintaining collagen and elastin production, too. 
1. NuDerma Clinical Skin Therapy Wand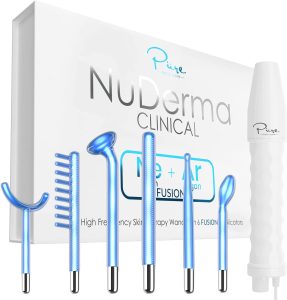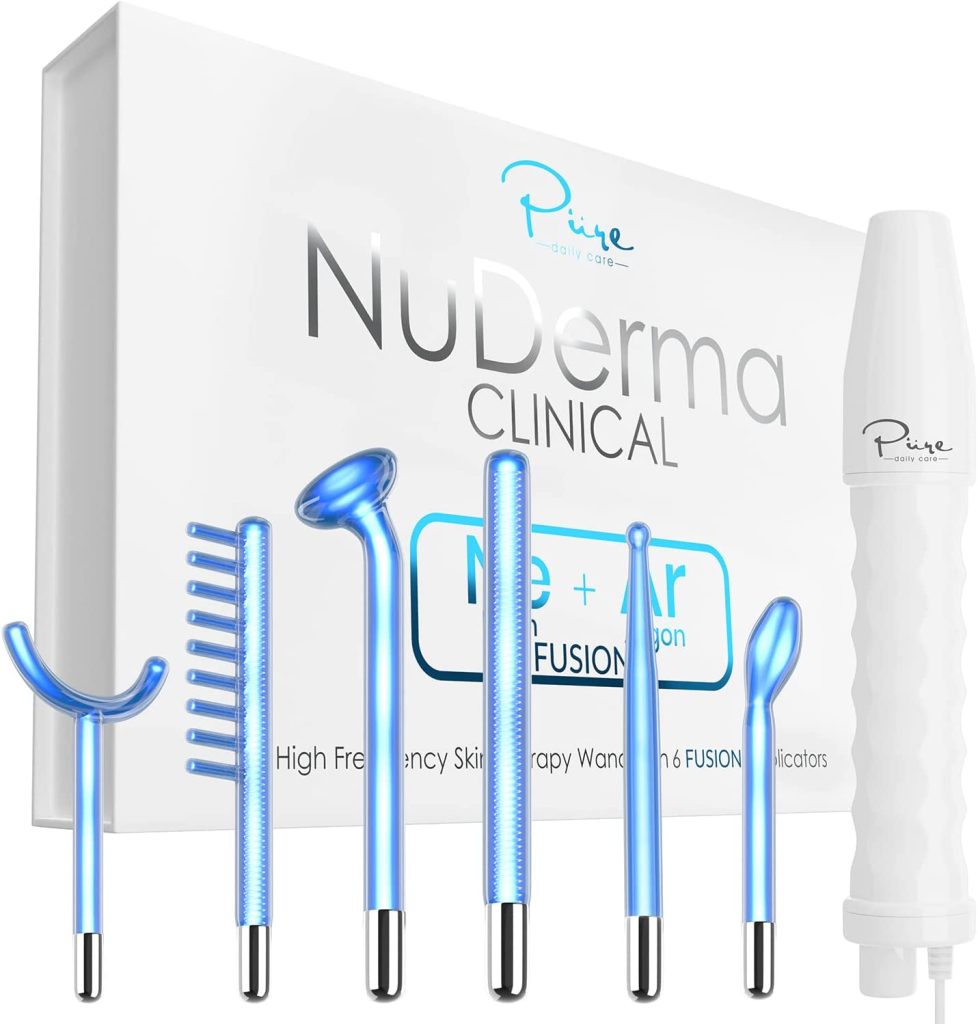 This radio frequency skin tightening wand works by penetrating the deepest layers of your skin. It boosts collagen production and promotes skin elasticity. Besides, it also helps improve the overall appearance of your skin and is entirely safe to use. To use this device, simply apply your serum or creams of your choice during or right after your treatment to ensure optimum absorption into the deeper layers of the skin. 
RF therapy wand for tightening the skin.
2. MLAY RF Radio Frequency Facial and Body Skin Tightening Machine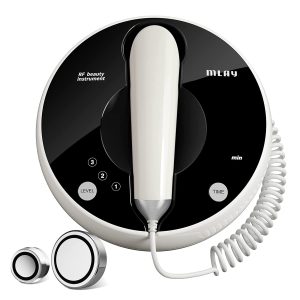 The radiofrequency skin tightening machine by MLAY delivers an anti-aging and anti-wrinkle treatment without affecting your skin. The RF waves penetrate your skin tissues and stimulate collagen and elastin production. The radio frequency waves also produce gentle heat, which doesn't irritate the skin. To ensure a salon-calibre spa experience, thoroughly cleanse the region you need to treat, apply a conductive gel, and proceed with using the machine.
Professional RF skin tightening machine for home use.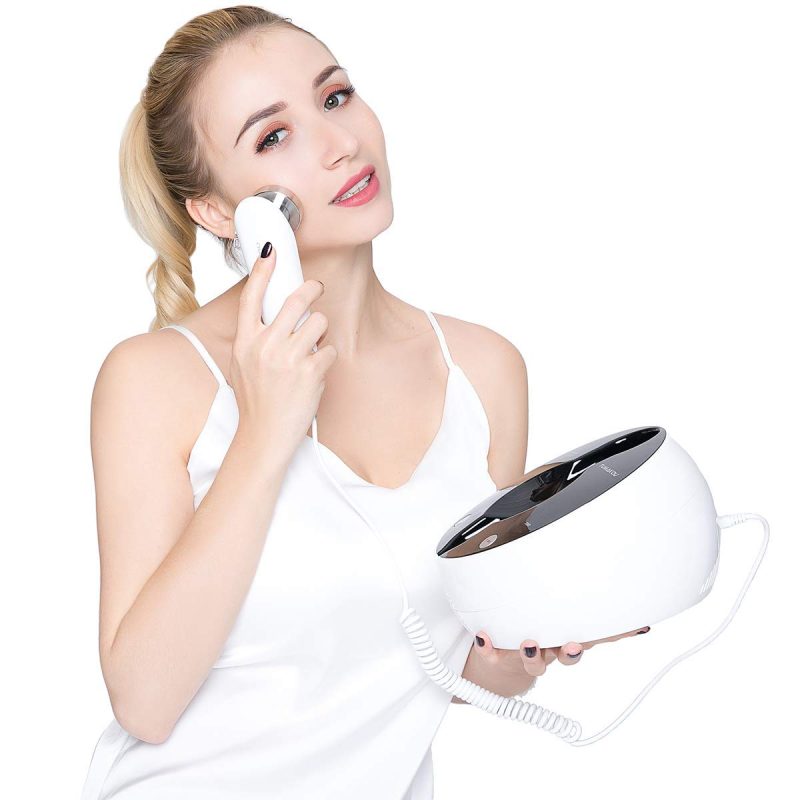 3. Silk'n Titan Anti-Aging Skin Tightening Device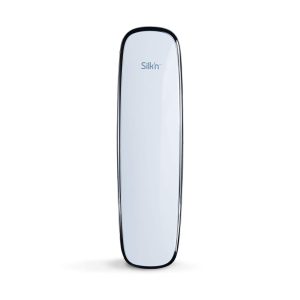 This ergonomic device harnesses the power of Bi-Polar RF energy, IR heat, and LED light energy to promote cell renewal, increase blood circulation, tighten the skin, and improve it from the inside out by strengthening the skin layers. You may refer to this tutorial for better insights into the qualities and usage of the product. 
RF beauty device that combines Bi-Polar RF energy, IR heat, and LED light energy.
4. Riteu Portable RF Skin Tightening Machine for Home Use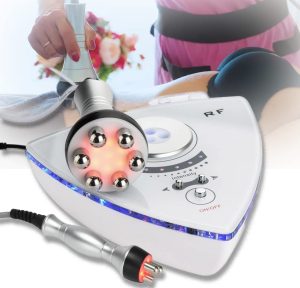 Riteu Portable RF skin tightening machine for home use soothes your skin and promotes its elasticity. It also firms and brightens your skin by minimizing the appearance of freckles, wrinkles, pimples, acne scars, dark circles and blemishes alike. This beauty device increases blood circulation and comes with self-diagnostic functions that work efficiently and effectively on any skin type. The two different probes it comes with can be used alternatively on any part of your body. 
Portable machine for radio skin tightening at home with self-diagnostic functions and two probes.
5. Project E Facial and Eye Matrix Radio Frequency Device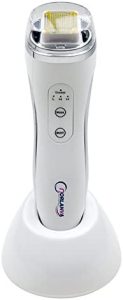 This radio frequency skin tightening device helps enhance your facial contour by lighting and reducing saggy skin. It rejuvenates your facial skin by stimulating collagen and elastin production. Feature-wise, it comes with a power on and off button, making it beginner-friendly. Not to mention the intensity of the RF waves can also be adjusted to your liking. 
Hand-held RF skin tightening device with adjustable waves intensity.
6. Pure Daily Care Luma 4-In-1 RF Therapy Wand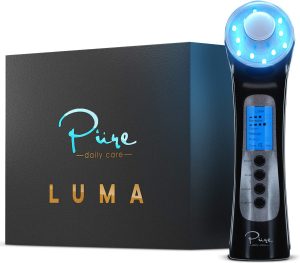 Integrating 4 natural technologies, the Luma 4-In-1 skin therapy wand is the ultimate beauty device for anti-aging and skin tightening. You may use each mode separately or together based on your skin's needs. The first 2 modes include LED Light Therapy and Wave Penetrating Cell Stimulation—the former has been clinically tested and proven to reverse signs of aging, soothe the skin, and improve complexion whereas the latter functions as a weekly workout for your facial skin by increasing collagen production and firm the skin. The other 2 modes are ionic and massage therapies, both of which are sublime in buffing away dirt and grime as well as improving muscle tone in your cheeks, eyes and forehead.
RF skin therapy wand with 4 natural technologies to tighten skin.
7. Norlanya Mini Portable Anti-Aging Dot Matrix RF Thermal Skin Lift Device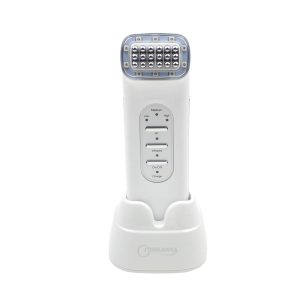 This mini portable RF machine offers quality at a competitive price point. It boasts 6 light modes and is exceptionally convenient for use. It helps smoothes skin texture, improves collagen production and delivers a youthful appearance.
Mini and portable anti-aging RF device suitable for on-the-go. 
8. Norlanya Facial Care Time Master Device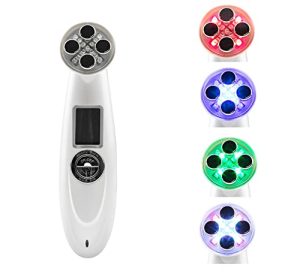 This portable RF beauty device comes with four electrical tips and five LED treatment heads. It rejuvenates dull skin, lifts it, reduces wrinkles and also balances its oil and moisture level. This device also claims to brighten your skin tone by minimizing the appearance of spots and blemishes alike.
Portable RF machine with 5 light LED treatment heads.
9. Nulift Portable Handheld Radio Frequency Treatment Device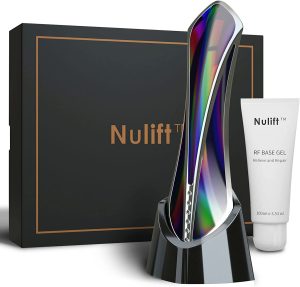 The Nulift RF skin tightening machine is a highly acclaimed, chic device that delivers a serious punch in results for both the face as well as the whole body. Being FDA cleared, this beauty device combines RF and TS-lifting technology, which enhances its ability to tauten the skin and improve muscle memory to retain the lifted and contoured look. The treatment head is made of medical-grade stainless steel which operates on 110V AC, it also must be plugged into a wall outlet to operate—it's a corded device.
All inclusive RF treatment device with ATV, IAP import mode, TS, LED and VR-vibration mode.
10. LOHOCOS Radio Frequency Skin Tightening Machine Fuel
The LOHOCOS radio frequency skin tightening machine is suitable for use on the face, eye, neck, arm, waist, thigh and buttocks. It can help reduce wrinkles, acne, eye bags, lifts the skin, and improves its elasticity in order to improve the overall appearance of your skin. This beauty device uses radio frequency technology to tighten the skin and reduce wrinkles, as well as to increase skin collagen, suitable for those with local cracks or sagging skin. 
RF skin tightening device with 3 care probes.
What Are the Benefits of Using A Radio Frequency Skin Tightening Machine
Using a quality RF skin tightening device can help treat fine lines and wrinkles over time. It can also tighten loose, saggy skin. Some users even rely on it for their body contouring abilities on top of its anti-aging effects. Some of its features include: 
Boosting metabolism and blood circulation.
Promoting collagen synthesis.
Tightening pores, skin and reducing fine lines.
Reshaping the facial contour.
Portable
Easy to use
What are Some of the Side Effects Associated with Radio Frequency?
There are no severe side effects or health risks associated with these radiofrequency devices. Most of them come with built-in safety systems to prevent hazards and temperature control chips to control and regulate the temperature of the electrodes to ensure optimal results and avoid unwanted burns.
Some minor side effects include tingling sensation, redness, swelling, blistering and bruising, which are rare if you're using it correctly. Even if they do appear, you shouldn't worry much about them as they don't last long. 
On the other hand, if you encounter conditions such as burns, permanent scars, skin indentations, fat loss, changes in pigmentation, open sores, and infections, they can be severe and require immediate medical attention. 
Conclusion
If you're looking for a reliable RF skin tightening home use device, we hope our list of the best 10 machines will narrow down your choices. Though, take into consideration your budget and needs when choosing a machine. All in all, if you don't want to go through painful skin surgeries, we're sure one of the above radiofrequency skin tightening devices can serve as a brillant alternative!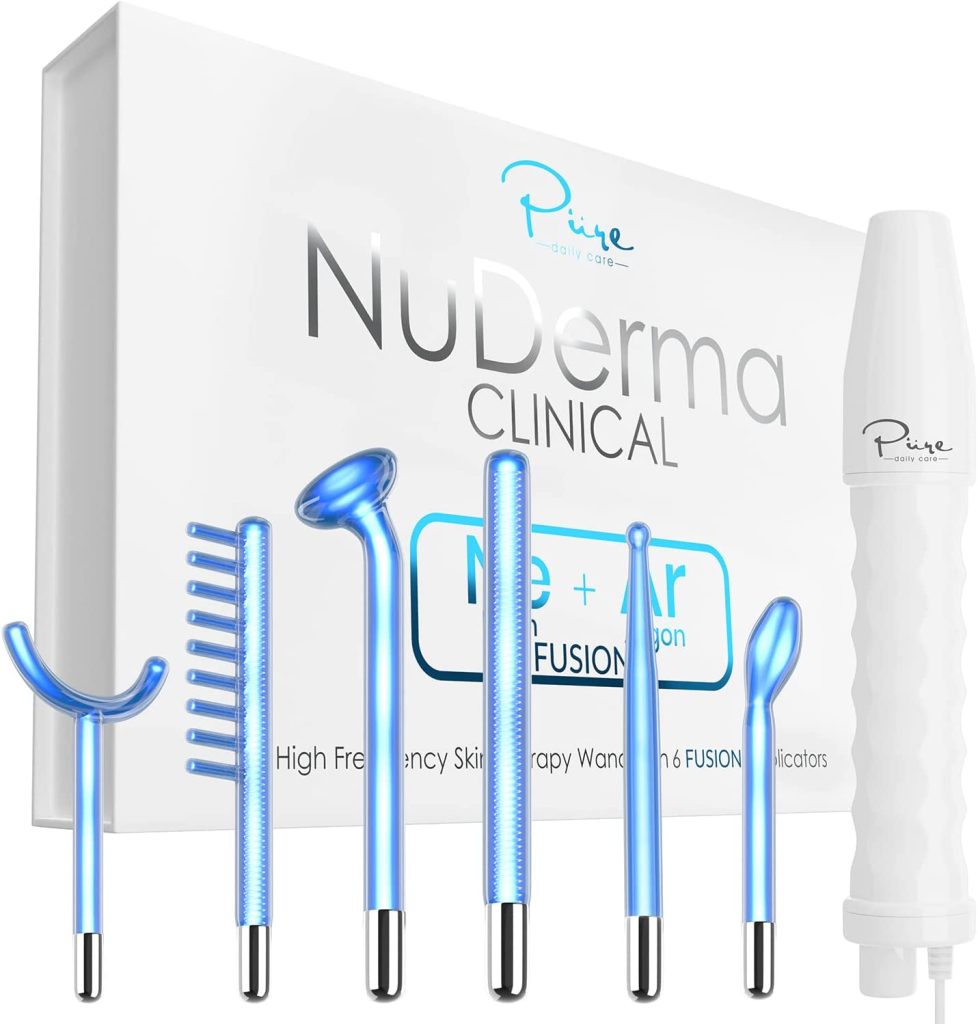 NuDerma Clinical Skin Therapy Wand
his radio frequency skin tightening wand works by penetrating the deepest layers of your skin. It boosts collagen production and promotes skin elasticity. Besides, it also helps improve the overall appearance of your skin and is entirely safe to use.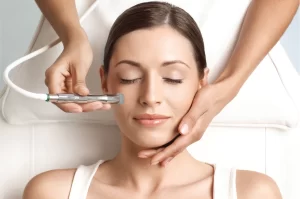 Skin Care
Editor's Choice Microderm Glo Mini Diamond Microdermabrasion and Suction Tool Latest price 2nd Best Choice
Read More
Subscribe to our newsletter