No doubt that skincare is trending right now, even more than it was before, and a quick glance at social media proves it. While it has come a long way from scrubbing your skin off with microbeads, it surely hasn't gotten any easier to decide if a product is nothing but hype or a true holy grail.
Out of all the recently-launched microcurrent facial devices, few caught the attention of intrigued beauty editors more than the SolaWave wand. Perhaps it's due to the futuristic appeal of LED light therapy. Touted as a science-backed, 4-in-1 microcurrent facial device, this portable SolaWave wand is often a topic to talk about, and we'll tell you if it's worth being added to your skincare regime.
About the SolaWave Wand
The SolaWave wand features five different LEDs (which emit 660nm of red light) installed in the center bar which begins to radiate light, heat, and vibration when placed on the skin. The low-wavelength red light has been confirmed by ongoing studies to be able to combat wrinkles, fine lines, scarring and signs of aging. This is achieved through the light's ability to stimulate muscles and deeper levels of the skin to boost energy within the cells and promote a healthy complexion.
Aside from the red light, the SolaWave wand also vibrates and warms gently when in contact with the skin. The vibration can help promote blood circulation, which temporarily reduces the appearance of dull skin, dark circles and redness whereas the warmth can help the skin absorb topical products more effectively. 
How Does the SolaWave Wand Work?
The SolaWave wand has since caught the attention of many skincare enthusiasts, as seen on social media. It's comparatively cheaper than many of the skincare devices out there, with celebrities like Debby Ryan, Doja Cat, Vanessa Hudges and Reese Witherspoon reportedly being fond of the device. The SolaWave wand is advertised as being small and integrating four different skincare technologies, this includes red light therapy, microcurrents, facial massage, and therapeutic heat. This is to provide users with the "ultimate at-home facial spa". 
Some of these techniques are not at all new: red light therapy for instance, helps reduce the appearance of wrinkles, scars, redness, acne and many more whereas microcurrent facial uses low-voltage electrical current to accelerate the repair process of damaged tissues and "trains the facial muscles to become firmer and tighter. Check out this article to learn more about the benefits of a microcurrent facial. 
Many people question the effectiveness of LED light therapy on their skin. To put it shortly, it actually does work, where the light source penetrates the skin at various wavelengths to treat a wide array of skin conditions. 
If you're not unfamiliar with the treatment, you might recall that there are different lights to opt for: Blue LED light for killing acne-causing bacteria, Green and Yellow LED light for treating sensitivity and uneven skin tone, and Red LED light to stimulate the production of collagen and elastin to prevent aging skin.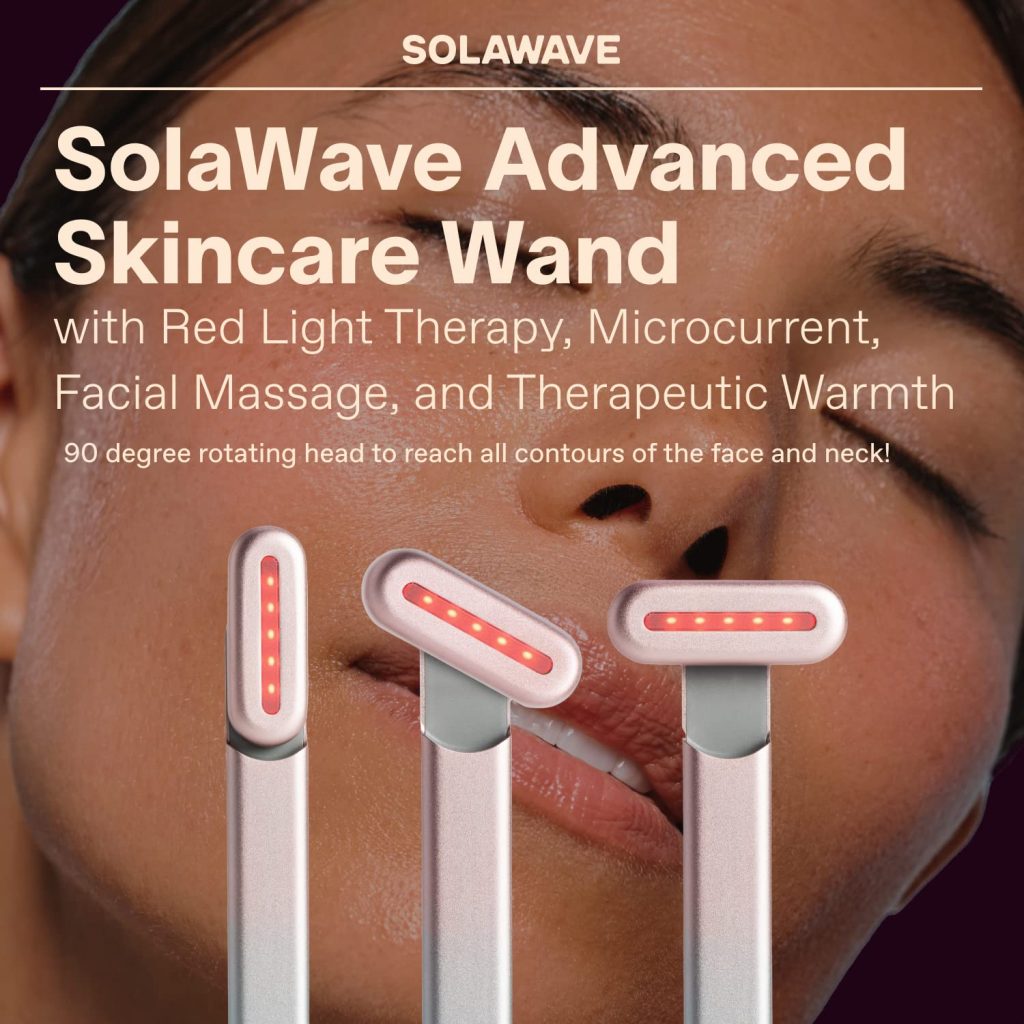 How to Use the SolaWave Wand?
SolaWave suggests using the wand for a minimum of five minutes per session, and three to five times a week. 
First, start by cleansing your face and dry it off completely. Next, apply SolaWave's Renew Complex Serum to keep your skin moisturized throughout the treatment—you may also use any serum of your choice—provided it contains conductive ingredients to help make the most of the microcurrent technology. Be sure to apply the serum to the forehead, cheeks and neck. Now, pick up your SolaWave wand and start moving it outward from the center of your forehead and down your temples on both sides. 
To target under-eye bags, you can place the device in the corner of the under-eye area and slowly work your way outward. Next, move on to your cheeks, and apply the SolaWave wand like you would contour, making sure that it's pressed against your skin. After your cheeks, go to your smile line, beginning at your lips and gently pulling your skin up toward the cheeks. Finally, gently rub the wand against your jawline and then upward on your neck. 
Voilà! That's all it takes to properly use the SolaWave wand!
Does the SolaWave Wand Actually Work?
When it comes to using skincare tools and devices, it's important that you manage your expectations. If you're looking for dramatic, exaggerated results, the SolaWave wand is definitely a pass for you. But if you're patient and are willing to be consistent on using it, then read on. 
Immediately after using the SolaWave wand, expect to see slight improvements on your skin—visible reduction in puffiness around your eyes, cheeks and jawline. 
We recommend using it both morning and night, right after cleansing your face and applying either the SolaWave Renew Complex serum or any conductive serum of your choice, for five or six days a week. 
Ultimately, you can start to extend your sessions by a few minutes at a time. You may add some focused attention to areas of your face that are tense, need extra de-puffing or look dehydrated. 
In the long run, you'll notice significant changes in your skin condition here and there.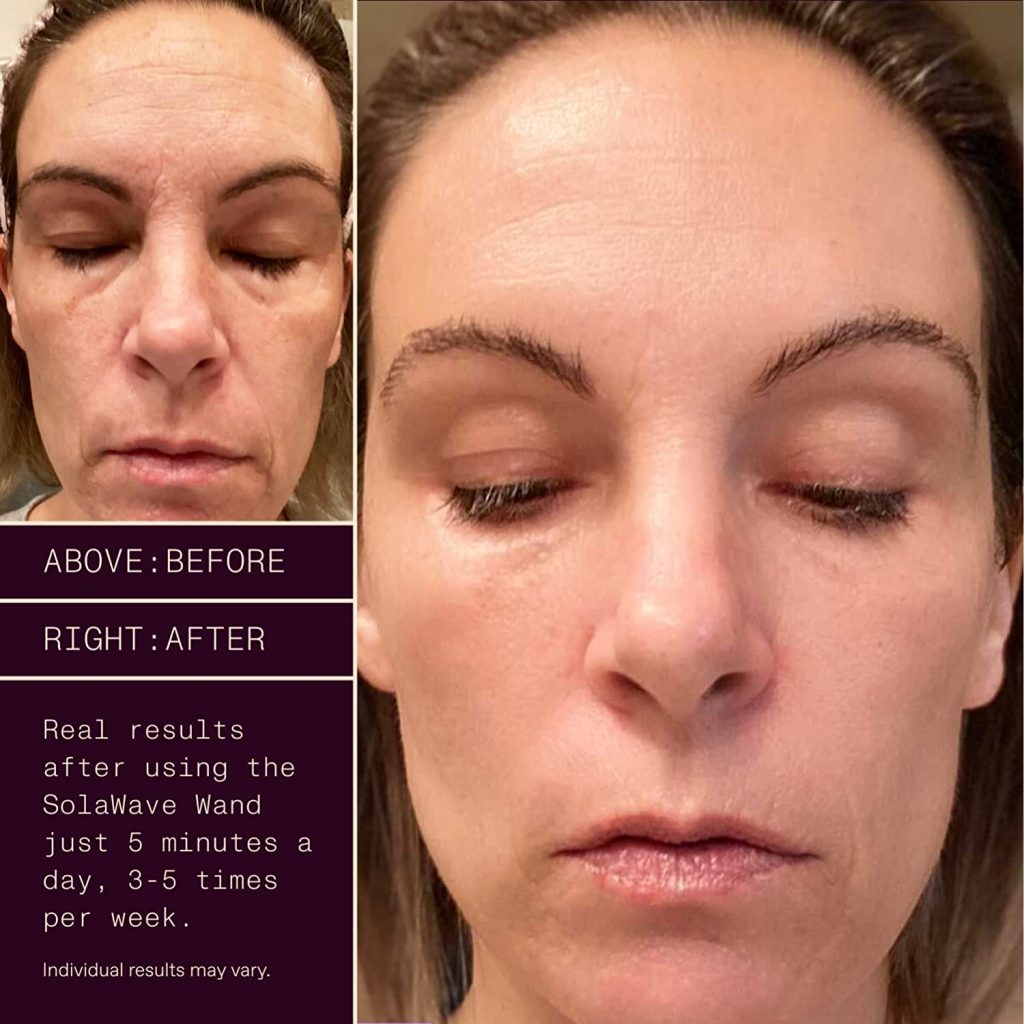 Is the SolaWave Wand Worth It?
With consistent use, expect to see results in a matter of days. Specific skin concerns aside, you'll notice your skin becoming firmer and tighter. If you have dark spots or any blemishes alike, the SolaWave wand can help reduce it. Use it at night to prevent puffy eye bags the morning after. We'd say that it's worth supplementing your routine with the SolaWave wand in order to promote a youthful, radiant complexion. So the answer is yes. 
While professional LED appointments can cost you an arm and a leg, the at-home treatment gives you the freedom to treat your skin at your own convenience, and at your own pace. All in all, we believe that the SolaWave Red Therapy Skincare Wand is worth the price tag.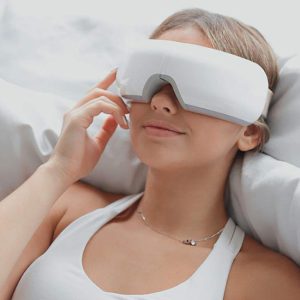 Skin Care
Editor's Choice Worxvell Eye Massager Latest price 2nd Best Choice SereneLife Eye Massager Latest price
Read More
Subscribe to our newsletter