Eyebrows are more than just hair — these twins are a crucial part of your face that play a huge role in facial recognition. We tend to remember people's faces better subconsciously due to their eyebrows. Having a pair of neatly defined eyebrows also makes your face more pleasant to look at. No wonder, many of us are obsessed with eyebrow embroidery today. Lucky for those blessed with thick eyebrows who only need to trim and reshape theirs from time to time. Those with thin and sparse eyebrows may be struggling to get the right look, either spending hours in front of a mirror to get that perfect eyebrows-on-fleek look or splurge on the best brow makeup products. 
All your worries are over, you can stumble upon tons of salons who offer the best eyebrow embroidery in Singapore. If you still haven't tried out this semi permanent makeup, Beauty Signal Lab got you covered!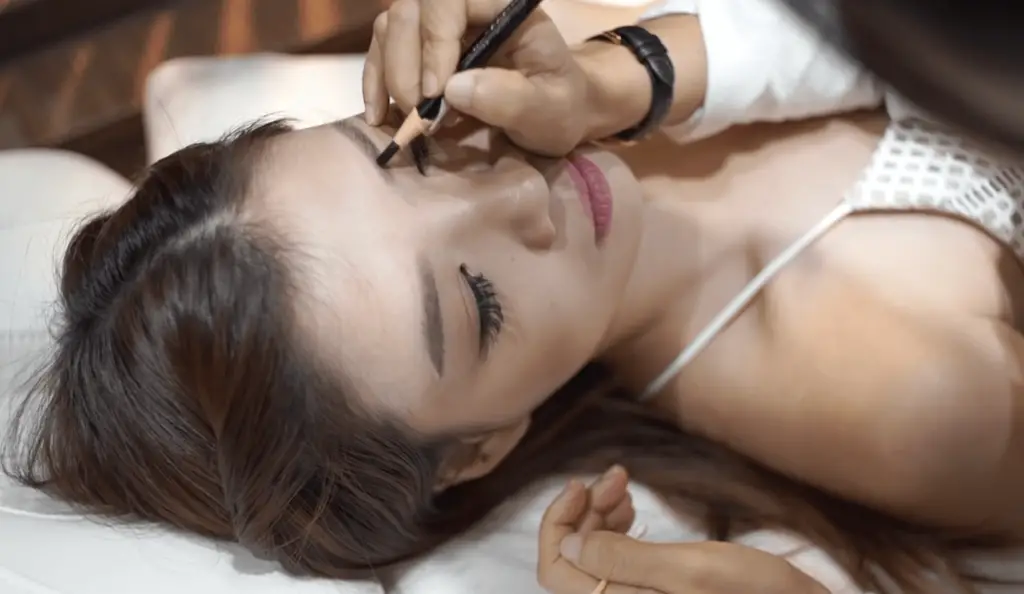 Korean Eyebrow Embroidery Singapore
This semi-permanent makeup solution is also known as the eyebrow hairline stroke. It delivers a long-lasting finish that is apt to stay up to a few years. During the procedure, beauty therapists will make tiny incisions on the eyebrows and fill in the sparse areas with colour pigment that is selected based on the colour of your natural brows. In the end, you will get a pair of thicker and fuller brows. In Korea, straighter eyebrows shaped thicker are amongst the most sought after styles. 
Who is Eyebrow Embroidery for?
Anyone can come in to sit for the procedure. As a precaution nevertheless, do provide a disclaimer if you are on medication such as blood thinners or Accutane. Nursing and pregnant women especially, should stay away from getting eyebrow embroidery at all costs.
How will the Artist Know What You are Looking for?
To understand the process is semi-permanent, you're strongly advised to conduct a research beforehand about what you want and which salon you are approaching. 
Many artists are likely to have you bring along photos for reference and request for photos of how you would normally do your brows. These are very crucial factors to help them design a pair of eyebrows that suit. 
Do You Need to Prepare Anything Beforehand?
Skip doing your brows for the day to make worth every single penny spent. Also, if you're prone to wax, thread, tint, or pluck your eyebrows regularly, do it at least 3 days prior to your session. 
What is the Pain Level? 
Artists will apply an adequate amount of numbing cream over your eyebrows to ensure minimal pain. The sensation is there but the pain is almost absent. Simply put, it is bearable.
Are there any Risks/Side Effects You Need to Look Out for?
Every procedure comes with risks. To start off, though rare and uncommon, you may experience a slight allergic reaction or irritation. It doesn't happen often but we're definitely not ruling out the possibility. Be sure to keep up with the pre and post-care and practise good hygiene when cleaning areas nearing your eyebrows.
How Much does Eyebrow Embroidery Cost in Singapore?
The cost of the treatment can vary depending on the salon, style and artist. It can cost as low as $280 at some salons and go up to $1098 at the others. 
Will Eyebrow Embroidery Fade?
Yes. While it can last up to 3 years in certain cases, the eventual wear and tear will cause the results to fade gradually. Some procedures like the Korean style eyebrow embroidery requires a 1-3 month touch up to maintain the results. 
20 Salons with the Best Eyebrow Embroidery Singapore for Fellow Cosmo Girls
1) Brow Sugar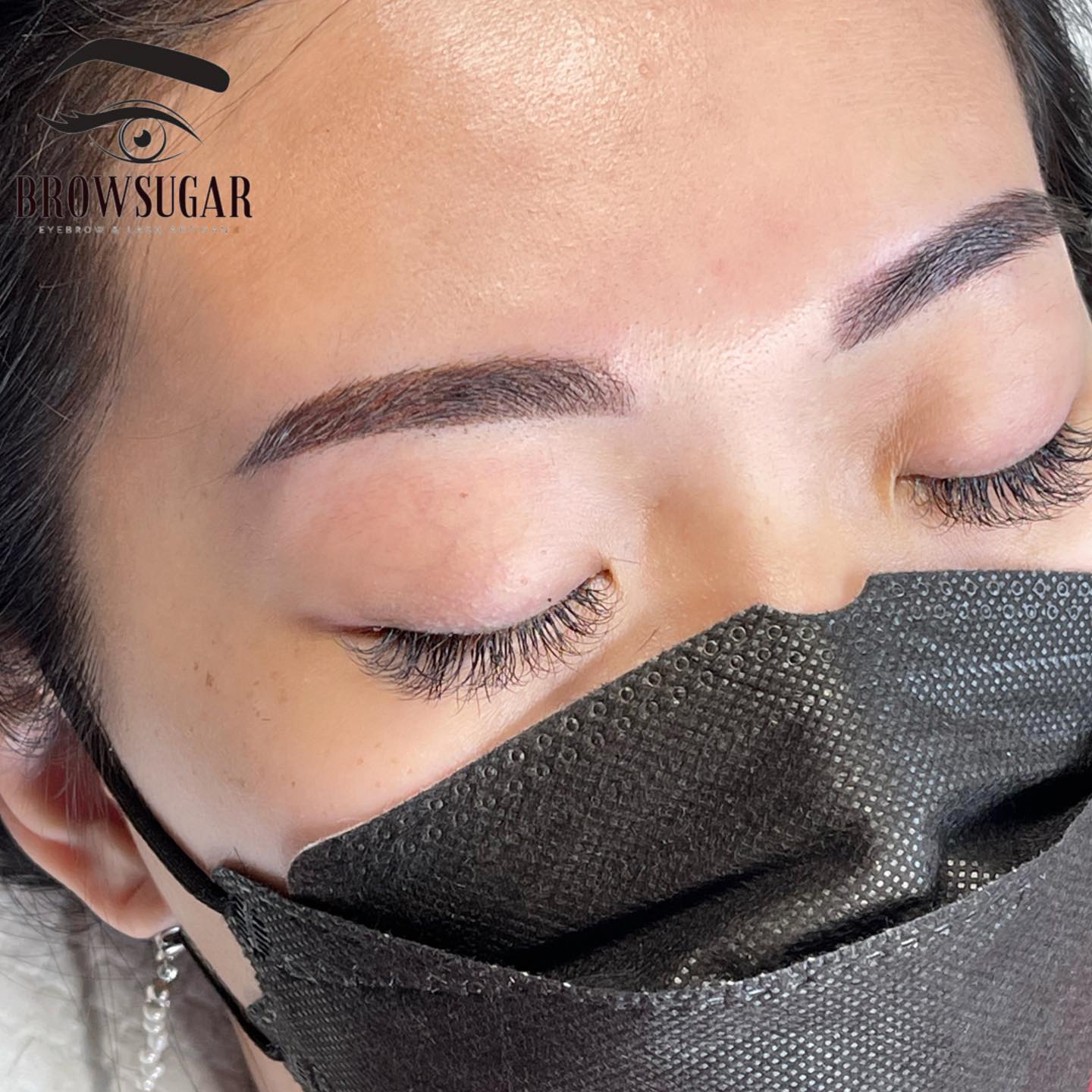 Popular for their Powder Ombre Brows, Brow Sugar is a home-based embroidery Singapore provider. Being approved and highly reviewed by all of its customers, they are praised for their top tier hospitality and professionalism, not to mention that they have previously done the eyebrows of two big names Andrea DeCruz and Chen Ning. Based on specific needs and demands, they are able to deliver services that accentuate your features. They also offer other services such as waterline eyeliner embroidery. Secure your slot today!
Operating Hours : Mon-Fri (9am-5pm)
Location : Sin Ming Walk, Bishan – Home Studio, Singapore 573917
Contact Details : +65 9011 9067
2) The Beaute Canopy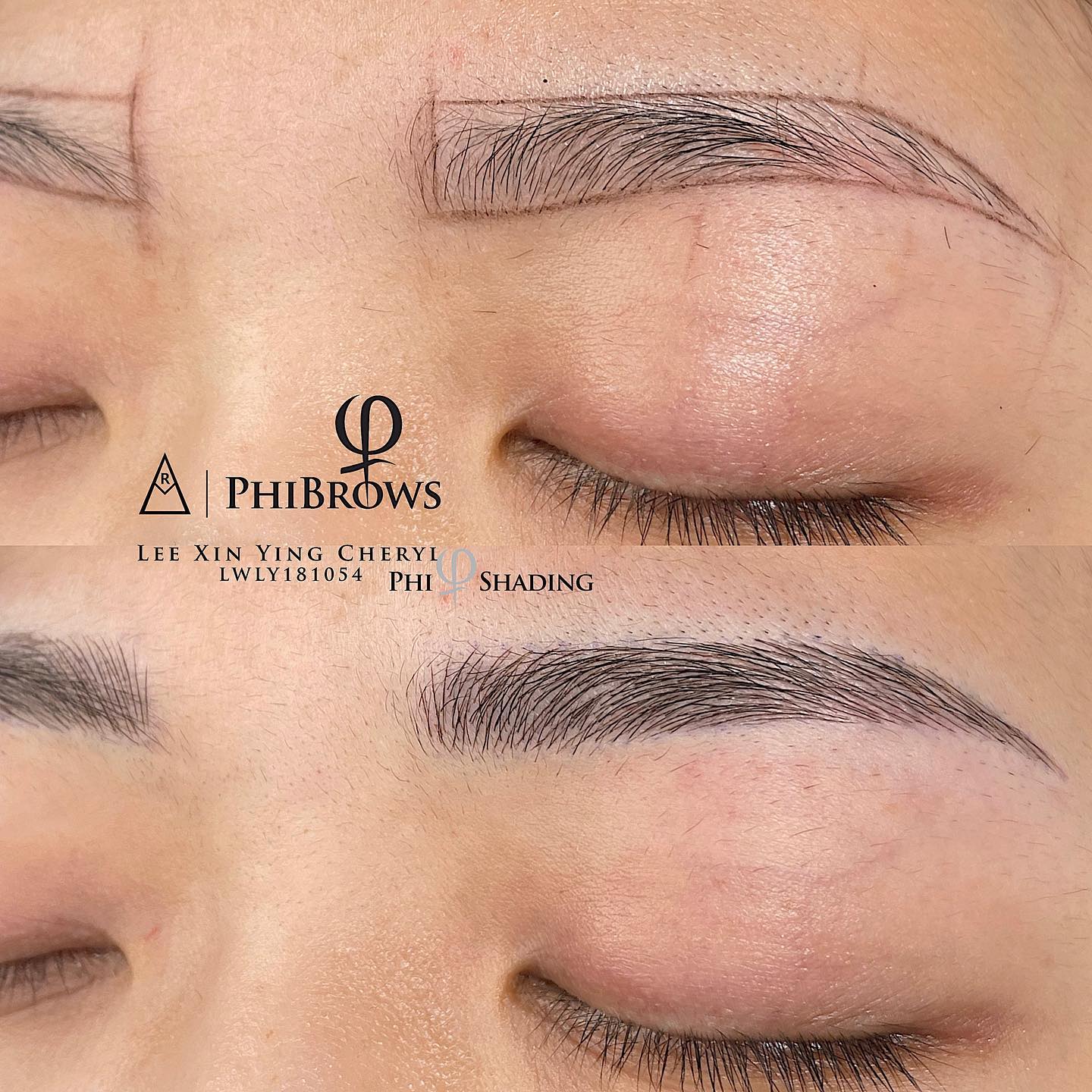 Another spot known for the best eyebrow embroidery Singapore, The Beaute Canopy is another home business, situated in Punggol. Boasting an extensive collection of products and tools hailing from Germany, it is in their best interest to provide one of the best semi-permanent makeup services on the island. Wishing for a more natural look? Best believe that they create the most natural, realistic-looking eyebrows you'll think they are your natural brows. 
Operating Hours : Daily (12pm-8pm)
Location : 266D Punggol Way, Singapore 824266
Contact Details : +65 8233 0166
3) My Lash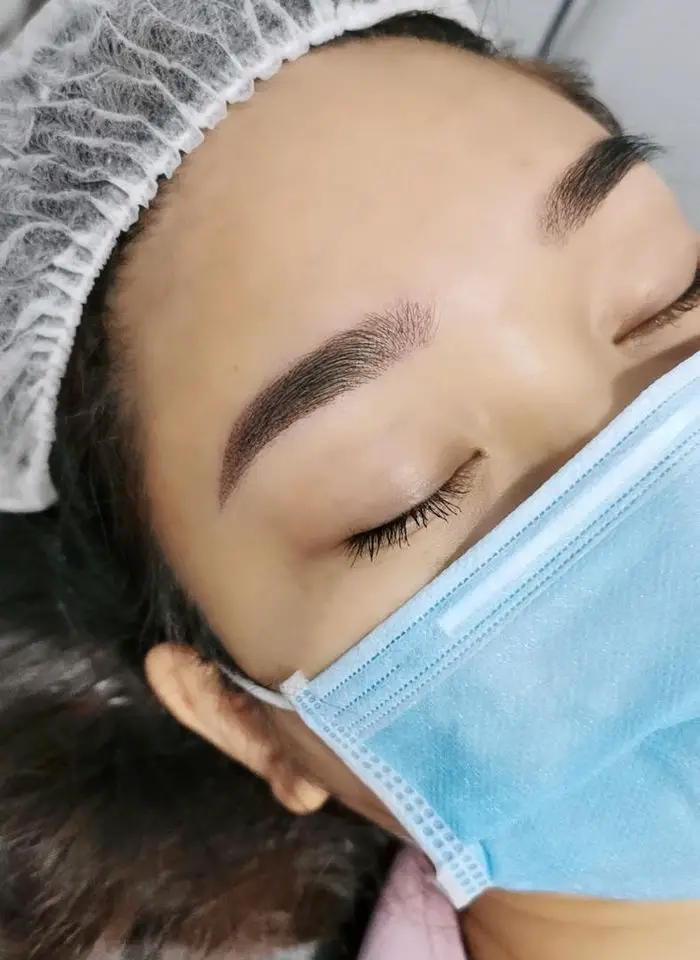 As its name suggests, My Lash offers lash as well as brow services. With more than 15 years of experience under their belt, rest assured that you are in good hands. Feel free to head over to their Instagram page and take a look at their previous works, you'll be convinced seeing how satisfied their customers are. Opt from two of their brow services : Misty Brow and Eyebrow Embroidery. The former involves the use of a single colour to fill in your brows whereas the latter focuses on creating a powdered gradient look that is natural and soft. 
Operating Hours : Mon-Fri (11am-9pm), Sat & Sun (11am-7pm)
Location : Find the nearest My Lash salon to you here.
Contact Details : +65 6282 6287 (Kovan)/ +65 6789 7879 (Tampines)/ +65 6287 6687 (Orchard)
4) Jo Artysan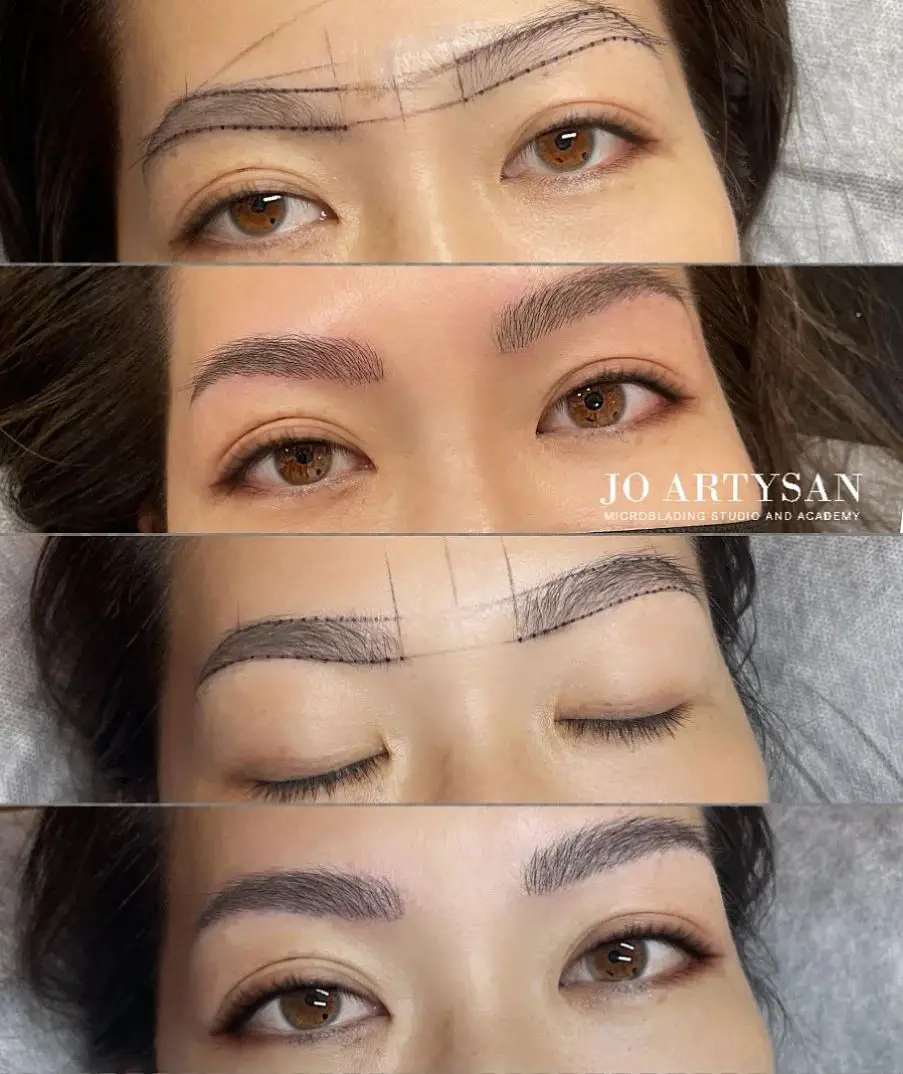 Jo Artysan is powered by the mission to deliver the most beautiful version of you, through the best eyebrow embroidery Singapore. Situated in the heard of Orchard, this award-winning embroidery salon has garnered a loyal following for their impeccable services. Whether you are looking for a pair of bold or au-naturel look, there is nothing Jo Artysan can't deliver. If you're gunning for that coveted Korean eyebrow embroidery, their Ombre Powder Brows make a perfect choice, leaving your brows with a misty gradient finish. Their Artysan Signature Brows on the other hand, uses paper-cut-like strokes to mimic your natural brows. 
Operating Hours : Daily (10am-9pm)
Location : 111 Somerset Road, TripleOne Somerset, #02-44 to #02-48, Singapore 238164
Contact Details : +65 8889 2880
5) Lebellbrow Studio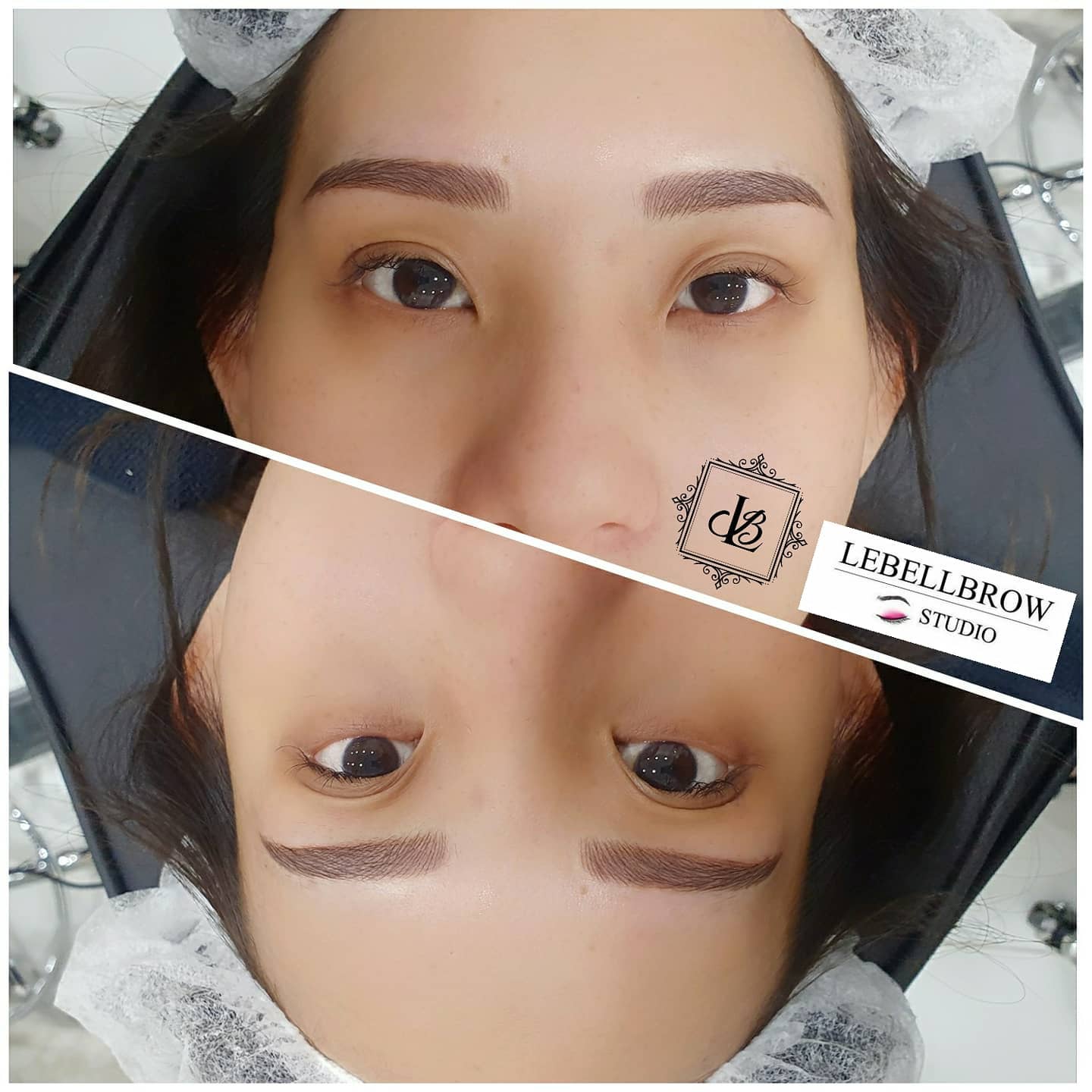 Being the winner of the best eyebrow tattoo artists of Asia 2018, the K-Beauty Olympic 2019, and the Eyebrow Embroidery International Judge 2019 & 2022, Lebellbrow Studio uses cutting-edge technology of nano embroidery and contemporary techniques to create highly defined and natural-looking eyebrows that accentuate your facial features. In their procedures, high-quality nano pigments are used to ensure optimal results. 
Operating Hours : Mon-Sat (10:30am-9:30pm), Sun (10:30am to 3pm)
Location : 9 King Albert Park, #02-03, KAP Mall, Singapore 598332
Contact Details : +65 9008 7833/ +65 9691 6050
6) Face Factory 
Face Factory is known for delivering one of the best eyebrow embroidery Singapore done by highly skilled brow artists. This home-based salon takes into consideration your facial structure when shaping and designing your eyebrows. This is done by using the features and points of your face to measure the perfect brow ratio, all for you to walk out of the salon with perfectly shaped, fuller and symmetrical eyebrows.
Operating Hours : Fri-Wed (10am-8pm)
Location : Blk 964 Hougang Ave 9, Singapore 530964
Contact Details : +65 9138 2824
7) Beauty Recipe Aesthetics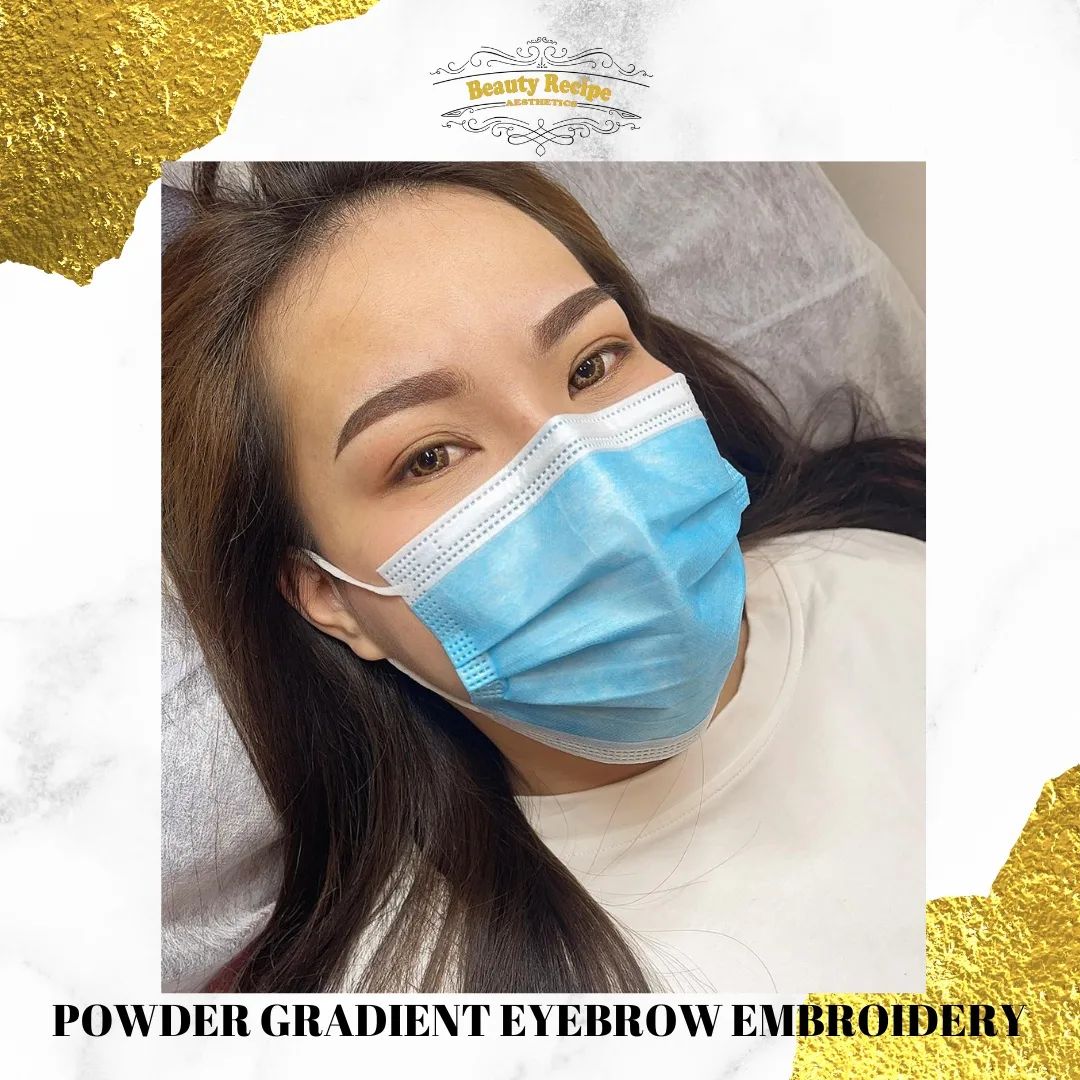 With a vast array of menus to choose from, Beauty Recipe Aesthetics is a magnet for first timers. Their powder gradient technique delivers a more natural effect to any eyebrow; making it an ideal choice for those with sparse brows looking for a natural yet decent look for the day to day. 
Operating Hours : Daily (11am-9pm)
Location : 277 Orchard Road, Orchard Gateway, #B2-01 Singapore 238858
Contact Details : +65 6702 3062
8) Limmy's Nail and Beauty Lounge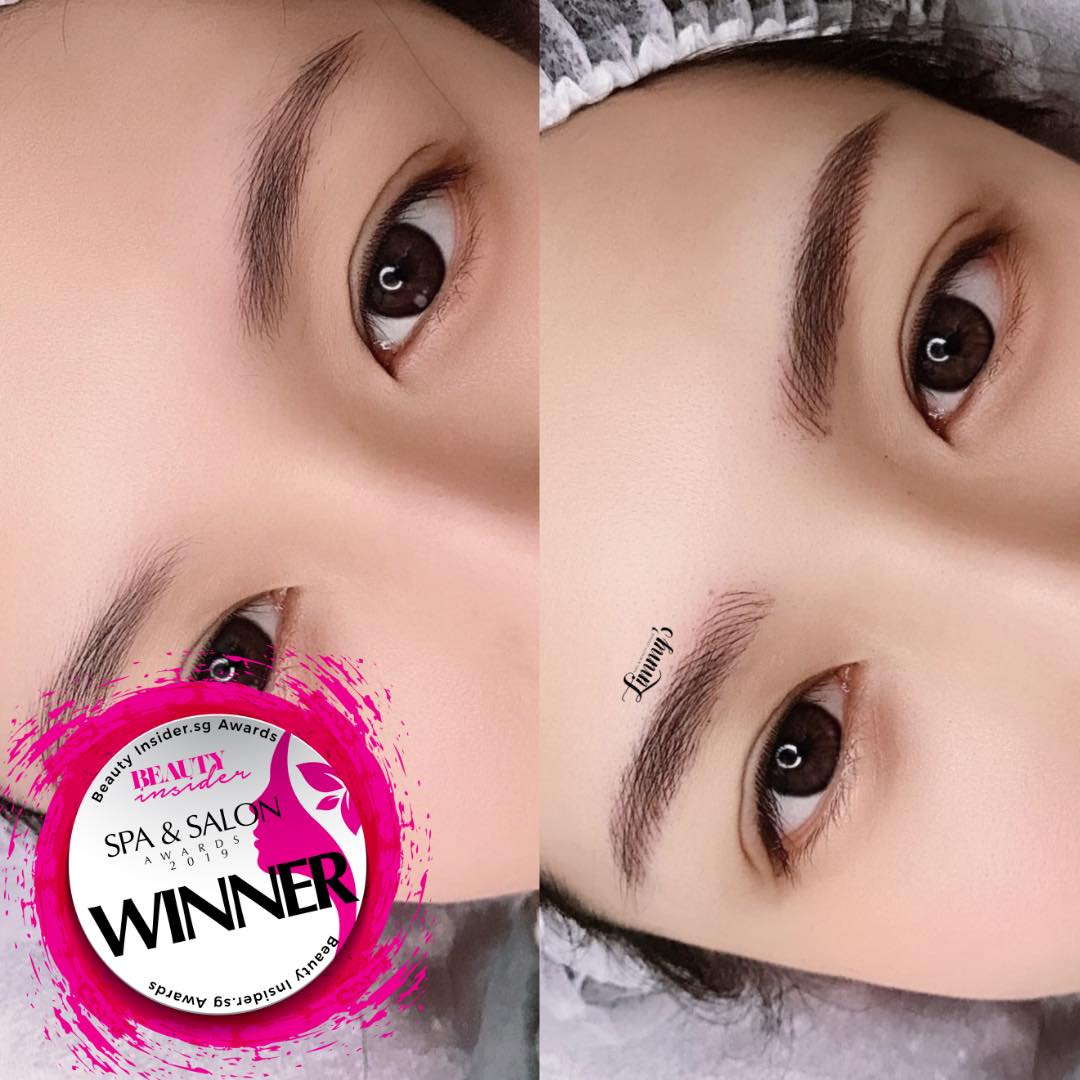 This underrated establishment uses natural and organic pigments, so best believed that no harsh chemicals are used on your skin. We highly recommend the feather stroke embroidery technique at Limmy's Nail and Beauty Lounge to achieve that fuller, yet natural brow look. 
Operating Hours : Mon-Thurs (11:30am-8:30pm), Fri-Sun (11:30am-9:30pm)
Location : 88 Rangoon Road, #01-05, Singapore 218374
Contact Details : +65 8112 0232
9) The Lash Icon
The Lash Icon prides themselves on delivering healthy and well-groomed eyebrows and eyelashes. Despite its namesake, they are known for both services equally. Why not get both done? They are also regarded as one of the best lash extension services providers in Singapore. Before determining whether lash extensions are right for you, check out this article. 
Operating Hours : Mon-Sun (10am-8pm)
Location : 1 Tras Link, #02-13, Singapore 078867
Contact Details : +65 8833 1260
10) The Brow Art Studio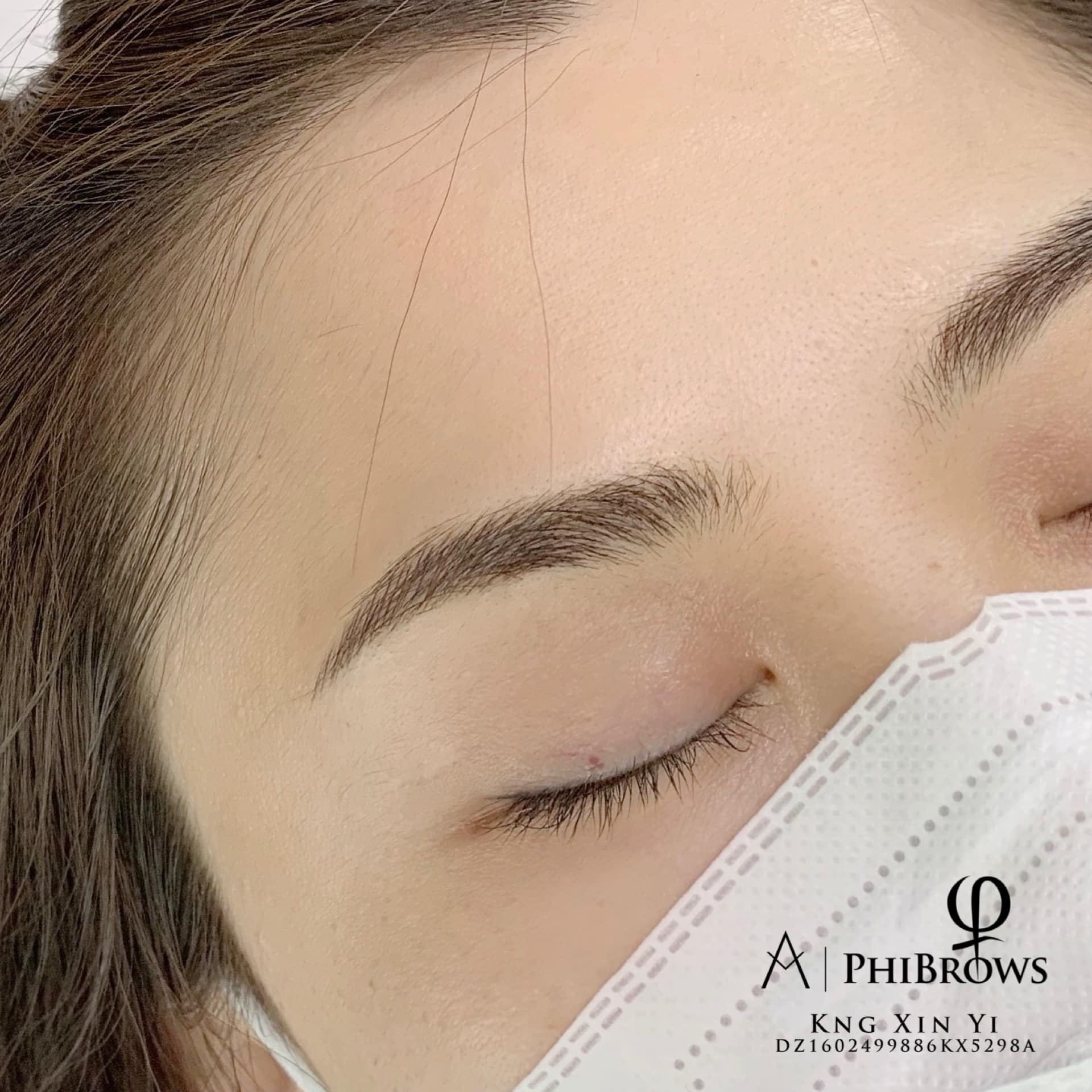 Brow Art Studio is a salon you can trust when it comes to receiving the best eyebrow embroidery Singapore. Their specialists are trained to design a brow look that matches your facial structure and features in order to enhance the symmetry of your face. A pair of eyebrows designed just for you, that changes your aura. 
Operating Hours : Mon-Sun (12pm-8pm)
Location : 112 Katong East Coast Road, #01-07, Singapore 428802
Contact Details : +65 6702 0768
11) The Prestige Eyebrow & Lash Specialist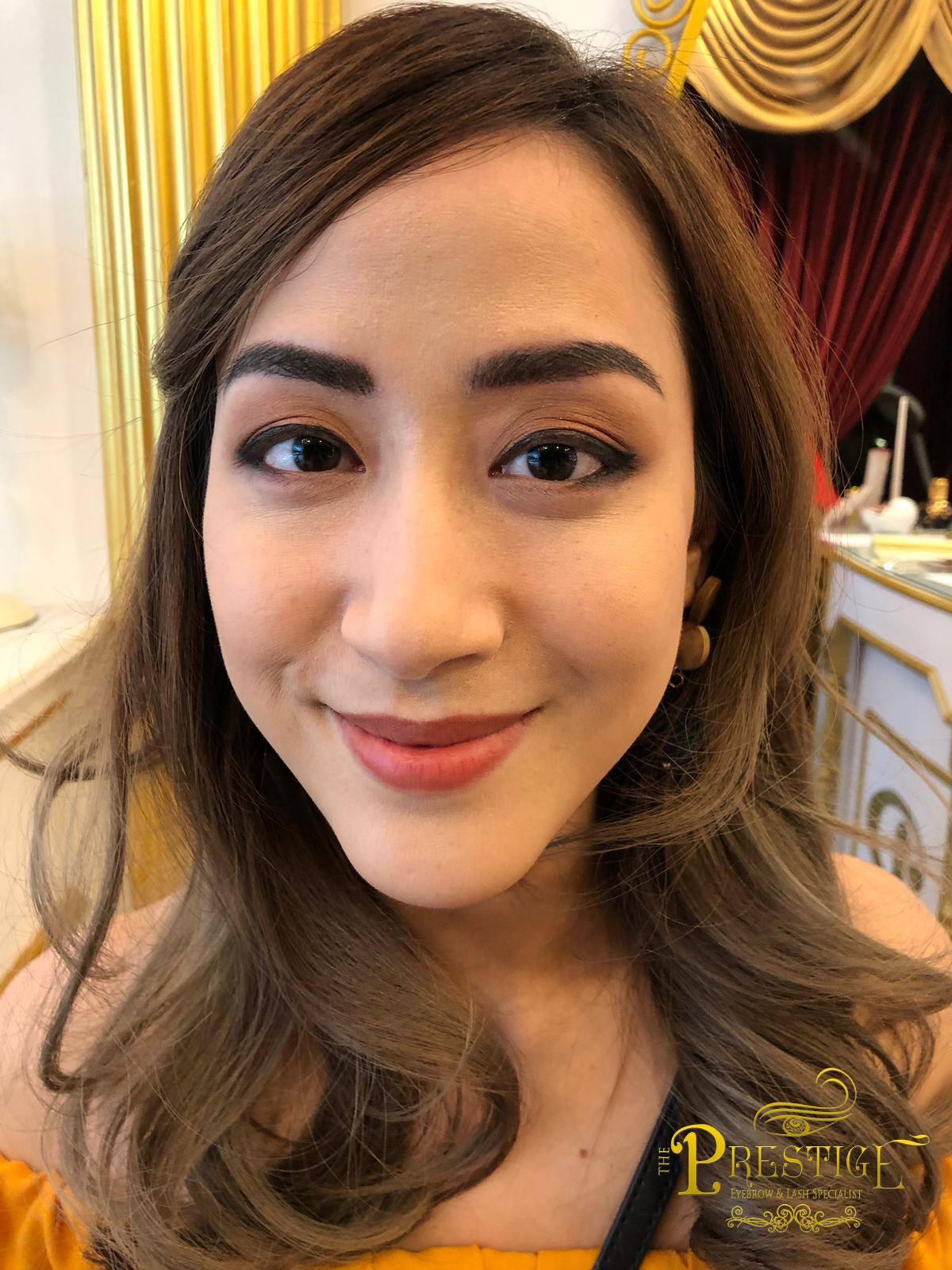 At The Prestige Eyebrow & Lash Specialist, you will discover a wide range of semi permanent makeup treatments including lip embroidery, eyeliner embroidery, eyebrow embroidery, and eyebrow threading. Who says such services are only women? They house a variety of eyebrow enhancement procedures for all genders. Don't let societal notions stop you from pursuing what you love! Helmed by a team of highly skilled brow artists, this is a salon worth the visit. 
Operating Hours : Mon-Sat (10am-8pm)
Location : Pacific Plaza, 9 Scotts Road, #03-08, Singapore 228210
Contact Details : +65 6822 3395/ +65 68223396
12) Milly's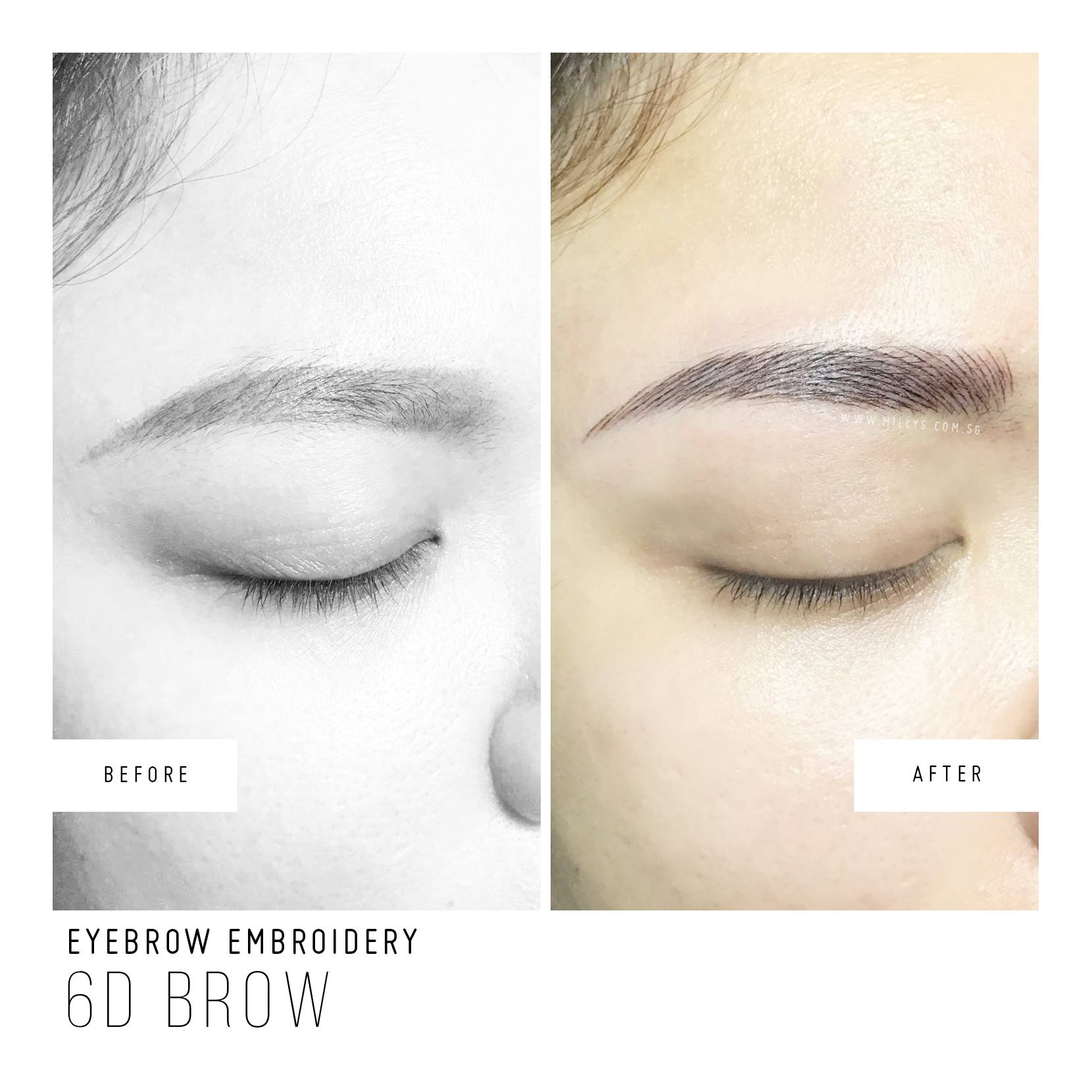 Milly's offers a variety of beauty services from lash lift treatment to eyelash extensions, eyeliner embroidery to brow embroidery, and manicure to pedicure, At Milly's, they take pride in their 6D eyebrow embroidery services of various types including gradient brow, 6D brow and 6D soft edge brow. Besides coming up with suitable brow designs, they take the time to consider your skin type, whether it is oily, dry or sensitive. This is for them to recommend the frequency of touch up needed. 
Operating Hours : Mon-Sat (11am-9:30pm), Sun (11am-8pm)
Location : 14 Scotts Road, #02-68, Singapore 228213
Contact Details : +65 6737 6723
13)Private Room Singapore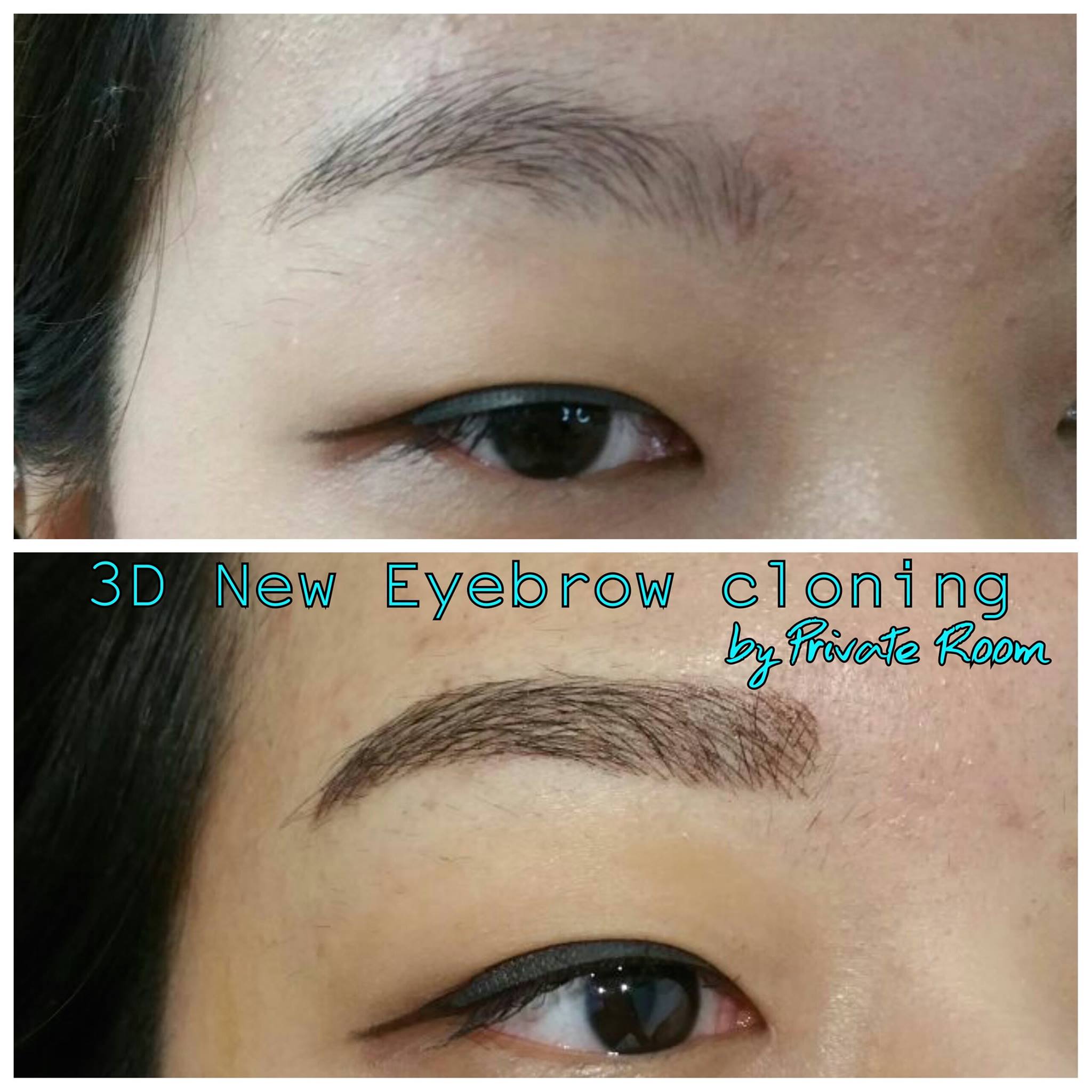 Boasting high quality treatments and a highly skilled tram, Private Room Singapore is amongst the top local favourites. They house a plethora of beauty treatments including brow embroidery, IPL hair removal, lash extension, and nails treatment. Their eyebrow embroidery gives you soft, natural-looking brows with a Korean effect. Even better, it comes with minimal swelling and a shorter healing time!
Operating Hours : Mon-Fri (11am-8:30pm), Sat (11am-3pm)
Location : 10 Anson Road, #03-14 International Plaza Singapore 079903/ Holland Avenue, #02-36 Holland Road Shopping Centre Singapore 278967
Contact Details : +65 6223 3546
14) Dr Lash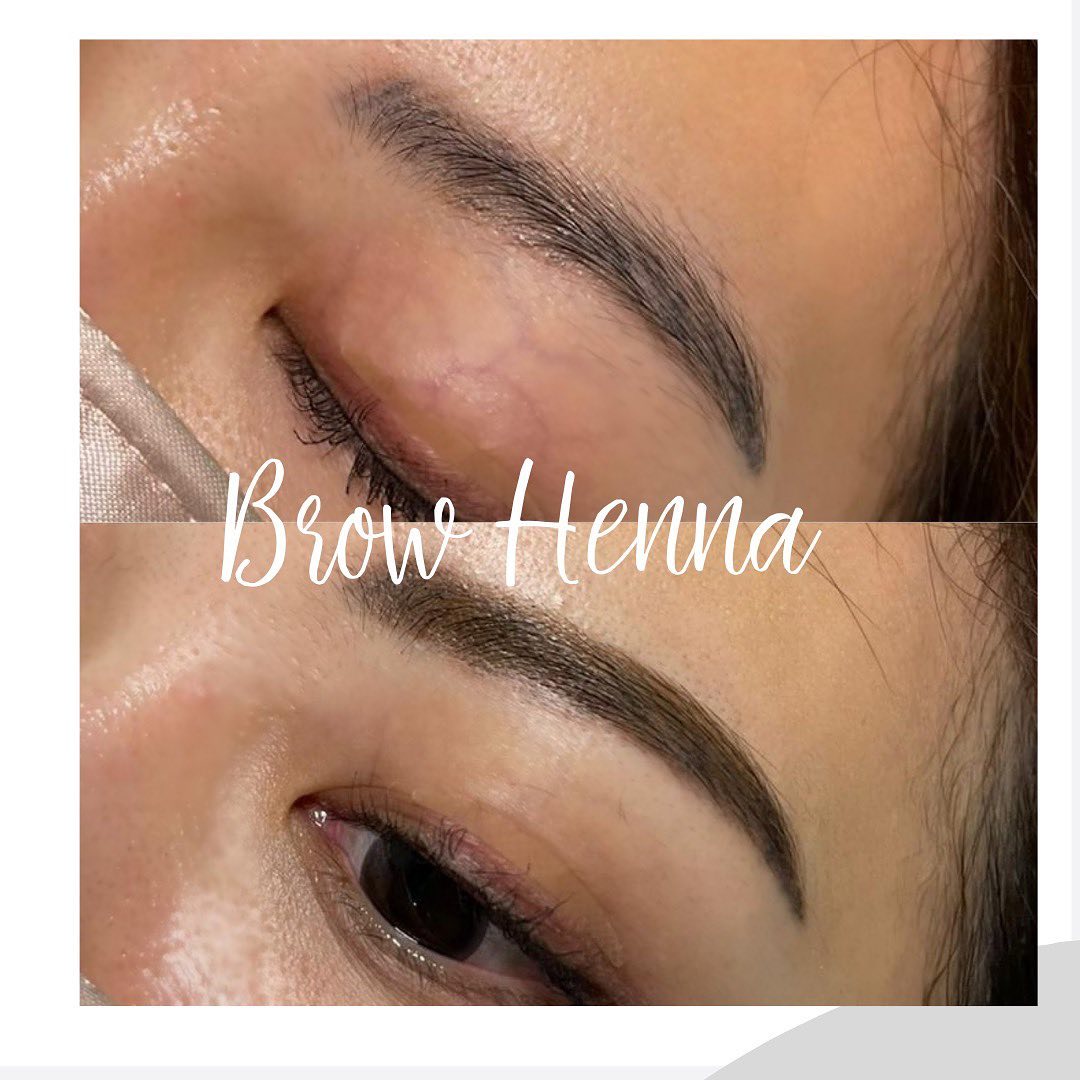 Notable for the best eyebrow embroidery Singapore, Dr Lash is a cult-favourite amongst beauty influencers and celebrities. A perfect spot to achieve that zero makeup look for your day to day at the office, Dr Lash is known for their impeccable, fine strokes that reveal a natural finishing look. 
Operating Hours : Mon-Fri (11am-8:30pm), Sat & Sun (11am-8:30pm)
Location : 1 Harbourfront Walk, #02-178 VivoCity, Singapore 098585
Contact Details : +65 6471 3018
15) Avone Beauty Secrets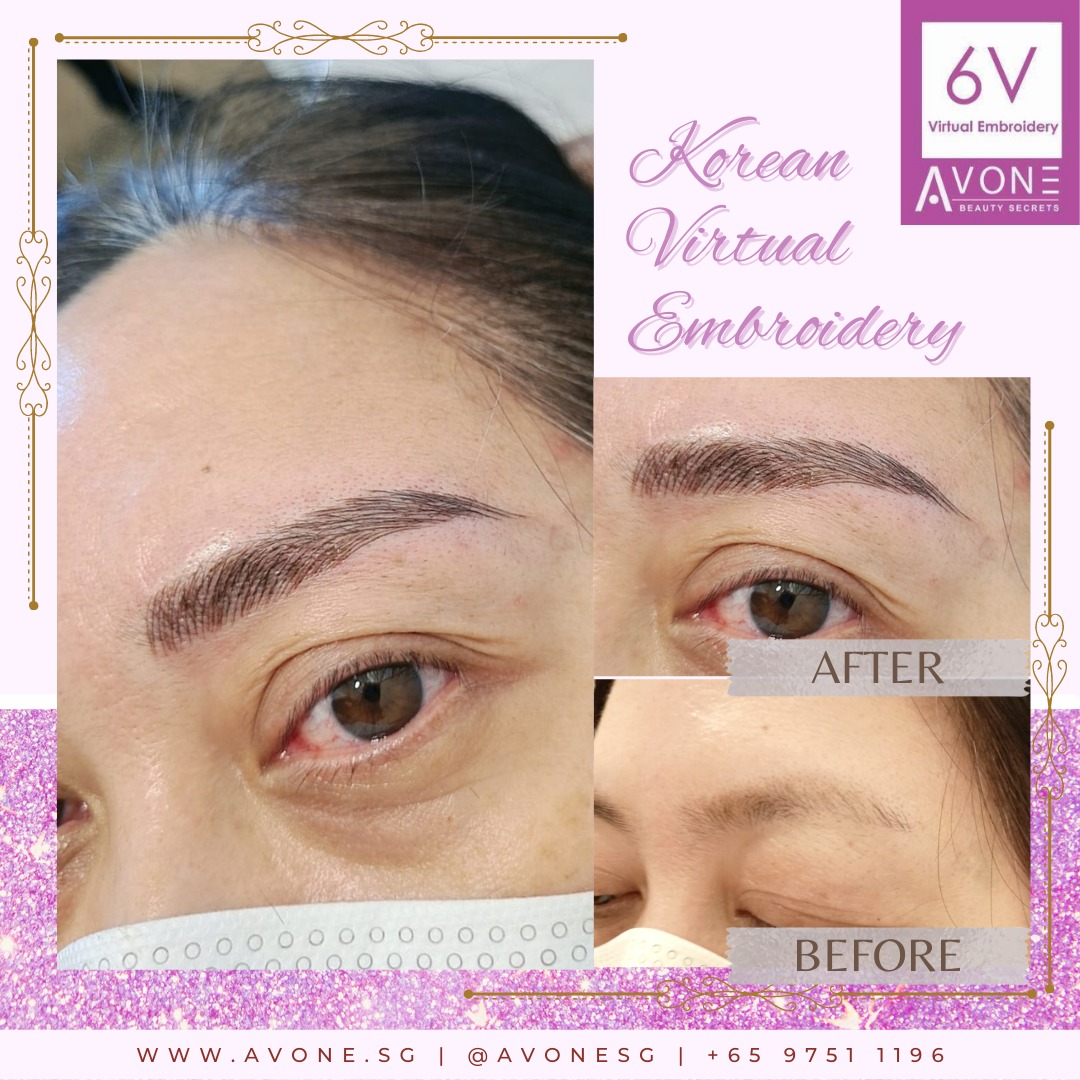 This all-inclusive beauty salon houses a vast array of beauty services, one of which is their famous brow embroidery. Unlike most salons, Avone Beauty Secrets provides customised treatments to create the most natural-looking results. Their staff is known to be extremely professional and welcoming, and you'll definitely feel like home during the long embroidery session. 
Operating Hours : Daily (11am-8pm)
Location : The Central @ Clarke Quay, 6 Eu Tong Sen Street, #03-42 Singapore 059817
Contact Details : +65 9751 1196
Subscribe to our newsletter