Eyebrows are more than just hair — these twins are a crucial part of your face that play a huge role in facial recognition. We tend to remember people's faces better subconsciously due to their eyebrows. Having a pair of neatly defined eyebrows also makes your face more pleasant to look at. No wonder, many of us are obsessed with eyebrow embroidery today. Lucky for those blessed with thick eyebrows who only need to trim and reshape theirs from time to time. Those with thin and sparse eyebrows may be struggling to get the right look, either spending hours in front of a mirror to get that perfect eyebrows-on-fleek look or splurge on the best brow makeup products. 
All your worries are over, you can stumble upon tons of salons who offer the best eyebrow embroidery in Singapore. If you still haven't tried out this semi permanent makeup, Beauty Signal Lab got you covered!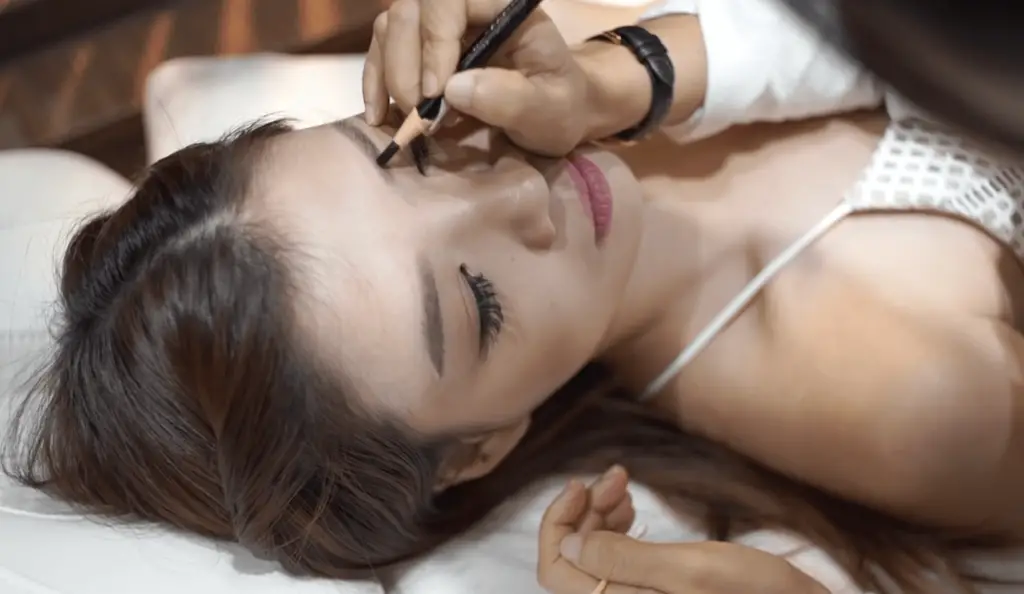 Korean Eyebrow Embroidery Singapore
This semi-permanent makeup solution is also known as the eyebrow hairline stroke. It delivers a long-lasting finish that is apt to stay up to a few years. During the procedure, beauty therapists will make tiny incisions on the eyebrows and fill in the sparse areas with colour pigment that is selected based on the colour of your natural brows. In the end, you will get a pair of thicker and fuller brows. In Korea, straighter eyebrows shaped thicker are amongst the most sought after styles. 
Who is Eyebrow Embroidery for?
Anyone can come in to sit for the procedure. As a precaution nevertheless, do provide a disclaimer if you are on medication such as blood thinners or Accutane. Nursing and pregnant women especially, should stay away from getting eyebrow embroidery at all costs.
How will the Artist Know What You are Looking for?
To understand the process is semi-permanent, you're strongly advised to conduct a research beforehand about what you want and which salon you are approaching. 
Many artists are likely to have you bring along photos for reference and request for photos of how you would normally do your brows. These are very crucial factors to help them design a pair of eyebrows that suit. 
Do You Need to Prepare Anything Beforehand?
Skip doing your brows for the day to make worth every single penny spent. Also, if you're prone to wax, thread, tint, or pluck your eyebrows regularly, do it at least 3 days prior to your session. 
What is the Pain Level? 
Artists will apply an adequate amount of numbing cream over your eyebrows to ensure minimal pain. The sensation is there but the pain is almost absent. Simply put, it is bearable.
Are there any Risks/Side Effects You Need to Look Out for?
Every procedure comes with risks. To start off, though rare and uncommon, you may experience a slight allergic reaction or irritation. It doesn't happen often but we're definitely not ruling out the possibility. Be sure to keep up with the pre and post-care and practise good hygiene when cleaning areas nearing your eyebrows.
How Much does Eyebrow Embroidery Cost in Singapore?
The cost of the treatment can vary depending on the salon, style and artist. It can cost as low as $280 at some salons and go up to $1098 at the others. 
Will Eyebrow Embroidery Fade?
Yes. While it can last up to 3 years in certain cases, the eventual wear and tear will cause the results to fade gradually. Some procedures like the Korean style eyebrow embroidery requires a 1-3 month touch up to maintain the results. 
20 Salons with the Best Eyebrow Embroidery Singapore for Fellow Cosmo Girls
1) Brow Sugar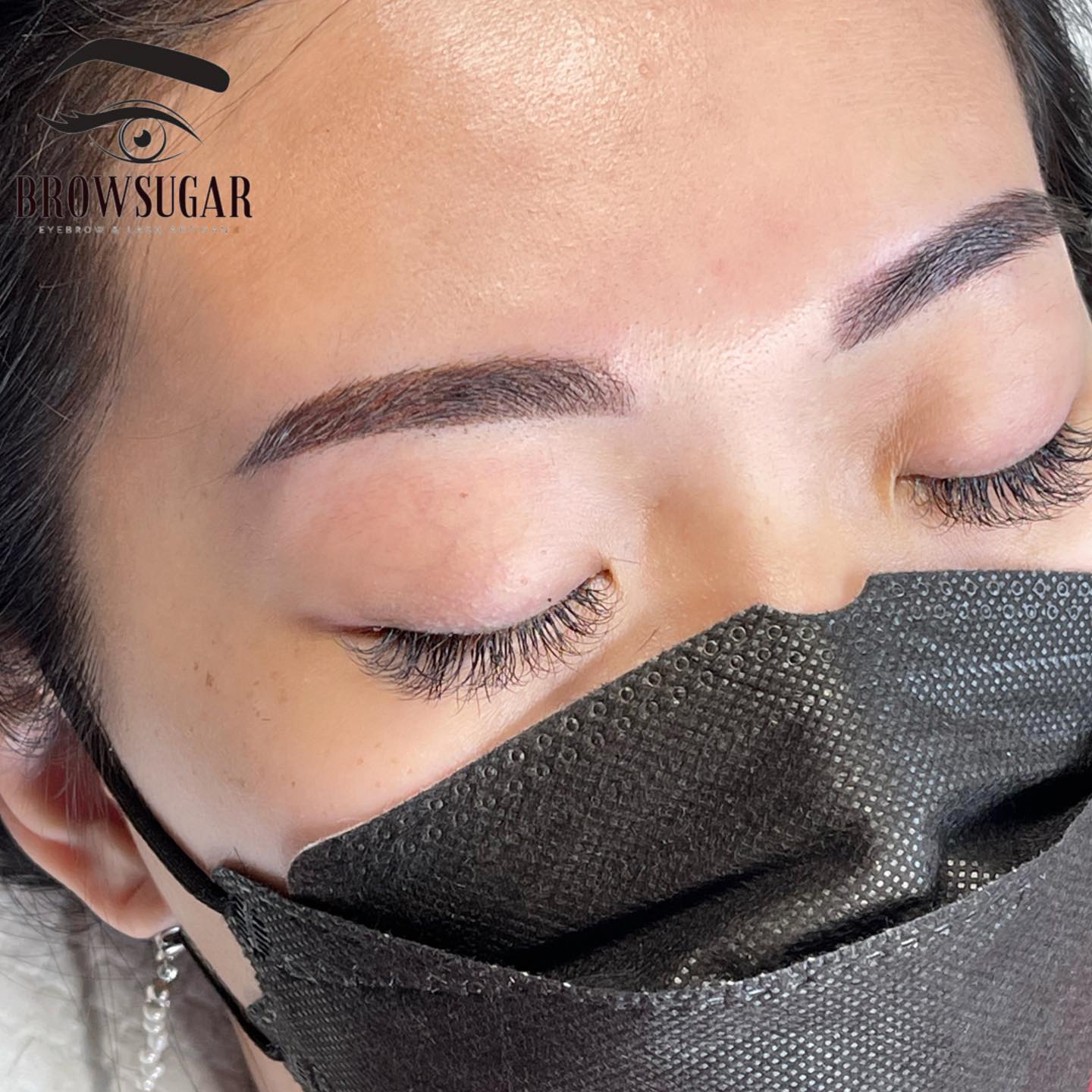 Popular for their Powder Ombre Brows, Brow Sugar is a home-based embroidery Singapore provider. Being approved and highly reviewed by all of its customers, they are praised for their top tier hospitality and professionalism, not to mention that they have previously done the eyebrows of two big names Andrea DeCruz and Chen Ning. Based on specific needs and demands, they are able to deliver services that accentuate your features. They also offer other services such as waterline eyeliner embroidery. Secure your slot today!
Operating Hours : Mon-Fri (9am-5pm)
Location : Sin Ming Walk, Bishan – Home Studio, Singapore 573917
Contact Details : +65 9011 9067
2) The Beaute Canopy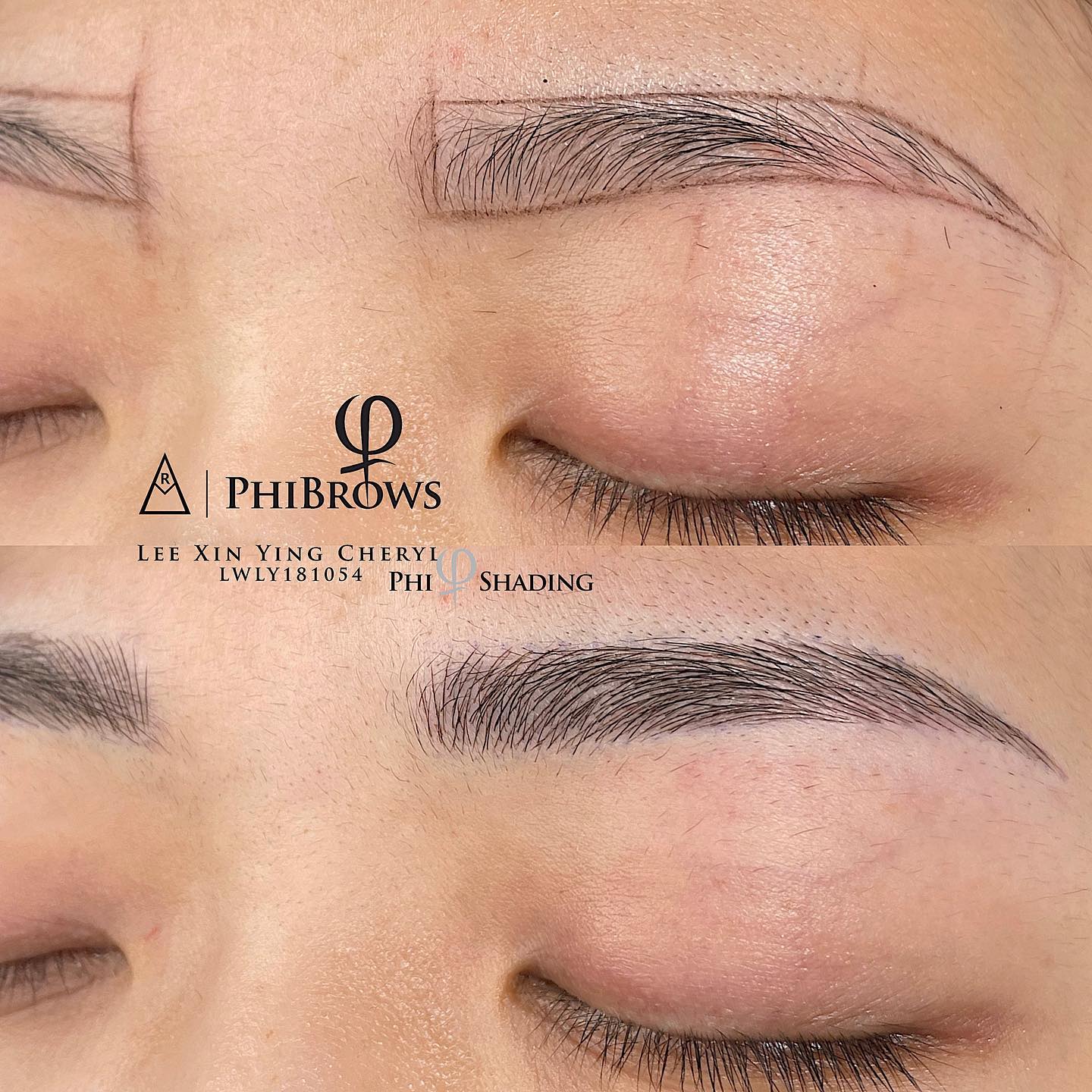 Another spot known for the best eyebrow embroidery Singapore, The Beaute Canopy is another home business, situated in Punggol. Boasting an extensive collection of products and tools hailing from Germany, it is in their best interest to provide one of the best semi-permanent makeup services on the island. Wishing for a more natural look? Best believe that they create the most natural, realistic-looking eyebrows you'll think they are your natural brows. 
Operating Hours : Daily (12pm-8pm)
Location : 266D Punggol Way, Singapore 824266
Contact Details : +65 8233 0166
3) My Lash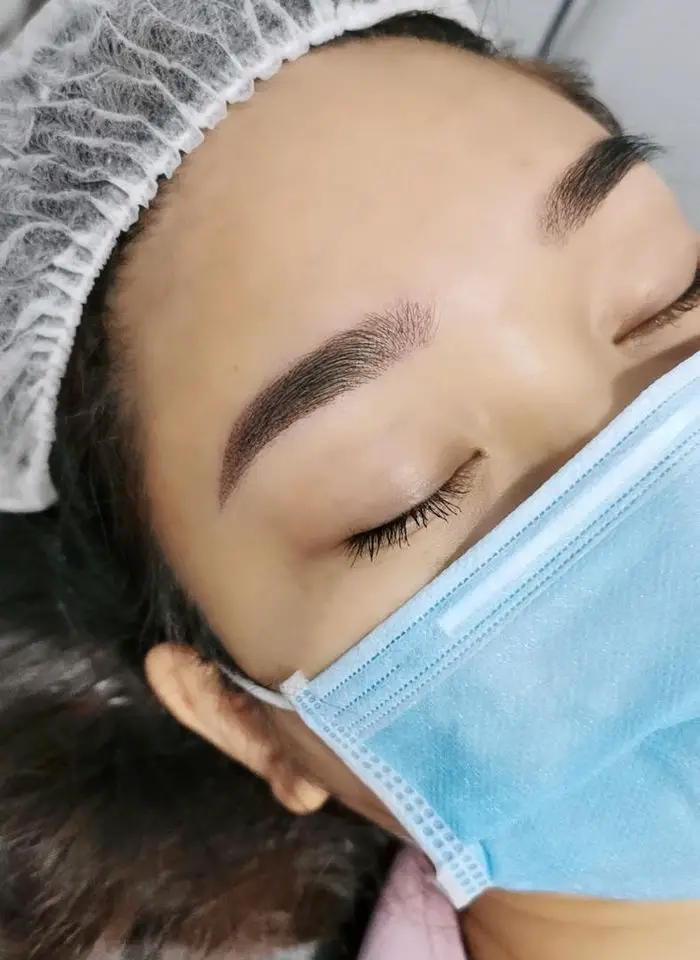 As its name suggests, My Lash offers lash as well as brow services. With more than 15 years of experience under their belt, rest assured that you are in good hands. Feel free to head over to their Instagram page and take a look at their previous works, you'll be convinced seeing how satisfied their customers are. Opt from two of their brow services : Misty Brow and Eyebrow Embroidery. The former involves the use of a single colour to fill in your brows whereas the latter focuses on creating a powdered gradient look that is natural and soft. 
Operating Hours : Mon-Fri (11am-9pm), Sat & Sun (11am-7pm)
Location : Find the nearest My Lash salon to you here.
Contact Details : +65 6282 6287 (Kovan)/ +65 6789 7879 (Tampines)/ +65 6287 6687 (Orchard)
4) Jo Artysan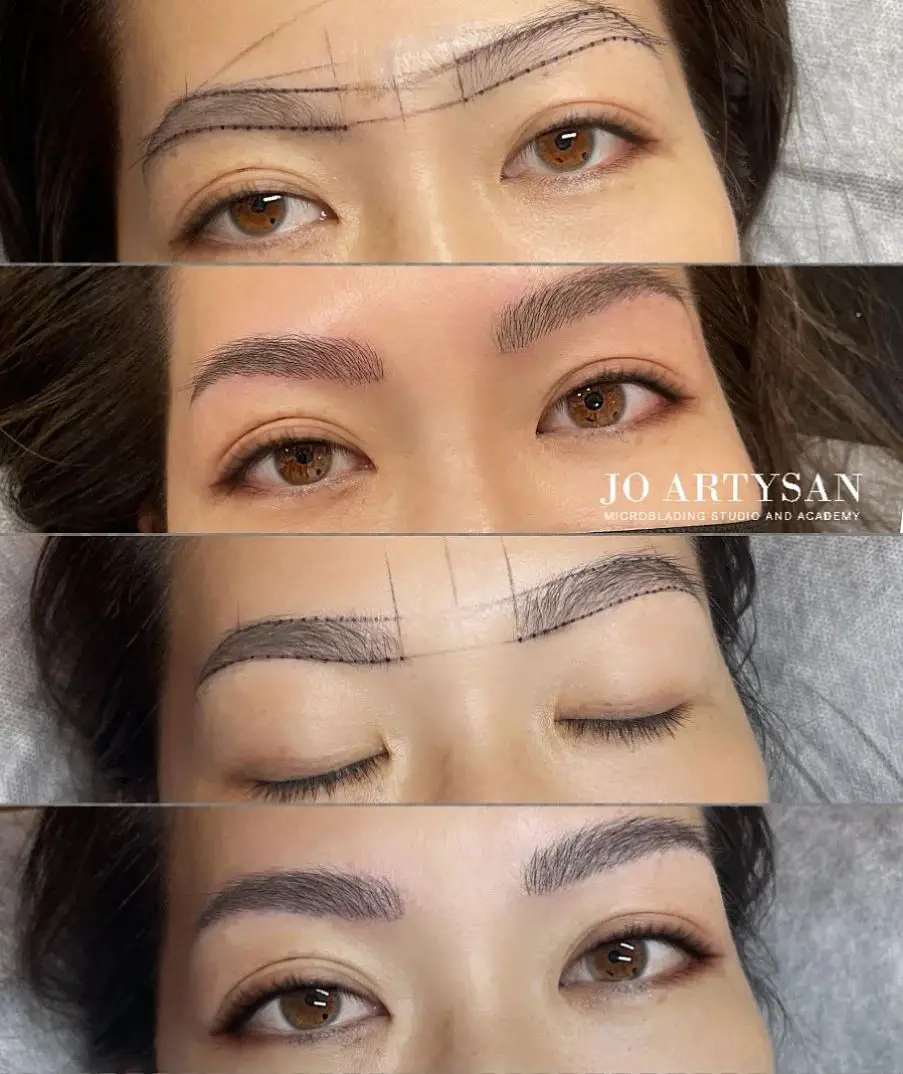 Jo Artysan is powered by the mission to deliver the most beautiful version of you, through the best eyebrow embroidery Singapore. Situated in the heard of Orchard, this award-winning embroidery salon has garnered a loyal following for their impeccable services. Whether you are looking for a pair of bold or au-naturel look, there is nothing Jo Artysan can't deliver. If you're gunning for that coveted Korean eyebrow embroidery, their Ombre Powder Brows make a perfect choice, leaving your brows with a misty gradient finish. Their Artysan Signature Brows on the other hand, uses paper-cut-like strokes to mimic your natural brows. 
Operating Hours : Daily (10am-9pm)
Location : 111 Somerset Road, TripleOne Somerset, #02-44 to #02-48, Singapore 238164
Contact Details : +65 8889 2880
5) Lebellbrow Studio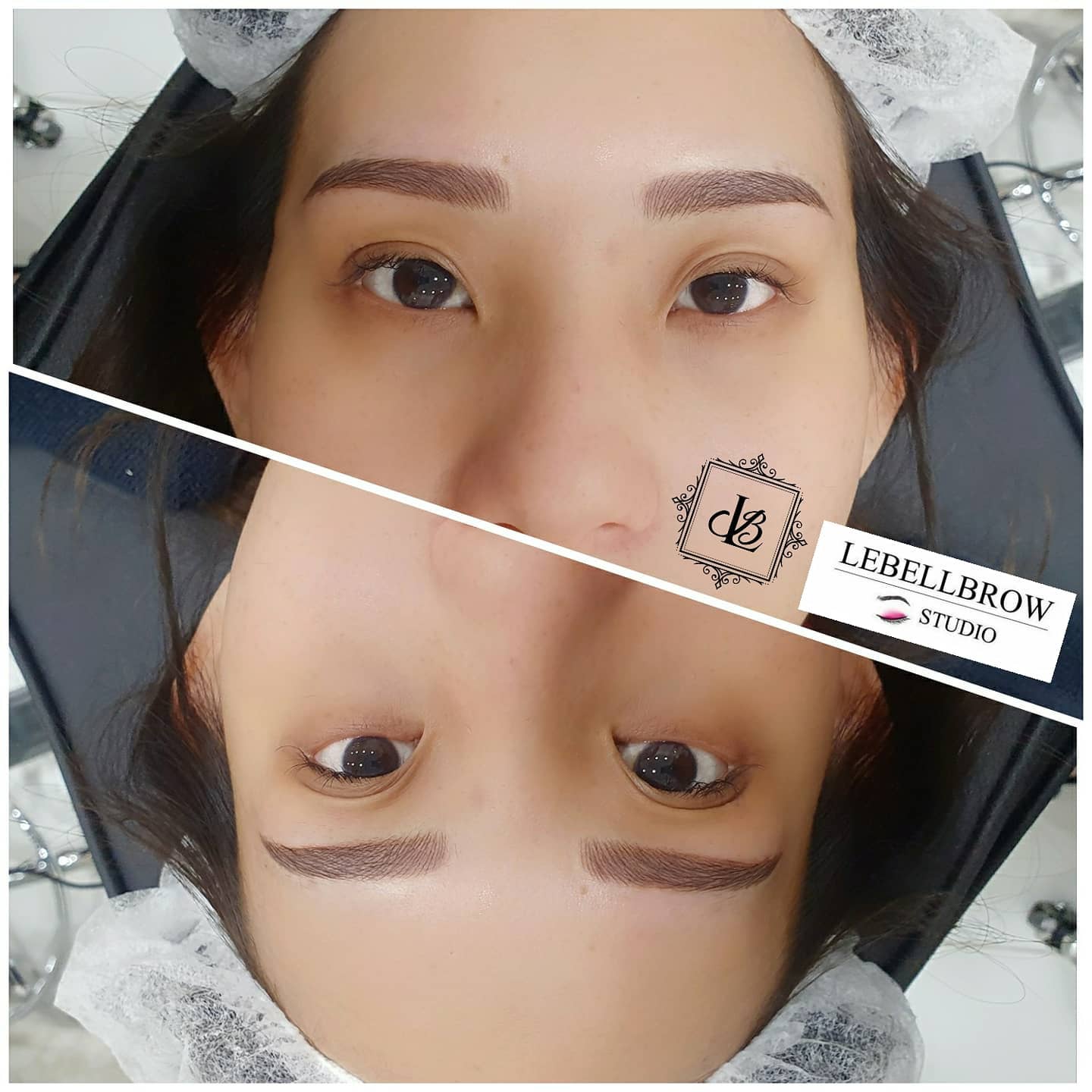 Being the winner of the best eyebrow tattoo artists of Asia 2018, the K-Beauty Olympic 2019, and the Eyebrow Embroidery International Judge 2019 & 2022, Lebellbrow Studio uses cutting-edge technology of nano embroidery and contemporary techniques to create highly defined and natural-looking eyebrows that accentuate your facial features. In their procedures, high-quality nano pigments are used to ensure optimal results. 
Operating Hours : Mon-Sat (10:30am-9:30pm), Sun (10:30am to 3pm)
Location : 9 King Albert Park, #02-03, KAP Mall, Singapore 598332
Contact Details : +65 9008 7833/ +65 9691 6050
6) Beauty Recipe Aesthetics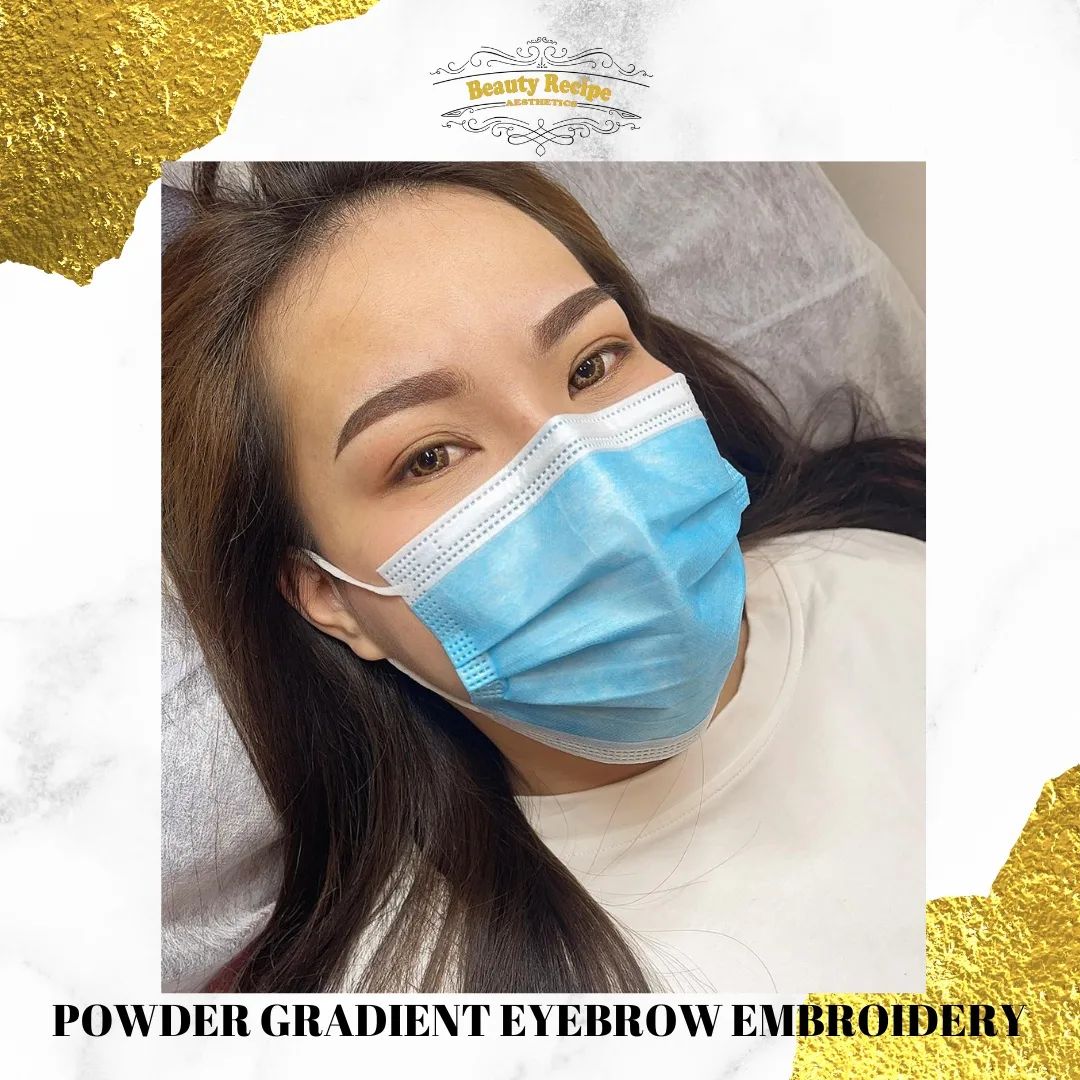 With a vast array of menus to choose from, Beauty Recipe Aesthetics is a magnet for first timers. Their powder gradient technique delivers a more natural effect to any eyebrow; making it an ideal choice for those with sparse brows looking for a natural yet decent look for the day to day. 
Operating Hours : Daily (11am-9pm)
Location : 277 Orchard Road, Orchard Gateway, #B2-01 Singapore 238858
Contact Details : +65 6702 3062
7) Limmy's Nail and Beauty Lounge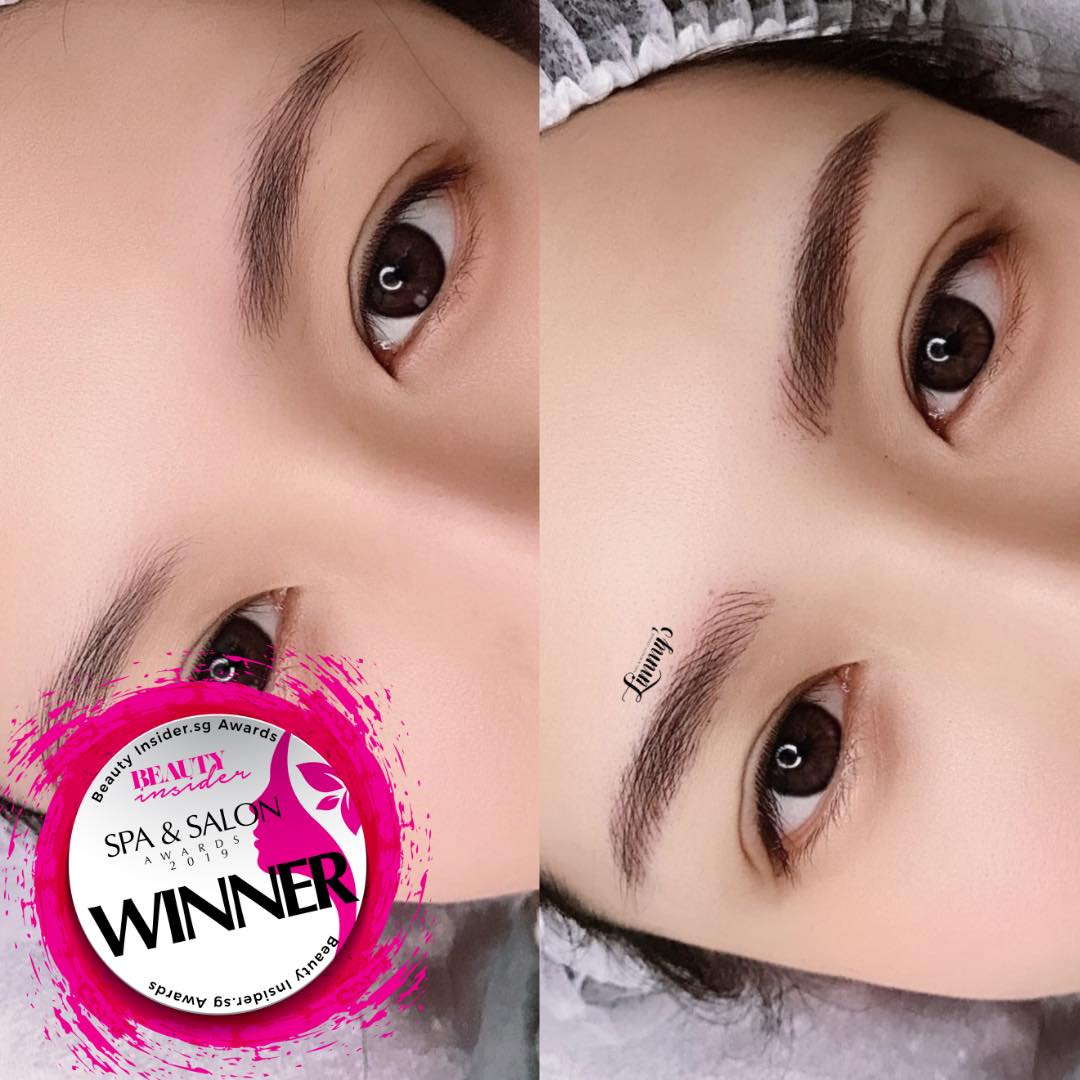 This underrated establishment uses natural and organic pigments, so best believed that no harsh chemicals are used on your skin. We highly recommend the feather stroke embroidery technique at Limmy's Nail and Beauty Lounge to achieve that fuller, yet natural brow look. 
Operating Hours : Mon-Thurs (11:30am-8:30pm), Fri-Sun (11:30am-9:30pm)
Location : 88 Rangoon Road, #01-05, Singapore 218374
Contact Details : +65 8112 0232
8) The Lash Icon
The Lash Icon prides themselves on delivering healthy and well-groomed eyebrows and eyelashes. Despite its namesake, they are known for both services equally. Why not get both done? They are also regarded as one of the best lash extension services providers in Singapore. Before determining whether lash extensions are right for you, check out this article. 
Operating Hours : Mon-Sun (10am-8pm)
Location : 1 Tras Link, #02-13, Singapore 078867
Contact Details : +65 8833 1260
9) The Brow Art Studio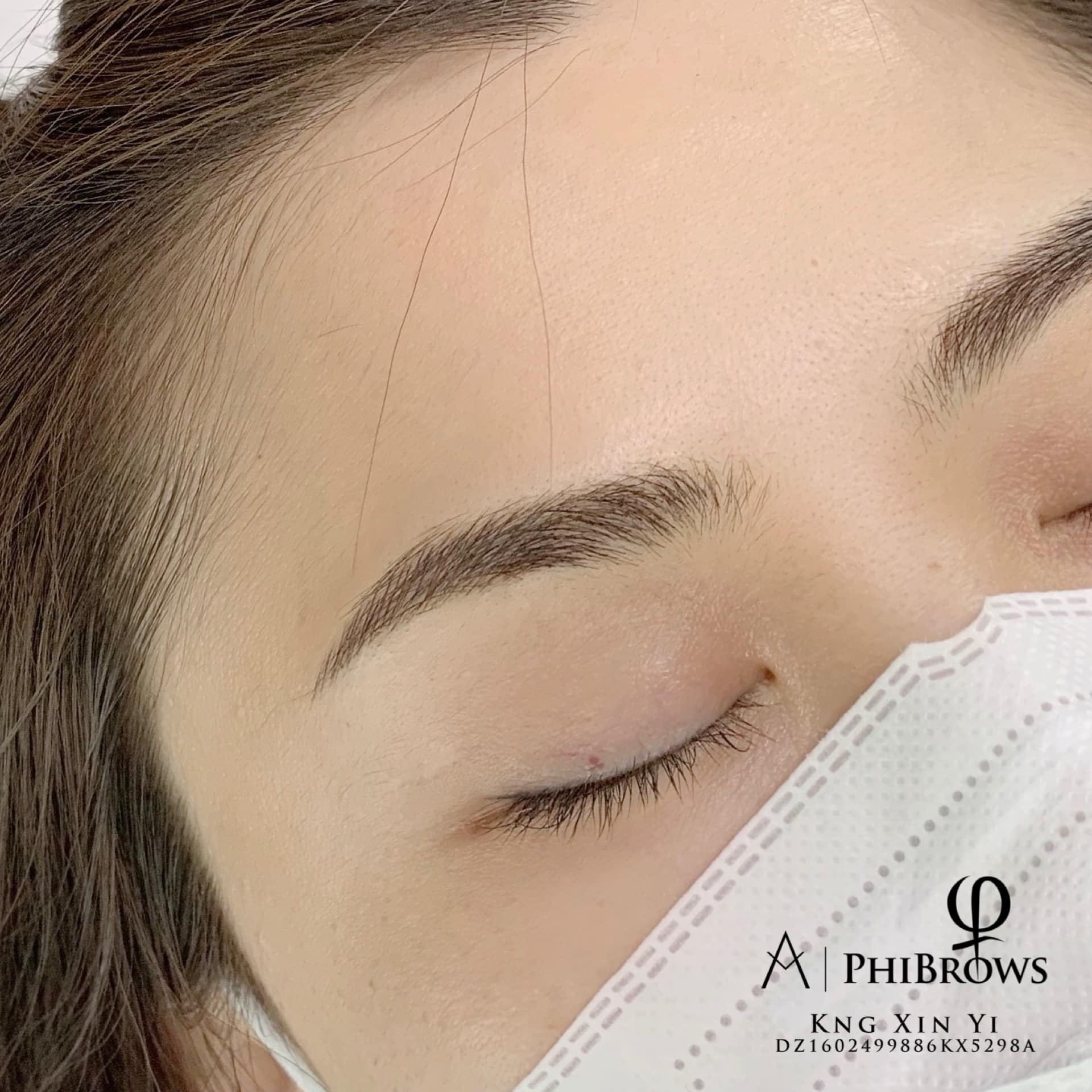 Brow Art Studio is a salon you can trust when it comes to receiving the best eyebrow embroidery Singapore. Their specialists are trained to design a brow look that matches your facial structure and features in order to enhance the symmetry of your face. A pair of eyebrows designed just for you, that changes your aura. 
Operating Hours : Mon-Sun (12pm-8pm)
Location : 112 Katong East Coast Road, #01-07, Singapore 428802
Contact Details : +65 6702 0768
10) The Prestige Eyebrow & Lash Specialist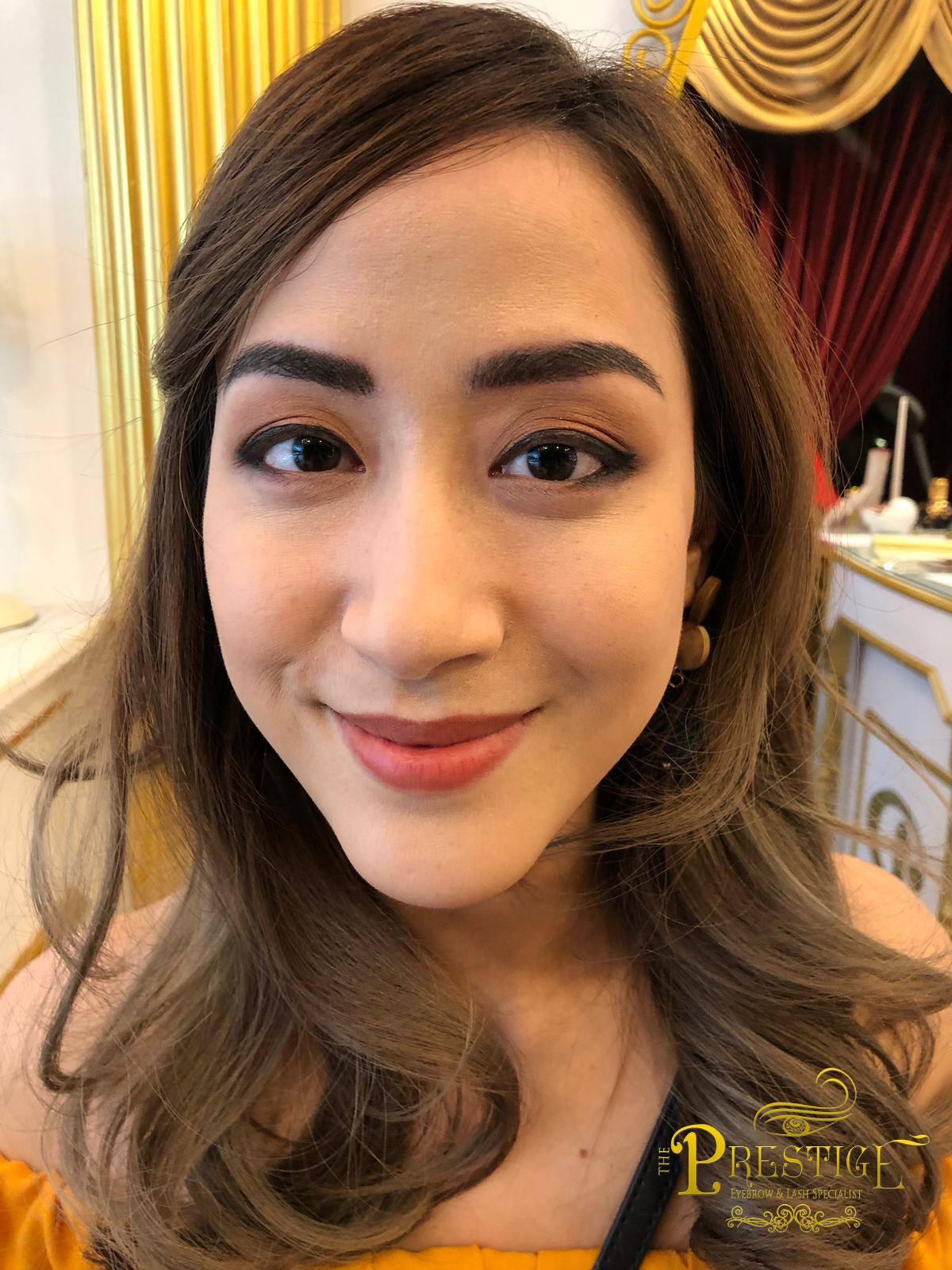 At The Prestige Eyebrow & Lash Specialist, you will discover a wide range of semi permanent makeup treatments including lip embroidery, eyeliner embroidery, eyebrow embroidery, and eyebrow threading. Who says such services are only women? They house a variety of eyebrow enhancement procedures for all genders. Don't let societal notions stop you from pursuing what you love! Helmed by a team of highly skilled brow artists, this is a salon worth the visit. 
Operating Hours : Mon-Sat (10am-8pm)
Location : Pacific Plaza, 9 Scotts Road, #03-08, Singapore 228210
Contact Details : +65 6822 3395/ +65 68223396
11) Milly's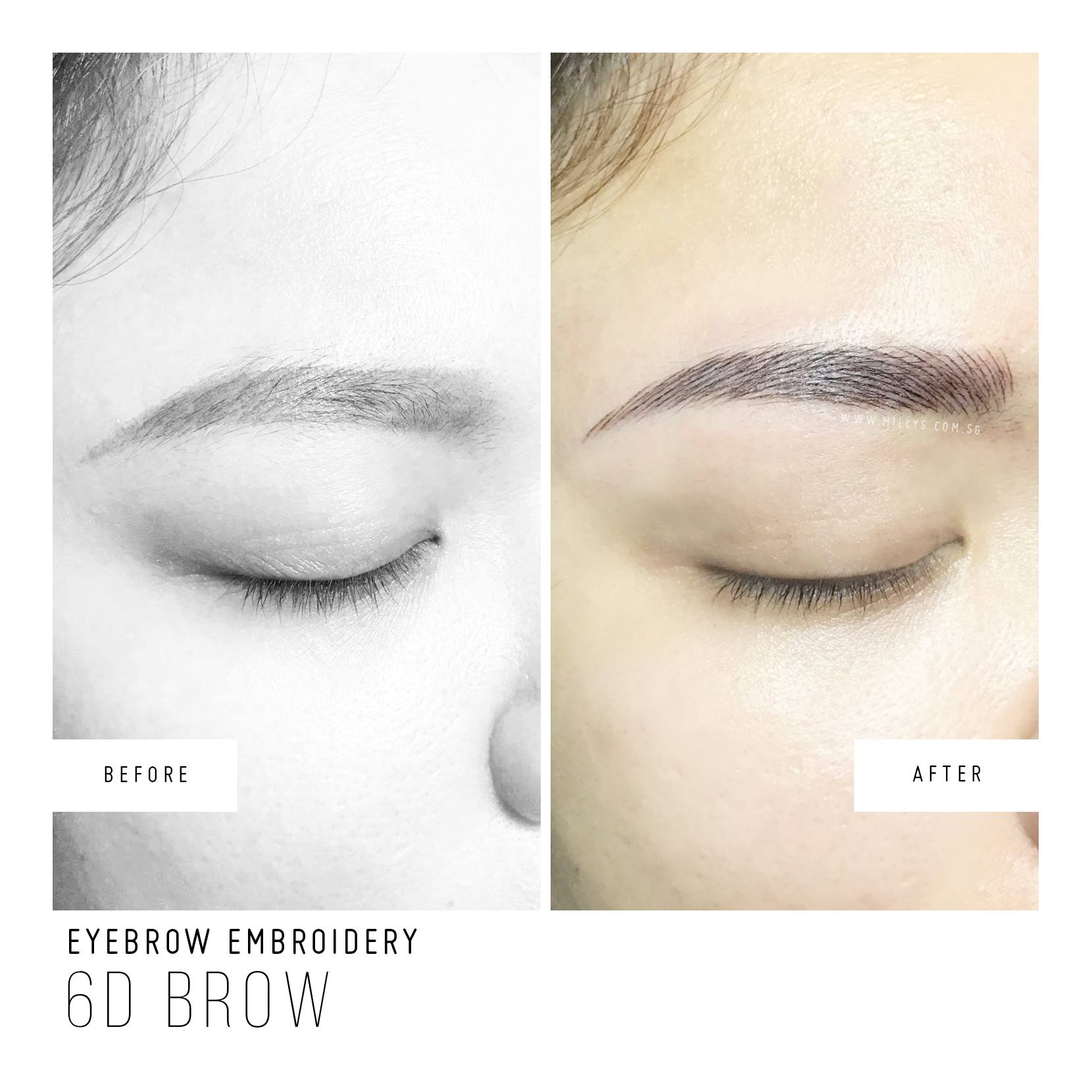 Milly's offers a variety of beauty services from lash lift treatment to eyelash extensions, eyeliner embroidery to brow embroidery, and manicure to pedicure, At Milly's, they take pride in their 6D eyebrow embroidery services of various types including gradient brow, 6D brow and 6D soft edge brow. Besides coming up with suitable brow designs, they take the time to consider your skin type, whether it is oily, dry or sensitive. This is for them to recommend the frequency of touch up needed. 
Operating Hours : Mon-Sat (11am-9:30pm), Sun (11am-8pm)
Location : 14 Scotts Road, #02-68, Singapore 228213
Contact Details : +65 6737 6723
12)Private Room Singapore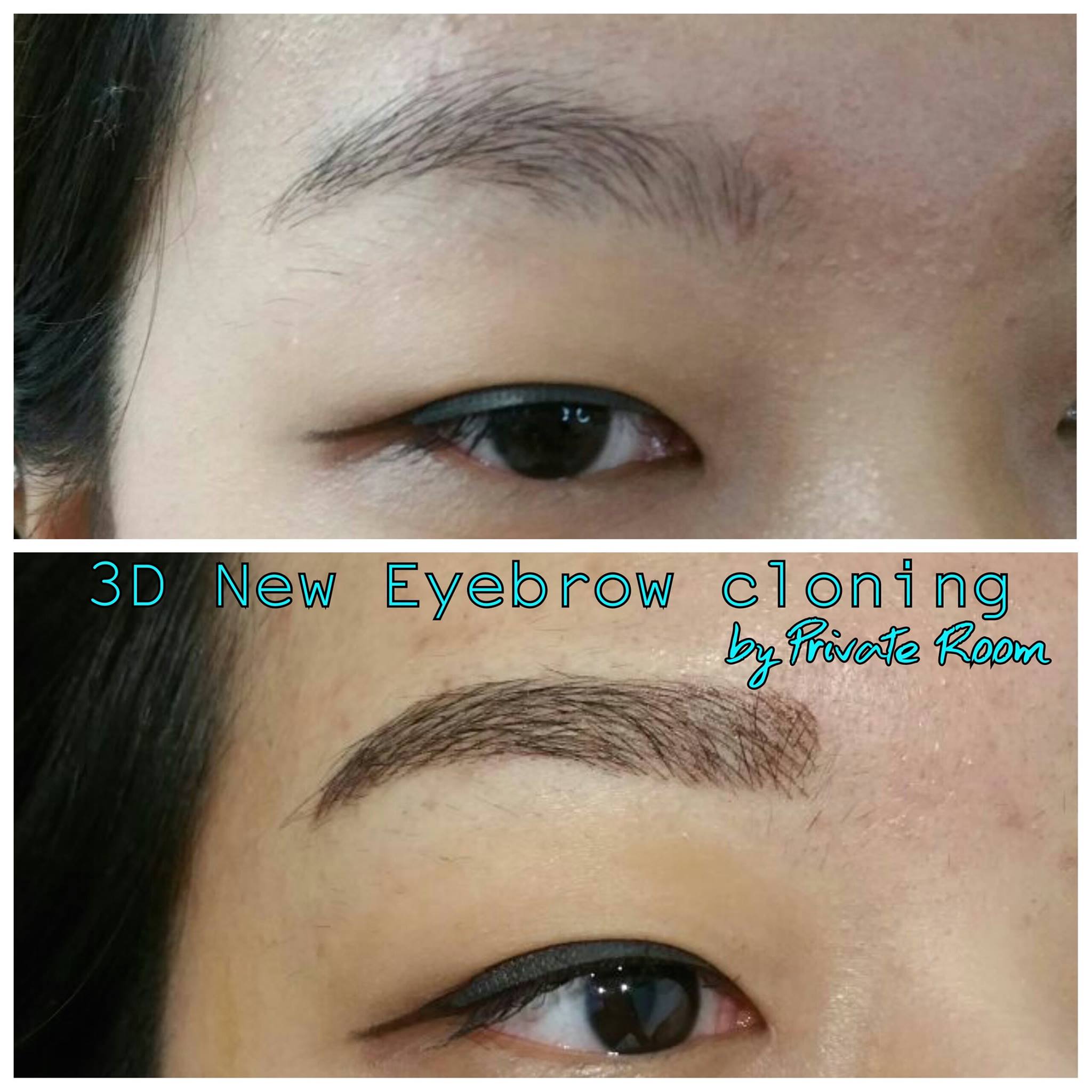 Boasting high quality treatments and a highly skilled tram, Private Room Singapore is amongst the top local favourites. They house a plethora of beauty treatments including brow embroidery, IPL hair removal, lash extension, and nails treatment. Their eyebrow embroidery gives you soft, natural-looking brows with a Korean effect. Even better, it comes with minimal swelling and a shorter healing time!
Operating Hours : Mon-Fri (11am-8:30pm), Sat (11am-3pm)
Location : 10 Anson Road, #03-14 International Plaza Singapore 079903/ Holland Avenue, #02-36 Holland Road Shopping Centre Singapore 278967
Contact Details : +65 6223 3546
13) Dr Lash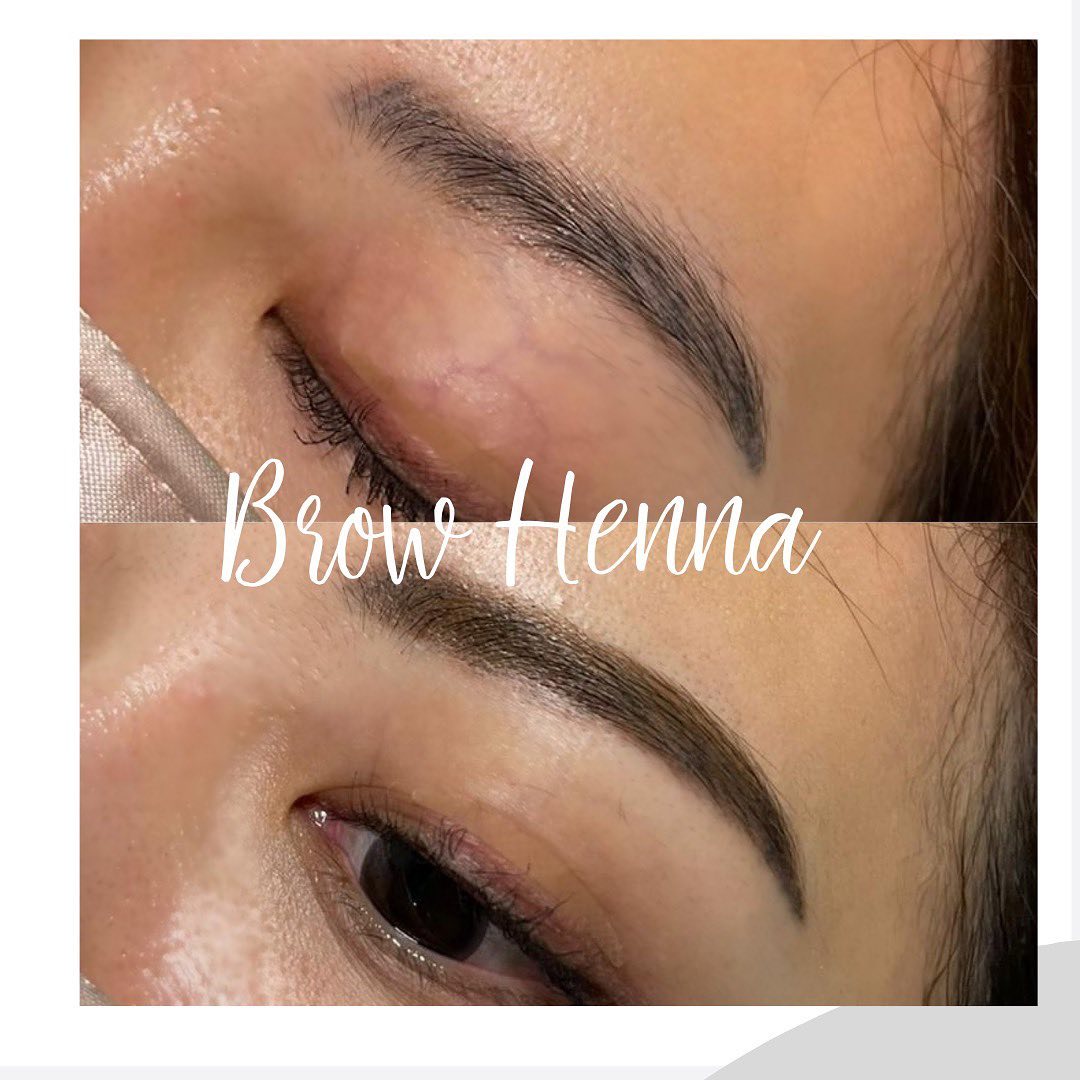 Notable for the best eyebrow embroidery Singapore, Dr Lash is a cult-favourite amongst beauty influencers and celebrities. A perfect spot to achieve that zero makeup look for your day to day at the office, Dr Lash is known for their impeccable, fine strokes that reveal a natural finishing look. 
Operating Hours : Mon-Fri (11am-8:30pm), Sat & Sun (11am-8:30pm)
Location : 1 Harbourfront Walk, #02-178 VivoCity, Singapore 098585
Contact Details : +65 6471 3018
14) Avone Beauty Secrets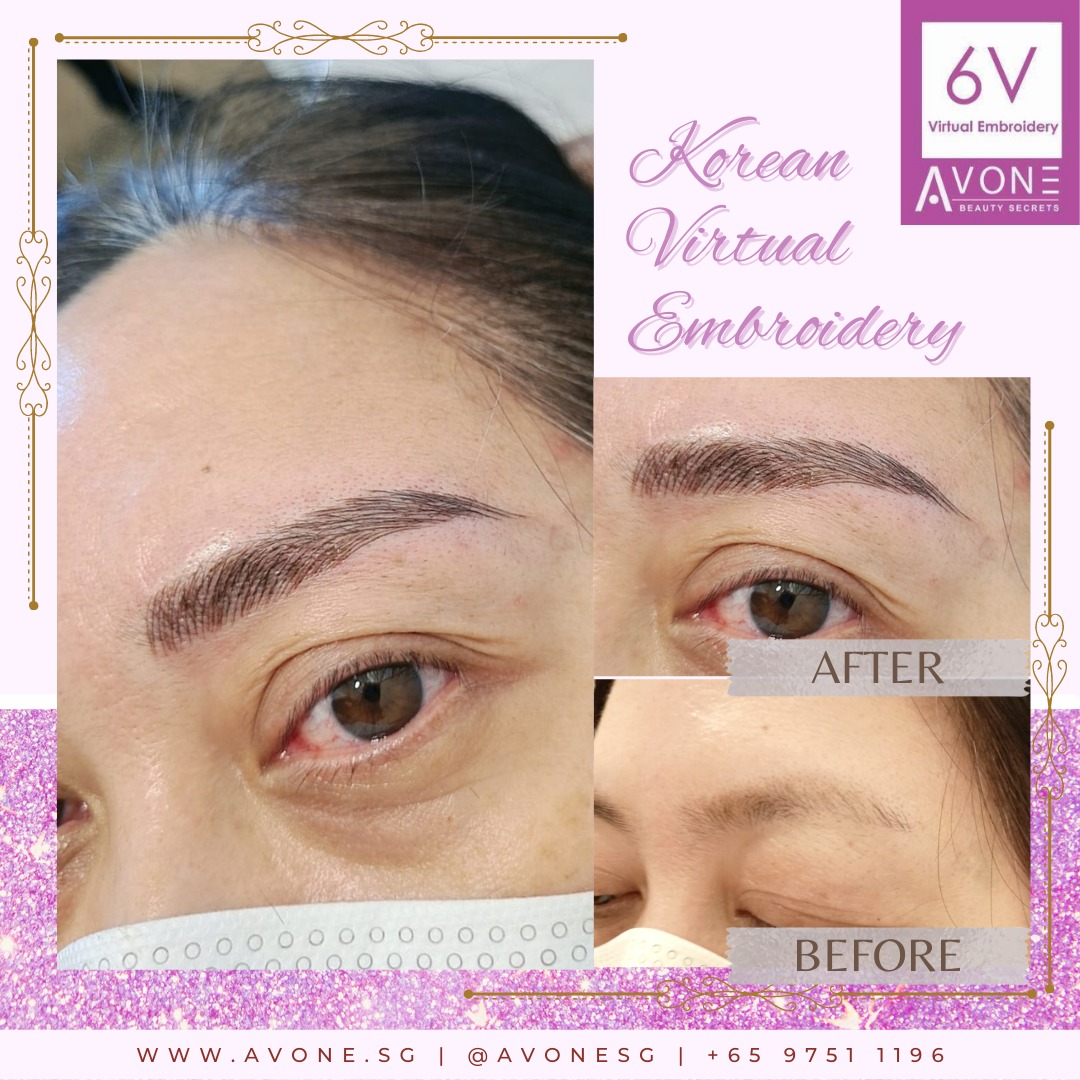 This all-inclusive beauty salon houses a vast array of beauty services, one of which is their famous brow embroidery. Unlike most salons, Avone Beauty Secrets provides customised treatments to create the most natural-looking results. Their staff is known to be extremely professional and welcoming, and you'll definitely feel like home during the long embroidery session. 
Operating Hours : Daily (11am-8pm)
Location : The Central @ Clarke Quay, 6 Eu Tong Sen Street, #03-42 Singapore 059817
Contact Details : +65 9751 1196
15) Serenity Beaute
Being in the beauty scene for more than seven years, Serenity Beaute has offered a vast variety of  impeccable eyebrow embroidery and lash extension services. Your eyebrow embroidery appointment will begin with an extensive consultation with an experienced brow technician, who takes the time to understand your preferences and offer recommendations based on your natural brows and face shape before proceeding with the embroidery. To sum your session up, your brow technician will also teach you how to properly care for your newly embroidery brows for optimal results. One of the must-try services include the Pageant Misty Eyebrow Embroidery which are essentially ombré-style brows that start with a clean, defined tail that gradually fade out to a lighter shade toward the beginning of your eyebrows. 
Operating Hours: Mon-Sat (10:30am-8:30pm)
Location: 10 Anson Road, International Plaza, #03-07, Singapore 079903
Contact Details: +65 8666 4828
16) HDBROWSET Beauty Quarters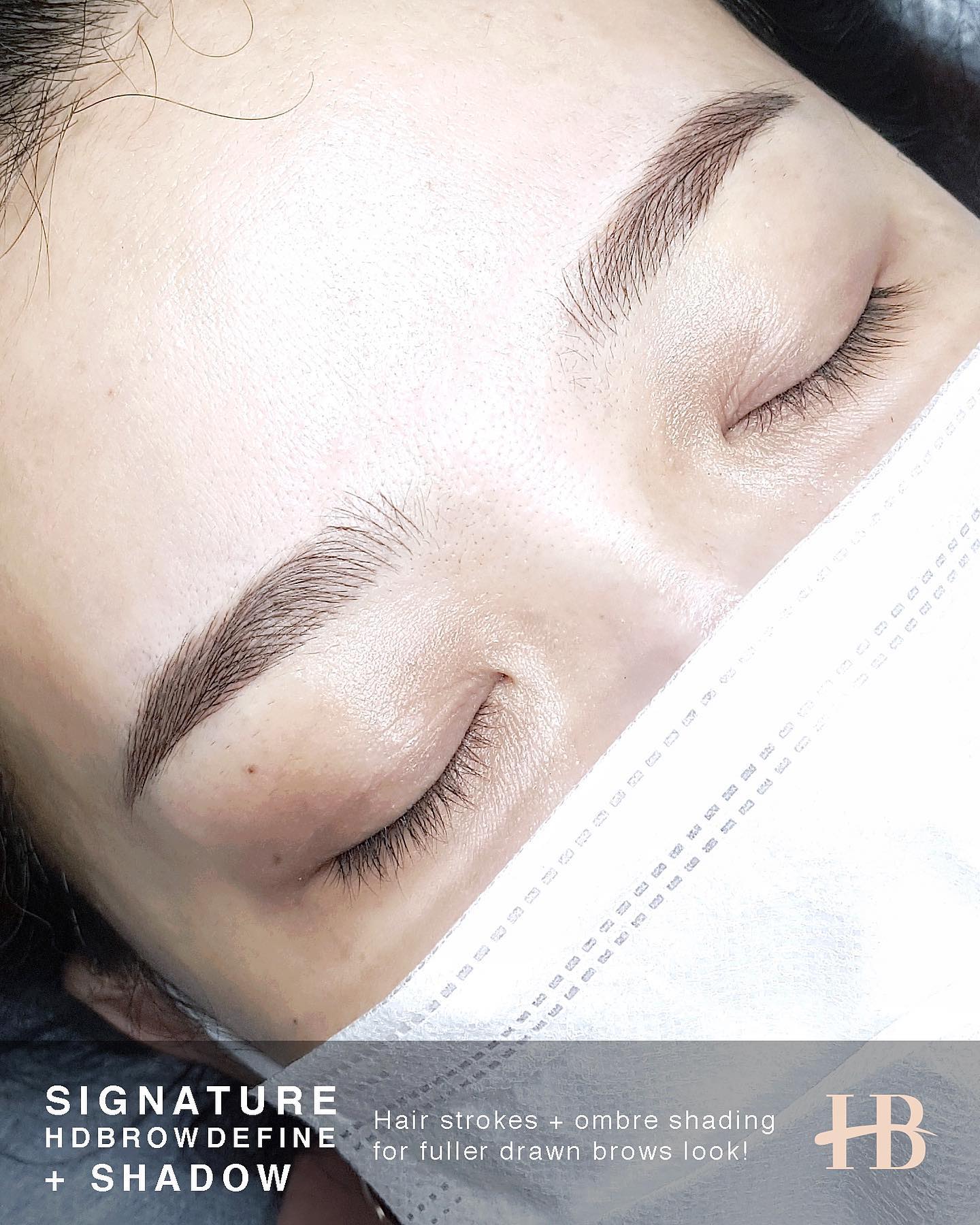 Looking for a one-stop salon to get your brows, lashes, face and nails done at all once? Look no further than HDBROWSET Beauty Quarters. To help you save precious time, your treatments can be done concurrently, so you won't have to book separate appointments for different beauty treatments. This best eyebrow embroidery salon in Singapore is well known for their microblading services—using Phibrows pigments and the finest blades there is, so rest assured that your brows are in good hands. Not to mention the team constantly upgrades their skills and techniques to provide top-notch service to every client.
Operating Hours: Daily (11am-7:30pm)
Location: 420 Race Course Road, Singapore 218667
Contact Details: Kindly book your appointment here
17) Nicole Au Brows And Lashes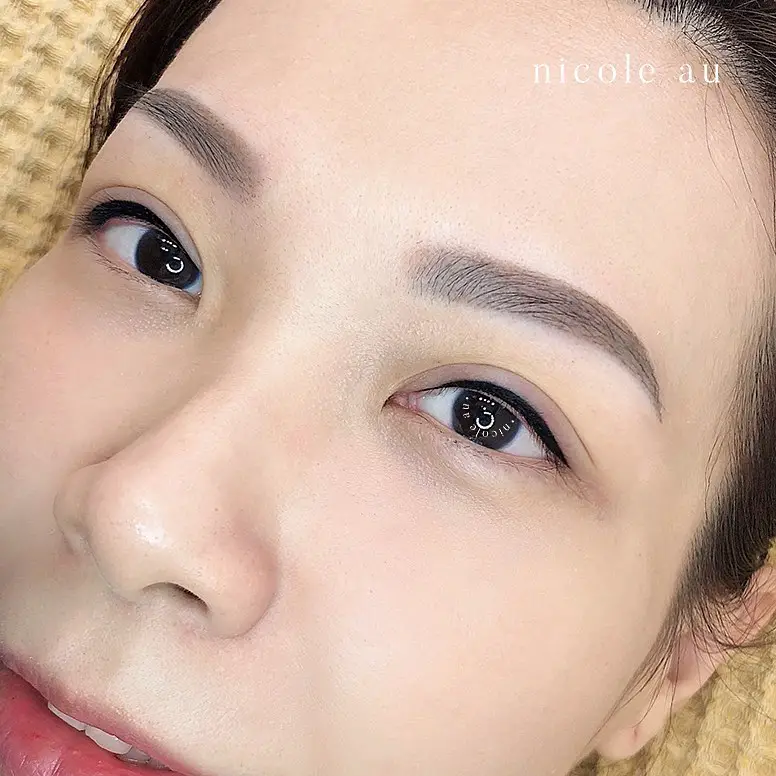 Founded by beauty guru Nicole Au, who has been in the beauty scene for more than two decades, Nicole Au Brows And Lashes has since become the same ol' for eyebrow embroidery and lash services. It takes a veteran like Nicole herself to deliver bespoke brow shapes according to your eyes and face that will accentuate your facial features. Despite her extensive ex                           mperience, her humble self still enrol in classes every year to acquire the latest eyebrow trends and techniques, only to better serve her clients. Bollywood celebrities such as Samantha Akkineni, Kajal Aggarwal, and Nisha Aggarwal are some of her loyal customers.
Operating Hours: Daily (11am-8pm), strictly by appointment only!
Location: 138 Robinson Road, #03-21, Singapore 068906
Contact Details: +65 8748 7613
18) Jenny Xu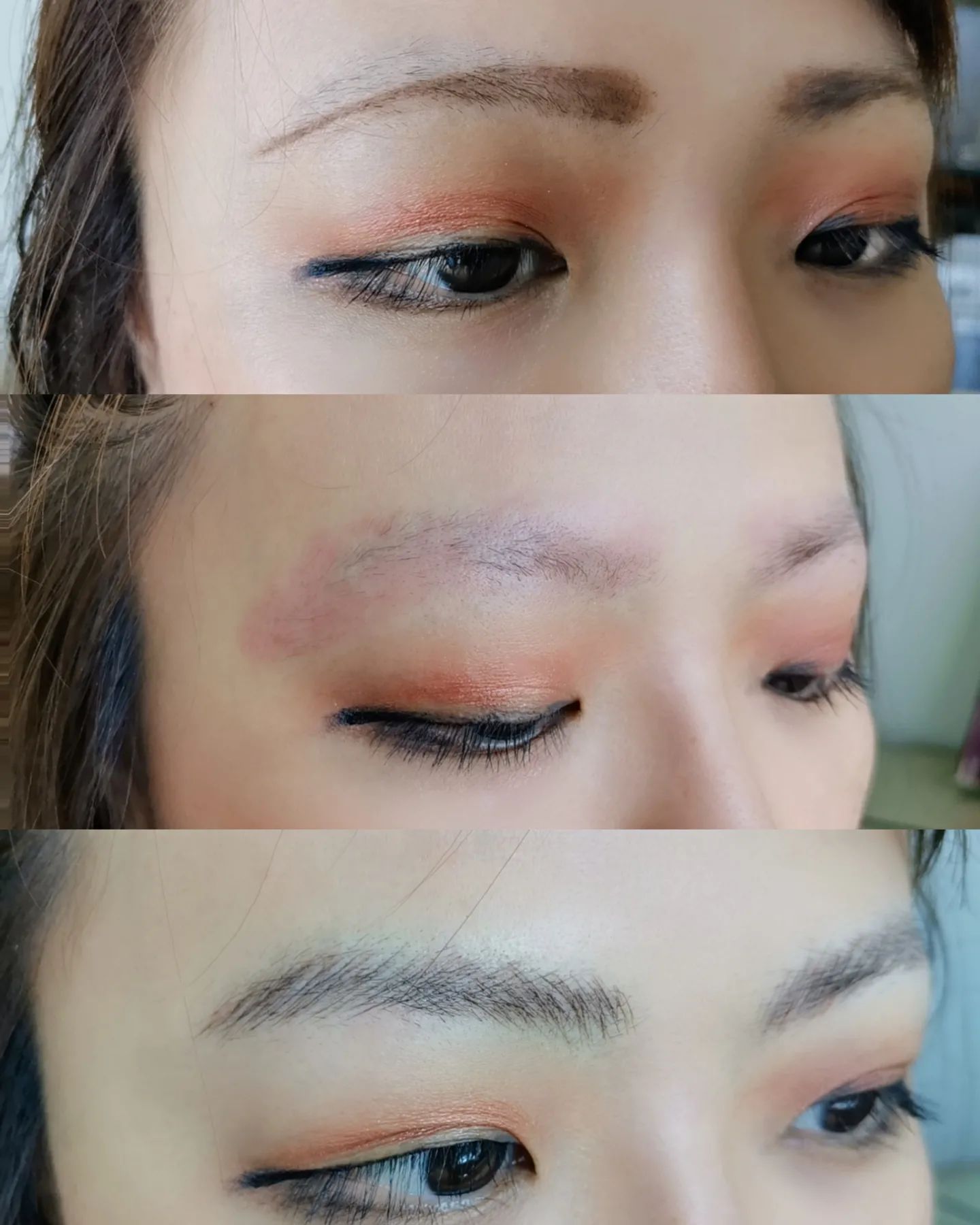 If you're more of a natural, soft and dimensional eyebrows kind-of-person, Jenny Xu is one place to go to! The award-winning brow artist has garnered over a decade of experience and has performed more than 10,000 eyebrow embroideries over the past ten years. Jenny utilises the latest patented technology to create hyper-realistic eyebrows that are akin to your natural hairs whilst adhering to the highest hygiene standards. Courtesy of her bespoke service that caters for all genders, she puts in effort to adjust the design and shape of the brow to fit different brow bone structures. Suppose you've had a bad brow embroidery job done elsewhere, Jenny is also able to help repair and adjust accordingly. 
Operating Hours: Kindly contact Jenny to set and appointment time
Location: 290 Orchard Road, Paragon Shopping Centre, #06-22/23/24, Adeva Spa & Follicle Hair Salon, Singapore 238859 (access via the escalator next to Gucci, take the Lobby A elevator to level 5 then take the other escalator to level 6)
Contact Details: +65 8882 9952 or fill up the booking form here.
19) Brow Meister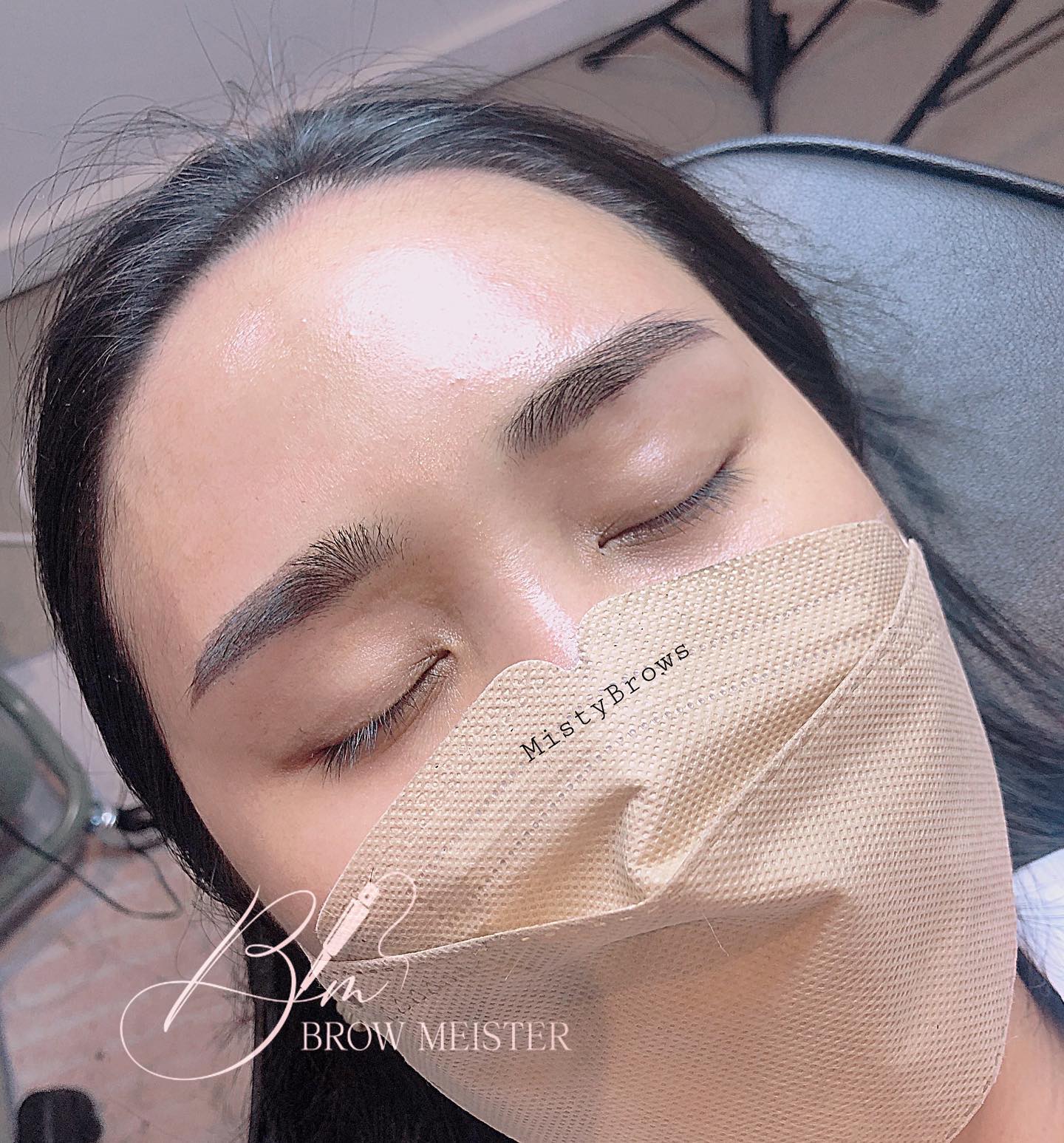 Korean brows are one style to live for, but they aren't the easiest of embroidery to achieve at any salon in Singapore. It takes the right expert with the right set of skills and tools, all of which Brow Meister is well-equipped with. Founded by professional eyebrow artist Min, who was trained by a reputable semi-permanent makeup academy in Korea, she is now certified by The Federation of K-beauty Professionals to teach others to become microblading artists. Whether you opt for microblading to fill your brows in with natural hair-like strokes, shading for a soft, powdered makeup look, or a bit of two, you'll leave the salon with eyebrows that look like your own. Their standout feature is their use of an organic brow ink pigment that stays on easily without fading to a dreadful green or blue hue, along with an equipment imported from Korea.
Operating Hours: Tun,Wed & Fri (11am-7pm), 10am-6pm (Sat)
Location: 362 Joo Chiat Road, #04-01, Singapore 427607
Contact Details: +65 901 2357
20) LA VIDA®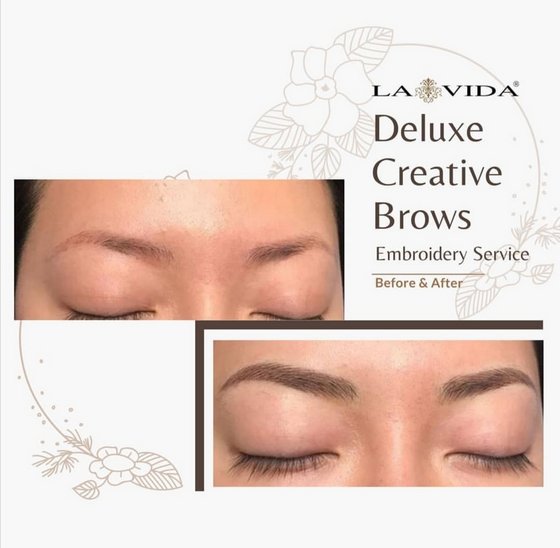 Recognised as one of the best eyebrow embroidery salons in Singapore, LA VIDA® is launched for their immaculate techniques and extensive knowledge when it comes to cosmetic services such as eyebrow, eyeliner, lip embroidery, and many more. Feel free to pamper yourself with their range of luxurious facial treatments while you're there. Their experienced brow artists use Germany-imported microblading ink that doesn't consist even a tad bit of preservatives, and is free of parabens and azo pigments. Better yet, the formula is organic, safe and certified, so you need not worry about any discolouration over time. 
Operating Hours: Daily (11am-9pm)
Location: Find the nearest LA VIDA® outlet here.
Contact Details: +65 901 2357
21) Missybrow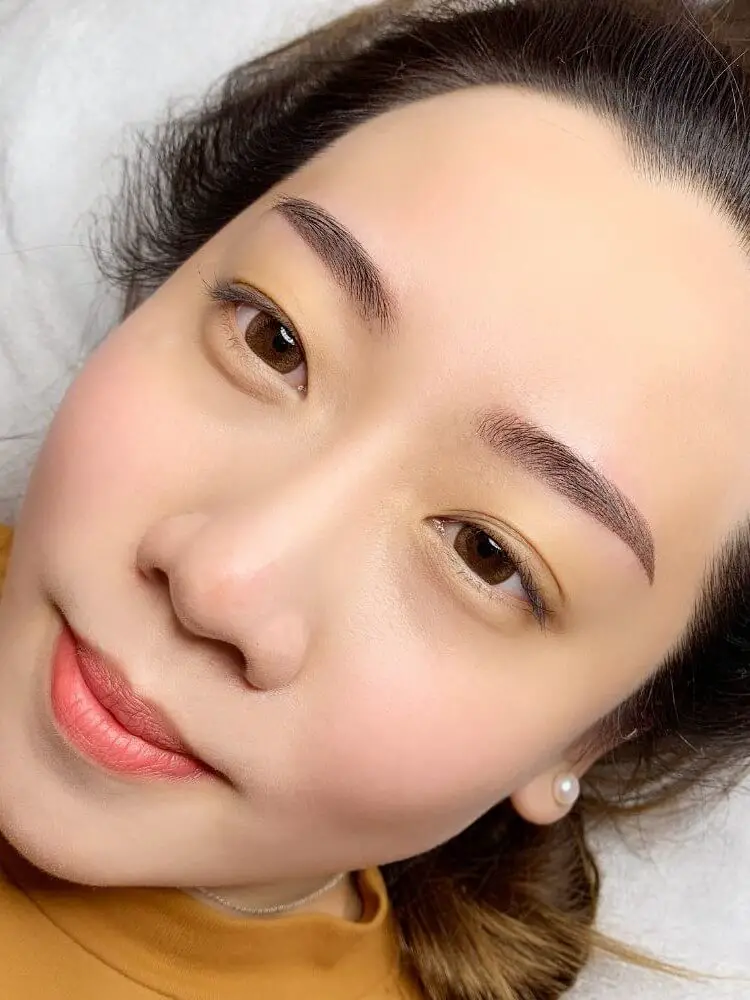 Founded by professional local semi-permanent makeup artist and instructor Elaine Tay, Missybrow is a home-based brow studio with premium brow services that can help achieve all types of shape, sizes and colours. Missbrow aas been assisting numerous women and worked with more than 4,000 clients as of today. With them, rest assured that your brows will be thoroughly assessed for the best bespoke results. They offer shaping, micropigmentation, and annual colour boost to freshen up your brows.
Operating Hours: Mon-Fri (10am-7pm), Sat (9am-5pm)
Location: 150 South Bridge Road, Fook Hai Building, #06-02, Singapore 058727
Contact Details: +65 901 2357
22) Browart Studio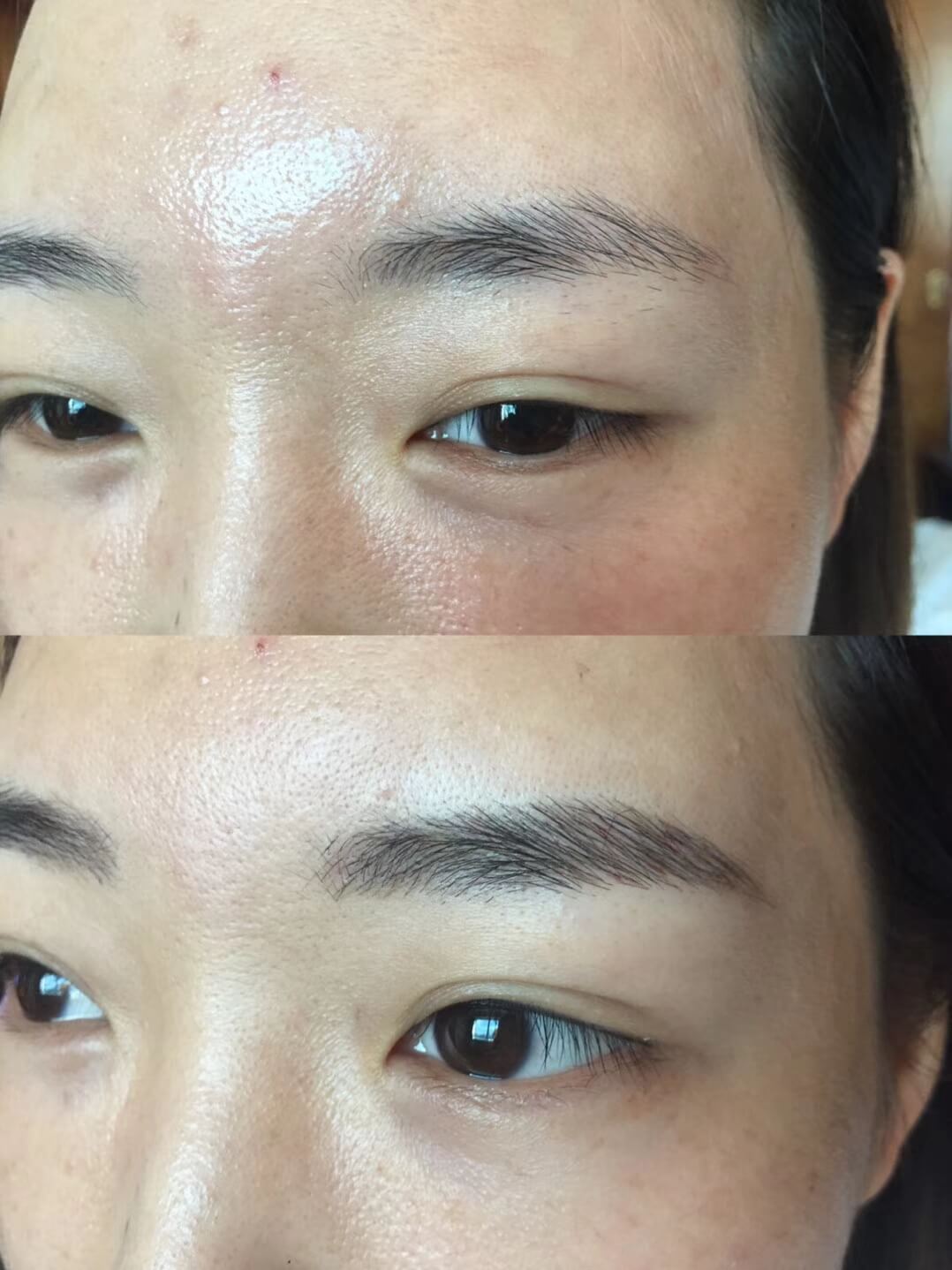 Whether you're not fully satisfied with your brow shape, or find filling them in every morning too much of a hassle, Browart Studio is one place you can get natural-looking brows from, and better yet, with no downtime at all! Brow services aside, they also offer semi-permanent makeup services for that long-lasting eyeliner or lip look. Hemed by studio artist Jenny Xu and teeming with knowledgeable artists who keep themselves abreast of the latest beauty trends, rest assured that you'll receive the best service possible here. 
Operating Hours: Mon-Sun (12pm-8pm)
Location: 290 Orchard ROAD, #17-11, Paragon Medical, Tower 1 (Lobby F), Singapore 238859
Contact Details: +65 6702 0768/ +65 9824 4400
23) Bio Beauty Aromatic Spa
Situated in the heart of Toa Payoh, Bio Beauty Aromatic Spa is a sophisticated Victorian-themed salon specialising in eyebrow embroidery. Founded by Irene Teo who was previously trained in London, you can count on this beauty salon when it comes to brow embroidery, microblading, eyeliner, and lip embroidery tattoos. From Netflix star Mae Tan of Singapore Social to influencer Ang Qiu Ting (@bongqiuqiu), Irene has refined the arches of numerous notable faces across the island. Not to mention she has even done the eyebrows of Brunei princesses and royalties, which explains how sought-after her services and skills are.
Operating Hours: Mon, Tues,Thurs & Fri (10am-8pm), Sat & Sun (11am-7pm)
Location: 73 Lorong 4 Toa Payoh, #01-597, Singapore 310073
Contact Details: +65 6258 9418/ +65 9841 1448/ +65 9185 5270
24) The Brow & Beauty Boutique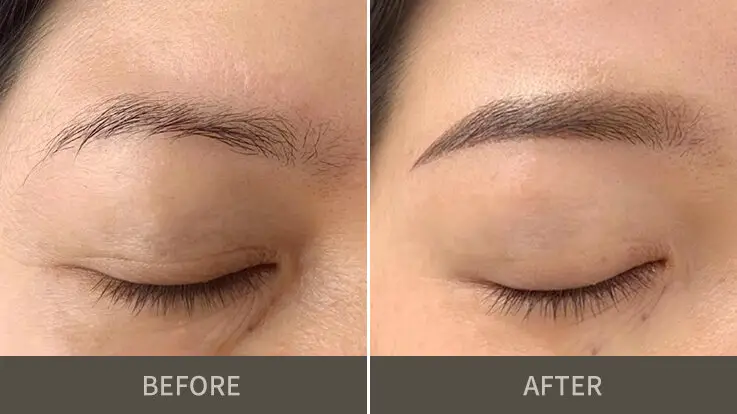 Cult favourite among beauty bloggers and influencers, Miss Tiffany Luo's The Brow & Beauty Boutique prides itself on providing natural yet long-lasting results, thus their 4.9 star rating on both Facebook and Google reviews. Opt for their hybrid embroidery—a combination of microblading and misty brow embroidery—for the most natural look. This embroidery in particular helps you achieve the softness of microblading strokes and the fullness of Misty for a rather structured look that's long-lasting, even on the oiliest of skin.
Operating Hours: Daily (10am-7pm)
Location: 317 Beach Road, #01-46, City Gate Shopping Mall, Singapore 199597
Contact Details: Book your appointment here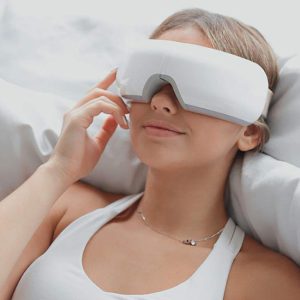 Skin Care
Editor's Choice Worxvell Eye Massager Latest price 2nd Best Choice SereneLife Eye Massager Latest price
Read More
Subscribe to our newsletter