If you're into sunless tan, you shouldn't be unfamiliar with the hype spray tanning has been receiving all this while. State-of-the-art spray tan machines have made it easier for everyone to achieve gorgeous, bronze skin without exposing themselves to the burning hot sun and harmful UV rays.
Amongst the many top-rated spray tanning machines, there's Norvell M1000. In this review, we will delve deeper into its features as well as pros and cons to see if it lives up its hype.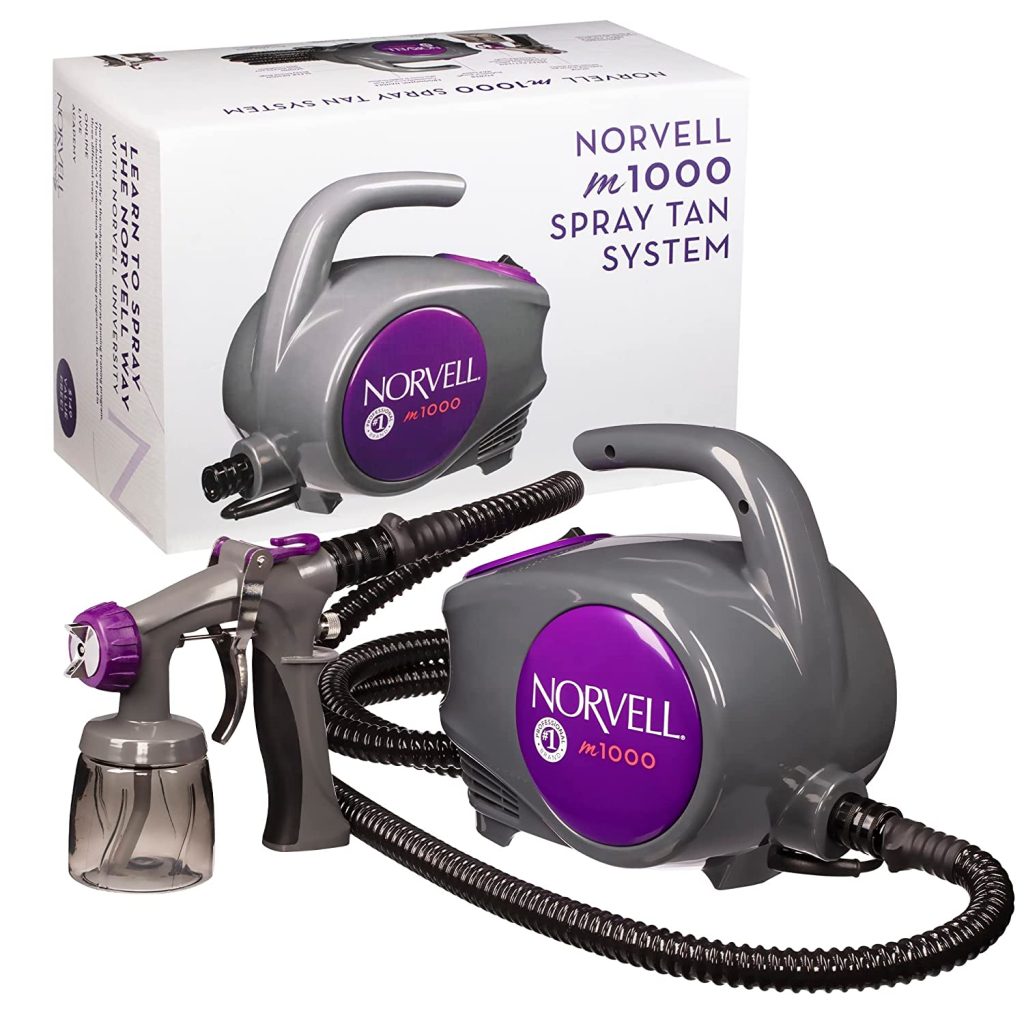 Norvell M1000 Spray Tan Machine Review 
Norvell is a pioneering brand of the spray tanning industry who are consistent in delivering top-notch, durable machines that are suitable for both personal and professional use, one of which is the M1000.
Performance
Norvell spray tanning machine is powered by a highly efficient M1000 turbine that produces minimal noise, great for those running a mobile spray tanning business. The HVLP gun ensures as little overspray as possible so you can achieve your desired results.
Moreover, the adjustable settings allow you to choose among three spray patterns: vertical, horizontal, as well as fan, giving you all the flexibility you require.
The Norvell M1000 comes with an HVLP gun featuring two very necessary technologies, namely High Volume Low Pressure (HVLP) and Low Volume Low Pressure (LVLP). The former doesn't overheat as much as the latter, but together, they're equally economical in terms of solution consumption.
The downsides of LVLP guns (despite being more budget-friendly), however, is that they require a steep learning curve, especially for beginners who have not used a spray tan machine before. Then again, this type of gun features an adjustable nozzle that makes it easy for users to achieve an even coverage. Therefore, it's a matter of experience, once you've mastered the techniques, you are only a few steps away from getting a flawless tan. 
Features and Ease of Use
Overall, the Norvell M1000 is rather easy to use. It boasts some perks that enhance its user-friendliness. For starters, the machine has what it's called the "Quick Release Technology", which allows you to quickly disconnect the hose from the gun with little to no effort.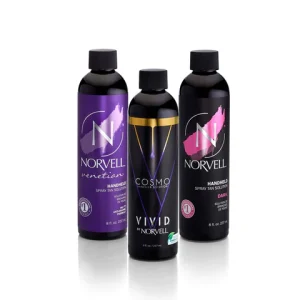 Plus, there's an 8-ounce cup that lets you perform multiple tanning sessions easily without having to refill it. The Norvell M1000 includes three of the brand's highly sought after tanning solutions, including Dark, Venetian, and Cosmo Light. These solutions are high in quality, and when used correctly, they will reveal a streak-free, natural-looking just-came-back-from-the-beach tan. If you're looking to achieve such a natural golden tan, you're in for a treat.
Should you be worried of allergens in the solutions, rest assured that you will be just fine because they are formulated with allergen-free natural essences. On top of that, you will receive a pop-up tent, floor fan, and a promotion packet.
Design and Portability
The Norvell M1000 spray tan machine is both compact and lightweight, and comes with a convenient shoulder strap so you can easily carry it around. The kit also includes a 10-foot hose allowing you to use the spray gun while the turbine sits on any table. 
At only 10 x 7 x 12 inches, the Norvell M1000 weighs just five pounds, making it extremely easy for mobile spray tan technicians to transport it from one location to another. 
Better yet, the machine has a retractable handle that makes it easy for storing.
What We Love (and Don't Love) About the Norvell M1000
Pros
Efficient and quiet M1000 turbine
Compact and lightweight
Has a shoulder strap and 10-foot hose
Uses HVLP spray gun to ensure minimal overspray
Easy to maneuver and assemble
Offers three high-quality spray tanning solutions
Cons
Norvell M1000 Spray Tan Machine Review – Our Final Verdict
To sum up our review, we are able to conclude that the Norvell M1000 is a simple-to-use spray tan machine that offers you all the basics in a compact package.
Its craftsmanship is both home-user- and professional-friendly—home users would appreciate its ease of use and portability while professionals would love the additional equipment it comes with such as the spray tan tent, shoulder straps, and fan.
If you're only starting out, we recommend giving this spray tanning machine a try, though you're required to shell a little, we think it makes a worthwhile investment given its features and extra equipment.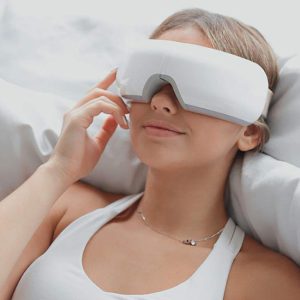 Skin Care
Editor's Choice Worxvell Eye Massager Latest price 2nd Best Choice SereneLife Eye Massager Latest price
Read More
Subscribe to our newsletter