Belloccio Turbo Tan Ultra Pro T85-QC Turbine Tanning Machine
Existing Beauty Bronze Tan Professional Spray Tan Machine
MxiMist Evolution Pro HVLP Spray Tanning System
A spray tanning machine helps you achieve the perfect bronzed glow or tan without requiring you to spend any time under harmful UV rays nor visit the salon every time you need a tan done. This is why you need to snag the best at-home spray tan machine. It helps you get that tanned look without damaging your skin by exposing it to sunlight and better yet, it helps you save tons of money! The advanced technology helps you achieve an even tanned glow, featuring equipment that are versatile, portable, comfortable and fairly easy to use. 
Finding the best at-home spray tan machine can be difficult. To make purchasing one easier, here is a low down of the best options you can invest in, along with all the nooks and crannies you need to know about these machines and the buying guide. 
12 Best At-Home Spray Tan Machines Worth Investing In
1. Belloccio Turbo Tan Ultra Pro T85-QC Turbine Tanning Machine
Using an at-home spray tan machine for the first time can be rather tricky, and there is all the more reason to get the right tools. This tanning machine from Belloccio is fairly easy to use and ensures a streak-free, natural-looking tan. All you have to do is to connect one end of the 10 feet long air hose to the turbine air pump unit, and the other end to the plastic HVLP spray gun, and voilà! The kit comes with 4 varieties of tanning solutions—3 (8%, 10%, and 12%) DHA solutions and 1 Opulence Tanning Solution so that you can choose a product that works for your skin tone. Plus, it also includes a tanning accessories kit that features everything from feet caps to nose filter plugs.
At-home spray tan machine with 4 different tanning solutions for a bespoke tanning experience.
3. MxiMist Evolution Pro HVLP Spray Tanning System
Mastering an at-home spray tan machine can't get any easier than this! This HVLP spray tanning system by MxiMist will give you roughly 25 spray sessions a day, with each full-body tan session that doesn't last more than 5 minutes. It features a 2-stage variable turbine motor as well as a removable and reusable filter. It also comes with a lightweight aluminium pro spray gun, 11.5 feet long hose, a tent booth, 3 bottles of tanning solutions and fluid-holder bottles. What makes this option stand out from the rest is its distinct 'EZ connect' feature—a quick connection adapter—of the hose which stays connected once the spray gun is attached to it. Thanks to that, there'll be no hose blowing out or disconnecting from the spray gun anymore. Unlike the standard check valves, this system comes with a Duck Bill valve that regulates the solution backflow and minimizes clogging. Whenever you need a little touch up or contouring, simply use the 'Airbrush' mode by adjusting the EZ flip knob.
At-home spray tan machine with a unique 'EZ connect' feature for the hose to stay connected once the spray gun is attached.
4. Oasis Spray Tan Machine Kit
If you're always on-the-go, the Oasis Spray Tan Machine Kit is your best bet. It's very small and compact. The hose-free spray tan system comes with a stainless steel micro mist nozzle and an 8oz tanning solution so there's no need for a lot of storage room for this product. The Oasis is also fairly simple to use—delivering both horizontal and vertical spray patterns to achieve the best overall spray tan. Better yet, it includes a trigger, knob to stop the flow, and a backflow prevention valve to ensure easy usage. 
Despite the size, the gun comes with an extremely powerful mini turbo fan that can stand up to much larger machines. Plus, its micro mist nozzle is able to deliver a streak free tan every time you're using it either for a quick touch-up or an all-over tan. Simple yet powerful, rest assured that you'll see desired results with Oasis Spray Tan Machine Kit. 
Compact yet powerful hose-free spray tan machine with a stainless steel micro mist nozzle and an 8oz tanning solution.
5. Naked Sun Ion Handheld Spray Tanning Machine
This at-home spray tan machine from Naked Sun is voted Top 1 in the US for delivering the best spray tans using naturally derived tanning solutions which are free of parabens, erythrulose and fragrances that are safe and will not turn orange. Many celebrities endorse this brand as both the best sunless tan and self-tanner there is to buy. In terms of drip-free application, the Naked Sun has you covered. The gun produces a micro-atomized spray to ensure a drip-free spray pattern. There's no need to worry about spills and waste with this at-home spray tan machine; instead, you'll focus on creating a flawless glow. 
All-in-one spray tan kit with 5 tanning solutions, disposable sandals and a technician duffle bag. 
6. Naked Sun Black Fascination FX Spray Tanning Machine System
The Naked Sun Black Fascination FX System boasts a sleek ergonomic design. This at-home spray tan machine features a long, curved handle that's easy to pick up, hold or carry, as well as sturdy feet you can set down anytime. It's 8 in depth, 9 in width and 13 in length, making it sturdy and portable enough to transport from one place to another. If you have a go-to solution each time you spray tan, this machine can handle it. The maximum fill line of the cup is 5oz, and you can pour any solution of your choice into it. We love that the solution dial is adjustable in order for you to get the perfect flow. 
Ergonomic at-home spray tan machine that accommodates any solution brand.
7. Norvell Sunless Kit Spray Tanning Machine
Many professional spray tan artists and technicians swear by this pick from Norvell. It's ideal for at-home, on-the-go, as well as salon use. The M-1000 spray system leverages HVLP technology to deliver the perfect spray for smooth and even coverage. It even comes with a shoulder strap for portability. The kit comes with three 8 oz tanning solutions—Dark for a natural tan, Venetian for a sensational Rivera tan, and Cosmo Lite that combines the former two shades. Formulated with a healthy blend of antioxidants and vitamins, these tanning solutions moisturize, smoothen, and brighten skin, while giving it a luscious, bronze, sunless tan that can last up to a week.
Versatile spray tanning machine with HVLP technology for a smooth and even application.
8. Fuji Spray Sunless 6100 studioTAN
One of the best spray tan machines for at-home and salon use, this Fuji masterpiece is a complete spray tanning system built with stainless steel fixings, comes with a black helix, clear plastic bend restrictor, and a 10 feet long flexible hose. You'll appreciate its noise-reducing feature, and the fact that the parts connect and pull apart quickly, making them easy for cleaning, performing checks, and making necessary adjustments during tanning. If you're looking for a machine that'll last you for years to come, the Fuji Spray 6100 is your best choice. 
Professional spray tanning system with a noise-reducing feature.

If you're looking for the best spray tan machines that carry all the bells and whistles, the MaxiMist Ultra Pro is a terrific choice worth investing in. The device is built with a powerful variable turbine that allows for precise and seamless tanning, as well as offers up to 50 applications per day. There's even a handy overheat relay switch for when something goes out of hand, providing you with an added security. The spray tan gun itself is pretty lightweight and the trigger is easy to hold onto, giving you immense control during tanning sessions. Finally, the helpful "Airbrush" mode allows for consistent touchup and contouring which delivers perfectly even coverage that appears natural and at the same time, rich.
Heavy duty spray tanning unit for salon use.
10. Naked Sun Onyx Spray Tan Machine
If you like a little glam in your beauty routine then the Naked Sun Onyx spray tan machine is the perfect device for you. Its compact and lightweight design is perfect for at-home use with a spray tan gun holder built into it and a duffel bag to store all your supplies. The machine also comes with three The Naked Sun Honey Glow solutions samples, including Honey Glow Dark 8oz, Honey Glow Violet 8oz, and Honey Glow Rapid 8oz. Better yet, it makes the best spray tan machine for mobile business courtesy of the built-in, molded handle that allows for easy transporting. 
Spray tan machine with Sound Dampening Technology.
11. Aura Allure Spray Tanning Machine
The Aura allure spray tanning machine is a must have tool for both experienced airbrush tanning artists and beginners. This stylish sprayer is known for its excellent aomization, ensuring smooth and even coverage with minimal overspray. Its robust yet lightweight turbine liquid flow from 0 to 2 fl oz, you can achieve precise results. The machine is designed for convenience and ease of use, featuring an 11.5 ft long flexible advantage.
Spray tan machine with Satin spray nozzle technology.
12. MineTan Spray Tan Machine
The MineTan Spray Tan Machine is an advanced machine that allows you to achieve a flawless and natural-looking tan with ease. Using state-of-the-art-technology, produces an ultra-fine mist that evenly covers your skin, ensuring a streak-free finish. Whether you're a seasoned tanning artist or beginner, this machine is user-friendly and guarantees impressive results. With its precision controls, you can adjust the flow of the tanning solution to achieve your desired level of tan from a subtle glow to a deep bronzed look.
A complete set of at-home spray tan machine that includes a spray tan gun, a hose and a manual.
Types of At-Home Spray Tan Machines
1. HVLP (High Volume Low Pressure) Spray Tan Systems
HVLPs are by far the most popular spray tan machines commonly used in salons, mobile and at-home spray tanning. These machines are easy to use and are known for their efficiency, making them capable of providing even and precise applications. If you think achieving a sunless tan in less than 5 minutes is impossible, this type of machine will make you think again. They are built with a high-performance motor with a wattage of 400 W and above.
2. LVLP (Low Volume Low Pressure) Spray Tan Systems
Similar to HVLP systems, LVLP spray tan machines are turbine-driven and require a spray gun to spray solutions. Having said that, these machines operate at a fairly low pressure, meaning you need to be extremely precise while using it. On top of that, when using these machines, your skill level will affect the quality of your spray tan. Compared to HVLP machines, LVLPs require longer time per application, are slightly noisier and pricier.
3. Airbrush Spray Gun Machines
Commonly seen in professional spray tanning salons, these machines operate at higher pressure and deliver more solutions in less time. However, it requires much longer time per application—at least 30 minutes—compared to HVLP and LVLP machines. Plus, the spray guns tend to overspray, causing more solution wastage.
4. Automatic Spray Tanning Booths
This type of spray tan system is an enclosed booth, whereby a person is supposed to enter and stand. It works well for full-body tanning since the booth comes with nozzles on all sides that spray the solutions in the form of mist. Though a session might last only a minute or 2, it's difficult to get an even tanning.
What are the Benefits of a Spray Tan Machine 
Beginner-friendly and easy to maneuver
Efficient
Delivers precise and even coverage
Provides a longer-lasting sunless tan
Causes little to no overspray
Allows you to customize your unique shade
Enables you to spray tan at the comfort of your own home
Helps achieve the perfect tan without using a tanning bed or exposing your skon to harmful UV rays.
Pro And Cons Of Spray Tan Machines In Common
Pros: 
Convenience
Having a home spray tan machine allows you to get a tan in the comfort of your own home whenever you want, without the need to visit a salon or tanning booth.
Cost-Effective
While the initial investment may be higher, in the long run, a home spray tan machine can save you money compared to regular salon visits.
Customization
With a home spray tan machine, you can control the intensity and evenness of the tan, allowing you to achieve your desired shade.
Privacy
Some people may prefer the privacy of tanning at home rather than in a public salon setting.

Cons: 
Skill required
Using a spray tan machine properly requires some skill and practice. Achieving a flawless tan without streaks or uneven patches can be challenging for beginners.
Messy
Spray tanning at home can be messy, as you'll need to protect your surroundings from overspray.
Maintenance
Home spray tan machines require regular cleaning and maintenance to ensure they function properly and deliver consistent results.
Limited coverage
It may be more challenging to reach certain areas of your body evenly with a home spray tan machine compared to a professional spray tan application at a salon.
Potential for mistakes
If not used correctly, there is a risk of ending up with an unnatural or uneven tan, which may be difficult to fix.
Why Would You Use A Spray Tan Machine?
People use a spray tan machine for various reasons, mainly to achieve a tanned appearance on their skin without the need for prolonged sun exposure. Here are some common reasons why someone might choose to use a spray tan machine.
Sunless Tanning
A spray tan machine provides a sunless tanning solution, allowing individuals to darken their skin tone without being exposed to harmful UV rays from the sun or tanning beds.
Aesthetic Appeal
Many people prefer the appearance of tanned skin, as it can give the illusion of a healthy glow and make the skin look more even and radiant.
Special Occasions
Spray tans are often used for special events like weddings, proms, parties, or vacations, where individuals want to achieve a bronzed look quickly.
Body Confidence
Some individuals may feel more confident and comfortable in their appearance with a tan, which can boost self-esteem.
Seasonal Transition
In colder climates or during winter months when sun exposure is limited, spray tans can help maintain a tanned look even when natural tanning isn't feasible.
Skin Conditions
For people with certain skin conditions, like vitiligo or uneven pigmentation, a spray tan can help create a more uniform skin tone.
Time-Saving
Using a spray tan machine can be faster than traditional tanning methods, as it covers a larger surface area of the body in a shorter time.
Control Over Tan Intensity
With a spray tan machine, users can control the depth of their tan, ensuring they achieve their desired level of color.
Avoiding Tan Lines
Spray tans allow for more even coverage and can help individuals avoid tan lines that may result from sunbathing outdoors.
Things to Consider when Buying a Spray Tan Machine
Choosing the perfect spray tan machine isn't easy. Here are some features you need to consider when buying  one:
A. Material
Whether you're looking for a spray tan machine for personal or business use, it's important to factor in the material used. Opt for a unit built with high-quality, durable, and sturdy materials so it'll last you for years to come.
B. Accessories
Some spray tan machines come as standalone units, others come complete with various accessories to achieve a flawless tanned look. This includes tanning solutions in various intensities, nose plugs to keep the solution out of your nose, disposable foot pads and sometimes even a tent to keep your workspace mess-free. The more accessories you get, the easier it is for you when using the machine.
C. Capacity
A tan machine requires at least two ounces of tanning solution to cover an average body from head to toe. Therefore, you should aim for a spray tan machine that can hold two ounces of solution at a minimum. And if you prefer a deeper tan or are slightly bigger than the average size, consider a machine with four ounces capacity.
D. Pressure System
As mentioned before, spray tan guns are categorized into HVLP and LVLP. The former are more commonly used for at-home settings because they are lightweight, quiet, and more efficient. The latter, however, tend to be louder and slower. At the end of the day, it still comes down to your personal preference.
E. Maintenance
Many consumers are against getting a spray tan done at home due to the mess the machine tends to cause. But fret not, there are many models that provide excellent tan results with minimal cleanup. When looking at the different models, make sure to check their overspray. Models with little to no overspray rating are ideal. On top of that, you should make sure that the cups aren't prone to leakage. Finally, having a tent helps contain the tanning solution mist.
F. Noise
Spray tan guns are equipped with air compressors and thus, are pretty loud. If you have a mobile tanning business, this can be a stumbling block because you'll be spraying on your clients for hours and the high decibel output can have a detrimental effect on your hearing over time. So factor in the decibel rating whenever you're getting a spray tan machine.
Many buyers assume that machines with smaller compressors are quieter, albeit popular beliefs, it's the complete opposite. Spray tan machines with larger air compressors are often quieter because they don't have to work as hard.
G. Portability
When it comes to portability, bear in mind that some machines are designed to be moved around easily while others are meant to be used in a fixed location. Therefore, if you're looking for the perfect piece of equipment for personal use, opt for a lightweight unit that's easy to use. However, say it's for your mobile spray tanning business, go for a gun that's easy to store and carry around. Finally, if you're installing one in your salon, a large system is the most ideal.
Tips and Tricks for Using Your At-Home Spray Tan Machine The Right Way
Prep your skin: Make sure that you wax or shave at least one day before spray tanning so that your pores don't absorb the solution and create that dotted appearance.
Exfoliate: Exfoliate your skin using an oil-free formula a day before the spray tan. This will help create that silky smooth surface for the tan to adhere to and create an even tan sans splotches.
Avoid wearing deodorant: When you're applying spray tan, it's best that you stay away from deodorant. Certain chemicals in the deodorant can react negatively to the spray tan and result in a greenish shade on your underarms.
Protect your palm and hair: If you don't want to get any tanning solutions for your palms, apply a barrier cream or baking soda. Ensure to completely cover your hair with a shower cap and apply a little moisturizer on your eyebrows.
After application: Once the tan has completely dried, wear dark loose clothing to avoid the product from rubbing off on any surface. Plus, you need to wait for approximately 6 to 8 hours for the color to fully develop, which means you can't shower until then.
Ventilation: When using an at-home spray tan machine, always do it in a ventilated area. The tan solutions contain DHA, which is said to be safe for the skin, but you may have to be extra cautious when it comes to inhaling the spray as it's said to cause side effects such as coughing and dizziness.
Frequently Asked Questions
1. How long does a spray tan last?
A single spray tan application can last up to 10 days, but it may vary depending on the brand. Plus, the darker the tan, the longer it'll last.
2. How safe are spray tans?
Spray tans are safe as long as you use it as directed, All tanning solutions are formulated with DHA, which is FDA-approved and suitable for external applications. DHA or dihydroxyacetone is a chemical that reacts with dead cells on the skin, causing the skin to darken, aka a tan.
3. How long should I wait to shower after a spray tan?
After spray tanning, you should wait for a minimum of 8 hours before taking a shower. Read this article to learn more about showering after tanning.
4. How can I extend the lifespan of my spray tan?
You could use a self-tanning product as a topper to prevent your tan from fading and extend its lifespan by a few days.
5. Will the spray tan get darker over time?
Though this depends on the time of the day you got your spray tan done, there is a high possibility the tan might get dark as time goes on.
6. Does spray tan or airbrush look natural?
Airbrush tanning or at-home spray tanning can deliver a seamless, natural finish, whereas spray tanning done in a booth might result in a tan with orange undertones.
7. What should I do if the spray tan looks too dark?
In that case, apply baby oil or coconut oil. Let it sit for 10 minutes and head for a shower and exfoliate.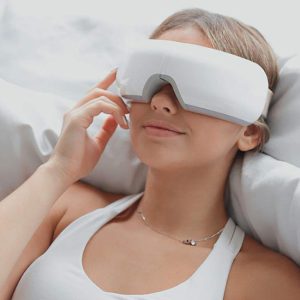 Skin Care
Editor's Choice Worxvell Eye Massager Latest price 2nd Best Choice SereneLife Eye Massager Latest price
Read More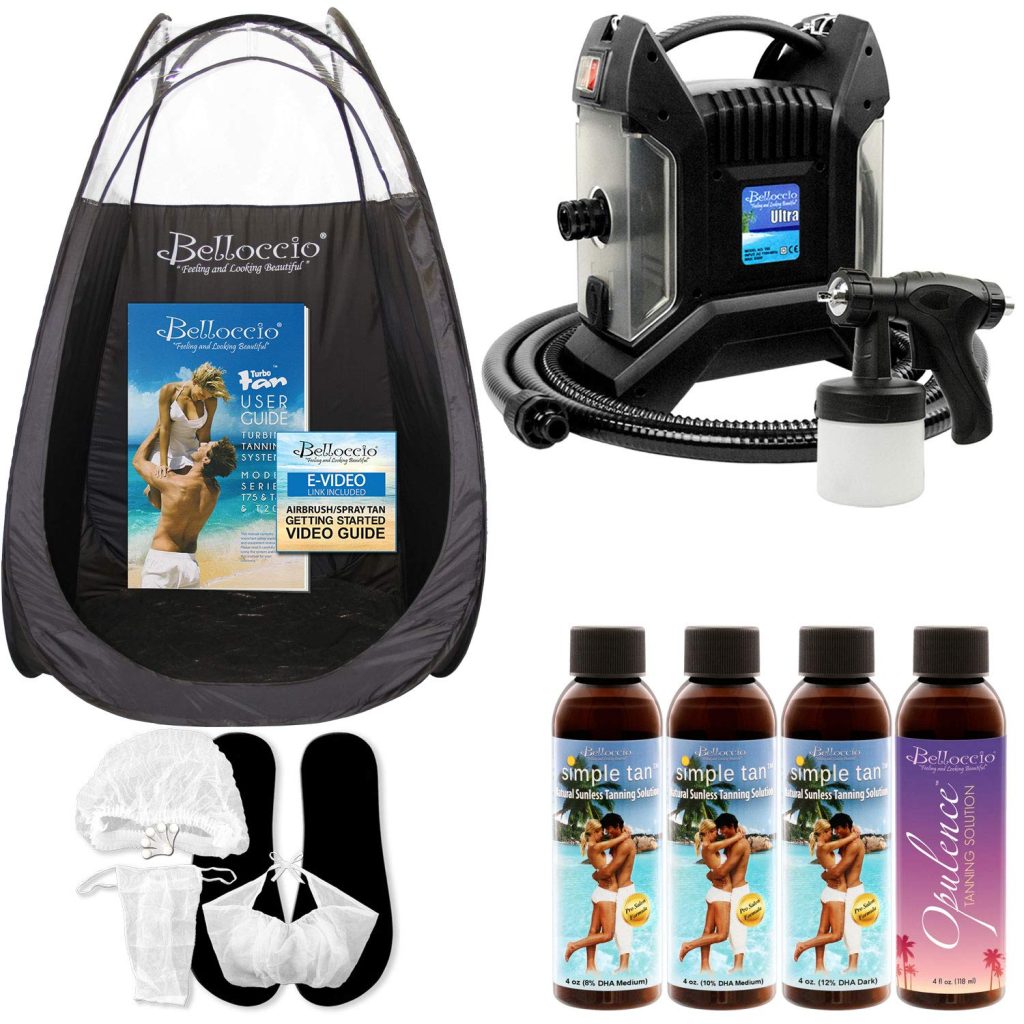 Belloccio Turbo Tan Ultra Pro T85-QC Turbine Tanning Machine
This tanning machine from Belloccio is fairly easy to use and ensures a streak-free, natural-looking tan. The kit comes with 4 varieties of tanning solutions—3 (8%, 10%, and 12%) DHA solutions and 1 Opulence Tanning Solution so that you can choose a product that works for your skin tone. Plus, it also includes a tanning accessories kit that features everything from feet caps to nose filter plugs.
Subscribe to our newsletter