Consider a butterfly tattoo if you want to add a tattoo to any part of your body. Butterflies are a whimsical emblem of liberation, transformation, and femininity. A butterfly tattoo correctly placed on your body will bring attention to that body area and complement your already stunning features.
When observed, every style of tattoo art adds an unusual characteristic that will grab attention and spark conversations. Having a butterfly tattoo put on a part of your body that is frequently exposed to the public may add sex appeal and mystery to both the design and the wearer. It may be a pleasing focal point that enhances your style and individuality.
Butterfly tattoos are highly popular among women since they represent feminine attributes such as perseverance, beauty, strength, and adaptability.
They are a symbol of liberty, beauty, and change. The gallery of exotic butterfly tattoos below will show you how inking one may improve your natural attractiveness while also providing sex appeal in body art.
This amazing concept has a myriad of meanings and looks wonderful in any art medium. You've earned these wings, so flaunt them!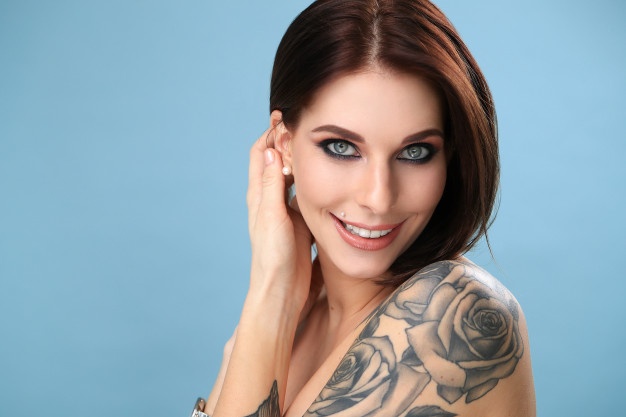 What does a butterfly tattoo symbolise?
One of the most popular tattoo designs for ladies is a butterfly. This ink occurs in a variety of shapes and sizes, and it has a significant meaning for the wearer. These motifs are often associated with femininity and love, but they may also signify endurance, tenacity, transformation, and hope. These are a strong and beautiful alternative for everyone, and they look great at any age.
Where should I get a butterfly tattoo?
Butterfly tattoos are fantastic since they may be applied on any part of your body. The design of the wings lends themselves well to framing, so they look especially good on the chest, collarbone, and lower back. Shoulders and arms, particularly the inside forearm and back of the upper arm, are other common places.
If you're thinking about getting your first butterfly tattoo or adding it to your collection, these stunning butterfly tattoo designs will give you some ideas.
20 Butterfly tattoo ideas
1. Small Butterfly Tattoo
A little tattoo is ideal for your first tattoo or as an accent to a sleeve. These tiny options are subtle and elegant, so they may be used anyplace. Choose your ankle or wrist if you want it to be readily concealed. This is an excellent choice for folks who want beautiful and small designs.
Place your badass ink on your leg and flaunt it wherever you go. A butterfly tattoo on this area of the body indicates growth and transformation. Because it takes time for this beetle to metamorphose, the placement of this design might represent the same trip you travel. Choose a location on your calves or thighs that is less painful than other areas. You may even select your shins or ankles — it's entirely up to you. If your body is a canvas, why not cover it with breathtaking artwork?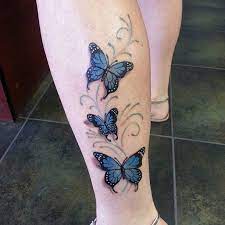 One of the most delicate and sensitive tattoo places is the modest ear tattoo. This location is simple to conceal when necessary, yet it looks magnificent when shown. Because the region is relatively thin, it may hurt more than other sites – the skin is also less likely to keep the ink for as long as other spots, so select a simple pattern. A simple butterfly fluttering away or perched on a skull is an excellent starting point for your first painting.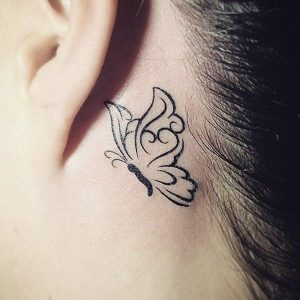 This is for the daring – the chest tattoo is a popular choice for both men and women. Rihanna popularised it in the mid-2010s, and it has since been one of the most fashionable alternatives for individuals who enjoy ink. Butterflies symbolise rebirth, so what better place for them to be than under the heart? Because the skin in this area of the body is so sensitive, it may hurt much more. However, the payoff for something as beautiful as this is well worth it – remember, no pain, no gain!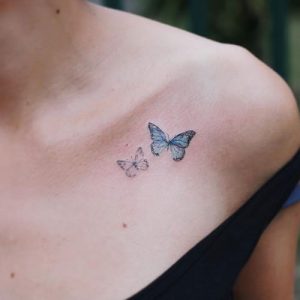 A thigh tattoo is one of the most sexiest and fashionable places to get inked. A butterfly design depicts mobility and metamorphosis, which occurs whenever you take a step ahead. This zone is usually larger than the others, so you have more room for a more complex or complicated artwork. Place glittering gems across the wings to add some retro glam to the look, or keep it neutral with realistic hues in the wings.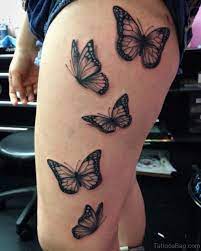 This location is becoming increasingly popular among the next generation of tattoo enthusiasts. It denotes bravery, but it is also a great suggestion for individuals who enjoy taking risks and being daring. Because this is a difficult region to conceal, consider carefully about the location before proceeding. This is also one of the more painful places of the body, but the end result is just breathtaking. Choose little and delicate insects that flutter over your skin and outline with soft colour or black. It's one of the most fashionable options for individuals who wish to show off their power.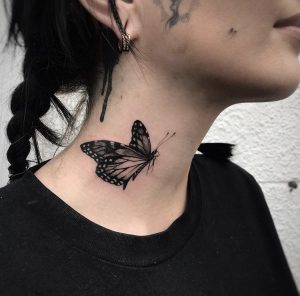 Ankle tattoos are a great place to put a modest and beautiful design. Although it is one of the most painful ink locations, it is also one of the most sensitive. Because this zone is so near to the bone and the skin is so thin, it might feel a touch harsh at times. The beauty of this location is that it's simple to conceal for formal events — it's a small secret that means something to the user.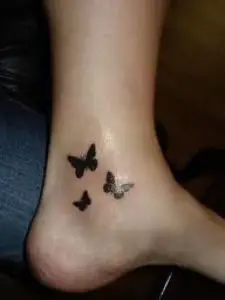 8. Butterfly Tattoo on the Arm
Your arm, being one of the body's largest canvas regions, is ideal for your next ink. There is a design for everyone, from a complete sleeve to a single piece. The forearm has recently become a favourite location, and you may massage these butterflies down into your wrist and let them wrap around your skin. Allow your creativity to go wild with this location, or keep it basic with a bold black outline.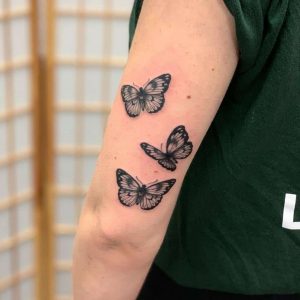 With these beautiful butterfly shoulder tattoos, you'll feel as if you're wandering through a sanctuary. There are no restrictions for this placement, so you may try out several styles until you discover one that works for you. Because this area of the body is highly visible, it is important to locate a professional artist. It's also critical that you take proper care of this ink because it fades quickly when exposed to sunlight.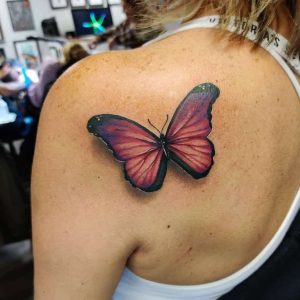 10. Butterfly Back Tattoo
Make it tiny and delicate at the nape of your neck or halfway down your spine — let the butterfly's wings assist you in flying. Add other symbols with the tattoo to round it out. This can include red roses, which symbolise passion, or a white flower, which represents purity. Because this is one of the least painful areas of the body, it might be an excellent choice for your first piece.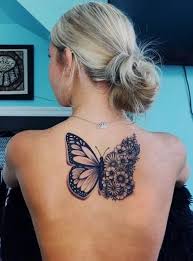 11. Butterfly Wrist Tattoo
The inner wrist is a unique location for a tattoo because it is near to you all day and serves as a fantastic canvas for your next mark. Choose a pattern that is small enough to be hidden or one that wraps around your skin. This is one of the most painful areas for your next piece since it contains a lot of nerves near to the surface and is fairly soft. Do your homework before committing to this, but it will be well worth it!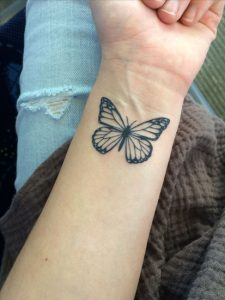 With these lifelike tattoos, you'll look as though a butterfly has landed on your skin. These delicate patterns are difficult to reproduce, so look for a realism-focused artist. Conduct some study to choose your favourite butterfly. From a Monarch to a Malachite, there is something that will speak to you and complement your personality. Place this on your shoulder or wrist for the best impact – it will look as though the lovely bug has picked you.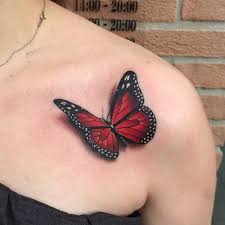 13. Unique Butterfly Tattoo
Why have the same ink as everyone else when you're one in a million? The butterfly pattern represents something different to each user, so personalise it by adding your own symbolism. Make the insect's wings into eyes, mix it with a bouquet, have several sizes in one area, or use multiple colours. Before making any decisions, consult with your tattoo artist; they can assist you in determining the best style for you.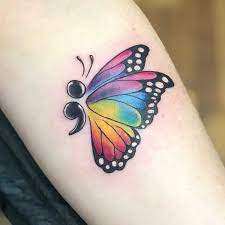 A tribal tattoo is a meaningful item for its user, so why not add a butterfly to the symbolism? The link between these two patterns symbolises beauty, rebirth, and good fortune. This ink looks great everywhere on the body, but for maximum effect, choose your back, shoulder, or ankle.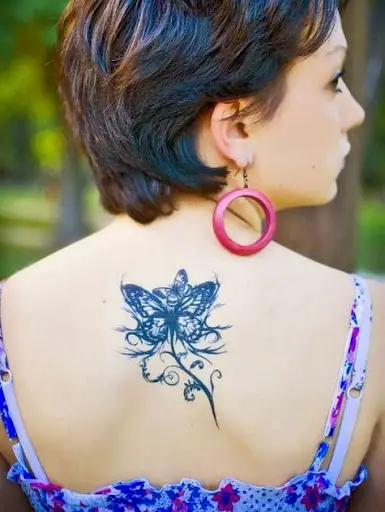 15. Butterfly Tattoo with a Name
With a butterfly and name pair, you can carry the people you care about with you everywhere you go. This ink's combined symbolism indicates love, faith, and rebirth – it's an excellent choice for remembering loved ones or individuals near to your heart. Roses represent hope, joy, and fresh beginnings, so feel free to include them. Every day, this tattoo will have a special meaning for you.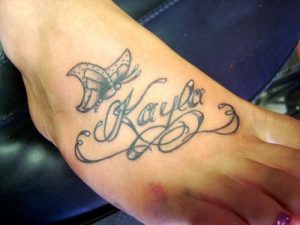 If you enjoy exquisite artwork, you can't go wrong with this watercolour tattoo. This is a delicate and extremely detailed design, therefore locate a credible artist that can completely recreate it. When contemplating this style, avoid placing it in areas that will be exposed to a lot of sunlight. This style may fade faster than typical pieces; take great care of it to enjoy its beauty for years to come!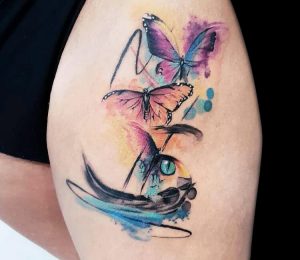 17. Semicolon Butterfly Tattoo
The combination of a butterfly and a semicolon denotes strength and tenacity, as well as triumph over adversity. This ink is an excellent choice for people who desire a striking reminder of their inner fortitude to face life's hardships and the capacity to rewrite their tale. Choose a side picture of the bug and have the punctuation mark serve as the butterfly's body. This looks best on the wrist because it is located in one of the most emotive areas of the body.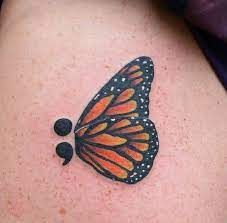 18. Butterfly Skull Tattoo
A butterfly and a skull are the ultimate symbols of death and rebirth; combined, they symbolise the circle of life. There's no greater reason to have this ink on you for the rest of your life if you have ties to nature. Choose a location on your thigh, arm, or even your ribs — these patterns tend to be significantly larger, so make sure you have enough room for it. You may add a few roses to the mix if you want, as they represent beauty and love. It's a beautiful work with a narrative to tell.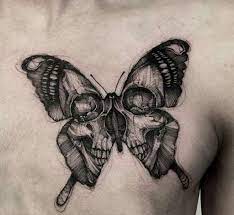 19. Butterfly and Rose Tattoo
The pairing of a rose and a butterfly represents passion, love, and metamorphosis. This is a feminine and gorgeous pattern that is both traditional and timeless. The word for butterfly in Greek is psyche, which is also the name of the Goddess of Love, so if you select this wonderful ink, you will take the meaning of affection and kindness with you everywhere you go.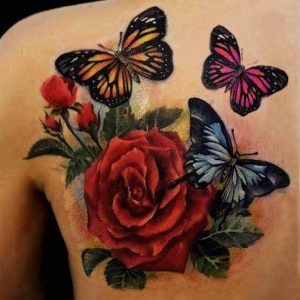 The blue butterfly denotes more than simply beauty; it also represents pleasure and good fortune. These are elegant and classic ink works that will endure a lifetime. The pigment in this shade often lasts longer than others, so you can be confident that the magnificent colour will be with you for the rest of your life. Select a single bug or a swarm—there are so many to choose from that will speak to you!
They believe that if you see a butterfly in your dream, it may be a sign that a significant shift is about to occur in your life, from which you will eventually learn a lot. According to World Birds, in Chinese and Japanese culture, the butterfly signifies pleasure and joy. It also represents a woman's elegant passage into maturity.
What does a butterfly tattoo symbolise? One of the most popular tattoo designs for ladies is a butterfly. This ink occurs in a variety of shapes and sizes, and it has a significant meaning for the wearer. These motifs are often associated with femininity and love, but they may also signify endurance, tenacity, transformation, and hope. If you are considering getting a butterfly tattoo, then save this blog post for future references!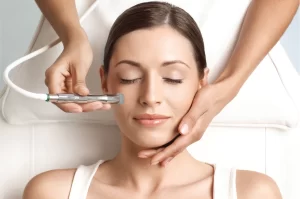 Skin Care
Editor's Choice Microderm Glo Mini Diamond Microdermabrasion and Suction Tool Latest price 2nd Best Choice
Read More
Subscribe to our newsletter