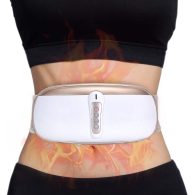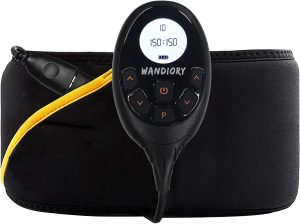 WANDiORY Abdominal Training Belt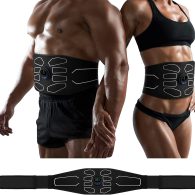 MarCoolTrip MZ ABS Stimulator
Out of all our body parts, the stubborn fat in our belly is known to be the most stubborn and hardest to rid ourselves off. One effective way to gradually eliminate it other than using an ultrasonic cavitation machine, is by using the best slimming belts. 
Such tools are tied around the waist to compress the abdominal region, therefore inducing sweat and burning calories around the waist. The belt also helps strengthen your core and correct body posture. That said, it's important to understand that these belts don't burn fat by themselves but rather, helps expedite other weight loss programs. 
While slimming belts may deliver some temporary benefits, they are not a substitute for a balanced diet and regular exercise. To yield long-term weight loss and improved health, it's vital to adopt an all-rounded lifestyle change that encompasses a nutritious diet and regular physical activity. 
If you're unsure how a fitness belt works or how to choose one, below are our top picks and their respective pros and cons. Scroll through and read more!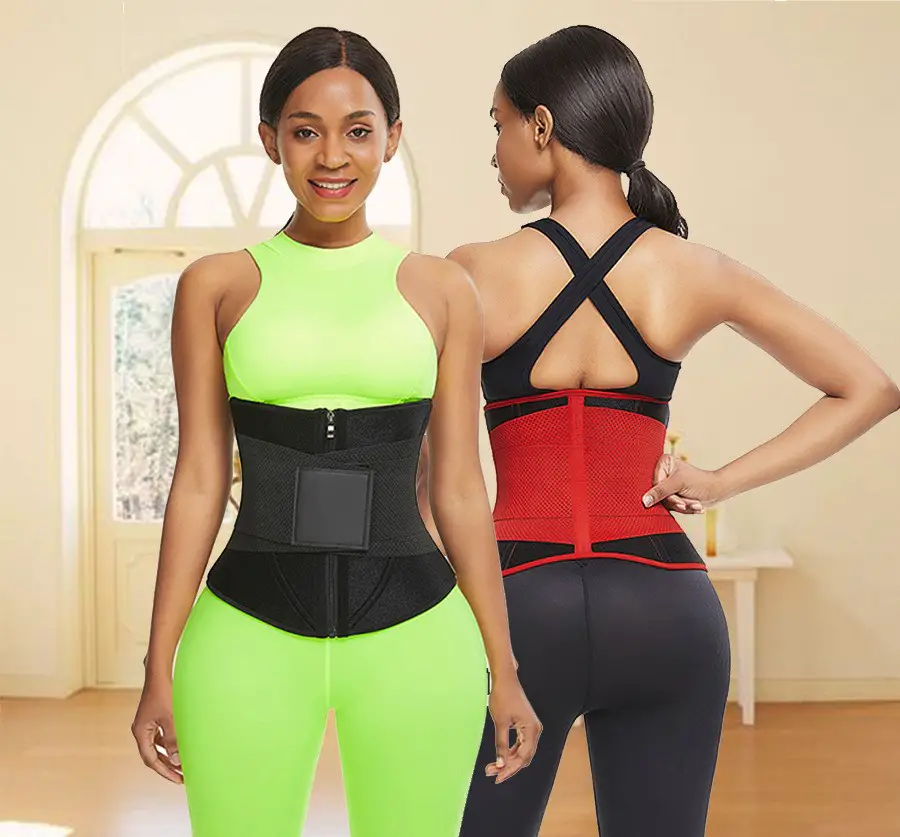 Benefits of Using a Slimming Belt
Slimming belts are used to speed up weight loss, making them the perfect tool for people who want to shed a few pounds. Besides, they also offer the following benefits. 
A. Improved Body Posture
A slimming belt is designed to sit around your torso, hence correcting poor posture. It helps you sit erect, which can help relieve back pain. You can also put it on while working out to maintain a good posture and reduce chances of injuries.
B. Pain Relief
Say you experience mild back aches often, a slimming belt can help you sweat, warm up your core and provide some level of relief to your back ache. 
C. Better Fit
It's hard to achieve a flat tummy, let alone maintain it. However, it's possible to tuck it away with a slimming belt. It conceals all the excess fat and helps you achieve that toned figure in your favourite clothes. However, you mustn't wear it for hours straight to avoid complications.
D. Temporary Reduction in Waist Size
Slimming belts work to compress the waist area, which may lead to a temporary reduction in waist circumference. That said, this effect is only temporary and will go away once the belt is removed.
E. Decreased Water Weight
Slimming belts make you sweat in your abdominal area, which causes a temporary reduction in water weight. Nonetheless, this effect is also temporary and will fade once you rehydrate.
10 Best Slimming Belts to Bid Farewell to Belly Fat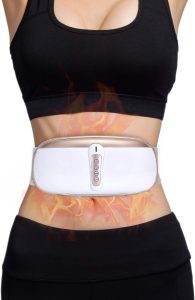 If you're looking for the best slimming belts that are powered by electric, you might want to check this out. This pick from OWAYS uses high-frequency vibration with mild heat to burn unwanted body fats. It comes with four massage modes and 32 different motion effects all of which can be adjusted to your preferences. The machine is made of premium, skin-friendly ABS material, while the inner lining of the belt is made of polyester fiber mesh to absorb sweat easily. If you're working to shed some weight, using this belt and pairing it with a nutritious diet and regular exercise can effectively boost your effort. If you're not looking to lose weight, this belt also makes for a helpful pain relief tool, say, for your back pain and poor body posture.
Slimming belt with high-frequency vibration and mild heat to burn belly fat.
2. WANDiORY Abdominal Training Belt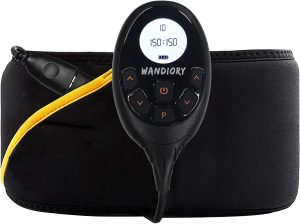 This slimming, slash, abdominal training belt uses advanced EMS technology with 10 training programs and 150 intensity levels to train the muscles around your abdominal area. All modes of training include "Warm Lip" and "Warm Down" phases to prep your muscles for your workout and relax them when you're done. Using it regularly will help you achieve firmer, flatter abs, and a toned body shape. We love that it's made of skin-friendly materials that resist dirt and sweat. Keep in mind that it's important not to overexert by wearing it for hours. Instead, take sufficient breaks in between uses. 
Advanced abdominal training belt with EMS technology.
3. MarCoolTrip MZ ABS Stimulator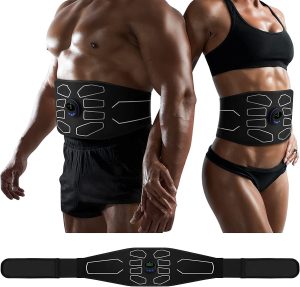 One of the best slimming belts that can help reduce waist circumference, this pick from MarCoolTrip MZ is designed for those looking for a convenient way to tone, strengthen, and firm the abdominal muscles. It adopts advanced EMS technology, six working modes, and 15 intensity levels to deliver that bespoke slimming experience. Wear it for 15 minutes, twice a day, and pair it with a healthy diet and regular exercise, and you're sure to see results in no more than three months. Ensure your skin is moist when using the belt, by spraying some water on the electrode pads before use.
Waist and abdominal toning belt with EMS technology.
4. AILSWORTH Electronic Slimming Belt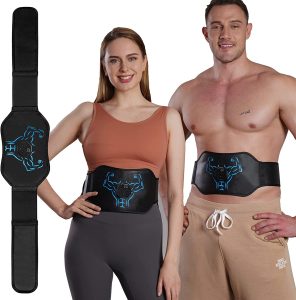 This slimming belt from AILSWORTH relies on Electric Muscle Stimulation to train your muscles in a way that manual workouts alone can't. It sends electric pulses to your motor nerves to contract your muscles hence the stimulation and improved fitness results. Not only does it help slim your waist and belly over time, but it also aids in relieving any pain associated with sore and aching muscles caused by intense workouts or household activities. Features 10 modes, 20 intensity levels, and a 20-minutes auto-off function, use it twice a day, three times a week for eight weeks straight and you're sure to notice a slimmer waist and improved core strength.
ABS training belt for slimming and pain relief.
5. Iron Bull Strength The Shred Belt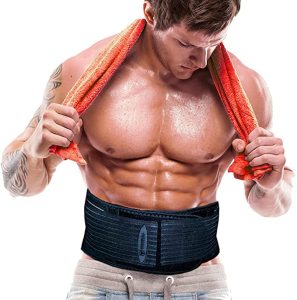 One of the best slimming belts there is, this pick from The Shred Belt uses integrated thermogenic action technology to promote blood flow, which stimulates stubborn fat from your waist and accelerates weight loss. Topping that off, its double-Velcro closure provides an adjustable and comfortable fit and doesn't move out of place when you work out. 
Slimming belt with thermogenic action technology.
6. Wonder-Beauty Waist Trainer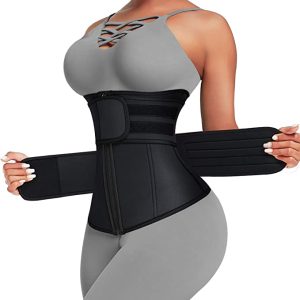 One of the best slimming belts to rid your belly of unwanted fat, this pick from Wonder-Beauty is made of premium neoprene that is smooth and high in compression, therefore making you sweat three times more than usual as you exercise. This is a double strap waist trainer that helps promote thermo activity all the way down to your lower abdomen. Other benefits include providing optimum support to your lumbar region and boosting metabolism, invest in this versatile waist trainer and expedite your weight loss progress while performing your daily chores.
Slimming belt with a double belt and zipper combination design.
7. FeelinGirl Latex Waist Trainer Vest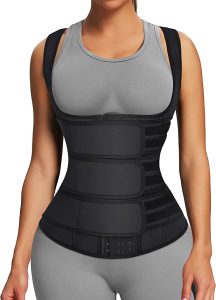 Looking for the best slimming belts you can put on while going about your daily chores? Check out this pick from FeelinGirl. Featuring a unique vest-style and u-type anti-droop breast design, this belt helps compress the extra fat on your back and waist while the u-shaped push-up breast design helps with (as the name implies) shaping your breasts and toning the armpits. This product is advertised to help you sweat three times more than usual and increase your core strength with its triple belts design, thus the fat burning effect. It's built with nine steel bones that conform to the human body and support your back and abdomen well. Combine it with a healthy diet, plenty of fluids, and regular exercise to yield optimal results. 
Vest-style slimming belt with an anti-droop breast design.
8. Sweet Sweat Pro Series Slimming Belt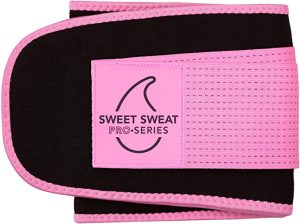 The Sweet Sweat Pro Series waist trainer features an adjustable waist strap made from premium neoprene for maximum compression and comfort. This raises your core temperature during workouts, allowing you to sweat and lose excess water weight around your waist and belly effectively. This firm yet soft belt can hold your skin tight without bruising it. Its top quality velcro straps and extra thickness not only keeps you snug and comfortable, but also strengthens your belt for maximum durability. So rest assured that this is one slimming belt that can last you for years to come. 
Waist trainer with adjustable straps for a tighter fit and better sweat.
9. Ellostar Waist Trainer Belt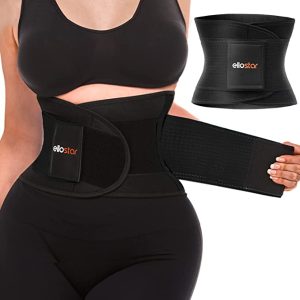 One of the best slimming belts that come for a fraction of the price, Ellostar waist trainer is made from premium neoprene, polyester, and latex, making it the perfect fit for users of all sizes. The belt offers impressive lumbar support courtesy of the specialized design and cut, allowing it to tie around your waist and support the back. It also features a hook and loop fastening that gives you some control over how tight you want the belt to be, making the compression it provides both manageable and effective. So whether you're looking to improve your body posture or accelerate weight loss, this is your best bet. 
Affordable waist trainer with excellent lumbar support.
10. KOSMO MASA Slimming Sauna Waist Trimmer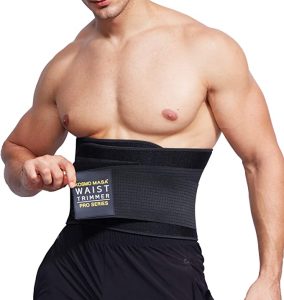 Searching for the best slimming belts with a double wrap design? Look no further than this pick from KOSMO MASA. This one sits nicely while helping you maintain a good posture. In terms of compression, you're allowed to control how tight it goes on you thanks to the adjustable straps. The belt wraps well around your stomach and upper stomach area, offering sublime lumbar support as you go about your daily routine, be it doing yoga or sitting around in your office. The heat trapped helps you to sweat more, thus the reduction in water weight and excessive fat. With this belt, you can easily achieve a toned and sculpted core and back when combined with balanced diet and regular exercise.
Slimming belt with a unique double wrap design for a comfortable fit.
Side Effects of Slimming Belts, Waist Trimmers, and Waist Trainers Alike
Such equipment for weight loss may offer several benefits but can also cause a number of side effects. 
Dehydration: While slimming belts help you sweat excessively, they could also lead to dehydration. So use it mindfully.
Electrolyte imbalance: When you sweat more than usual, it can cause an imbalance in your body's electrolyte levels, leading to muscle spasms, weakness, convulsions, just to name a few.
Skin burns: When slimming belts hold the belly too tight, they can cause burns and blisters. In certain cases, one may experience rashes if the skin is allergic to the belt's material.
Increased body temperature: Slimming belts make you perspire by trapping body heat. However, it doesn't help cool you down, which in some cases, may cause heat stroke and exhaustion.
Other health concerns: Say slimming belts are worn for too long, they could pose severe health problems, including heartburn, acid reflux, squashed rib cages, and more.
Things to Consider When Shopping for A Slimming Belt for Belly Fat
Similar to a piece of clothing, your slimming belt must fit your body perfectly, otherwise it'll be comfortable to wear. It should also offer the following features so you can yield maximum results from it.
Size: Some slimming belts come in various sizes, while others are a 'one size fits all' type. Whatever size you choose, ensure that it covers your mid-section and cinches it a few inches. If you're planning to use the belt when you're working out, then it's fine to go for a bulkier belt. If you plan to wear it underneath your clothes, however, look for a slimmer option that'll not show.
Material: If you have sensitive skin, consider a latex-free belt as they can cause allergies. Also, ensure that the material is stretchable but not overly stretchy.
Spiral steel bones

: Many slimming belts are equipped with steel bones that offer great support to your sides and back. They help correct your posture while giving you lumbar support.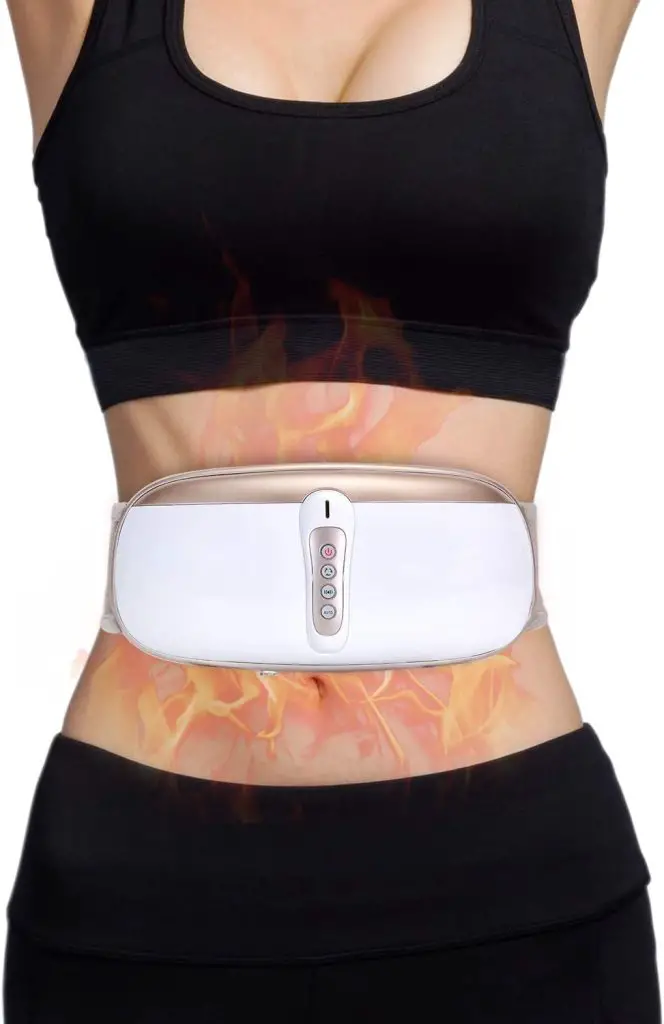 This pick from OWAYS uses high-frequency vibration with mild heat to burn unwanted body fats. It comes with four massage modes and 32 different motion effects all of which can be adjusted to your preferences. Great for accelerating weight loss and pain relief.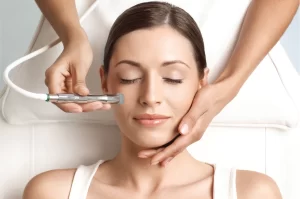 Skin Care
Editor's Choice Microderm Glo Mini Diamond Microdermabrasion and Suction Tool Latest price 2nd Best Choice
Read More
Subscribe to our newsletter