Your Dream Bod Is Now Within Reach Thanks To These Ultrasonic Cavitation Machines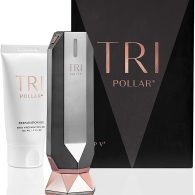 Tripollar Stop Vx Radio Frequency Skin Tightening Machine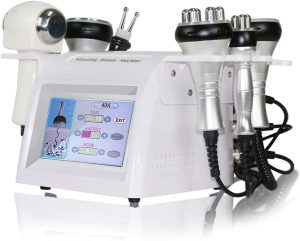 TOPQSC 8-in-1 Anti-Aging Beauty Machine
Funwill 9-in-1 Professional Ultrasonic Cavitation Machine for Home Use
We all know exercising is the most effective way to eliminate fat from areas like the belly, waist, back and thighs. However, when results barely show, you may resort to the best ultrasonic cavitation machine to help get rid of the fats you've been trying so hard to get rid of. Ultrasonic cavitation machines are non-invasive and use heat and sound waves to help reduce cellulite. 
These devices utilise an electrode to deliver targeted thermal energy to the skin. This can promote circulation, decrease inflammation, heat the sebaceous unit, and kill acne-causing bacterias. 
It's said that ultrasonic cavitation machines are effective in addressing fat and may also help reduce waist circumference by 2 to 4 cm, and are beneficial for the skin, too. These machines are so convenient you can use them at the comfort of your own home. To get ahold of the best ultrasonic cavitation machines, we've rounded up the best models along with a detailed buying guide. So, read on!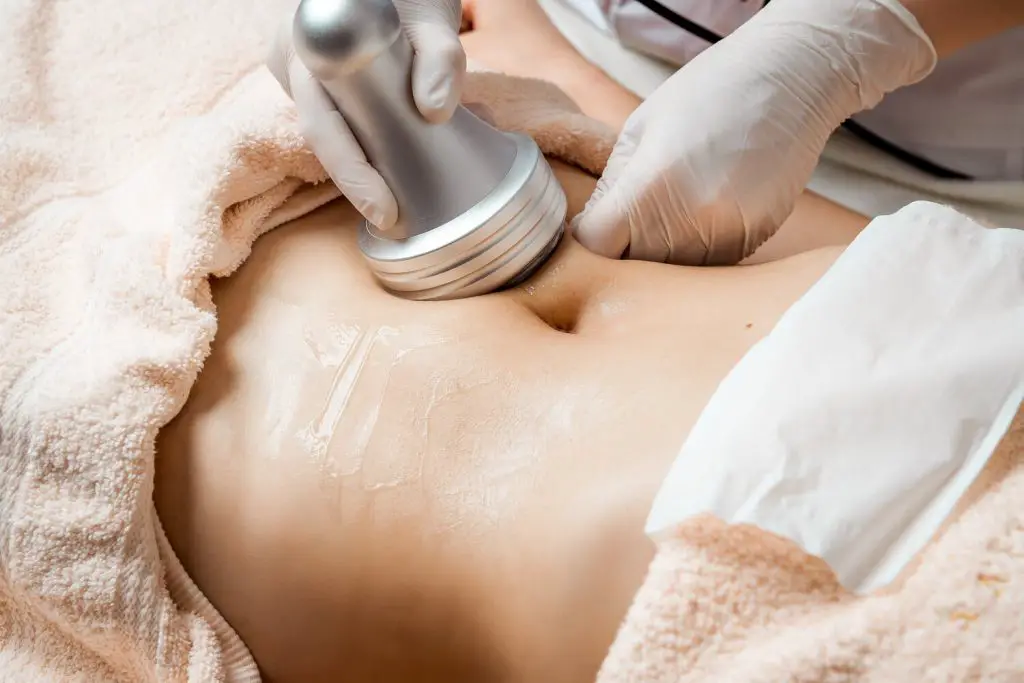 What is an Ultrasonic Cavitation Machine
This is a non-invasive, localized fat-burning device that functions to reduce fat from body areas such as the abdomen, waist, thighs, glutes, upper arms, and face. Those seeking a pain-free alternative to surgical liposuction can opt for such machines.
They utilize high-frequency heat and sound waves to penetrate your skin deep and break down stubborn fat cells. The liquefied fat cells will then excrete naturally by the liver through your lymphatic system. 
How Does It Work Exactly?
When you rub the ultrasonic cavitation machine on an affected area, the ultrasonic waves at 40 kHz or 5 MHz frequency will heat the fat cells. The heat then produces tiny air bubbles or cavities between the cells to create pressure and eventually break down the fat cells. The liquified fat cells then are removed from the body through the lymphatic system by the liver. On average, it takes around 30 to 45 minutes each session to successfully melt fat cells from the waist and thighs. Ideally speaking, most individuals require 10 to 12 treatments to see results, but it also varies.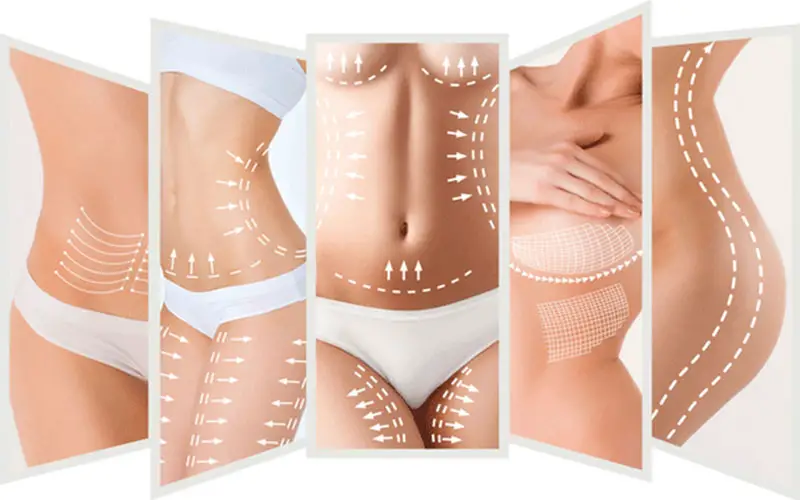 What are the Benefits of an Ultrasonic Cavitation Machine?
a) Great for Spot and Full Body Reduction
Cavitation machines can be used on any body area with extra fat—the thighs, belly, back, legs, arms, shoulders, neck or buttocks. Better yet, they can also be used on smaller, delicate areas like the chin and around the eyes.
b) No Post-Surgical Scars
Unlike surgical procedures like liposuction, ultrasonic cavitation machines do not involve invasive techniques. There will be no surgical cuts, scars, bandages, anesthesia, or blood involved. Hence it's amongst the safest fat or inch reduction treatments out there.
c) Painless
You will not experience a tad bit of pain or discomfort during and after the procedure. The only thing you can feel is a warm sensation on your skin.
d) Chemical-Free
This type of machine uses ultrasonic waves that break down fat cells into liquid. Once liquefied, they are then eliminated from your system through lymphatic drainage.
e) Quick and Easy
Sculpting your body with a cavitation machine won't take you forever. Each session only takes 30 to 60 minutes, or less, depending on the machine you got. Plus, it works on most body types and requires minimal effort. Of course, a healthy balanced diet, sufficient water intake, and exercises are still needed to maintain the effects. 
f) Fast and Noticeable Results
Some people notice a difference right after their first treatment. Having said that, you may notice results after two to three sessions generally. Depending on your body type, you may need at least six to 12 sessions to achieve your desired results.
How to Use a Cavitation Machine?
Step 1: Apply a thick layer of ultrasound gel (if needed) to create a protective barrier between the skin and the device, and also for smoother operation. 
Step 2: Switch the power button on. The button is either on the node or on the machine.
Step 3: Set your desired feature on the control panel. Your cavitation machine may have settings such as EMS, infrared, and sonic. You may also set the timer and intensity of the vibration. To ensure clarity, refer to the manual.
Step 4: Massage the whole affected area in a circular or sliding motion.
Step 5: Adjust the intensity according to your comfort level or the instructions given in the manual.
Step 6: Perform the cavitation consistently for optimal results. In the beginning, you may need to figure out how frequently to do it. We recommend every 3 to four days for 10 to 20 minutes each session. After the first two weeks, feel free to use the machine just once a week.
Caution: Apply the nodes on any area of your body except around the eyes (depending on your machine) and heart.
What to Consider When Buying an Ultrasonic Cavitation Machine?
a) Features
Some expensive body sculpting cavitation machines feature Quadrupolar 3D RF, color LEDs, TENS/EMS massager, gloves, facial and eye probes, along with other special attachments. Though not all come with these tools, make sure you buy one with the features you're looking for.
b) Duration of Treatment
Different ultrasonic cavitation machines require different duration, some take 30 minutes whereas some may only take 15 minutes. Also, you must figure out the usage limit per week and day. Some machines are designed to be used for only once or twice per week, while others can be used every day.
c) Size
These machines come in a variety of sizes—tiny and portable devices, to medium-sized 4-in-1 machines, and all the way to bigger or more complex models. The bigger they are, the higher the price. 
d) RF (radio frequency)
This is by far the most important feature to look for in an ultrasonic cavitation machine. The greater the RF, the higher the intensity of the treatment. Usually, 7-in-1 complex models come in higher RF than the portable ones. If you're seeking instantaneous results, opt for those with a higher RF. It helps tone your body, slim down fat areas, and sculpt extra inches in just a few sessions. If you're only wanting slight changes, opt for those with a lower RF will suffice.
e) Intensity Levels
Most machines feature multiple settings to tackle different areas of the body. Some of the most common ones include five massage nodes for tapping, kneading, massaging, and slimming. If you want something a little extra, the EMS function allows you to choose from five levels of intensity and two levels of ultrasonic intensity.
g) Safety
Though ultrasonic cavitation machines are safe, it's wise to double-check their safety features before buying them. Keep an eye out for heat regulation and an auto shut-off timer. Furthermore, we advise you to invest in a machine from a reliable brand that offers decent and premium-quality features. 
h) Heat Regulation
An efficient heat regulation system disperses excess heat to prevent skin burns and inflammation. This feature is mandatory to be included.
i) Comprehensive User Manual
These types of machines mostly come with complex buttons and settings that require specific knowledge to operate. Without a detailed instruction manual, using the probes can be challenging. Plus, it's also important to fully understand the functions in order to maximize efficiency.
15 Best Cavitation Machines 2023 for Body Sculpting
1. TOPQSC 8-in-1 Anti-Aging Beauty Machine
The TOPQSC  8 in 1 Anti-Aging Beauty Machine is great in dissolving fat and stimulating lymphatic drainage along with elasticity while firming your skin. The RF probe in this machine helps tighten up loose skin on the arms, legs, thighs, buttocks, waist, and back; it also tones the abdominal muscles for a sculpted look. On top of that, it can help relieve stress and fatigue, and at the same time, firm and lift facial skin. This best ultrasonic cavitation machine comes with a cold hammer probe to soothe sensitive skin, together with a red light probe that offers anti-ageing therapy, promotes circulation, and repairs the elastic fibers within tissue to firm the skin. 
Ultrasonic cavitation machine with eight probes that targets the arms, legs, thighs, buttocks, waist, back and abdominal muscles.
2. Funwill 9-in-1 Professional Ultrasonic Cavitation Machine for Home Use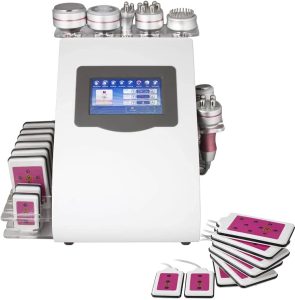 Powerful and multifunctional, the Funwill 9-in-1 body scultping machine sends high frequency sound waves at a 40K frequency to travel deep into the skin and dislodge unwanted fat deposits. The results? A trimmed-down figure! The device also comes with a multipolar radio frequency wand to target thicker skin on the body, and a tripolar RF wand to accommodate delicate skin of certain body parts. These amazing wands serve to enhance skin elasticity by promoting collagen regeneration and effectively treat common skin problems such as dark circles, poor skin condition, saggy skin, eye bags, wrinkles, and many more.
9-in-1 ultrasonic cavitation machine with a multipolar radio frequency wand and a tripolar RF wand.
3. Tripollar Stop Vx Radio Frequency Skin Tightening Machine Review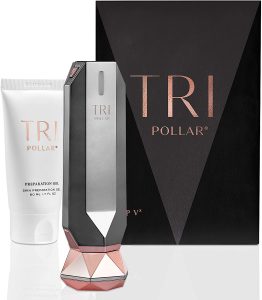 The  radio frequency skin tightening device  Tripollar Stop Vx is cleared by the FDA for home-use. It integrates a combination of radio frequencies to tighten, tone and lift sagging skin by stimulating collagen production. The Tripollar Stop Vx also helps fade acne scars, fine lines, and wrinkles overtime. This device comes in two modes: 
Mode 1-For the entire face, neck and décolletage. To use it on the face, gently move the handpiece in a circular motion. And if you're not satisfied with the results. Opt for Mode 2.
Mode 2-This mode can be used on different body parts such as the stomach, thighs, arms, and buttocks.
Portable radio frequency skin tightening device with two modes.
4. Enshey Body Sculpting Machine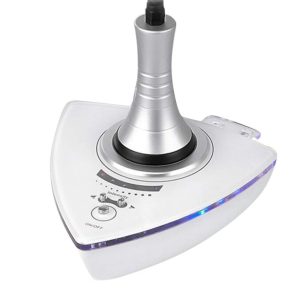 This ultrasonic cavitation machine by Enshey is a fourth-generation edition, using  advanced technology to deliver highly stable ultrasonic waves with minimum noise. It comes in a triangular platform that's 11 by 11 inches featuring a single cavitation wand and  an extra-wide contact surface. The device operates on a 40-60 kHz frequency range, that offers medium to low penetrative force to better liquefy thinner fat layers. Unlike the others in the market, this body sculpting machine delivers 5 levels of ultrasonic intensity, making it easy to adjust to personal needs. Use it 20 minutes per session for 2 times a week and you'll see steady positive results.
Body sculpting machine with 5 levels of ultrasonic intensity for a bespoke cavitation experience.
5. RUTAWZ 6 in 1 Beauty Machine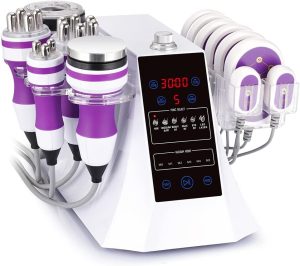 This 6-in-1 ultrasonic cavitation machine by RUTAWZ comes with 6 different handles: flat handle, vacuum suction handle, 3-polar handle, 4-polar handle, 6-polar handle, and massage pads to adapt to  personal needs. Suitable  for use around the eyes, face, abdomen, thighs, buttocks, and so on, this machine is equipped with heating and suction functions to massage and tighten the skin, revealing in a sculpted body and overall youthful complexion. To maximize your results, we recommend pairing up with a nutritious, balanced meal, regular workouts, and a well-thought-out after-care plan. With a little bit of dedication, you  should be able to see some changes in 8 weeks time.
Touch-screen beauty machine with 6 handles and functions.
6. UBBGFIO S-Shape Cavitation Machine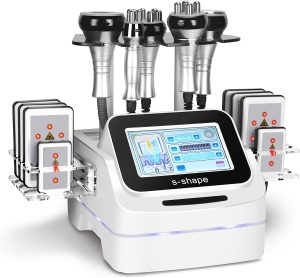 The working principle of the UBBGFIO s-shape cavitation machine is based on the use of ultrasound technology to reduce fat cells and improve the appearance of cellulite. It includes 5 handles and lipo pads with different functions and are less noisier yet  more powerful than any of the handles out there. Above all that, each of them boasts an ergonomic design that doesn't wear you out during long hours of operations. Plus, it features a touchscreen design for your ease of use, say switching functions or adjusting energy levels by simply moving your fingers. 
Touch-screen s-shape cavitation machine with 5 handles. 
7. RICEFINE 3-in-1 Ultrasonic Fat Loss Machine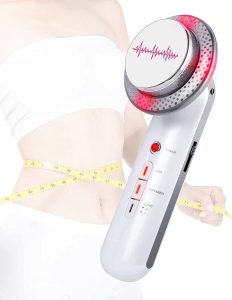 If you're always on the move, this portable ultrasonic fat loss machine by RICEFINE is perfect for you. Designed specifically for home use with maximum results, this pick is by far the most compact, easy to use, and packed with additional features such as the Infrared Light (boosts healing powers and improves the skin) and EMS applicators (helps tone the muscles) other than eliminating stubborn fat tissue. Being fairly lightweight, you can easily perform the cavitation procedure on any part of your body. We recommend that you use the machine three times a week for 30 minutes per session for optimal results. 
Portable, hand-held ultrasonic cavitation machine that targets all body parts.
8. XIYNBH 40k Cavitation Machine 6-in-1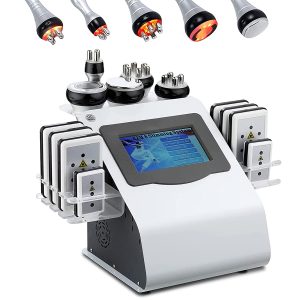 Consider the  XIYNBH  6-in-1 Ultrasonic Cavitation Machine if you're looking for a comprehensive cavitation. Boasting multiple functions, a 40K cavitation wand for tightening, brightening, and smoothening the skin whilst blasting stubborn fats. This versatile machine also has RF handles for the body as well as the face, including dedicated vacuum and lipo probes. Ideal for people with wrinkles, sagging, and dark skin, this device is as seamless as a Smartphone courtesy of its intuitive full-color digital interface.
Multifunctional professional ultrasonic cavitation ideal for home use.
9. QSGOLEY Multifunctional Body Facial Beauty Machine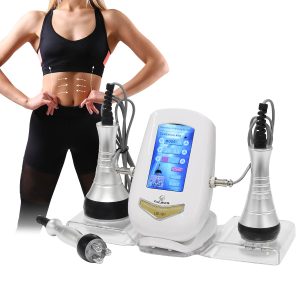 This best ultrasonic cavitation machine by QSGOLEY pledges to rejuvenate the skin and body. It's able to boost skin flexibility, improves elasticity as well as tones the skin. This amazing device comes with three probes and massage heads to relax and massage the muscles to relieve tension. Its heads are great in fading wrinkles, fine lines, and minimize the appearance of pores. We love that this device is also portable and easy-to-use—it can be used anywhere.
Cavitation machine with three probes that tackles the face and body.
10. Funwill Upgraded 5D Multifunctional Beauty System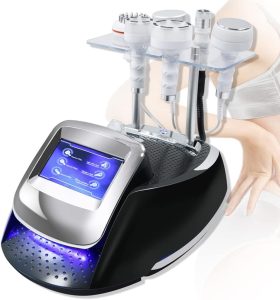 This cutting-edge 5D multifunctional beauty machine by Funwill is designed with a higher energy 80k head for a boosted skin effect. It comes with an added massage function with multiple heads to effectively alleviate back pain, relieve fatigue, and address lumbar stiffness after sedentary. It also includes 6 different massage heads for the face and the body, allowing you to build body lines while relieving any physical fatigue. You'll appreciate its user-friendly touch-screen interface that allows you to easily track the parameter information of the massage heads.
Ultrasonic cavitation machine with an advanced 5D technology and high energy 80k head.
11. Airblasters Fat Cavitation Machine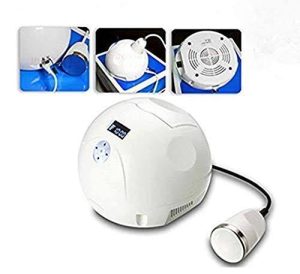 The Airblasters Cavitation Machine is a non-invasive ultrasonic cellulite removal machine that gives you a toned look. This device requires only a short 50 minute to start working on the target area. Simply rub the probe around the affected area to activate the excess fat and it will subside eventually. The probe serves to emit ultrasonic rays that penetrate deep into the subcutaneous tissue, tackling the fat cells and releasing them through the lymphatic system. This procedure helps to tone and sculpt a particular body part. Using this machine for at least 2 times a week will reduce about 4lbs and shrink about 4 inches of your desired area. However, do note that this machine works only with ultrasonic gels. 
Ultrasonic cavitation machine with one probe that targets the abdomen, hips, flanks, arms, inner thighs, and calves.
12. BRÜUN Massager Machine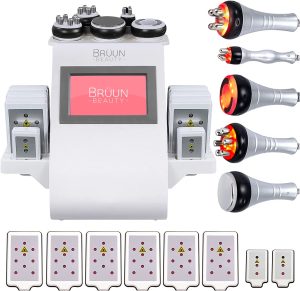 This massager machine by BRÜUN features a 7-inch touchscreen and four functional probes to smooth fine lines and shrink pores while promoting collagen and cell activation. Apart from getting rid of fats by enhancing lymphatic drainage and blood circulation, this machine is able to relieve muscle tension, spasms, and even pain. If you have stretch marks or orange peel-like skin, this pick also helps to firm your skin and muscles on the arms, legs, thighs, buttocks, lower back, abdomen, to re-shape your body contour. Not to mention that it utilizes 40K Cavitation that emits a strong sound wave of 40Khz to fiercely impact fat cells, making them explode almost instantaneously. 
Massager machine with a touchscreen display and four functional probes.
13. Sextupole 9-in-1 Multifunctional Ultrasonic Cavitation Machine for Body Massage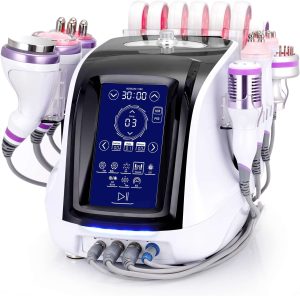 This machine comes with a 2-polar probe for the eyes and 6-polar probes for the face and body. It has adjustable strength and intensity and is fairly easy to operate. Featuring an English colour display screen, feel free to adjust the mode or time however you like. We are obsessed with its elegant and styling appearance, plus the flat handle that doesn't vibrate or heat up while working.
9-in-1 cavitation machine with a color display screen.
14. MEIQIER 6-IN-1 Multifunctional Body & Facial Beauty Machine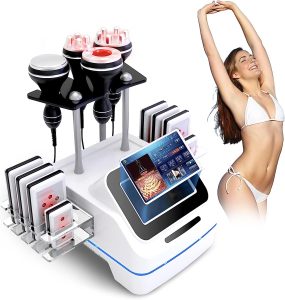 The MEIQIER 6-in-1 multifunctional body and facial beauty machine primarily targets the fat deposits on body parts such as face, arms, legs, thighs, buttocks, waist, back, and abdomen, to help achieve a toned and sculpted body. This device includes 4 probes and light therapy pads which function to minimize wrinkles, firm and lift the skin to deliver a healthy, youthful appearance. Plus, its advance touch screen interface is exclusively optimized for easy operation.
Optimized ultrasonic cavitation machine with five probes and light therapy pads to target both the face and the body.
15. Lolicute 8 in 1 Massage Machine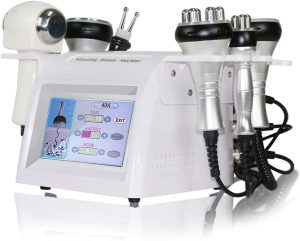 The Lolicute 8 in 1 Massage Machine helps break down the fat layer without impacting the surrounding tissues. It sculpts and tones nearly all parts of the body. It comes with a total of eight probes and paddles along with a claim to show results after half a month. 
Body shaper machine with eight probes that tackle all parts of the body.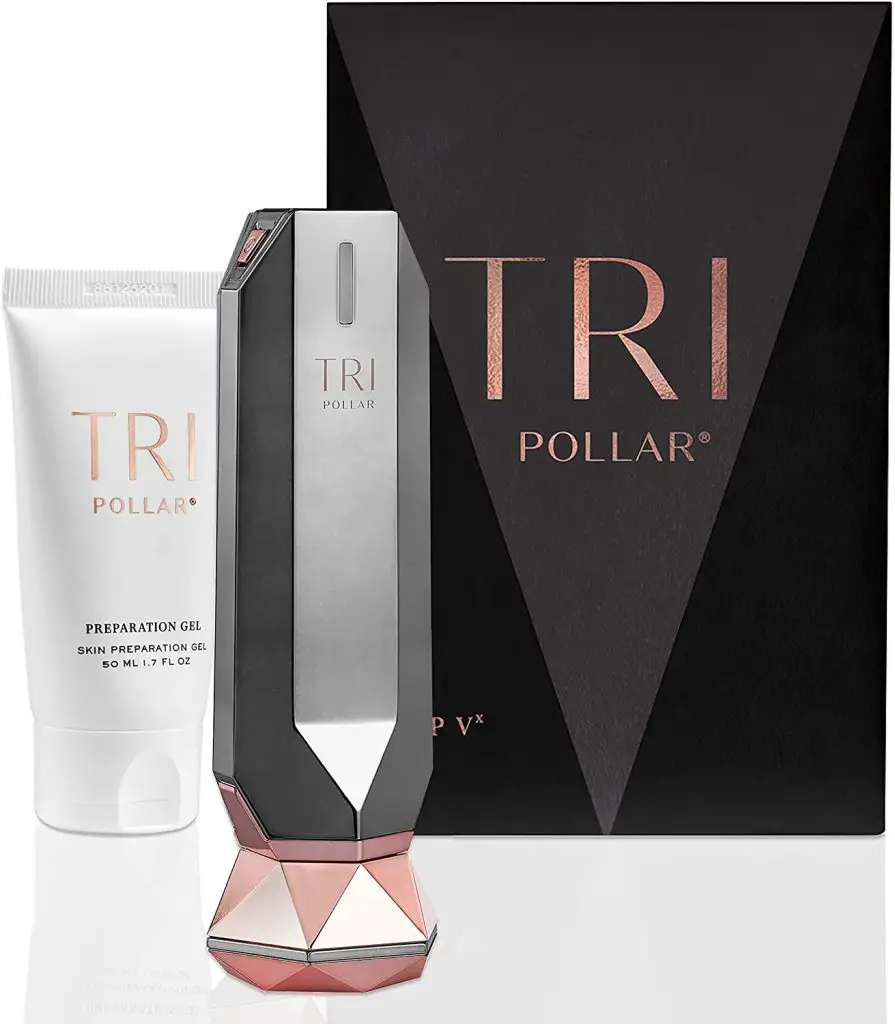 The Tripollar Stop Vx integrates a combination of radio frequencies to tighten, tone and lift sagging skin by stimulating collagen production.
FAQs About Ultrasonic Cavitation Machines
a) How long does it take to see results from ultrasonic cavitation?
Most clients start noticing a difference after 3 sessions. You may see optimum results after 8 to 12 sessions. 
b) Is cavitation an FDA-approved treatment?
Yes. Ultrasonic cavitation + RF for is an FDA-approved treatment for body sculpting.
c) What are the other names of ultrasonic cavitation?
This procedure is also known as ultrasound cavitation, ultra cavitation, body contouring, body sculpting, and UltraShape. 
d) Can I lose weight with ultrasonic cavitation?
No. An ultrasonic cavitation doesn't help with weight loss or obesity. Rather, this is a procedure that helps to eliminate localized fat and inch loss. 
e) Will I put the weight back on?
Yes. If you don't maintain a healthy lifestyle by consuming ample amounts of nutrients, drink plenty of water, exercise regularly, chances are you will put the weight back on.
f) Does an ultrasonic cavitation pose any side effects?
Cavitation machines are often safe and pose minimal side effects. However, if you have photosensitive skin, we recommend you to get the treatment for a short duration. Avoid exceeding the massage time directed on the manual to prevent redness and burning.
g) How often can I use my cavitation machine?
Most people require 5 to 6 sessions to achieve desired results. Remember that there should be a gap of 3 days between sessions.
h) Can the cavitation machine treat cellulite?
The infrared light mode in the machine is built to help reduce cellulite. However, it can't completely eliminate cellulite.
i) What is the difference between a cavitation machine and laser liposuction?
A cavitation machine harnesses the power of ultrasound waves to break down fat cells whereas a laser liposuction uses lasers to melt fat.
j) Do infrared slimming massagers actually work?
Yes. These devices use infrared light to heat the target tissue and prepare the skin for better and deeper penetration of the Radio Frequency energy in the targeted tissue. In return, this will help sculpt the body and get rid of any stubborn fat.
k) Does body sculpting work? 
Yes. Several users reported a lower BMI than 30 after 2 sessions and committed to a healthy lifestyle. That said, it can take up to 12 sessions over 2 to 3 weeks for others.
l) Do ultrasonic cellulite removers work?
Yes. However, it also depends on how you take care of your body. To achieve fast and long-lasting results, you must consume a balanced diet, avoid junk food, work out regularly and get good, quality sleep.
m) How often can I use an RF machine?
Feel free to use an RF machine anywhere from 2 to 3 times a week for 10 to 15 minutes. Follow the user manual closely and check out the recommended use time and frequency of use. It may also differ depending on the type of machine. 
p) How to use an ultrasonic cavitation machine to tighten your face?
To tighten your face with an ultrasonic cavitation machine, you require a slimmer node attachment. Next, switch on the power button and set the machine to a lower frequency. Then, start massaging your targeted area with the node. We recommend do it for 10 minutes every 2 weeks to firm up facial skin.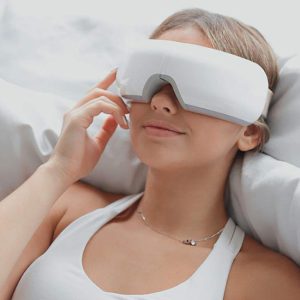 Skin Care
Editor's Choice Worxvell Eye Massager Latest price 2nd Best Choice SereneLife Eye Massager Latest price
Read More
Subscribe to our newsletter