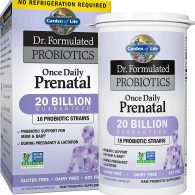 Garden of Life Once Daily Prenatal Probiotic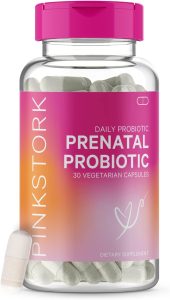 Pink Stork Pro Prenatal Probiotic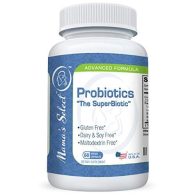 As a woman, we must prioritize our health at all times, but especially when we're pregnant and breastfeeding. Consuming probiotics is one way we can ensure the health of our own as well as that of our babies. In fact, probiotics are meant to keep the gut healthy, which can further improve the immune system of pregnant mothers and their developing babies. Better yet, healthier moms also produce healthier breastmilk. Another huge benefit it gives off throughout pregnancy is its ability to help defend against Group B Strep. 
An infant's microbiome is established with the healthy gut bacteria as they pass through the birth canal and when they're consuming breast milk. If you're planning to improve your gut health during this very critical period, we have concluded 10 best probiotics for pregnancy and breastfeeding that can offer support for both the mothers and babies without the need of being refrigerated, together with everything you need to know about consuming probiotics during pregnancy and lactation.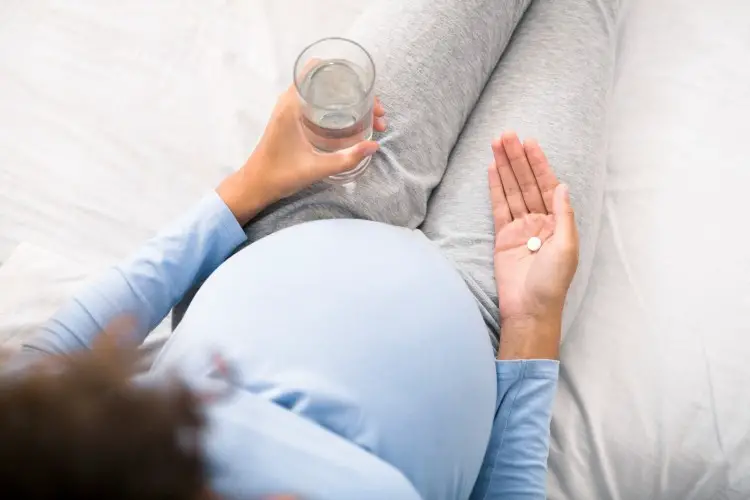 1. Garden of Life Once Daily Prenatal Probiotic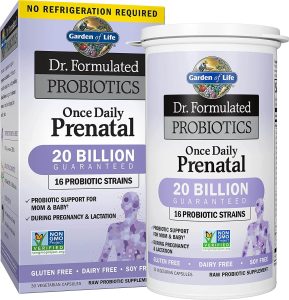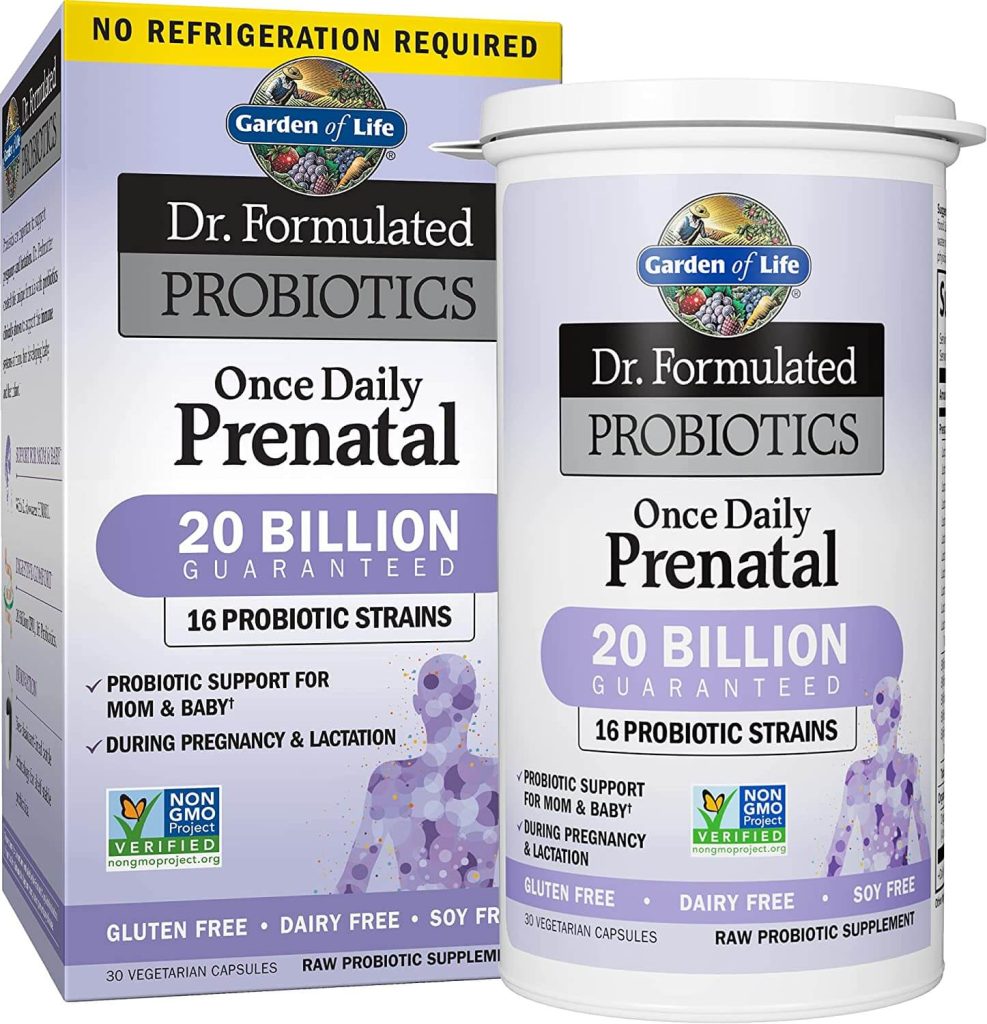 This best prenatal probiotic by Garden of Life contains 16 probiotic strains—including Lactobacillus acidophilus and Bifidobacteria—to support digestive health, the immune system, and so much more. Each bottle comes with a 30-day supply of capsules that are easily swallowed or can be broken open and sprinkled over food. Most of all, these probiotics are dairy-, gluten-, soy-free, and vegetarian. Courtesy of this option being shelf-stable, you can easily bring them along with you when you're outbound and not worry about affecting their potency. This probiotic supplement also includes 115mg of organic Acacia fiber, a prebiotic that helps healthy bacteria to thrive. 
Health supplement with 16 probiotic strains and 115mg of prebiotic for expecting and lactating mothers.
2. Pink Stork Pro Prenatal Probiotic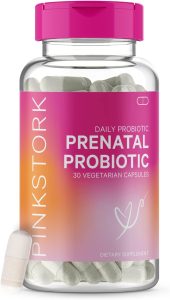 This prenatal probiotic supplement from Pink Stork boasts a proprietary blend of highly stable, spore-enhanced probiotics, as well as prebiotic nutrients. This makes it especially helpful for those with stomach issues for relieving digestive problems such as constipation and nausea. Another cool feature of this supplement is that it's catered specifically to women, by a company owned and run by women. One thing we do need to point out is its significantly big pills which may not be as ideal for those struggling to swallow pills.
Prenatal probiotic made with women in mind.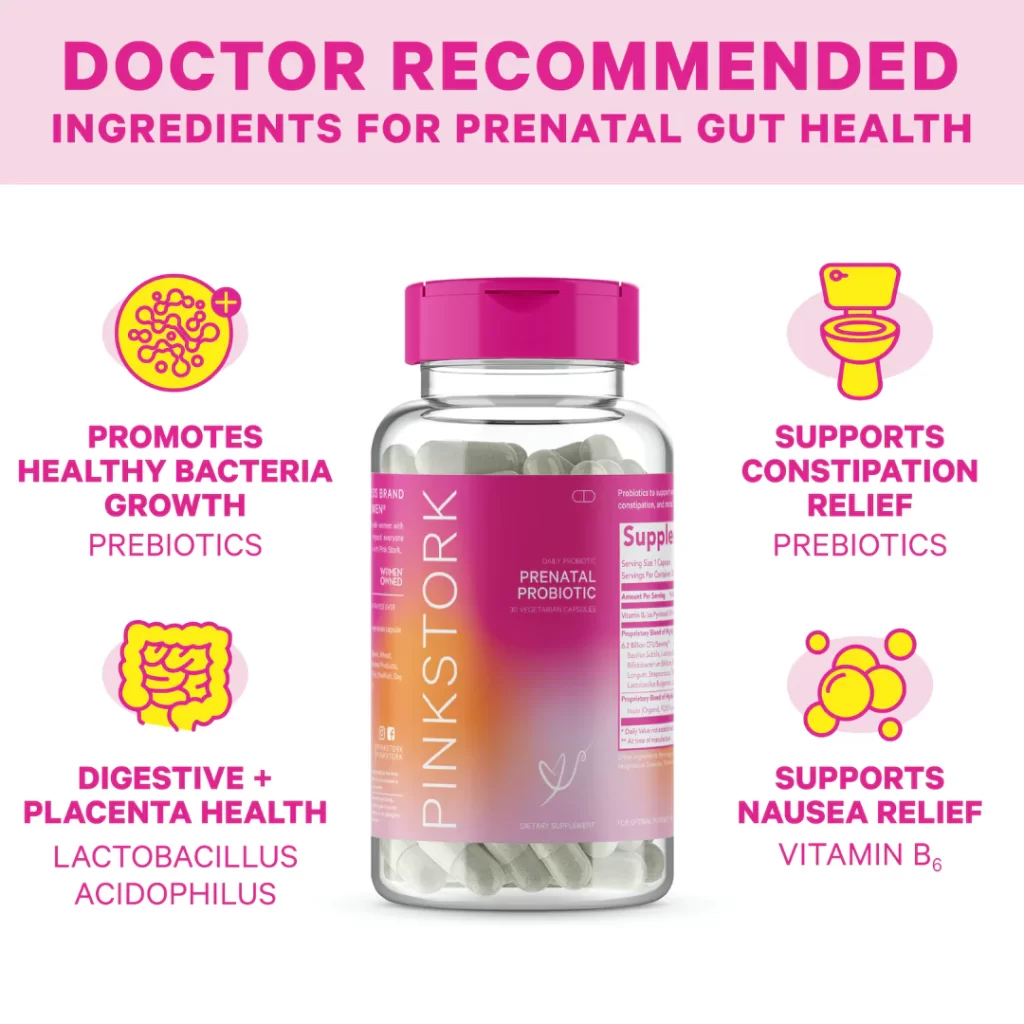 3. Mama's Select Probiotics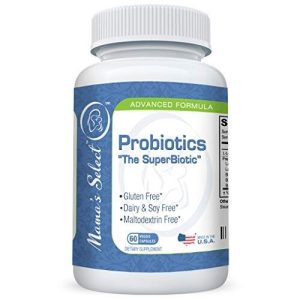 This is a 10-billion-CFU probiotic blend that's meant to be taken only once daily. With 60 capsules in a bottle, rest assured that this probiotic supplement makes a great value for your money. Made with pregnant and breastfeeding moms in mind, this pick is also gluten-, dairy- and soy-free, as well as 100% vegetarian. Better yet, it contains a 2-strain probiotic lacking in the microbiome of pregnant mothers who suffer from frequent bouts of mastitis. Therefore, if mastitis has long been an issue for you or if you simply want to prevent it, look no further than Mama's Select Probiotics. 
Pre and postnatal probiotic supplement that tackles mastitis.
4. Flora Bloom Probiotics for Women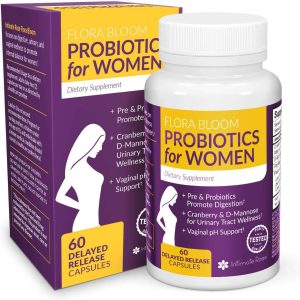 These women's probiotics by Flora Bloom are excellent for women at any stage in their lives, pregnancy included. This 10 billion CFUs proprietary blend of probiotic strains focuses on improving the overall wellness of digestive, urinary and vaginal. Its main standout feature being the urinary health component—cranberry and D-mannose. Some users even reported that this supplement had helped with yeast infections. 
Probiotic supplement with added urinary healthy component.
5. Bio-Kult Advanced Probiotics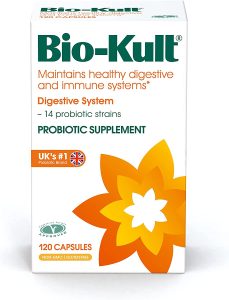 Bio-Kult is renowned for its range of digestive health products and has been given many awards. This particular formula we're looking at is not only safe for the consumption of pregnant mothers, but also users of any age, making it a great choice for the whole family. It contains 14 different probiotic strains that maximize gut health and boost the immune system. We also love that it doesn't need to be refrigerated, and that it comes in various amounts so you can opt for the size that works best for you. However, we do need to point out that it contains milk and soy.
Probiotic supplement with 14 probiotic strains for gut and immune health.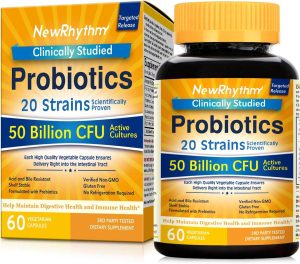 This clinically proven and scientifically backed probiotics feature targeted release technology—the probiotics can survive through stomach acids and reach your gut. It helps maintain your body's favorable intestinal bacteria, which promotes good digestion and balances intestinal ecology. Better yet, these high quality probiotic capsules are 100% natural, and are free of gluten, fish, sugar, soy, yeast, egg, corn, and peanuts.
100% natural probiotics with targeted release technology.
7. Physicians' Choice Prebiotics & Probiotics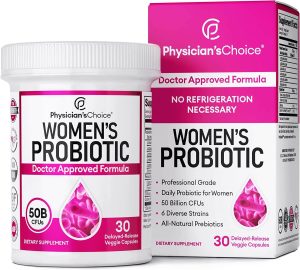 This vegan probiotic from Physicians' Choice contains natural cranberry extract—antioxidant powerhouse that fights free radicals in the body, which are the biggest culprit behind inflammation. Formulated with natural ingredients, this probiotic supplement contains 50 billion CFUs per serving, and rest assured that it'll find its way to your gut to promote healthy digestion. The capsules are delayed-release, meaning that they will survive through your stomach acid and reach your intestinal tract.
Vegan probiotic with natural cranberry extract.
8. Culturelle Daily Probiotic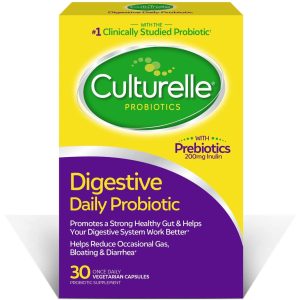 Probiotic supplements that come at a fraction of the cost are hard to come by. One 30 day supply of Culturelle won't cost you an arm and a leg and is formulated with a potent, evidence-backed strain of good bacteria. Lactobacillus rhamnosus (LGG) has been utilized in clinical trials specializing in abdominal pain, infection-induced diarrhea, and allergic reactions like eczema.
This probiotic supplement consists of ten billion Colony Forming Units of this evidence-backbed bacteria strain per serving. Above all that, it combines 200mg of inulin—a naturally occurring prebiotic fiber to feed the probiotic. We definitely recommend this supplement for those on a gut-healing oriented diet or anyone looking to improve their gut health.
Pregnancy probiotics that don't contain contaminants, yeast, milk, dairy, lactose, wheat, and gluten.
9. Physician's Choice 60 Billion Probiotic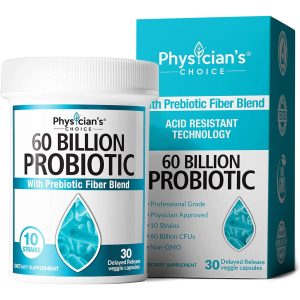 Physician's Choice Probiotic delivers ten various strains of probiotics and 60 billion colony-forming units per dose. Consuming probiotics on their own can be beneficial for gut health, but the most strategic way to ensure efficient results is to consume both pro- and prebiotics, this is because prebiotics feed probiotics. Each serving of this supplement also contains 150 milligrams of prebiotics from organically sourced Jerusalem artichoke root, acacia Senegal, and chicory root. To make sure the probiotics make it through your stomach's acidity, the brand uses acid-resistant capsules. 
Certified non-GMO pre- and probiotic supplementation.
10. Seed DS-01 ™ Daily Synbiotic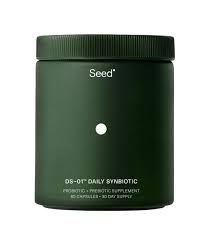 Seed specializes in using specific probiotic strains that have been heavily researched in human-based studies. If you're wondering what a 'synbiotic' is and how it differs from a probiotic, it's a scientific way of naming a product that contains both a prebiotic and a probiotic in one capsule. To ensure that their pre- and probiotics survive the acidity of your stomach, the potent combination of bacteria strains designed for dermatological, cardiovascular and gut health, are encased in a patented capsule made from microalgae. You'll appreciate the fact that it doesn't have to be refrigerated to keep fresh, as long as it's not placed under direct sunlight. 
Pre- and probiotic supplement that's free of gluten, corn soy, binders, fillers, and excipients.
How to Choose the Best Probiotic for Pregnancy?
a) Multi-Strains
There are a wide variety of options when it comes to picking a probiotic supplement. Having said that, most health experts will recommend going for multi-strain probiotics rather than those with a single strain. This is because multiple strains provide higher biodiversity, which means better health. 
The most common strains with proven benefits are as follows:
Lactobacili (precisely acidophilus, reuteri and rhamnosus)
Bifidobacteria
Saccharomyces Boulardii
Lactococcus lactis
There's also been a rise in spore-based probiotics which restrict the growth of "bad bacteria" in the gut. While limited research is done on this with pregnant women, midwives generally recommend this to their patients and an increasing number of prenatal probiotics are starting to offer this as part of their multi-strain formulas.
Nevertheless, not all spore-based probiotics are made equal. It's best to consult with a healthcare professional before starting a new supplement. 
b) A Combination of Prebiotic and Probiotic
Prebiotics feed the probiotic, so it's typically recommended to opt for a pre and probiotic formula to make sure you are feeding the "good" bacteria you are putting in with the probiotic supplement, maximizing its potential. 
Then again, this 2 in 1 formula might not work for everyone. Pregnant women who experience an imbalance in gut bacteria or histamine problems may find taking prebiotics make the said conditions worse. 
c) Ingredients
Ideally speaking, you want to avoid filler items such as dyes, sugar, and artificial ingredients. Most of the prenatal probiotics out there are free of common allergens like dairy, soy, gluten, and fish; but you'll still want to double check the ingredient list. 
On top of that, while most probiotics are vegetarian or vegan, some manufacturers do use fillers or casings that are made of animal products, so be on the lookout for that.
d) Spore-Based or Not
Spore-based probiotics are slightly different from regular ones. They include ground-based probiotic strains which are normally found in the dirt that aren't native to the human digestive tract. Owing to this, they're hardier and more resistant to stomach acid. That increased durability helps these strains reach the intestines easier and quicker.
However, they can also be extremely potent and may not be well tolerated by everyone. Some research suggests that since they're more durable, chances of them overtaking the other bacteria in the gut are higher—leading to an imbalance. The same thing goes to prebiotics, women with compromised immune systems or a digestive imbalance might want to stay away from spore-based probiotics. 
Can Pregnant Women Take Probiotics?
According to the American Pregnancy Association, both the National Institutes of Health (NIH) and National Library of Medicine have concluded that probiotics don't appear to possess risks for pregnant mothers.
What are the Benefits of Taking Probiotics During Pregnancy?
a) Digestive Health
One of the most prominent benefits of taking probiotics is that it improves overall gut health. Multi-strain probiotics in particular, help to improve bacteria diversity in the gut—which is important for maintaining a healthy gut and digestive tract. Similarly, probiotics can relieve constipation which is a common issue faced by pregnant women. 
b) Vaginal Health
Probiotics have long been touted to support vaginal health. In fact, a good probiotic can help to lower the chances of developing a yeast infection or bacterial vaginosis during pregnancy courtesy of its ability to prevent the growth of yeast and balance the vagina's pH level. 
c) Immune System
Pretty much everyone can benefit from the immunity boost which probiotics can provide. Considering that pregnant women are trying to support two bodies, improving the immunity sounds about right. 
d) Pregnancy Complications
Staying healthy is of paramount importance when you're pregnant, and a common health concern during this critical period is to control blood sugar, in order to prevent the development of gestational diabetes. Regularly taking a probiotic during pregnancy can help to reduce blood sugar and insulin levels, including benefiting women diagnosed with gestational diabetes.
e) Baby's Health 
Baby eczema is one of the biggest concerns amongst parents, but rest assured taking probiotics during pregnancy can give you a peace of mind afterward. Plus, the mother's gut bacteria also plays an important role in the baby's brain development, motor and emotional control in utero. 
FAQs about Pregnancy Probiotics
a) Can You Take Pre and Probiotics When Pregnant?
Yes, pre and probiotics supplementation for pregnancy are safe, even during your first trimester. If you were already taking them prior, you can continue to do so as they've been shown to not pose a risk to either the mom or the baby.
b) When to Start Taking Probiotics During Pregnancy?
You can begin taking probiotic supplements before you even become pregnant. Probiotics are also incredibly handy when it comes to maintaining the health of your vagina and gut microbiome, making them a smart choice for overall health whether or not you're pregnant.
c) How do Probiotics for Pregnancy Work?
Scientists and other experts alike aren't exactly sure how probiotics work during pregnancy. We do, however, know that optimal gut and vaginal health are backbones to ensuring a healthy pregnancy. Plus, probiotics are also the key to nourishing the baby's microbiome.
Here are some signs your probiotics are working.
d) What are Some Alternatives to Prenatal Probiotic Supplements?
If you're hesitant about taking a supplement, know that probiotics can also be naturally found in many fermented foods, such as kimchi, sauerkraut, miso, kefir and many more. On top of that, yogurt with active cultures can also aid in boosting your gut health.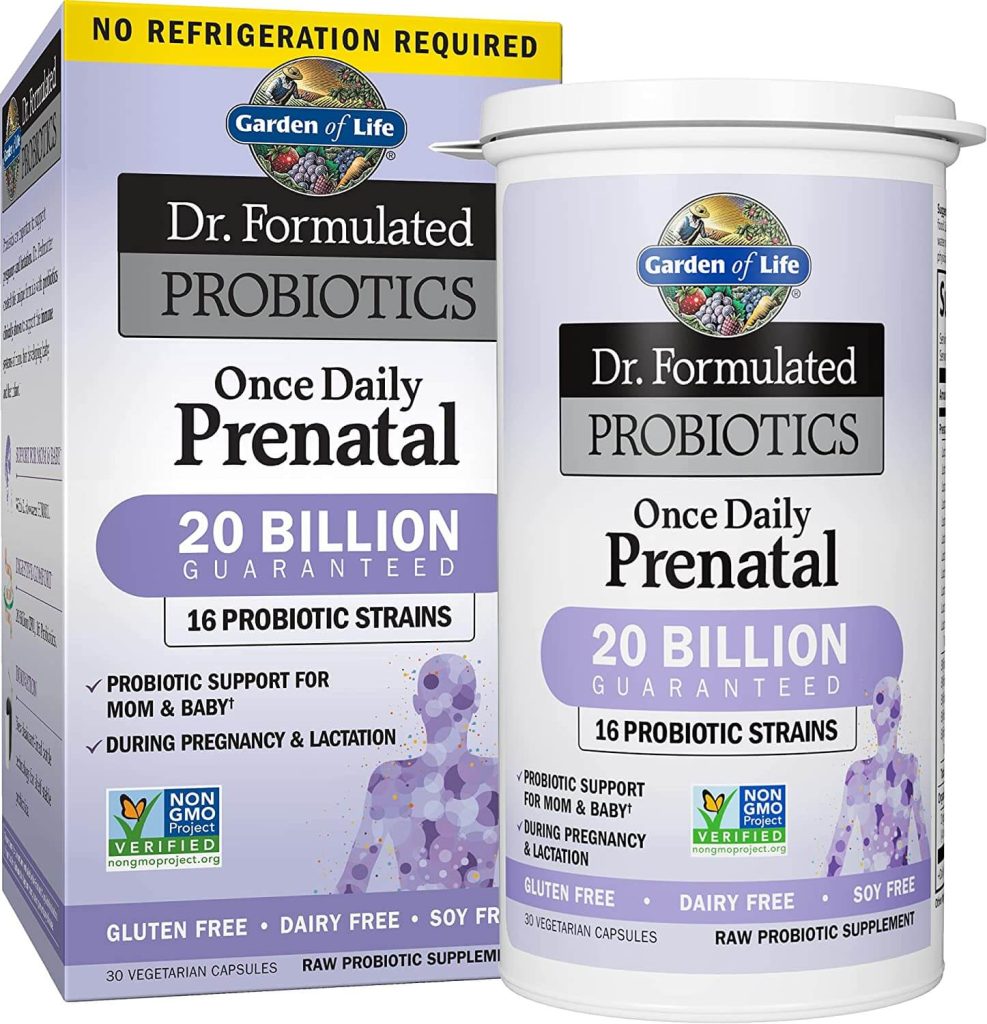 Garden of Life Once Daily Prenatal Probiotic
This supplement contains 16 probiotic strains—including Lactobacillus acidophilus and Bifidobacteria—to support digestive health, the immune system, and so much more. Each bottle comes with a 30-day supply of capsules that are easily swallowed or can be broken open and sprinkled over food.  Courtesy of this option being shelf-stable, you can easily bring them along with you when you're outbound and not worry about affecting their potency. It  also includes 115mg of organic Acacia fiber, a prebiotic that helps healthy bacteria to thrive.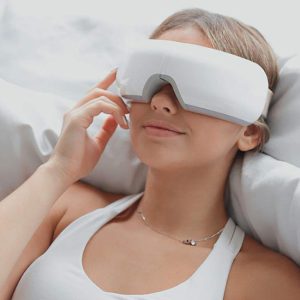 Skin Care
Editor's Choice Worxvell Eye Massager Latest price 2nd Best Choice SereneLife Eye Massager Latest price
Read More
Subscribe to our newsletter