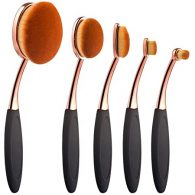 JOSALINAS Oval Makeup Brush Set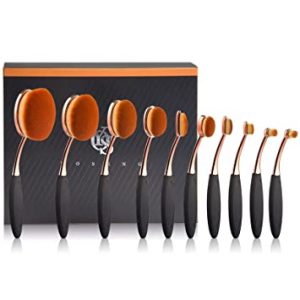 Yoseng 10-Piece Toothbrush Makeup Brushes Set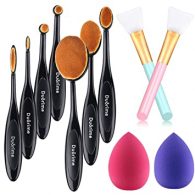 Duorime Classic 7pcs Oval Makeup Brush Set
Oval Makeup Brushes
Have you ever felt that your standard makeup brush set or blending sponge falls short of doing an excellent job of mixing your makeup on your skin? That's when oval makeup brushes come in handy. If you are a beauty enthusiast, you understand how crucial it is to have the perfect makeup brush on hand. To create a perfect appearance, your makeup brushes, like your cosmetic items, require thorough study. We've compiled a list of the best 10 oval makeup brushes to make your search for the best oval brushes a little easier. Continue reading to find out more about them.
What exactly are Oval Makeup Brushes?

Oval makeup brushes are a revolutionary makeup brush type that creates a flawless airbrush finish. They are excellent for applying concealer, foundation, and bronzer, as well as for achieving a clear complexion. The bristles on the oval brushes are curled like a spoon handle and resemble those on a hairbrush. Oval makeup brush sets are fantastic since they have really soft and thick bristles.
These bristles cover the skin evenly and provide flawless application and coverage. They are also ideal for sensitive skin because of their softness.
Here are 10 Best Oval Makeup Brushes.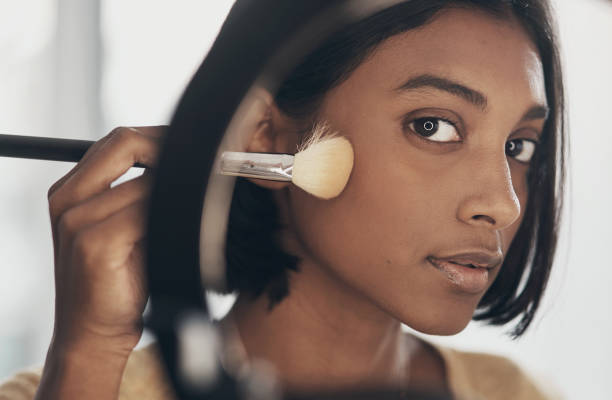 10 Best Oval Makeup Brushes
1. Artis Elite 10-Piece Brush Set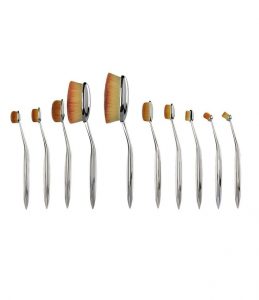 This Artis Elite Brush Set is absolutely worth the hype, and you'll understand why once you get your hands on one of these beauties. With its flawless blending abilities, the brush provides smooth, uniform coverage. You can easily mix powder, cream, and liquid makeup formulations on your face with this kit. The Artis oval cosmetic brush set includes 5 oval brushes that may be used for foundation, bronzer, contour, highlight, concealer, and eye makeup. The three linear brushes are for highlighter, eyeliner, and brows, respectively. Also included are two circular brushes that may be used for eyeshadow, lip color, and spot concealer. It really is a multifunctional oval brush set!
Made of finest individual fibers
2. JOSALINAS Oval Makeup Brush Set
If you're searching for a no-fuss oval brush set, this JOSALINAS cosmetic brush set could be just what you're looking for. The handles' 90° bend allows for simpler and better application of cosmetics and beauty materials. For uniform coverage and a perfect finish, the oval brush set is made with fine-density synthetic bristles. The multipurpose brush may be used with powder, cream, or liquid foundation and concealer.


Provides streak-free coverage.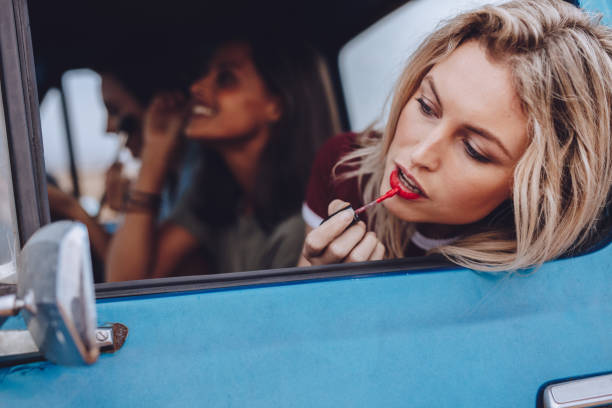 3. Royal and Langnickel MODA Face Perfecting Oval Makeup Brush Set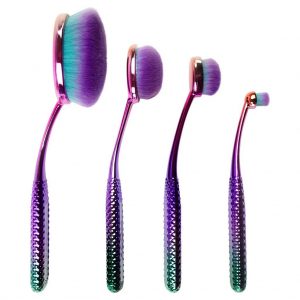 This brush set from JPNK is the next on our list of the finest oval cosmetic brush sets. The four-piece brush set has flexible handles that allow for the smooth mixing of liquids, creams, and powders. The brush is made of a high-quality, bushy proprietary synthetic fiber combination that is irritant-free. While the big oval brush is suitable for foundation, the two medium brushes are ideal for blush, bronzer, and contour. The smaller brush, on the other hand, is perfect for precise concealer application beneath the eyes or contouring certain facial features.


4. Beauty Kate Diamond Cut Oval Makeup Brush Set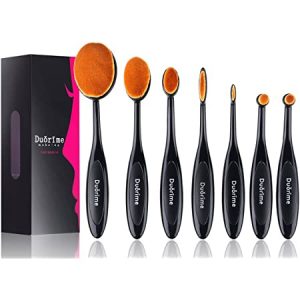 Another excellent choice from Beauty Kate is the 10 pieces oval beauty brush set, which has a striking diamond mermaid colour scheme. The diamond-cut brushes are unlike any other cosmetic brushes you've ever seen, so you'll either adore them or despise them. The smooth and thick bristles, made from raw synthetic fibers, work well with liquids, creams, and powders to blend, sculpt, and hide, as well as for eyeshadow application and lip colouring. The brush head's circular surface arc makes it simple to blend based on your face shape for a perfect finish.


5. Yoseng 10-Piece Toothbrush Makeup Brushes Set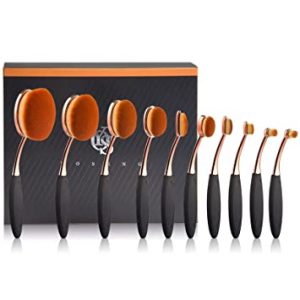 Yoseng offers ten distinct kinds of brushes with beautiful, magnetic plastic bodies in rose gold. Even after washing, the thick and extremely soft bristles are exceptionally resistant to shedding. The brush's small bristles provide an equal distribution of your foundation, BB cream, powder, or blush for a flawless finish. What else? The oval form of the brush makes it simple to work with your face's natural curves, and the small brush included in the package is ideal for creating a pigmented center with a dazzling finish.


Synthetic fiber brush of the highest quality.
6. Duorime Classic 7pcs Oval Makeup Brush Set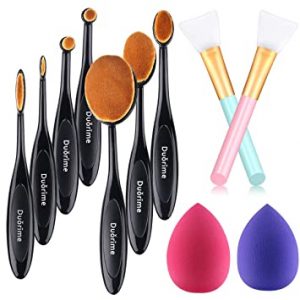 This oval brush set by Duorime is not your average makeup brush. The kit includes 7 beauty brushes made of carefully chosen raw synthetic fibre to change the way people apply cosmetics and makeup on their skin. The bristles are silky soft and have a fine density, allowing for a smoother mixing of cosmetic materials such as liquid, cream, or powder. A large number of product designers and make-up artists have tried and tested the product.


3 oval brushes, 2 linear brushes, and 2 circle brushes for a variety of makeup applications.
7. Beauty Kate 10 Pcs Pro Oval Makeup Brush Set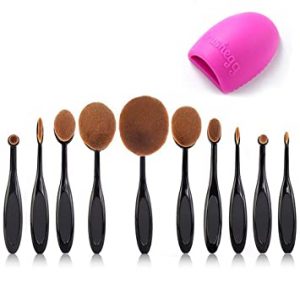 Many people adore Kate Beauty's makeup brush set because of its simple design and incredible functionality. The oval makeup brush set includes ten makeup brushes with flexible arc-shaped handles made of high-quality synthetic hair. The tiny bristles make it simple to produce a professional makeup look that is perfect every time. The brush set includes universal brushes for contouring, blushing, and foundation, as well as eyeshadow and lip colouring.


Bristles do not shed after washing.
8. EMOCCI Luxury Oval Brush Set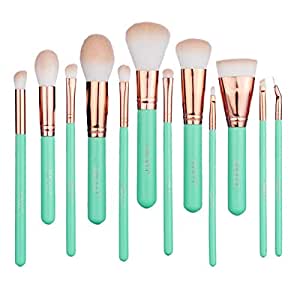 Do you want to get the greatest oval makeup brush set? This Luxury Oval Brush Set from EMOCCI might be precisely what you're looking for. The collection includes ten brushes that will handle all of your beauty needs, from foundation, eyeshadow, lip colour, and eyeliner application to contouring and colour mixing. The multi-purpose brush may be used with any cosmetic or makeup product. The brush is very soft and has thick bristles since it is made of high-quality synthetic fibre hair.


9. KeizerPro Premium Makeup Brush Set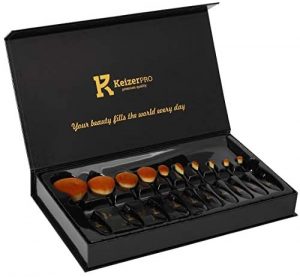 KeizerPro's 10-piece oval beauty brush set can let you create professional makeup looks in the comfort of your own home. This kit is ideal for applying foundation, concealer, blush, powder, brows, and even lip makeup. The brush, which is made of high-quality fiber and has an anti-slip handle and a flexible neck, allows you to apply an even layer of liquid or powder cosmetics with ease. The kit also includes a silicon cleaner, making it simple to clean after use.
10. Sancan Professional 10-Piece Soft Oval Makeup Brush Set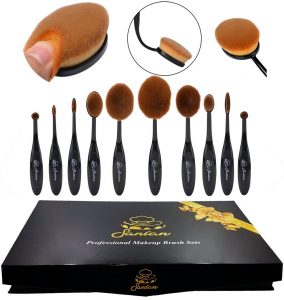 It might be difficult to choose the best oval cosmetic brush set. Check out Sancan's professional oval beauty brush set, which is wonderfully created to meet all of your cosmetic demands. It is made of high-quality synthetic fibres and feels pleasant and soft on your skin. The brush also has a flexible, slanted nylon handle.


Compatible with all cream, liquid, and powder formulations.
Make-up brushes that are distinctive and affordable may be acquired, but in any case, the one that is based on someone's level of inclination can be chosen.
How Do You Apply Makeup With Oval Makeup Brushes?

Use a foundation brush to mix the foundation on your hand while applying it. Then, in a smooth motion, brush it across your face. Make careful to apply the foundation evenly and completely on your face. Apply concealer with a concealer brush to areas with less foundation or uneven skin tone. Finally, create precise outlines on your face using a tiny contouring brush.
How Do You Clean Oval Makeup Brushes?

You can clean oval cosmetic brushes in the same manner that you would a regular makeup brush. To clean any dirt and makeup residue, soak the brushes in warm, soapy water. However, make sure that the head and the portion that links to the bristles do not come into contact with the water, since this may cause the bristles to loosen over time.
What Is the Difference Between an Oval Makeup Brush and a Regular Makeup Brush?

An oval makeup brush has a lot more bristles than a regular one. They are multi-purpose brushes that may be used to apply cosmetics such as eyeshadow, highlighter, contour, and foundation. They are effective with powders, liquids, and creams.
Oval beauty brushes, as opposed to traditional makeup brushes, are easier to use and more akin to applying makeup with your fingers. When applying makeup using an oval makeup brush, the formulae are applied from the side rather than the front.
The oval brushes listed here have raving customer reviews and certified by reliable authorities. Try the one that best suits your needs and fits your budget. If you want to know more, don't hesitate to leave a comment. We would love to hear from you!
JOSALINAS Oval Makeup Brush Set
If you're searching for a no-fuss oval brush set, this JOSALINAS cosmetic brush set could be just what you're looking for. The handles' 90° bend allows for simpler and better application of cosmetics and beauty materials.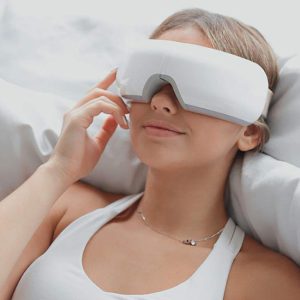 Skin Care
Editor's Choice Worxvell Eye Massager Latest price 2nd Best Choice SereneLife Eye Massager Latest price
Read More
Subscribe to our newsletter