5 Of The Best Neck Traction Devices For Instant Pain Relief – Chiropractor Approved!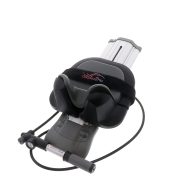 ComfortTrac Deluxe Home Cervical Traction Kit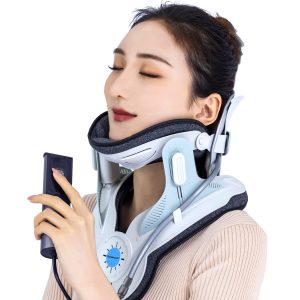 Twinklepoch Cervical Neck Traction Device
Dr. Bob's Portable Neck Traction
Given the amount of time we spend scrolling through our phones and sitting in-front of our computers, it makes sense that our necks are prone to aches, pains, and stress. At-home methods like heating pads make an effective way to reduce tension and pressure, without having to visit your local chiropractor. Better yet, invest in a quality neck stretcher, which helps take away your pain using cervical traction, the same way chiropractors and physical therapists use in their clinics. 
Though chiropractors can perform cervical traction by hand, they will often make use of neck traction devices, too. The process involves pulling the head away from the neck to reduce compression and create expansion. With a decent neck stretcher, you can achieve the same amount of relief at the comfort of your own home. Keep in mind though, if you do plan to get one of these devices, consult with your chiropractor or healthcare provider to determine the best option and how to use it. 
Continue reading to find our picks for the best neck traction devices, together with expert input on how you can safely use these tools and things to consider when buying one.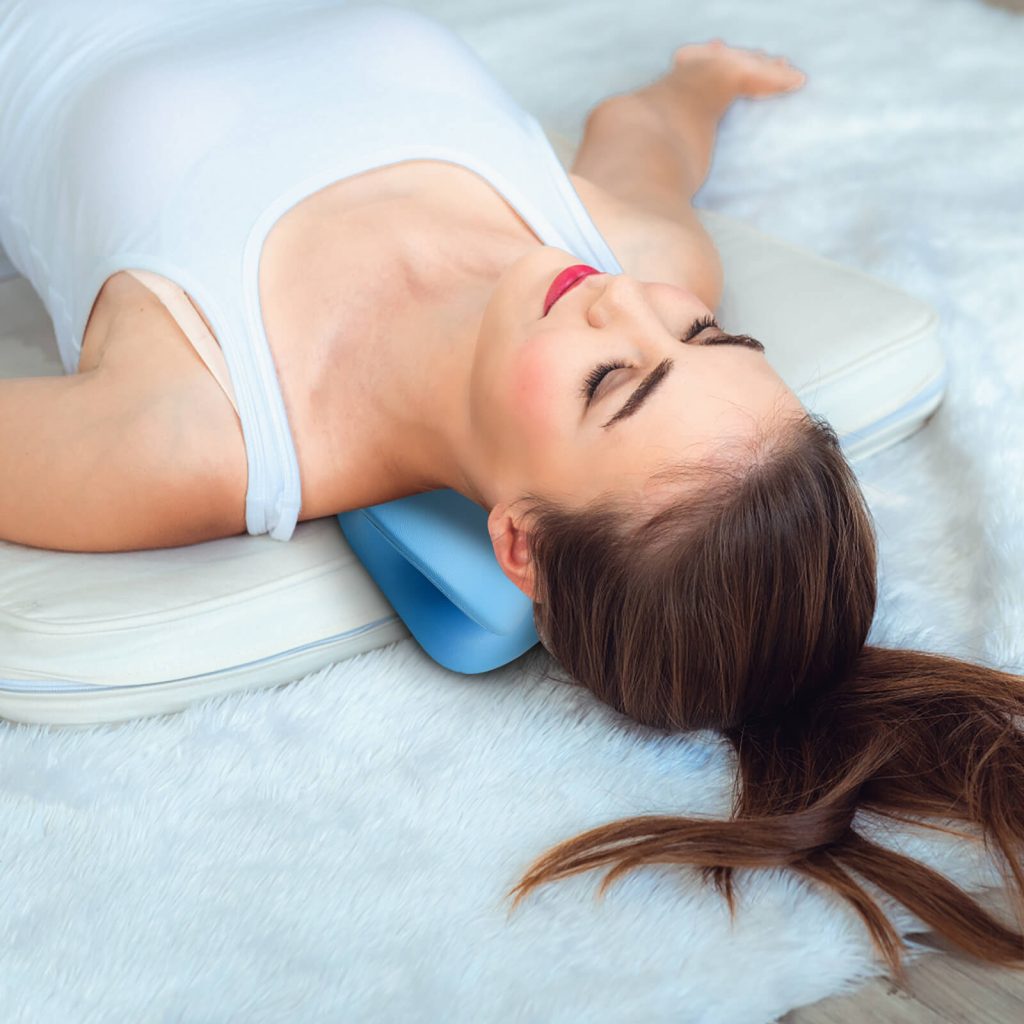 When to Use A Neck Traction Pillow?
People experiencing neck pain, muscle tension and spasm, or disc tissues can use neck stretchers/cervical traction to alleviate the problems and increase joint space in the neck. 
Bear in mind that it isn't recommended for use on a daily basis, but if you're in pain or if it's part of a structured rehabilitation program, it makes a handy tool. 
It's also important to be supervised or properly guided by a professional. On top of that, such neck stretchers are contraindicated for some diagnoses, including but not limited to hypermobility syndrome or ligamentous injuries. Be sure to consult a healthcare provider before you start to incorporate neck traction into your routine.
Different Types of Neck Stretchers
Chiropractors, physical therapists, and medical professionals alike make use of a variety of cervical traction devices (together with their hands for manual adjustments and traction). 
Mechanical cervical traction is carried out through the use of a device such as a traction table, or an over-the-door system that uses counterweight to pull your head upward, relieving aches and tension from your neck to your spine.
The types of neck stretchers include:
An inflatable neck stretcher allows you to adjust the level of pressure applied to your relief needs, but it might not be suitable for those who don't prefer something around their neck.
A static hammock, otherwise referred to as an over-the-door system, is similar to an over-the-door system but easier to use in a home setting and is portable. The only pitfall is that it must be attached to a door.
Mechanical neck traction devices are the closest you can get to what a healthcare provider would use, but they are often more expensive.
Static neck pillows are extremely easy to use, except they offer fewer levels of intensity.
Top 5 Neck (Cervical) Traction Devices for Neck & Spinal Pain
1. ComfortTrac Deluxe Home Cervical Traction Kit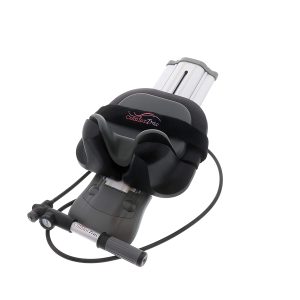 Looking for the best neck traction devices that function like an actual chiropractor? This pick from ComfortTrac comes with a contouring adjustable neck cradle that provides decompression to eliminate pain. Boasting an innovative quick-release pump, this model is unlike any other product on the market as it applies up to 50 pounds of force. On top of that, it has a rapid release that allows for instant alleviation of pressure and adjustable neck cushions that slide in and out for the perfect fit. 
It's easy to use and includes an adjustable neck cradle that conforms to the shape of your neck, delivering maximum comfort and support. You'll feel immediate relief with this pick. Though it does come in a convenient carrying case, the device is rather bulky compared to the others.
Neck traction device with a contouring adjustable neck cradle and applies up to 50 pounds of force.
2. Twinklepoch Cervical Neck Traction Device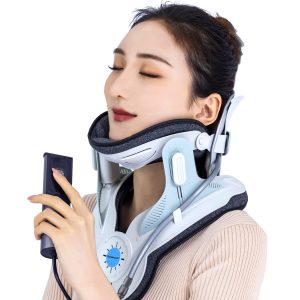 If you're a regular victim of neck pain, dizziness, headache, blurred vision, shoulder pain, or cervical spondylosis, we highly recommend the Twinklepoch Cervical Neck Traction Device. This versatile tool is designed to address all concerns pertaining to your cervical spine. Featuring a 1-shaped knob design, it helps you maintain the same traction force on both sides of your spine to yield a better traction effect. Above all that, it's also ergonomic, helping you boost blood circulation in the vertebral artery and brain while repairing your cervical curvature. 
It's equipped with 8 column airbags that aids in fully opening the intervertebral space to loosen up the pinched nerve as well as achieve a 20 degree cervical physiological curvature repair. There's also an LCD screen display that allows users to easily operate the electric air pump and inflate it at a constant speed. 
High-tech cervical neck traction device that relieves intracervical compression to align your spine.
3. Dr. Bob's Portable Neck Traction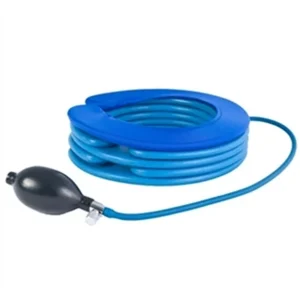 One of the best neck traction devices that delivers immediate relief, Dr.Bob's portable machine is an air-inflated neck-stretching tool that provides relief from stiff muscles, joint and nerve pressure, osteoarthritis, swollen discs, pinched nerves, and headache. We love that it's lightweight and can be taken anywhere. Feel free to use it while working on your computer, traveling, or relaxing.
Portable air-inflated neck traction device.
4. NeckPro II Over Door Cervical Traction System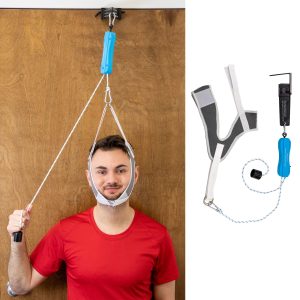 Looking for a trusted medical neck traction device? The NeckPro II is a chiropractic-approved model that can be used at home. It features a harness (strapped to your head and neck) that's attached to a rope and pulley system over a door. You can either include weight at the end of the rope, or you can manually pull on the cord to initiate the stretch. The cervical traction is applied by suspension, one of the oldest methods dating back to the late 1800s. 
Over-the-door cervical traction device.
5. Branfit Neck Traction Device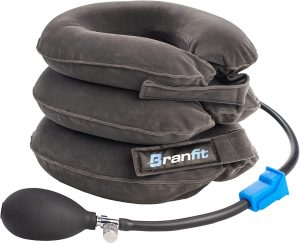 Searching for the best neck traction devices that don't cost you an arm and a leg? Look no further than the Branfit model. This cervical collar acts as a chiropractor pillow that delivers comfort and relief to the neck. It's used to stabilize traumatic neck and head injuries, as well as to treat spinal cord, strains, and sprains. It's also suitable for people with back and spinal decompression. The Velcro strap is designed to be extra-large to accommodate all neck sizes. You're allowed to control the amount of air pressure with its adjustable inflation ball. We also love that it's made using non-itchy material that sits comfortably on your neck.
Affordable chiropractor pillow with adjustable air pressure.

Things to Consider When Buying the Best Neck Traction Devices
A. Types
Consider the types of neck traction devices you'd get. To those who don't wish to be stuck in a single spot, opt for neck braces as they allow you to move about freely. On the other hand, pneumatic traction devices require you to be laying down on a fixed spot for a specific amount of time. Whereas, the over-the-door neck traction devices require you to stand for a dedicated amount of time. With all these factors in mind, pick the one you deem most comfortable and convenient for you.
B. Pressure
The level of pressure your cervical traction device offers determines the efficiency of the procedure and the results it delivers.The average range of traction pressuring during a physiotherapy must be between 20 to 50 pounds. Those with chronically tight muscles should opt for higher pressure for a more effective stretch and pain relief.
C. Adjustments
Always pick the best neck pain relief device that offers an adjustable option for a more bespoke experience. In general, inflatable collars come in various sizes, while wearable neck braces are more adjustable.
That said, for those without severe muscles and discs compression, you may settle with devices that offer pressure between 10 to 20 pounds. Therefore, whatever design you go for, be sure to measure your head and neck before purchasing to ensure you get the correct fit for the best user experience and results. 
D. Additional Features
Pick a device with additional features, including higher available pressure, amount of padding for comfort, adjustability, portability, and a convenient storage case.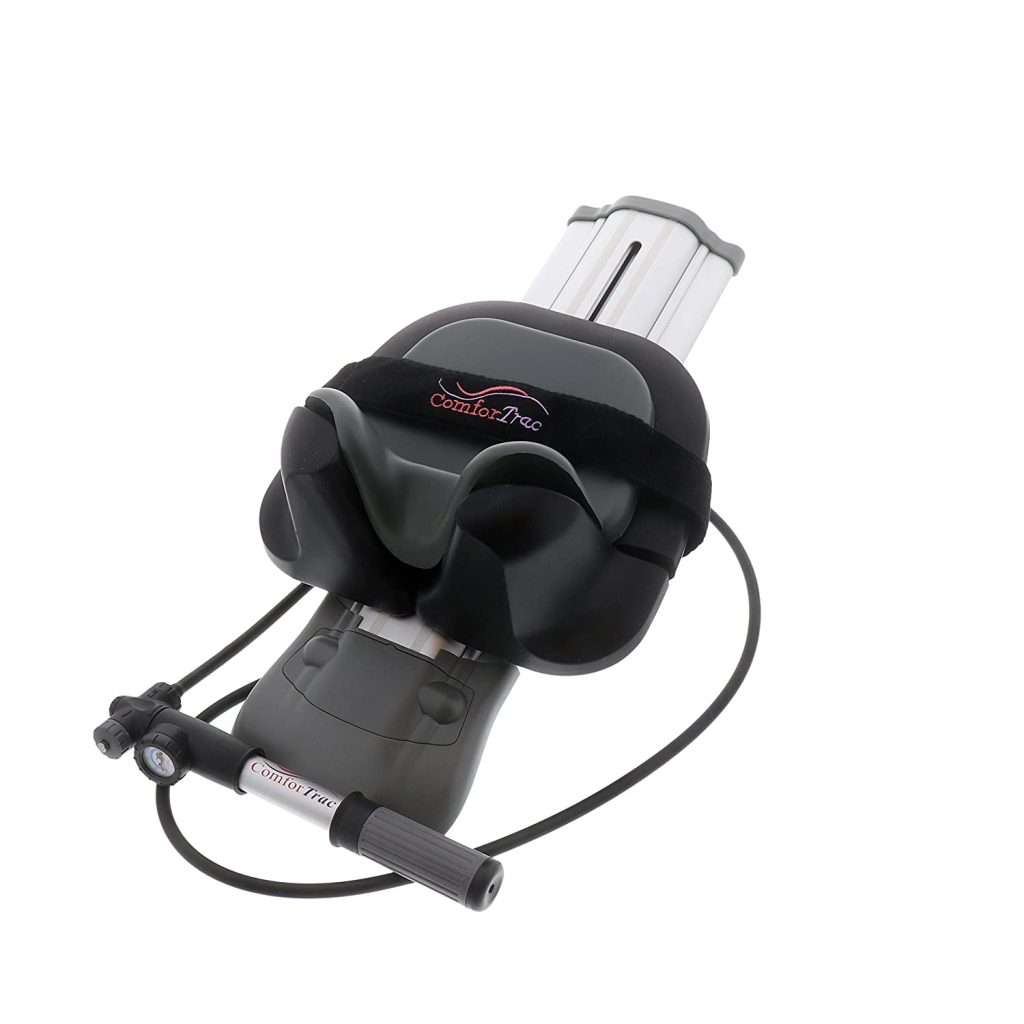 ComfortTrac Deluxe Home Cervical Traction Kit
ComfortTrac neck traction kit features an innovative quick-release pump and allows users to apply up to 50 pounds of force. It's easy to use and includes an adjustable neck cradle that conforms to the shape of your neck, delivering maximum comfort and support.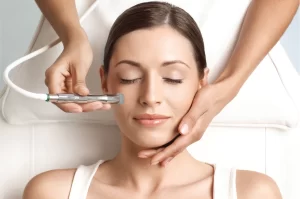 Skin Care
Editor's Choice Microderm Glo Mini Diamond Microdermabrasion and Suction Tool Latest price 2nd Best Choice
Read More
Subscribe to our newsletter