A long pixie cut is a short haircut with hair that is longer than a standard pixie cut. Long pixies are often shorter in the back and sides and longer on top, with long bangs. It's ideal for ladies who desire a low-maintenance, short hairstyle that isn't too short.
In comparison to close-cut crops, the long pixie cut indicates additional length all around the perimeter or simply in certain areas, typically in the front and on top. While retaining the dramatic impact of a shortcut, these styles add femininity by creating a flattering and softening frame around the face. And now, we'll look at the long pixie trend through the lens of the trendiest Instagram moments.
Choose a Hairstyle That Is Appropriate for Your Hair Type

Long pixie haircuts, in the proper hands, have the ability to make any hair texture shine, exposing their inherent beauty and rectifying whatever flaws you may have. Thick manes must be lightened and vibrantly texturized, while thin tresses must be imbued with depth and structure without losing firmness. Even those with natural hair may carry off the look. "Wearing a cropped cut with natural texture always brings up a woman's features," says Ted Gibson, celebrity hairdresser, and salon owner. Whether your hair is wavy or straight, you'll find a long pixie hairstyle option in our collection.
Tips for Choosing a Long Pixie Cut

Here are the most essential factors to consider while selecting a long pixie cut.
a) Maintenance

If you want to maintain your hair short, you will need to visit the salon more often and style it more often.
b) Styling & Products

For a contemporary messy pixie cut, pick up some texturizing paste, wax, or spray.
Face Forms:
Round Faces: Keep your bangs longer and angled, and your hair straight to make your face seem smaller.
Square Faces: A long shaggy pixie may help balance out a strong jawline.
Long Faces: To shorten your face, use a side-parted style with a wavy texture.
Oval Faces: You can pretty much wear any of the cuts seen here!
Heart Faces: You may also choose any cut that appeals to you!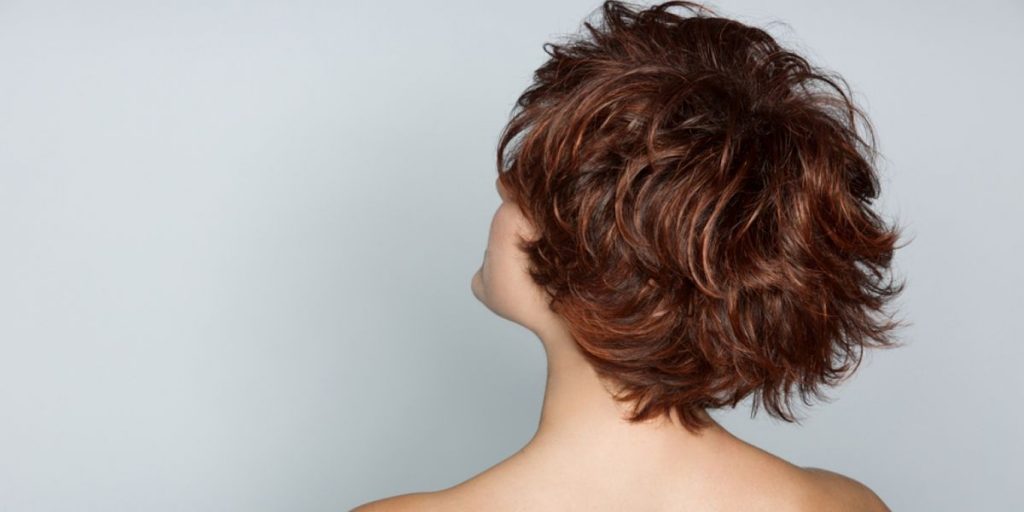 Thick hair: Thick Hair  will need the additional texture to thin and contour the cut in order to remove weight.
Thin and fine hair: Request that your hairdresser adds additional layers to your hair to make it look fuller.
Curly Hair: As with most curly hair cuts, additional care and treatments will be required to maintain your curls healthy and the form of your cut. I recommend consulting with an expert.
Wavy hair: Unless you flat iron it, don't anticipate a finished appearance. Accept your natural waves. To style, apply product, brush, diffuse, and comb, or use your fingers.
Ginnifer Goodwin, Twiggy, Jada Pinkett Smith, Evan Rachel Wood, and, of course, Disney's Tinker Bell are among celebrities who have notably sported a lengthier pixie cut.
Consider it with wispy or face-framing layers, an edgy undercut or some beautiful bangs, straight or wavy, smooth or ruffled, and you'll always look great! When you cut your hair into one of these beautiful long pixie cuts, you'll undoubtedly get many comments. Don't be tempted to opt for a short haircut!
If you're tired of your existing hairstyle and want to try something different, a long pixie cut may be a wonderful option for you! You may test out many various kinds of long pixie hairstyles in this article!
1. Long Blonde Pixie with V-Cut Layers
A greater length of the lengthier pixie cut enables you to experiment with different hairdo silhouettes by changing the quantity, length, and location of layers. You may experiment with short front hair and lengthy back hair, or you can go with an incredibly short nape and long flowing layers on top.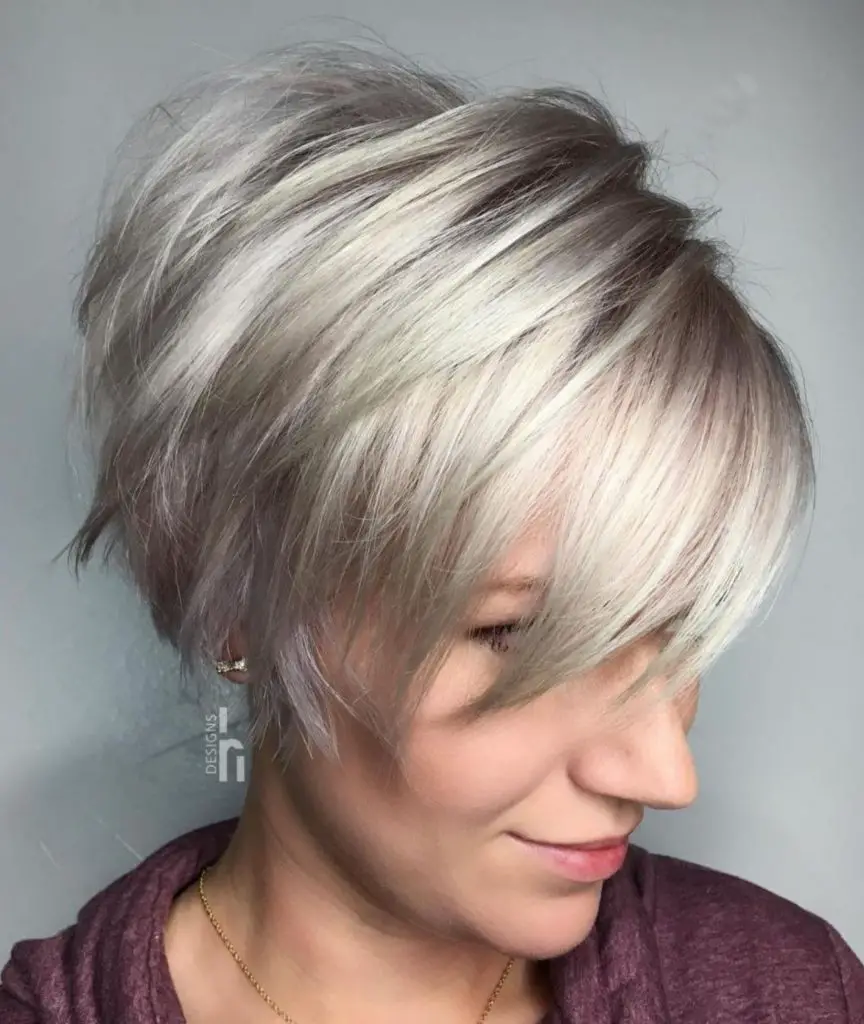 2. Asymmetrical Silver Pixie Bob
This silver-grey pixie bob has a long side-swept fringe on one side, giving it a sleek, asymmetrical appearance. The two contrasting tones really make it stand out!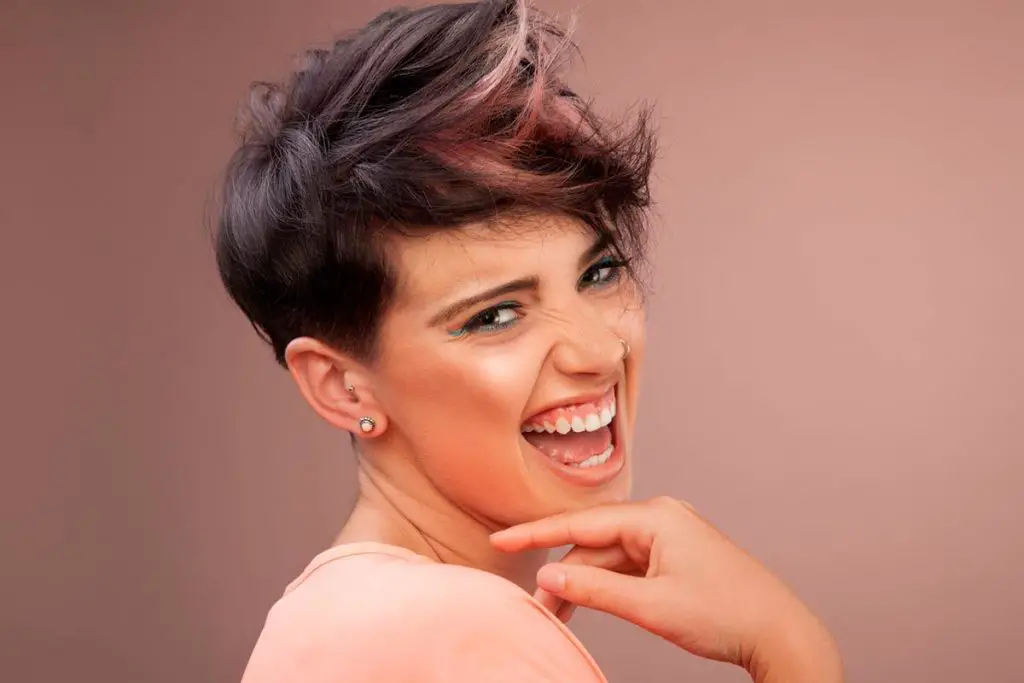 3. Long Pixie with Razored Crown Layers
A pixie cut may help you add depth and texture if you have fine hair. Request razored layers at the crown from your hairdresser to increase height while still looking stylish. You're left with an undoubtedly stylish soft, wispy appearance.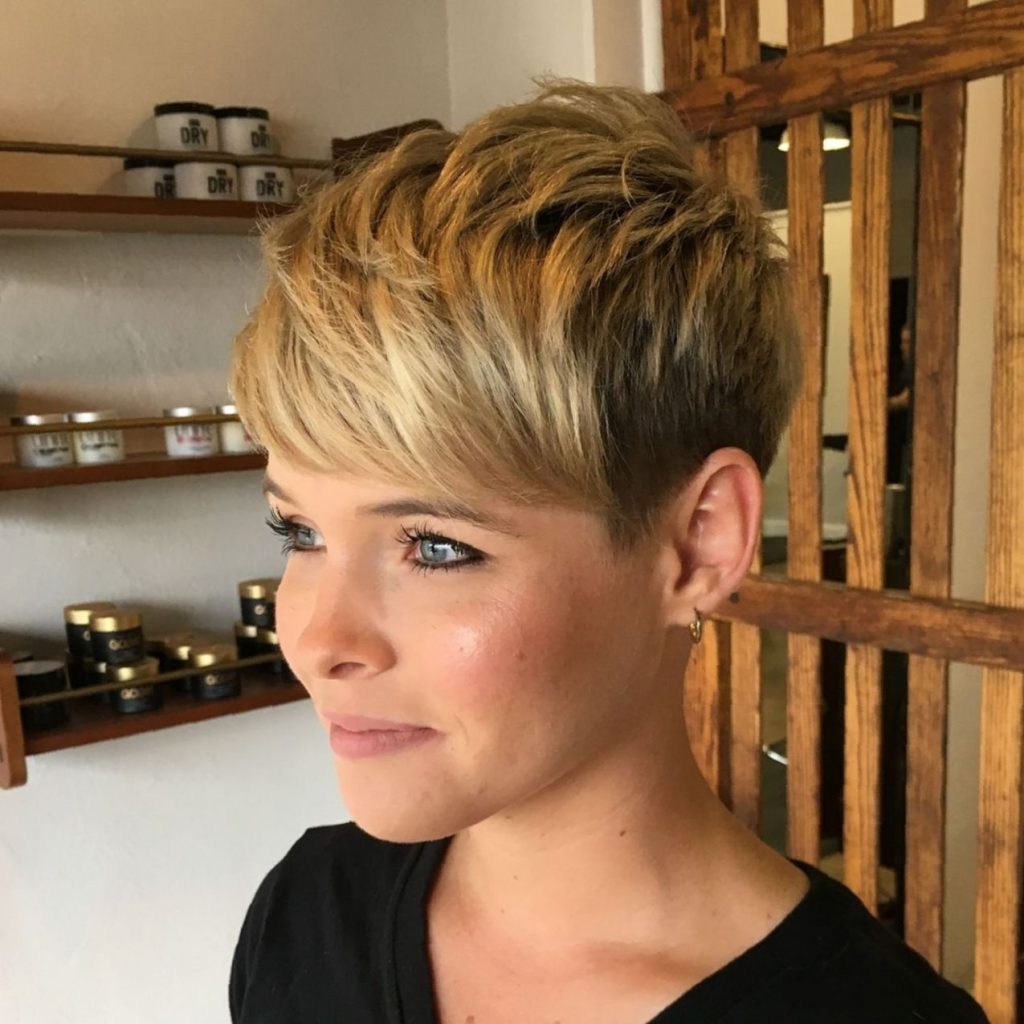 4. Tapered Pixie Bob with Ash Blonde Highlights
This long tapered pixie's highlights and delicate feathering will help you make an impact on everyone!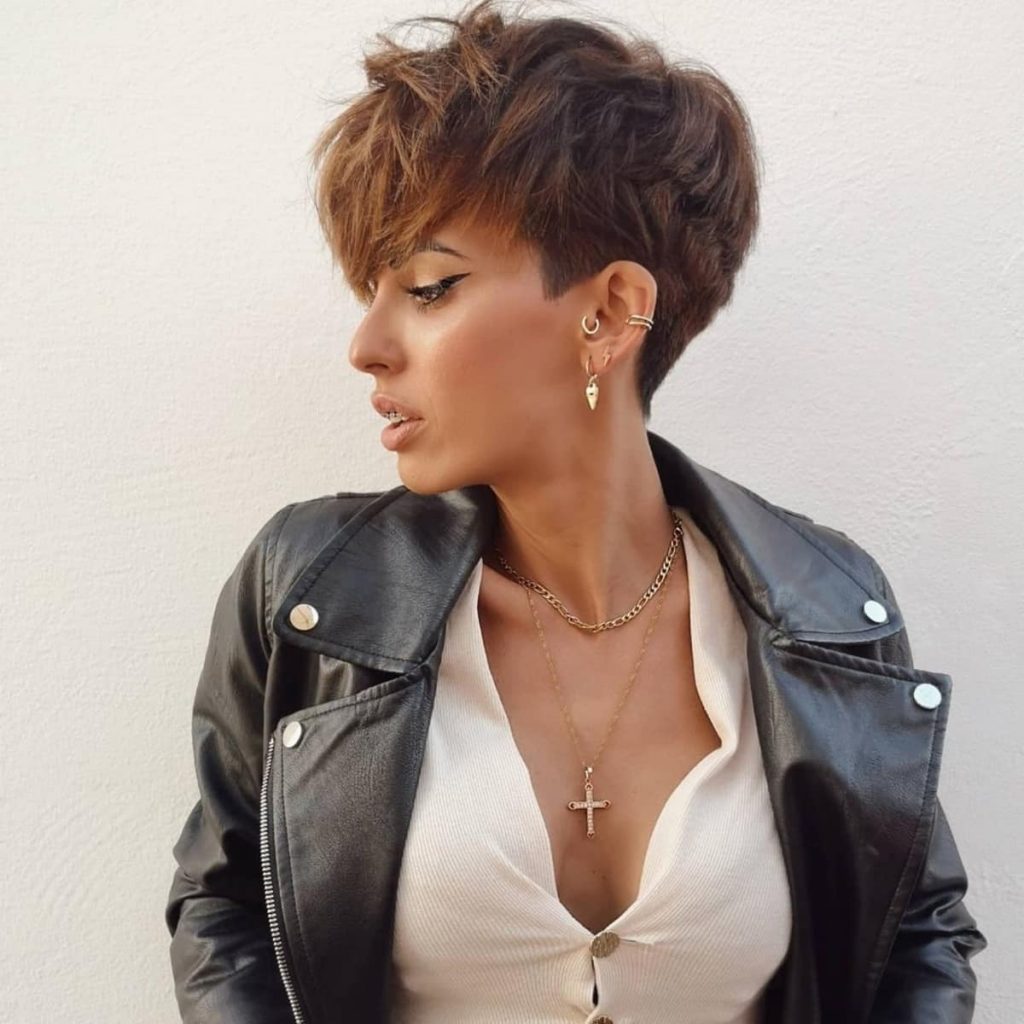 5. Chopped Blonde Pixie with Long Bangs
The long pixie cut with bangs, one of the most popular short hairstyles, is attractive and quirky all year round. The jagged layers give depth, and the blonde colour makes a strong fashion statement. Use a texture paste to fluff up the angular parts and provide volume.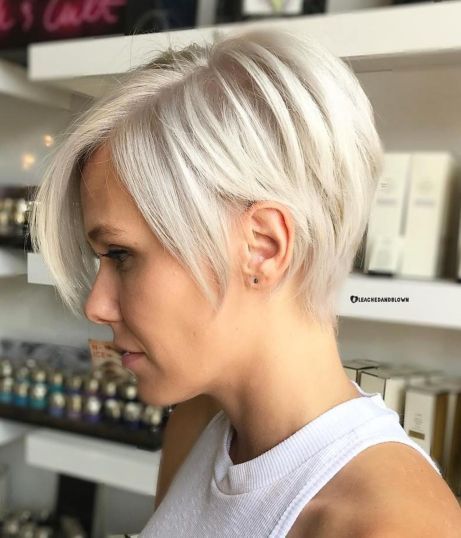 6. Long Sleek Undercut Pixie
These glossy honey-blonde layers are excellent for emphasizing your cheekbones and may be a good dimension-adding style for individuals with fine hair.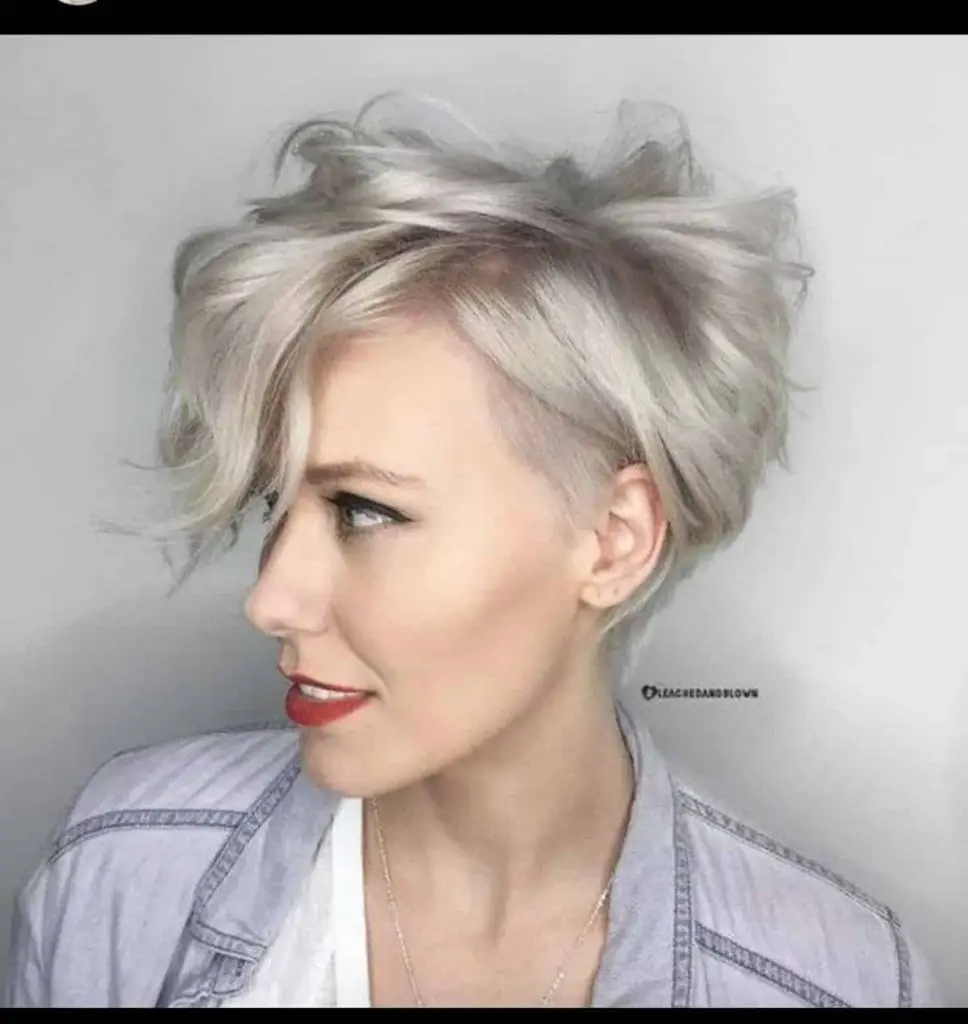 7. Silver Choppy Pixie with Long Bangs
This design is very contemporary and attractive because of wispy bits and a trendy grey hue. The smoothness of the cut makes it suitable for fine hair.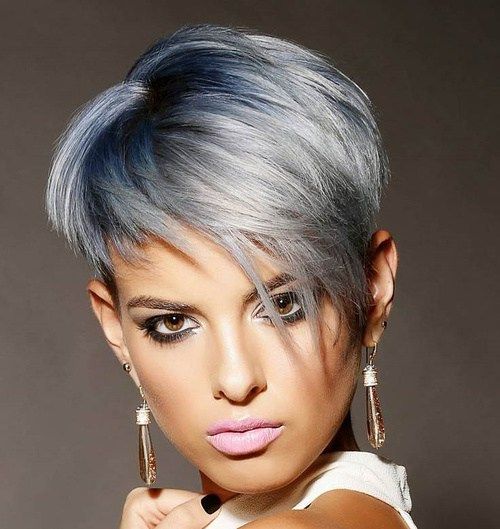 8. Edgy Long Pixie for Fine Hair
The long, layered pixie appears stylish and edgy because of its various lengths. The scattered shorter layers throughout provide thickness around the crown. Simply wear your hair smooth or ruffled for flexibility.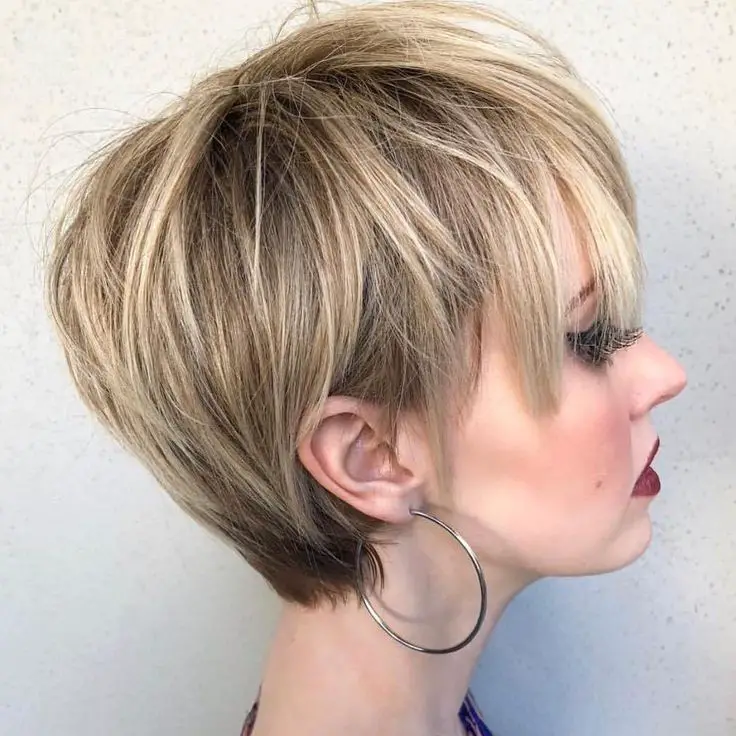 9. Pastel Purple Choppy Pixie
If you like a splash of color, a jagged pixie cut with pastel purple lengths might be ideal. The long face-framing fringe adds a touch of edginess, while the color adds a contemporary vibe and elegance.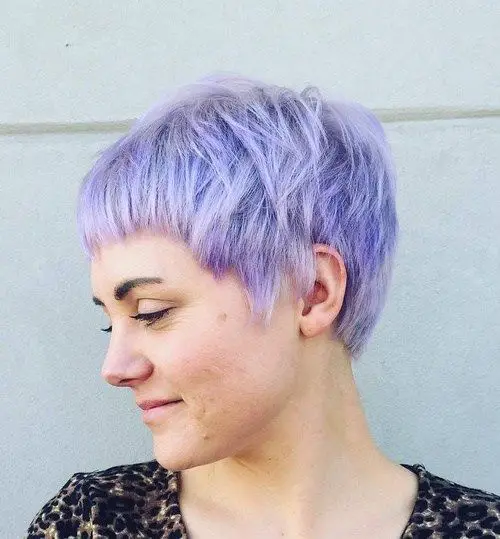 10. Messy Asymmetrical Pixie Cut
This edgy style is shown in a series of photos that enable you to get the entire image — from the rear perspective to the hip frontal portion. We like the deep side parting, which creates a magnificent dramatic look suitable for both an urban princess of hipsters and a bohemian dreamer.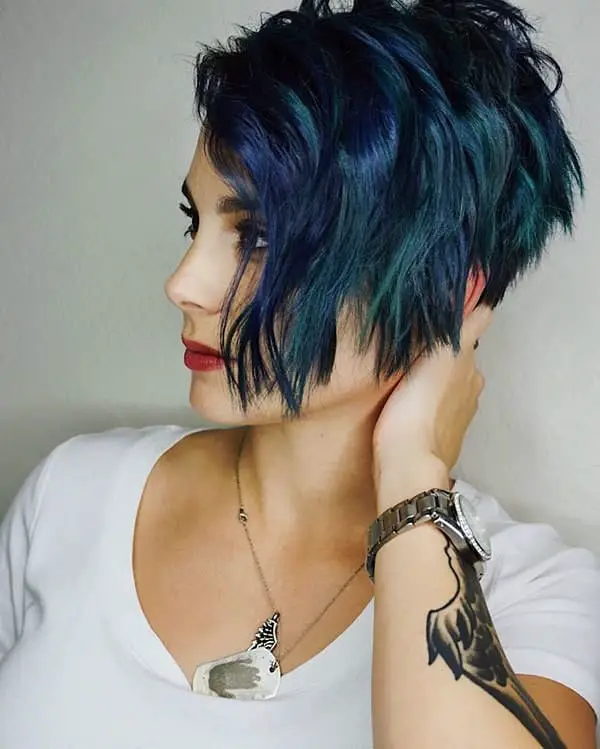 11. Dark Brown Pixie with Long Bangs
The shorter side and long front suit your facial shape well. Long diagonal lines may be used to lengthen your face or to conceal a large brow. With that component in front of the ear, you may also slim down your face.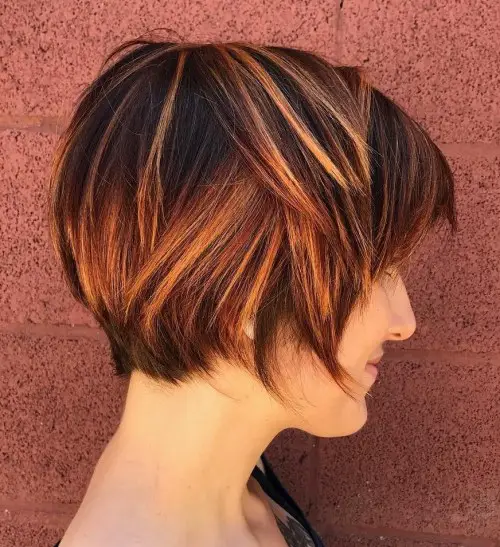 12. Long Textured Pixie with Asymmetrical Nape
Consider a long pixie if you like shorter hair that isn't too short. Hair is a woman's first natural ornament, so don't be in a rush to cut it off entirely. Long side pieces, a poofy top, and wispy layers trimmed in various lengths provide the necessary aesthetic options. Experiment with different colors and leave one side considerably darker than the other.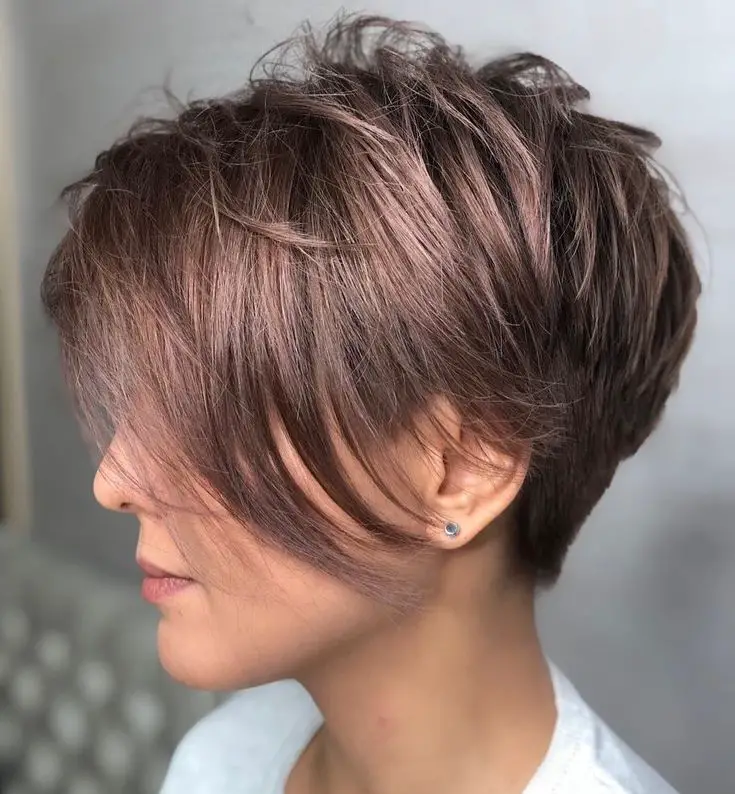 13. Pixie with Long Highlighted Layers
Long layers over a clean undercut, as well as brilliant silver and soft pinkish accents, are the elements that make this style so beautiful.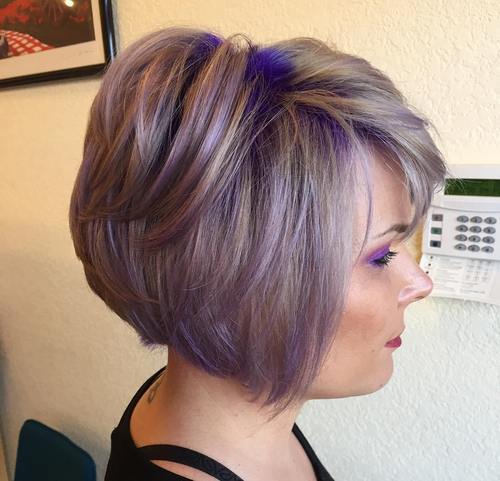 14. Asymmetrical Brunette Pixie
How can a one-color pixie be made interesting? Choose an asymmetrical silhouette, add shine with appropriate hair products, and define certain strands with waves. The haircut shown here would also look nice on curly hair, so give it a try if you want something fashionable and out of the ordinary.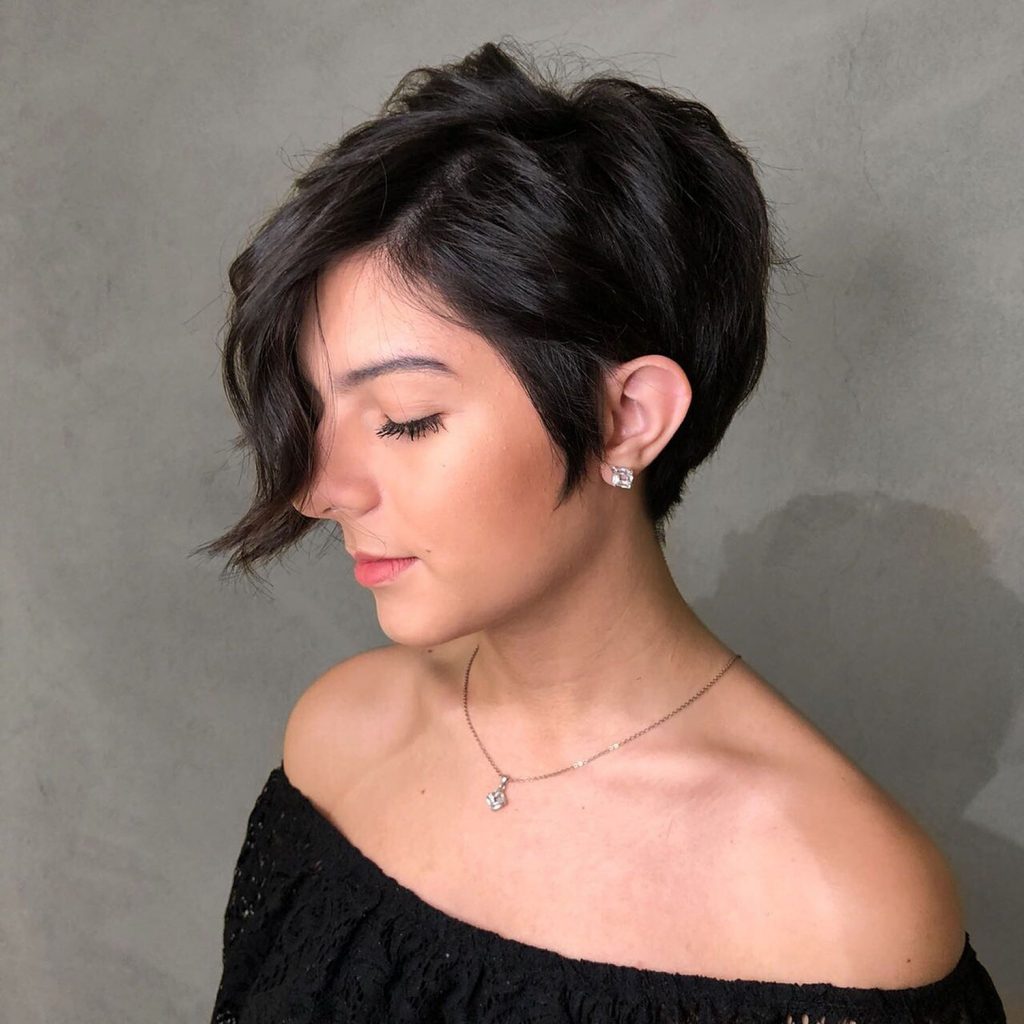 15. Textured Pixie with Subtle Highlights
The choppy layered pixie cut has a light balayage. However, the color isn't the primary attraction — the texture and layers are.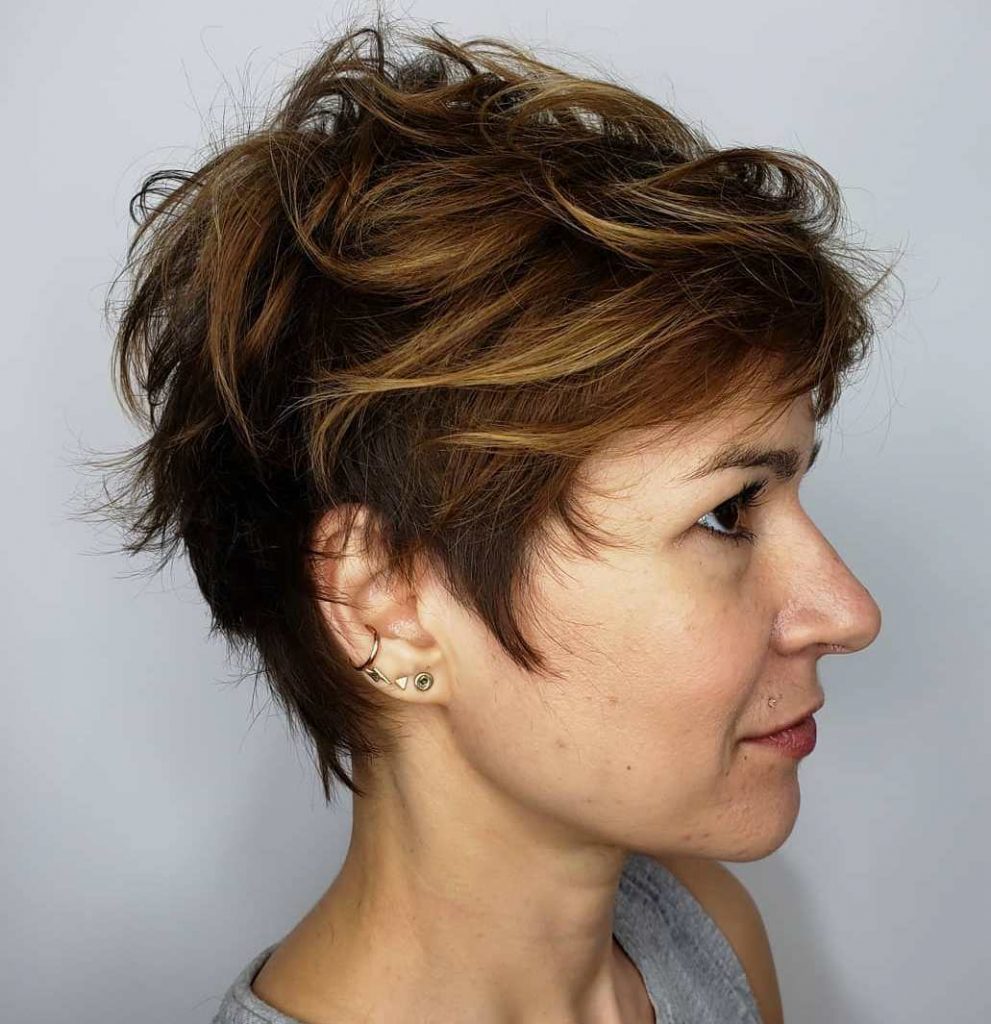 16. Choppy Pixie with Long Feathered Bangs
Take the leap with lavender brown hair color and a jagged pixie with feathery bangs on your beautiful locks. The lengthy front pieces touch the jawline just enough to bring attention to your face's appealing features. The short nape and disheveled top give a fun element.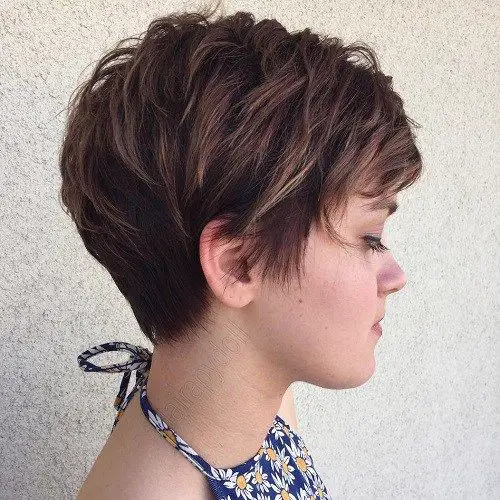 17. Rosewood Tapered Pixie
A tapered pixie cut like this may be a good option for people who enjoy the appearance of tapered pixies. It's lengthy in the front, and the bangs are very flattering on round features.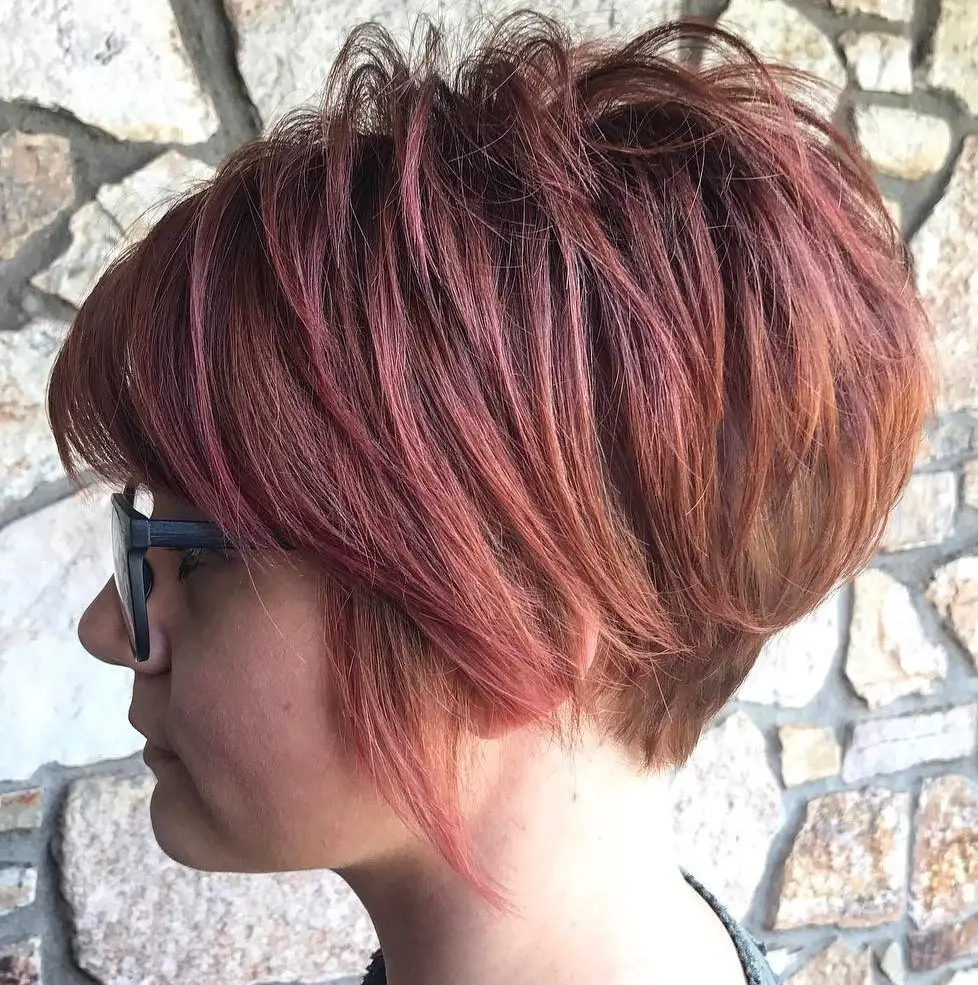 18. Uneven Shaggy Pixie Bob
Choose an uneven scruffy pixie if you want a casual look. To create the mussed-up, chaotic look, the lengths vary considerably. For a unique look, request an uncommon hue and wear your hair naturally disheveled.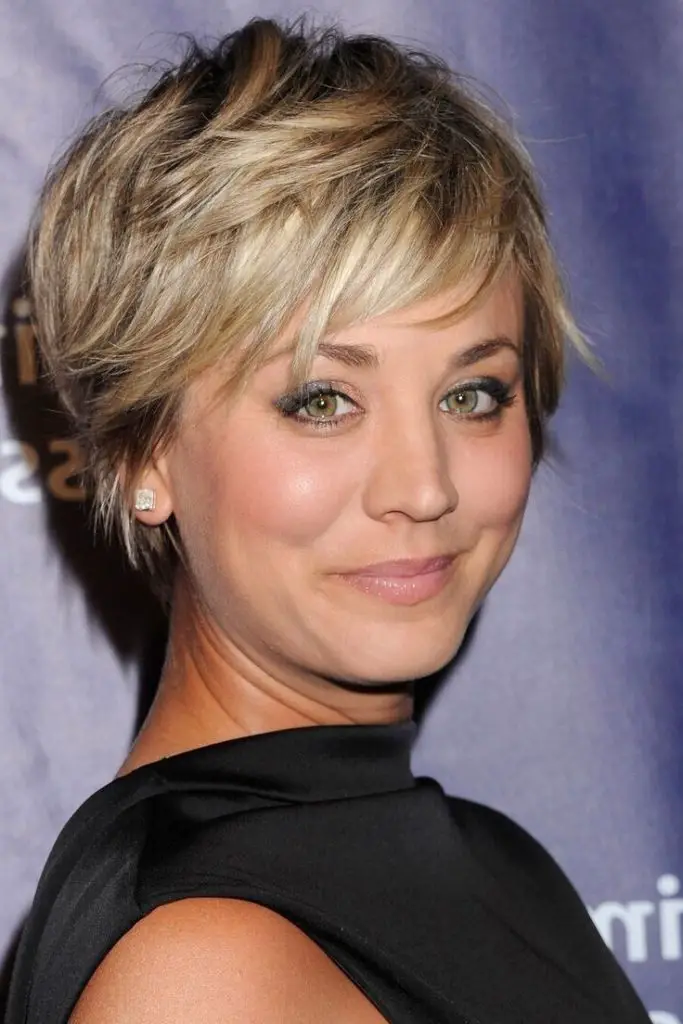 19. Long Shaggy Blonde Pixie
Take your time defining the shaggy parts of your new asymmetrical pixie. It's surprisingly low-maintenance; long pixies need a bit more effort, but it's well worth it. Your entire look is urban, thanks to the uneven, ruffled top and big, face-framing bangs.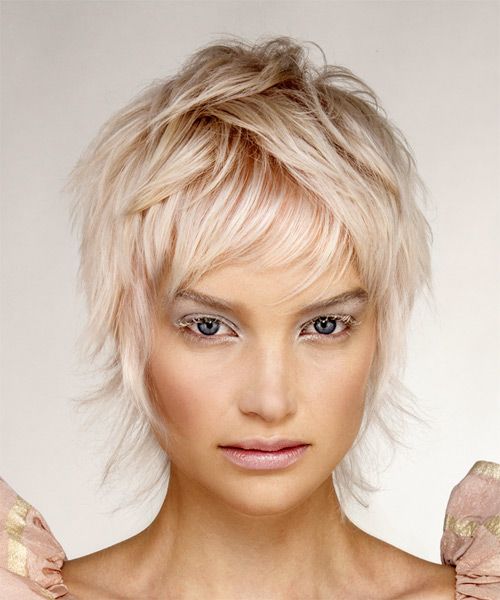 20. Platinum Pixie Cut with Long Bangs
Even without the fashionable accessories that complemented her outfit, her asymmetrical pixie cut is stunning. The delicate and fine wispy texture, striking golden blonde hair color, and precisely cut sides are absolutely captivating. If you have naturally fine hair, this low-maintenance pixie haircut may be your next look.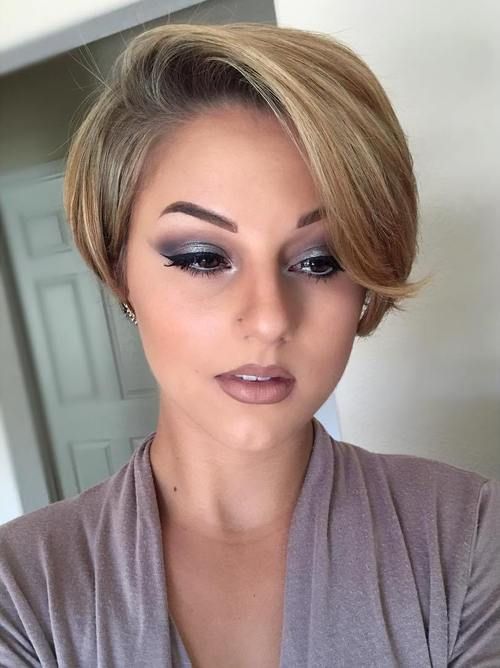 21. Messy Auburn Pixie Cut
A vivacious personality can carry off a cheeky pixie cut. The fact that it is short does not preclude it from being layered. Your appearance will be enlivened by a plethora of angles and a plethora of textures. A fiery red hue may be exactly what you're looking for to take your pixie to the next level.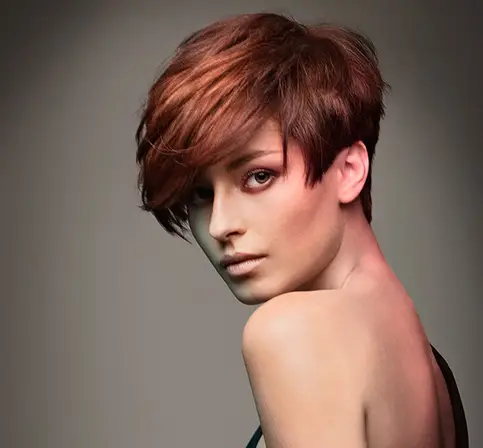 22. Thick Hair Long Pixie Cut
A pixie haircut is an excellent technique to make thick hair manageable and simple to style. Cropping the hair and adding some stacked layers will give this low-maintenance pixie hairstyle some much-needed depth. Her appearance is brightened by the flirtatious soft golden brown highlights in the back.

The most important thing to know if you're debating whether or not to have a pixie cut is that you don't have to make a decision right immediately. If you've never gone short before, it's a good idea to start with a lob, then a bob, and then progressively go shorter as you become more comfortable with it.
Long pixie haircuts offer you greater flexibility to experiment with hair textures in addition to altering the flow of your hair. Curl your hair to get fashionable beach waves or straighten it to achieve a flawlessly sleek 'do – just be sure you buy a narrower flat iron size for more style options.
So, if you're considering having a lengthy pixie cut, bookmark this article for future reference!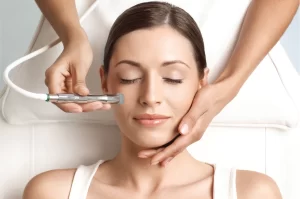 Skin Care
Editor's Choice Microderm Glo Mini Diamond Microdermabrasion and Suction Tool Latest price 2nd Best Choice
Read More
Subscribe to our newsletter