Hot Tools Professional 24K Gold One Step Dryer Volumizer
John Frieda 1 ½-inch Hot Air Brush
Revlon One-Step Volumizer Hair Dryer
If you've used the platform TikTok or Instagram in the past month, you've undoubtedly seen videos and pictures of people using a hair dryer brush to blow-dry their hair. They appear like big circular brushes, but they're corded.
Hot-air brushes have been around for decades, but it hasn't stopped people from falling in love with them. It is mostly due to social media that they have made a comeback as a hot trend and popular product. Hold on a second, however.
Many cosmetic products go through periods of popularity and decline, but hair dryer brush popularity has been present for years. Combining a blow dryer with a round hair brush to dry, style, straighten, and smooth hair at the same time saves time and effort.
A round brush (and even if you don't know how to use one, they're easy to learn). Choose a dryer brush to find out which one works best for you.
The Dyson Airwrap Styler is a Swiss army knife for hair care, specializing in blowing dry hair. The Dyson Supersonic Hair Dryer also uses air styling technology, which avoids the need of excessive heat to dry hair quickly.
There are two main reasons to spend on the Dyson. First, it comes with all sorts of accessories. The round brushes are excellent for providing that round brush blowout look that maintains volume when utilizing the cool shot button.
2. Revlon One-Step Volumizer Hair Dryer
This product's form is oval with rounded corners and is intended to produce big, airy, voluminous hair by increasing strands at the root and providing body and flexibility to the lengths. The nylon pin-and-tufted-bristle combination in the brush aids in the detangling process, but also helps add body. You may choose two heat and speed levels, and there is also a cool shot button to assist with your style.
Your hair will be silky and smooth after drying it with the tool.
3. John Frieda 1 ½-inch Hot Air Brush
John Frieda's Hot Air Brush is the best way to get salon-worthy blowouts at home. Many of the options on the multi-heat and multi-cool down setting guarantee that reliable professional results are produced. It also helps because the titanium ceramic barrel distributes heat evenly. More than 10,000 Amazon reviewers have a true obsession.
It smooths out the kinks and curls leaving the blow out looking sleek
4. Conair InfinitiPro Dry & Styler Hot Air Paddle Brush
This will do more than one great hair day and it costs less than a professional blowout. There are two distinct types of bristles: nylon detangling bristles help dry hair faster, while silicone bristles around the brush provide more shine.
2 heat and one cool setting for all hair types
5. Ghd Rise Hot Round Brush
It really gives your already dry hair a frizz-free finish. Use this thin circular brush on your scalp, wrap your roots around the base for a few seconds, and receive an extra inch of height. You'll end up with consistent results when styling your locks.
Perfect for the frizzy hair
6. Bed Head One-Step Hair Dryer and Volumizer Hot Air Brush
There are many unique characteristics to this Bedhead hot air brush that distinguish it from other models and make it a terrific value for the price. To give your hair volume and definition, it uses oval-shaped brushes with mixed-pattern bristles. It is also equipped with three heat settings for greater flexibility, and reviews state that it is quite simple to operate.
Mixed-pattern bristles create definition and texture
7. Drybar The Double Shot Blow-Dryer Brush
For half of the stylists, the Drybar Double Shot Blow-Dryer Brush is a good suggestion. There's nothing particularly shocking about our experts' assessment of a salon brand renowned for its outrageously priced blow dryers; it's par for the course when it comes to the blow dryer brush. Using the ionic technology in the brush helps to seal the cuticle and reduce frizz.
Provides tons of volume and a smooth finish.
8. Babyliss Nano Titanium Rotating Hot Air Brush
This ionic brush features anti-static bristles and an ionic technology that decreases frizz and enhances shine each time the hair is passed through. To avoid damage to thin strands, use the three temperature settings for styling. This should be utilised to complete your style process, at the end of which you will have reduced any sign of frizz and added the finishing touches. damp hair is more prone to breaking, therefore hair should be at least 80% dry.
Three heat settings are in place to help avoid harm from extreme heat.
Jinri brushes have the force of a drier and, using one-step processing, replicates the volume of hairstyle with a round brush. This ½-inch tool's tiny barrel is good for blowouts, but styling short hair takes somewhat longer. This product's brand advertisement states that the ceramic technology keeps moisture in so your hair remains soft and silky.


Negative ion saturated airflow helps to condition, smooth the hair
10. Hot Tools Professional 24K Gold One Step Dryer Volumizer
This tool has 24 k gold plating on the outside, but this is not just for the sake of appearances—the gold really helps evenly distribute heat for a more uniform style. Warding off frizz and static is protected by Direct ION Technology, and charcoal-infused bristles guarantee a smooth surface.
This device also features temperature control that offers rotational speeds and three different settings
Are hair dryer brushes helpful for your hair?

It depends on the texture and ability of your hair. If you're someone who can't really give himself a professional blow at home—particularly if you have thick or curly hair—yes, a heated hair brush is undoubtedly a great instrument to attempt. But you may not find your hair so smooth and smooth as your normal mix if you're someone that's somewhat skilled with a round brush and blow drier.
The products listed here have raving customer reviews and certified by reliable authorities. Try the one that best suits your needs and fits your budget. If you want to know more, don't hesitate to leave a comment. We would love to hear from you!
Hot Tools Professional 24K Gold One Step Dryer Volumizer
This tool has 24 k gold plating on the outside, but this is not just for the sake of appearances—the gold really helps evenly distribute heat for a more uniform style. Warding off frizz and static is protected by Direct ION Technology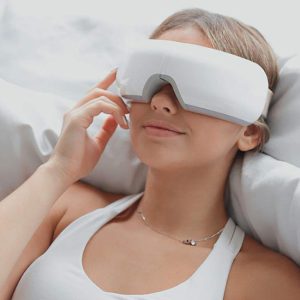 Skin Care
Editor's Choice Worxvell Eye Massager Latest price 2nd Best Choice SereneLife Eye Massager Latest price
Read More
Subscribe to our newsletter