Pandemic weight gain is real, especially if you are spending most of your days at home, but let's not be ashamed of that. You and I are struggling to flatten that pandemic curve – measured in kilos. As much as we love staying indoors and munching on tidbits, maintaining a healthy weight is more paramount than temporary pleasure. Besides, when it's time to put off those extra pounds, we can get a little reluctant to work out, or get caught up with other responsibilities. While exercise is a significant imperative to burn fat, a reliable slimming product like Avalon Fat Burner Plus makes an effective companion to accelerate the process.

A Little About the Company
Being a home brand and one that is highly recognised in Singapore, Hi-Beau International Pte Ltd, carries a myriad of brands with specific functions — detoxification, slimming & beauty, immunity & digestive health, and glucose reduction — under its wings, one of which being the Avalon Line. Utilising advanced research and development in healthcare science with state-of-the-art technology and expert knowledge in functional food, you know their products are ones you can rely on. Safe, natural, and effective are what they stand for. On top of that, their quality products and brand management efforts have earned them multiple awards and honours over the years. 
Avalon Fat Burner Plus – Best Slimming Product Singapore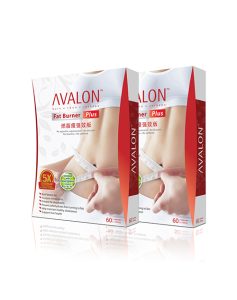 The Avalon Fat Burner Plus is an improved formula of the former Avalon Fat Burner, designed to be 5 times stronger and more effective than any regular fat burning formulas 
Formulated with all-natural ingredients such as green tea extract, black pepper extract, curcumin, aloe barbadensis extract, water soluble fibre and vitamins B1, B2 and B6; if you have been sceptical about slimming pills due to unknown ingredients, you need not worry about this one. Plus, it is vegetarian- and muslim-friendly, how amazing is that. Hari Raya is around the corner, be sure to stock it up and prevent those Raya pounds from piling up after savouring all the Sarang Semut!
Avalon Fat Burner Plus slimming pill promises to increase one's metabolism rate, prevent fat absorption, support liver, kidney and joint health, as well as to maintain healthy cholesterol and blood sugar level.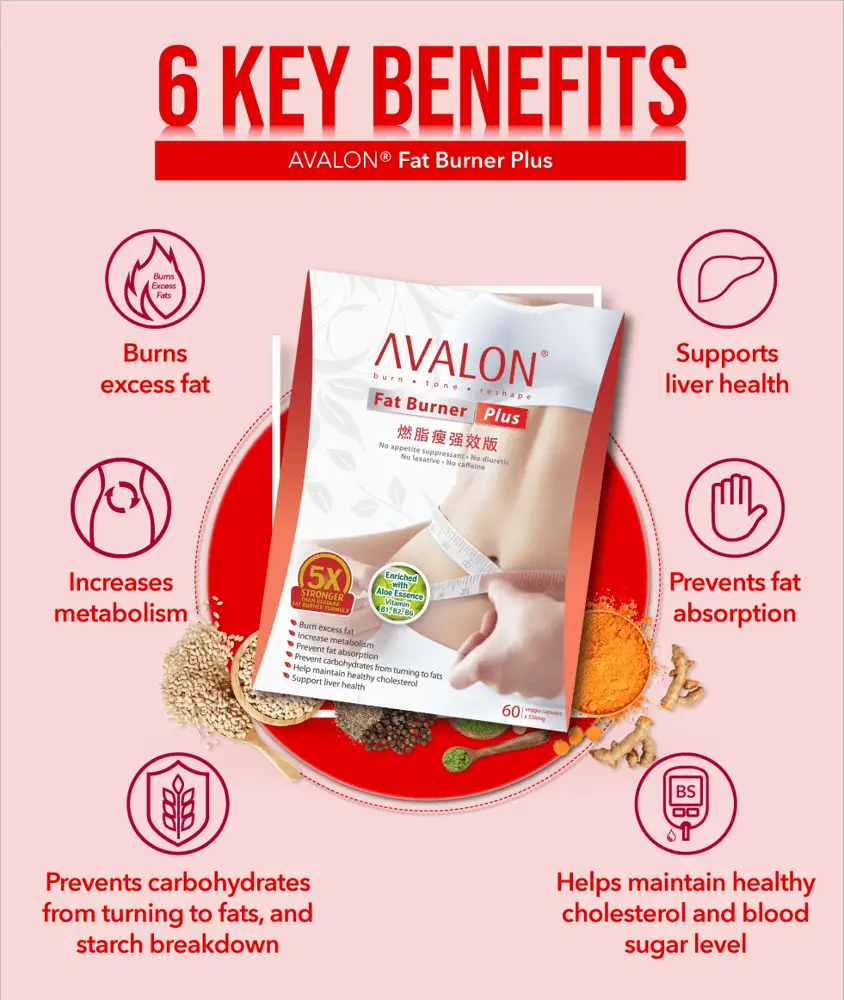 One thing I'm fond of this product the most is that it doesn't contain a tad bit of diuretic, laxative, appetite suppressant, ephedrine, and caffeine — ingredients that many slimming pills out there contain — rest assured that it doesn't induce dehydration, diarrhoea or heart palpitations. Being in today's fast-paced lifestyle, nobody has time for a bad tummy.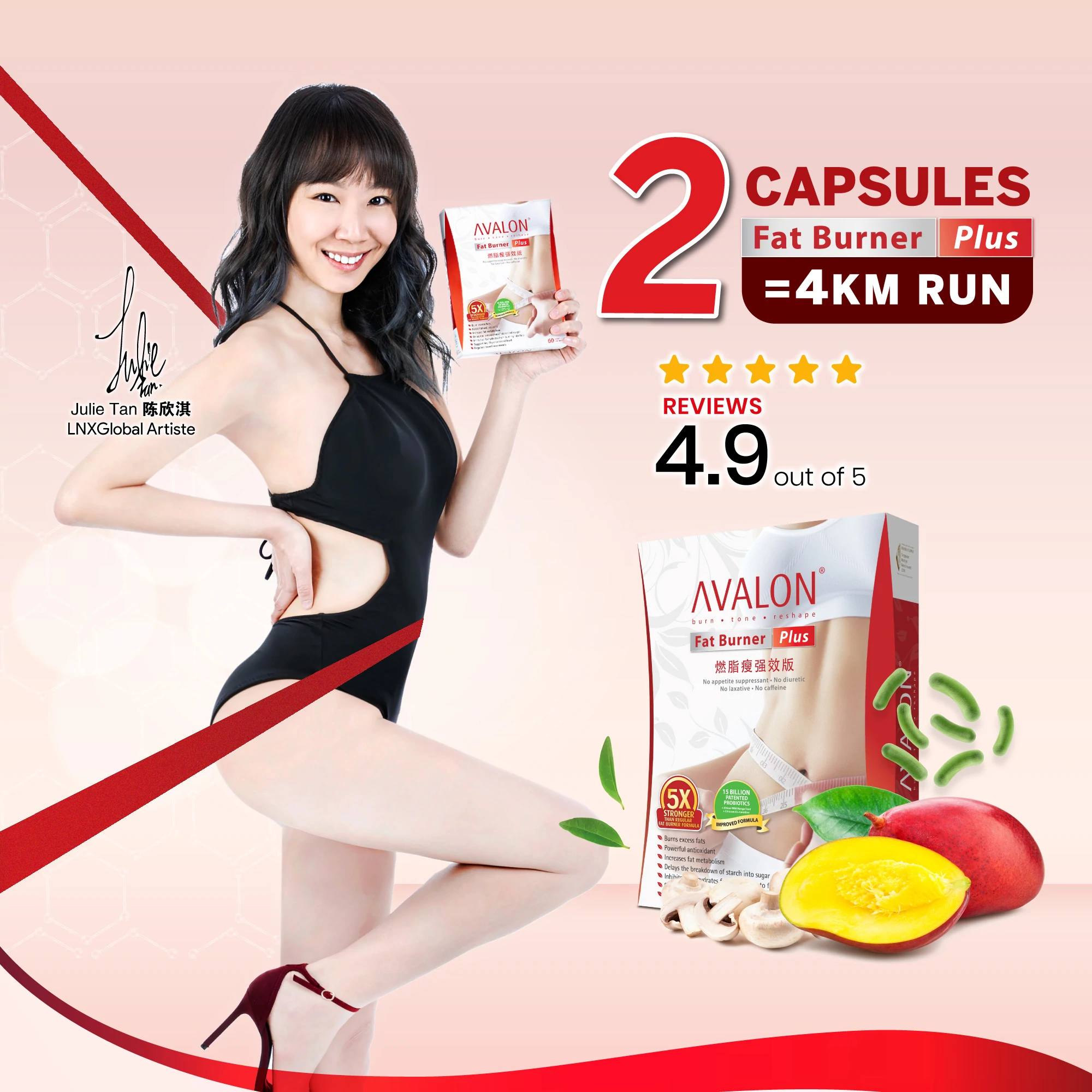 In the Box 
Each box of Avalon Fat Burner Plus comes with 3 sealed foil bags. Inside each foil bag you'll get 20 capsules. Such packaging is a lot more sanitary than keeping pills in a jar, and making consumption much easier and on-the-go too!
Once you have ripped open a foil bag, be sure to store in the fridge to avoid contamination. 
Recommended Consumption & Precautions
The recommended consumption for Avalon Fat Burner Plus would be 1 capsule in the morning before breakfast and 2 capsules in the evening before dinner; 0 to 15 minutes before meals. Though its main ingredient is green tea, you need not worry about insomnia for it has already been decaffeinated. 
To obtain desired results, chug a full glass of water and consume the product for a minimum of 8 weeks. 
Individuals below the age of 18 musn't consume this product. Women who are nursing, pregnant or expecting are advised to consult their healthcare practitioner prior to consuming this slimming product.
Avalon Fat Burner Plus Side Effects
I wish to bring you the closure you've been seeking, and we'll settle this once and for all, Avalon Fat Burner Plus doesn't bring any side effects. It is free of ephedrine so don't worry about jittering. Thanks to their 100% natural formulation, there shouldn't be any damage done to your organs and is ideal for long-term consumption. 
Using a dietary supplement to lose weight is not uncommon whatsoever. It is not wrong either, you just need to rely on the right product that maximises results and minimises the side effects or even better, without side effects at all, and there we have it — Avalon Fat Burner Plus! 
Remember that results are apt to vary from one person to another. Just because it does work for me, it may not function as effectively for you, and vice versa. Before you condemn a product for not delivering its promises, here are 15 best slimming products in Singapore for you to widen up your options. There is always something for everyone.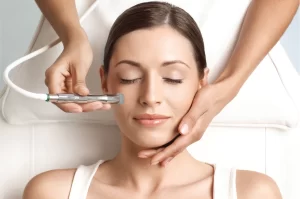 Skin Care
Editor's Choice Microderm Glo Mini Diamond Microdermabrasion and Suction Tool Latest price 2nd Best Choice
Read More
Subscribe to our newsletter