Hair extensions have long been used to boost confidence and add volume and length to your hair. But there's a new favorite in town when it comes to your options in 2021, Hand-Tied Hair Extensions have taken the business, the industry, and extension fans by storm, providing the most natural-looking and damage-free weft installation method available.
Hair extensions that don't wreck your natural hair? We're delighted to advise you that you may now have both! This approach is quickly gaining popularity, and if you're thinking about getting hair extensions, here's all you need to know about the hand-tied method.
If you've ever had or considering having hair extensions, you've probably heard the term "hand-tied extension." Having said that, many of us aren't sure what it implies. What exactly are wefts? How are they used? How long do they last, and will I be able to correctly style my hair? If you're asking yourself these and other questions, you've come to the perfect spot! We've covered all you need to know about hand-tied hair. This includes the application procedure as well as aftercare.
Hair extensions provide a great deal of adaptability. At the drop of a hat, you may experiment with numerous hair lengths, colours, and styles. Aside from the many hair alternatives, there are also several procedures for applying for extensions. Clip-ins and weave are two of the most frequent procedures, while hand-tied hair extensions are another popular way stylists use in salons.
If you're interested in detailed beauty procedures, you've probably already spent some time watching videos to witness the rewarding hand-tied extension technique. This strategy may also be unfamiliar to you. If you're thinking about attempting hair extensions, this technique may be of interest if you want an extension installation process that maintains hair healthy by reducing breakage while adding length and fullness when properly applied, of course.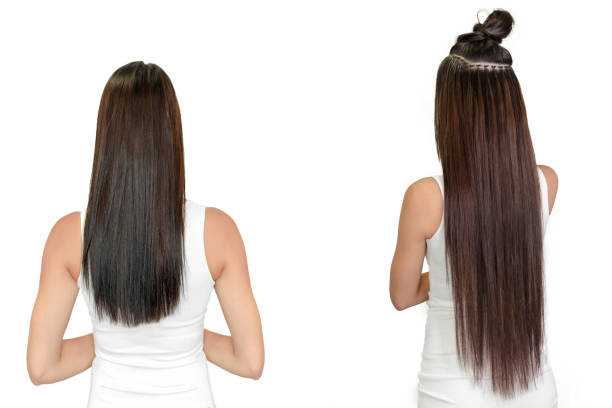 Are Hand Tied Hair Extensions Harmful to Your Hair?
We'd all like to have hair that makes us look beautiful. Unfortunately, not everyone has thick, abundant, healthy hair strands cascading from their head. Fortunately, the beauty industry has a remedy for this issue: hair extensions. Micro links, sew-in, and tape-in extensions are all alternatives, each having its own set of advantages and disadvantages. The topic of today's discussion will be hand-tied extensions.
What exactly are hand-tied hair extensions?
Hand-tied extensions are a type of weft hair that is implanted on your hair by weaving or sewing. The procedure is similar to that of sewing a hole in a sweater. The wefts are not sewed directly into your scalp, but rather into your hair in the form of an invisible link created by small braids or beads.
You may rapidly expand the volume of your locks by using this extension approach. Hand-knotted extensions provide a natural appearance, are simple to place, and are inexpensive to maintain. The thorough procedure is great for people who want to add volume and length to their hair without placing too much strain on their scalp or hair.
The names of the two approaches distinguish them. "The stylist connects wefts onto the row of beads by hand-tying the wefts in with cotton or nylon thread," Johnson, a hairstylist, says. "The amount of rows and wefts utilized is determined by the client's hair density, length, and desired final result." They differ from tape-ins in that tape-ins employ a medical-grade tape adhesive to sandwich bits of a client's natural hair between two extensions. The two tape tabs connect and form the tape-in area, which is repeated throughout the head."
Do Hand Tied Extensions Require Glue Or Heat?
No! The fact that hand-knotted extensions are woven into the hair is what makes them so appealing. This eliminates the need for any potentially harmful heat or adhesive during the application procedure. This also means that there will be no heat damage or residue to clean up after the stylist removes your extensions.
The quantity of tape-in packs utilized, like hand-tied extensions, may differ depending on the client's tresses and hair objectives. Apart from technological differences, the two procedures differ in terms of time. The amount of time you spend in the chair will eventually depend on the characteristics of your hair, but you can anticipate a hand-tied session to run between two and two and a half hours, while tape-in sessions can go up to an hour and a half.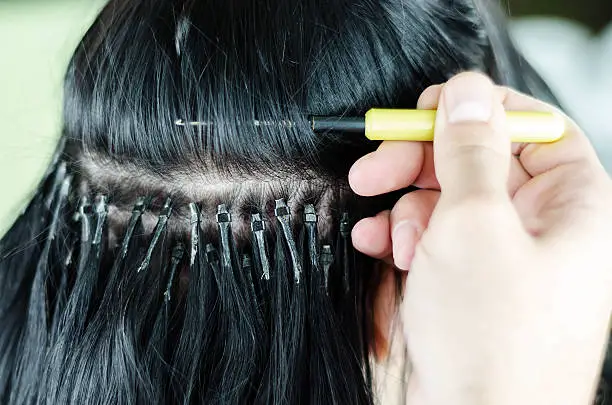 Do Hand Tied Extensions Affect the Application Process?
Your hairdresser will handle your natural hair with utmost care to avoid tugging or irritation. Furthermore, each weave ensures uniform weight distribution. This results in no pain during application and no harm subsequently.
Are hand-tied extensions Really well for fine hair?
On thin hair, hand knotted extensions may add much needed volume. Hand tied extensions can be beneficial for thin hair if the hair is naturally thin and has nothing to do with underlying hair loss concerns. One thing to keep in mind is that if your hair is extremely thin, bulky wefts may be difficult to conceal. If the extensions are too heavy, the natural hair may be strained, resulting in an unfavourable final appearance.
Do hand-tied hair extensions look good on short hair?
Yes, hand tied extensions may be worn on short hair, but the installation may need some deft manoeuvring on the part of your hairdresser. Short hair style and hiding short hairs that pop through or jut out are important considerations. Finally, the extensions should be able to mix in with the natural hair.
Who should go for hand-tied hair extensions?
People with long hair past shoulder length and on the thinner side get the finest results with beaded row hand tied extensions. If you have short, blunt hair, you should use a different treatment, such as Keratin Fusion. With hand knotted wefts, thin hair mixes in smoothly and looks very natural. If the ends of a client's hair are excessively thick or blunt, the ends will need to be thinned to blend; I like to use a razor for thinning. Hand tied extensions are the most pleasant and least harmful extensions when performed correctly. Make sure you get your hair extensions put by a competent specialist.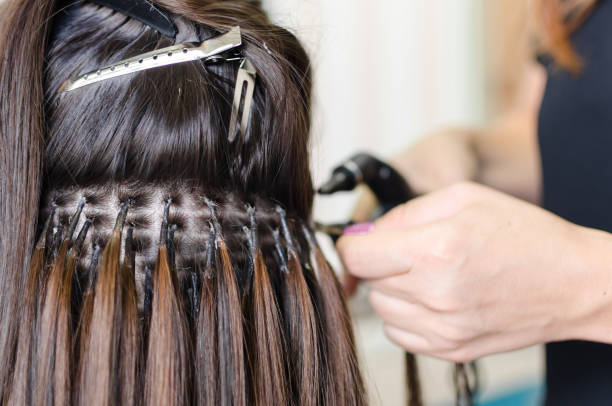 What is the cost of hair extensions?
The cost is primarily determined on your objectives and location, however the average beginning price is $200. This price does not include the wefted hair extension.
If you want to boost the volume, your desired look may necessitate 4 to 8 wefts. If you have fine hair, you may require more than 8 wefts, which means you will need to purchase extra hair. Better grade hair is more expensive, but it will last longer and may be reused for many years.
Over time, maintenance becomes the most expensive expenditure. You'll start by paying to have a row or two tightened, then ultimately have the extensions removed and reinstated.
Prices vary depending on the amount of work required for modifications. Hair colour and special haircuts may raise the cost.
A decent consultation should give you an indication of how much the hand tied extensions will cost.
Installations and maintainence
Adding extensions is always depending on the condition of your own hair. Hand tied wefts require extra forethought to ensure that each weft is placed in the greatest possible location, thus it takes some time. Hand knotted extensions require at least five hours of installation time. 
When it comes to what is sewn into your hair, 2-4 wefts are normally sewed into each row. Sometimes one row suffices, while other times two or three are required. It all depends on the aesthetic you want to achieve. Your stylist will explain your individual hair goals and what will be required to attain them during your hand-tied hair extension consultation.
You may anticipate to use the same extensions for roughly 6-8 months after the original installation. However, depending on how quickly your hair grows, you'll need to return to the salon every 6-10 weeks to have the extensions pushed higher.
How long can they be expected to last?

The lifetime of your style is determined by how you care for your hair after your visit. Hand-tied extensions typically last six to nine weeks before needing to be renewed. However, she also states that the time between sessions is determined by how quickly your hair grows and if you take the time to properly care for your hair. The hair extensions itself will last further if properly cared for, and may often be reused for six to eight months.
The benefits and drawbacks of hand-tied hair extensions
Keep in mind that your choice of expert, as well as the weight and colour of your extensions, will all have a significant impact on the outcome. Here are some advantages and disadvantages:
Hair loss as a result of hand-tied extensions
Hair loss with hand-tied extensions is possible and is usually caused by increased stress, friction, improper installation, or an underlying hair loss issue. Taking a break between installations liberates the hair and scalp, making it easier to rinse and thoroughly clean the scalp.
Hand tied extensions may not be the answer to a thinning hair problem. A trained hair loss practitioner or medical representative will be most prepared to handle such a problem. There are a variety of choices available to help you achieve your hair goals.
How can you keep your hand-tied extensions looking good at home?
Here are a few basic things you can do at home to keep your extensions in good condition:
1. Brushing and combing too vigorously can cause Tangles and the extensions to snag.
2. To avoid mildew, make sure your hair and scalp are completely dry after shampooing. That's right, you read that accurately. Mildew can grow on your scalp and hair.
3. To clean the extensions, use a light sulfate-free shampoo. Clarifying shampoos might be excessively drying for your hair.
4. To keep hair silky, use a satin pillowcase or a loose top knot with a satin scarf. Cotton pillowcases dry quickly and might create friction.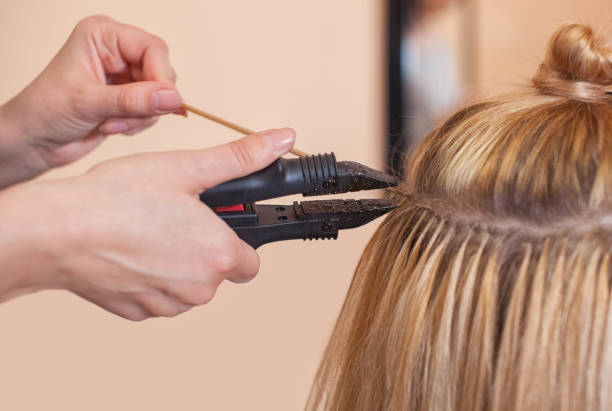 Is it worthwhile to invest in hand-tied hair extensions? That's a solid yes, as you'll see when you look at the perks. They are healthier and more natural than tape-in hair extensions. You don't even have to worry about harming your hair by putting them on and taking them off every day.
More hair gives more opportunities to experiment with different styles! And with the manner these hand knotted hair extensions are applied to your hair, the possibilities are endless. They're knotted into the hair in such a way that they're disguised in any haircut. Ponytails when working out? Braids during sleeping? Work-appropriate bun? If you can name it, you can do anything without worrying about your extensions being seen!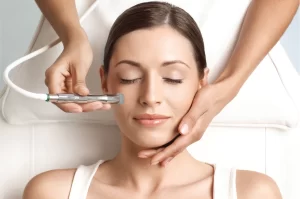 Skin Care
Editor's Choice Microderm Glo Mini Diamond Microdermabrasion and Suction Tool Latest price 2nd Best Choice
Read More
Subscribe to our newsletter