All natural-haired ladies, unite! No matter how much you adore your textured strands, there's one hairstyle you're almost certainly going to try as part of your natural hair journey: a silk press. Sure, twist-outs and pineapple styles are stunning, but silky smooth strands are a refreshing contrast. Do you think you're ready to try silk press hair? That's exactly what we thought! Continue reading to get the lowdown on how to perform a silk press, as well as hair care recommendations for maintaining your new, silky 'do in tip-top shape.
Though the silk press method is doable at home with the appropriate equipment, technique, and materials, there's a reason why hair experts specialize in it and provide it in-salon, since there are four key phases to it. Learn how a professional conducts a silk press, how to make the style last longer, and what you need to know before making an appointment ahead.
WHAT EXACTLY IS A SILK PRESS?
Firstly, let's address the obvious question: "What is a silk press?" A silk press is a hairstyling method that involves using a blow-dryer and flat iron to straighten your hair without using a chemical relaxer. While it's easy to mistake a silk press for natural hair for a regular press and curl, these lookups the ante. Silk press hair is all about using less heat on your strands to give your mane movement, body, and a glossy finish without the weighted down effect that a traditional press and curl may create. Hair that is stiff is officially a thing of the past.
Are you ready to show off your sleek and silky mane? Continue reading as we guide you through the appropriate procedures for doing a silk press like an expert!
STEP 1: BEGIN WITH CLEAN HAIR.
To create a stunning silk press, ensure that your strands are clean and free of debris.
STEP 2: APPLY A LEAVE-IN CONDITIONER
Next, add moisture to your strands to help your 'do last longer. Simply apply a dime-sized amount of lotion to your strands and detangle your hair section by section. You're now ready to go on to the next phase.
STEP 3: APPLY HEAT PROTECTANT
Because this style necessitates the use of heatstyling equipment, you should safeguard your strands with a heat protectant. This reduces frizz, seals in shine, and protects your hair from heat damage.
STEP 4: PART YOUR HAIR IN
Part your hair into two even pieces and clip the top half in place with a hair clip. After that, divide the bottom layer into two additional parts and cut one out of the way.
STEP 5: BLOW DRY YOUR HAIR
Attach the concentrator nozzle to your blow dryer and brush your hair dry, working from the roots to the ends. Repeat on each part of your hair until your mane is completely dry.
STEP 6: GET YOUR HAIR READY FOR THE SILK PRESS
Just like you did with your blow-drying strands, you'll need to do the same for your silk press, but with a small twist. Begin by sectioning your hair into two portions. Partially split the bottom portion and fasten one side with a hair clip. This is when things start to get interesting. Instead of letting your hair alone, make a one-inch part to guarantee that the heat from your flat iron is dispersed evenly throughout your hair. Clip the remainder of your hair away from your face.
STEP 7: SILK PRESS YOUR HAIR
It's time to work your silk press magic! To make each pass count, begin flat ironing your hair as near to the root as feasible and work your way to the ends. Repeat on one-inch pieces of hair, running your flat iron over each one until you have a silky-soft mane. Remember that too many passes on the same piece of hair might cause damage, so go slowly for the best results.
STEP 8: FINISH THE DEAL
After you've flat-ironed your mane to perfection, all you need is a spritz of hairspray to seal it all in. Mist in some hairspray evenly over your hair. Voila!
You don't need a hot comb (pain) to accomplish a silk press anymore, and forget about the oil slick that you'd hear sizzling on the burning iron because products have gone beyond that. Smoothing shampoos and conditioners are essential for preparing the hair for heat. Towel-dried hair is then primed before being blow-dried straight.
After applying a thermal or glossing product, the hair is straightened with a styler set to about 200 degrees Celsius. But then here comes the crucial part of it all.
HOW TO CARE FOR YOUR SILK PRESS:
You don't want all of your hard work to go to waste now that you have a gorgeous silk press to flaunt. Continue reading for a few hair care ideas to incorporate into your regimen.
This is determined by a variety of variables. A silk press, you see, is simply a highly comprehensive hair straightening technique that uses just heat.
If you have an active lifestyle, you will probably sweat more than if you sat motionless all day and never become hot or wet. If you are the type of person who seldom perspires, congratulations. Second, your silk press is likely to last until your next hair wash, which may be anywhere from a week to a month depending on how long you go without washing.
Few more extra tips
TIP #1: PROTECT YOUR HAIR DURING THE NIGHT

Pin-curling your hair at night to retain a bouncy mane is one of the simplest methods to keep your silk press intact. Simply divide your hair into one-inch pieces. Take the tip of one of the parts, tuck it around one of your fingers, and roll it up until you reach the roots. Repeat with a bobby pin until you have a mane full of pin curls. Every night, wrap your hair with a satin scarf and you're good to go.
TIP #2: AVOID HEATING.

While it may be tempting to add extra heat to your hair, we strongly advise against it. Too much heat can deplete the moisture levels in your mane, resulting in rigid strands. That's not cool!
TIP #3: STAY AWAY FROM WATER

When using a silk press, you should avoid H2O at all costs, which includes water, steam, and perspiration. Even a small amount of water might cause your silky strands to return to their original roughness.
TIP #4: TAKE A BREAK FROM YOUR STYLING PRODUCTS

There is no need to use any additional hair products on your tresses. Excess product may give your hair a weighted down look and feel, and the objective is to maintain it glossy and bouncy.
IS IT HARMFUL TO YOUR HAIR?

This one is dependent on who you ask. If you're afraid of heat damage, you shouldn't do it very often since heat changes your curl pattern and if you don't protect it, it can lead to irreversible damage. When opposed to chemical treatments, this is the method of straightening your hair that will do the least damage to your locks as a one-time treatment. Nevertheless silk pressing can be pretty exciting to do.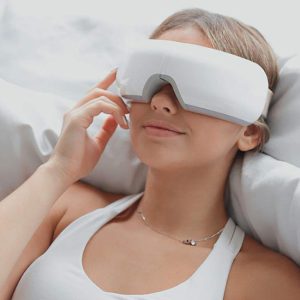 Skin Care
Editor's Choice Worxvell Eye Massager Latest price 2nd Best Choice SereneLife Eye Massager Latest price
Read More
Subscribe to our newsletter