If you are looking to adopt a trending korean hairstyle this year, I've prepared a list of the best korean shoulder length hairstyles that are most sought after this 2023.
From layered hair to cute hippie perms, to chunky highlights with a fun twist, you will discover the best hairstyle that fits your style and accentuates your features effortlessly.
It is an undeniable fact that Koreans are the major trendsetters in the present day who drive the force behind some of the most important global trends in everything from K-beauty to K-pop. 
If you think Korean hairstyles are only invented to suit celebrities, you are wrong. They are extremely popular for a variety of reasons, versatility being of them and you can definitely rock a hairstyle whether you are a celebrity or not. This year, we are all about being confident in our own skin, because you can. Read through and pick a hairstyle that suits you best!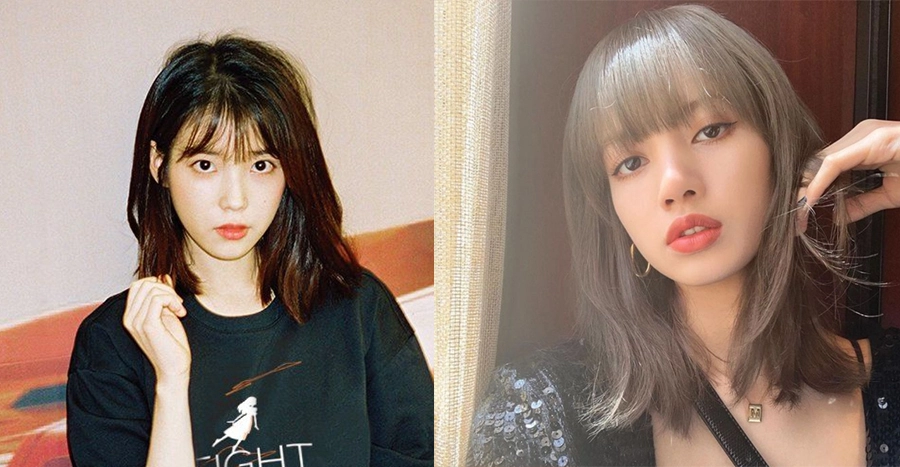 What Is The Main Trend In Korean Hairstyle Women Today?
Face-Framing layers: To achieve a slimmer and sharper visage, a layered trendy korean shoulder length hair can never go wrong.
Korean Shoulder Length Hairstyle with Bangs: Bangs are the quintessential style to enhance your overall look in no time whatsoever.
Brown Hair Colours: Neutral to warm brown hair shades make the best combination alongside any colouring and style.
Highlights: From balayage to sombre, to ear-highlighting techniques, there are many highlights for you to choose from this year.
Ashy Hair Colour: Tone-downed shades like ashy undertones are bound to stay popular for a long time. 
Hippie Perm: Opt for tight, springy curls to achieve that dream-like look. If it's not for you, you may also consider a partial perm.
Top 23 Korean Shoulder Length Hairstyles that Enhances Your Features
Here is a complete list of the 23 trendiest korean hairstyles for you to choose from. Try one and witness the magic it brings!
1) Shoulder Length Layered Hair with Waves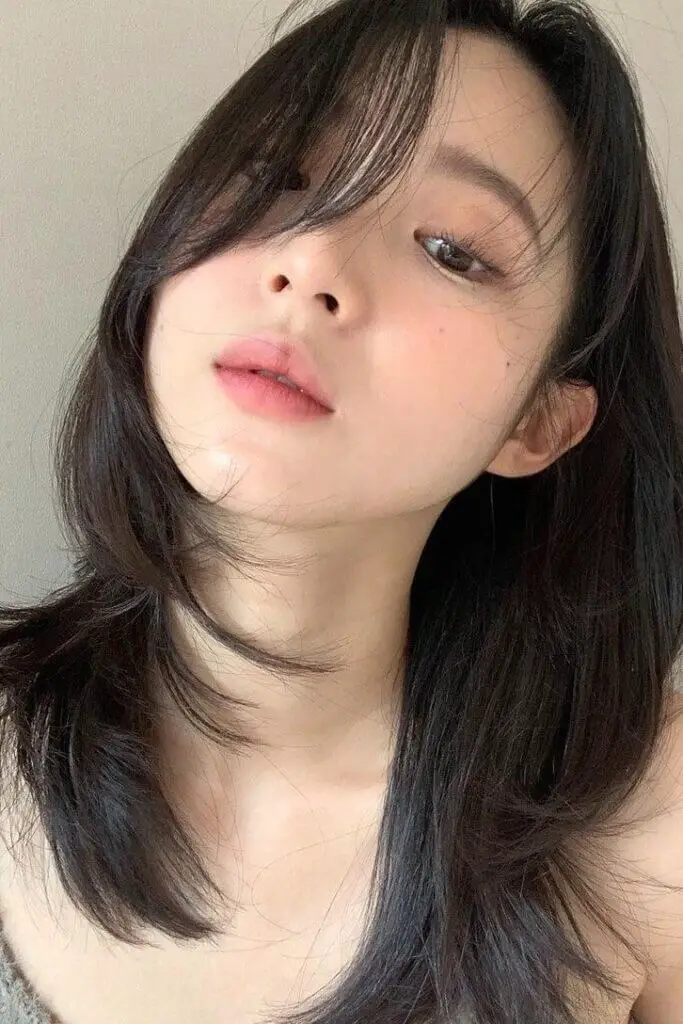 Korean hair does look exceptionally polished with layers as it delivers the trendy, tousled texture. The loose c-curls will complement the hairstyle effortlessly, giving it a bouncy and chic look.
2) Layered Lob with Wispy Bangs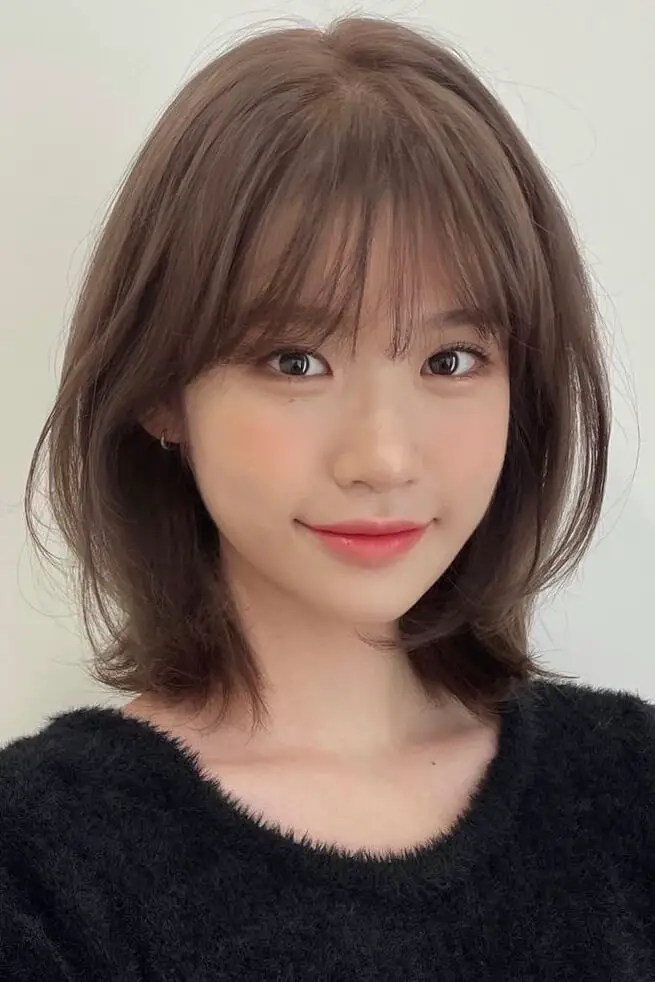 One of the most popular Korean hairstyles ever for those with shorter hairdos. This beautiful cut with uneven layers and Korean wispy bangs will provide an extra dimension and volume to your hair.
3) Medium-Length Hair with Face-Framing Layers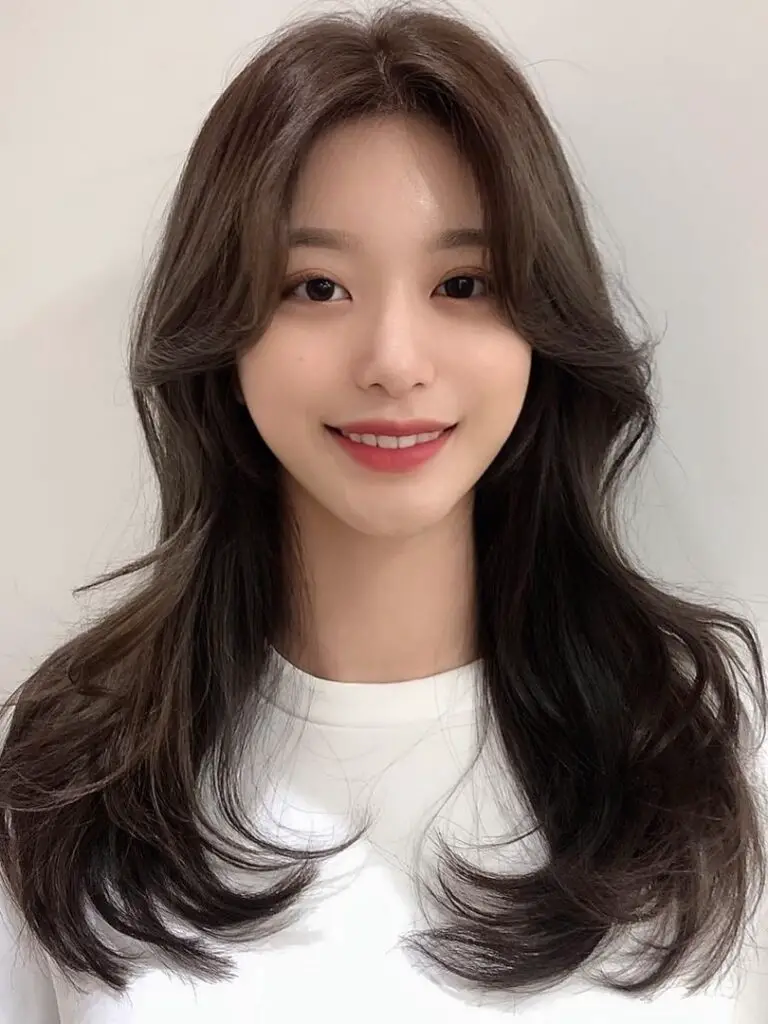 This is amongst the most flattering Korean hairstyles for women presently. The layers from the bottom to the face line creates a subtle texture that looks completely natural when curled into loose waves.
4) Dark Hair with Money Pieces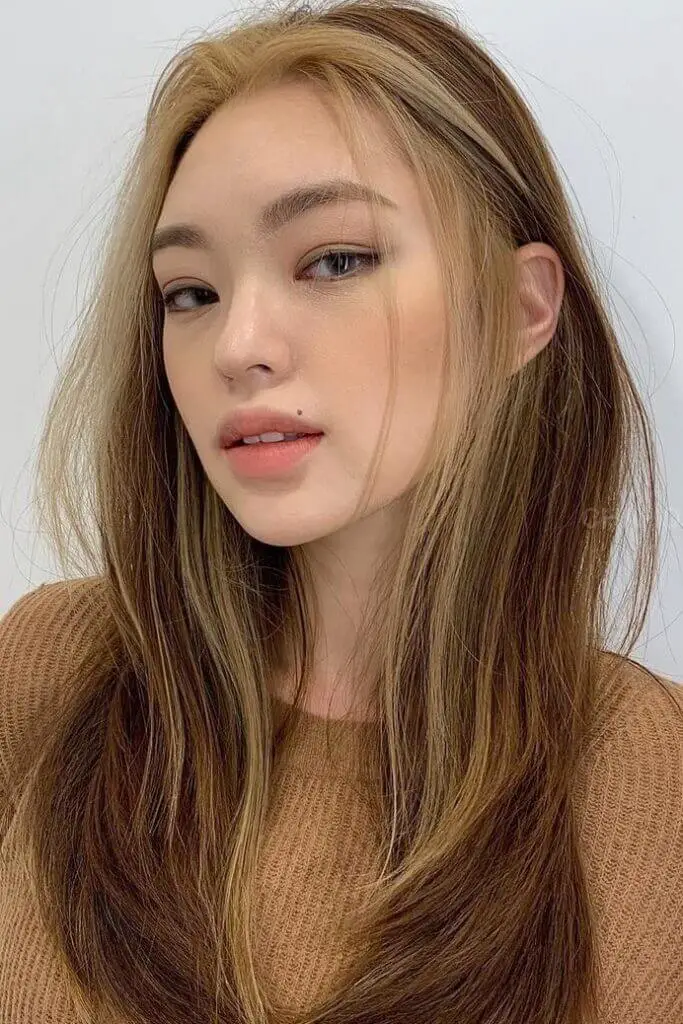 If you are seeking a low maintenance and easy-to-create Korean hairstyle, then you should definitely consider this unique and creative look.
5) Hippie Perm with Side Bangs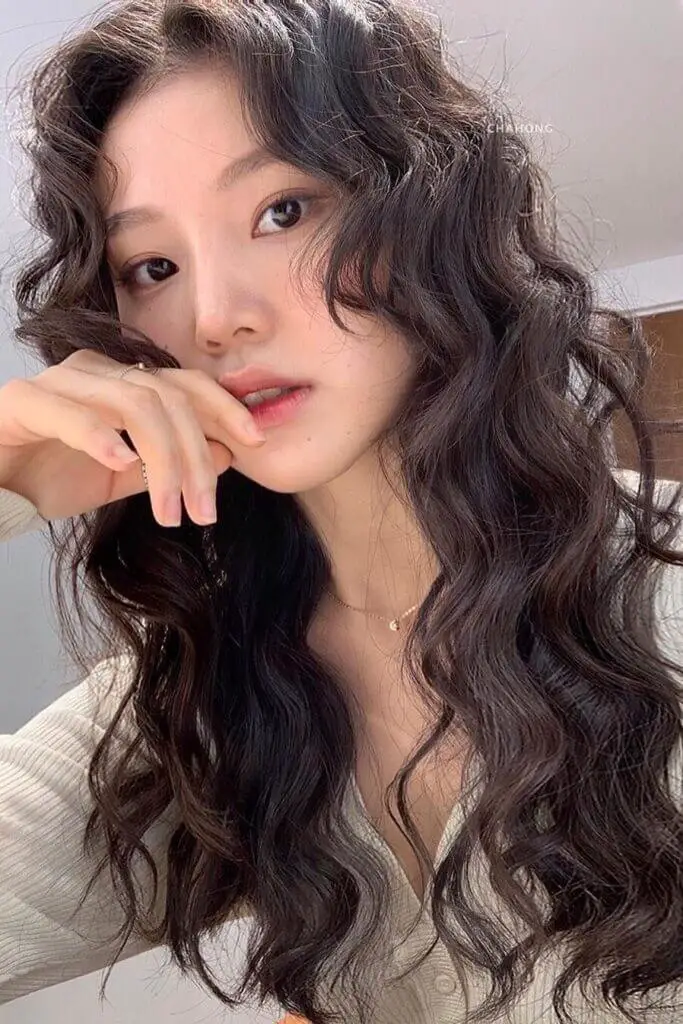 This messy yet flattering hair perm with small tight curls can create a huge, voluminous hair. Simply charming, edgy, and carefree!
6) Korean Secret Two-Tone Hair (Ear Highlighting)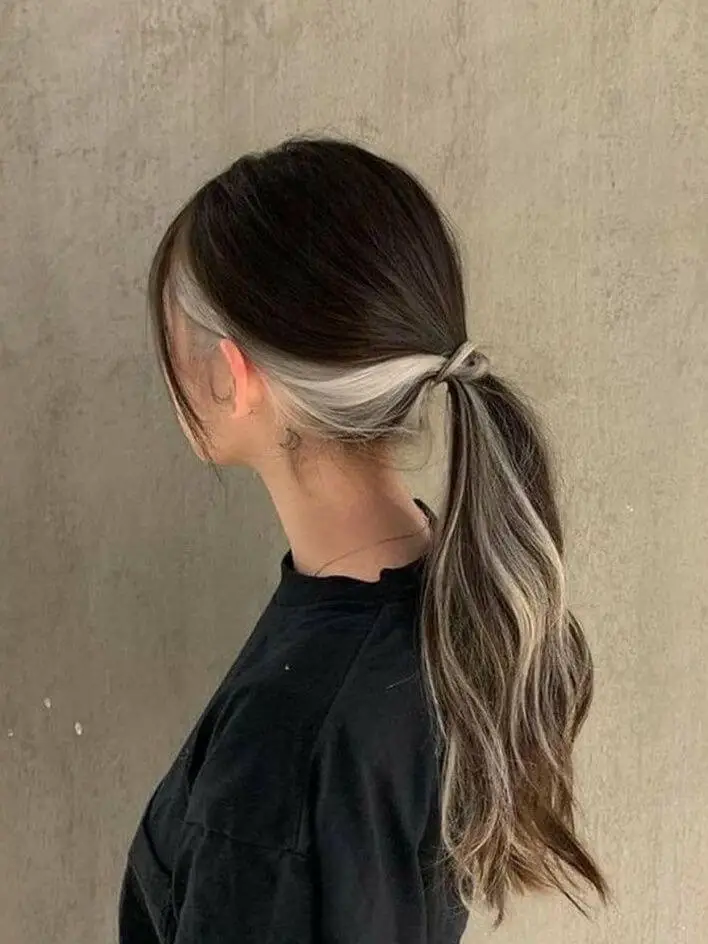 Opt for some highlighting around your ear areas to create a two-tone look. You are recommended to choose a contrasting colour that gives you accents. 
7) C-Curl Wavy Shoulder-Length Hair with Side Bangs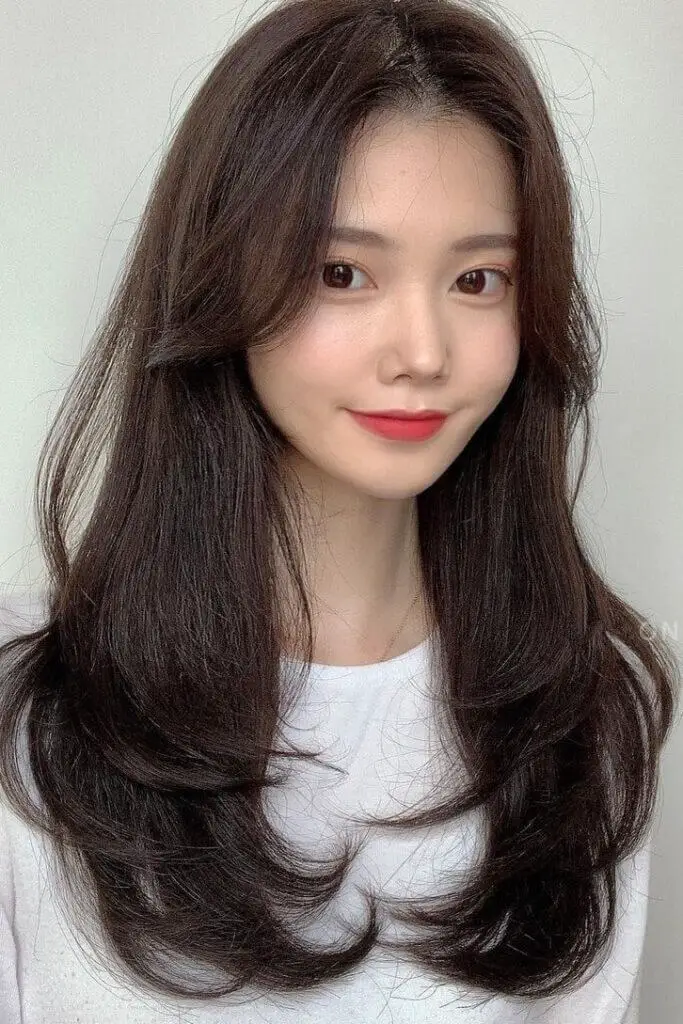 Curling the ends of your hair inwards will bring a rather elegant and femine vibe. You can never go wrong with this hairstyle.
8) Layered Korean Short Bob (Hush Cut Hair)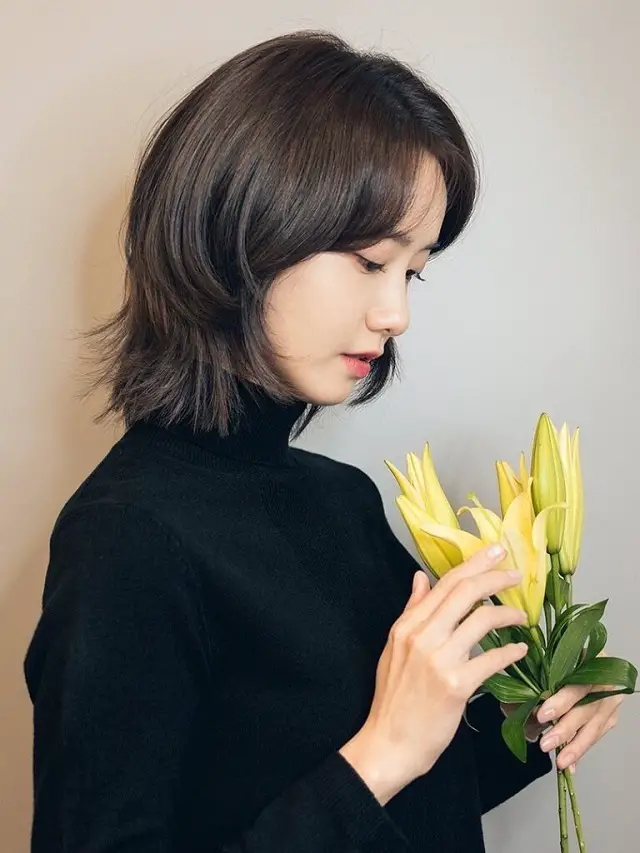 If you want a hairstyle that is short but not too short, this is the one for you. Go for something fresh and try this layered look that increases movement and volume to your locks, making you appear softer yet edgy.
9) Soft Brown Hair Colours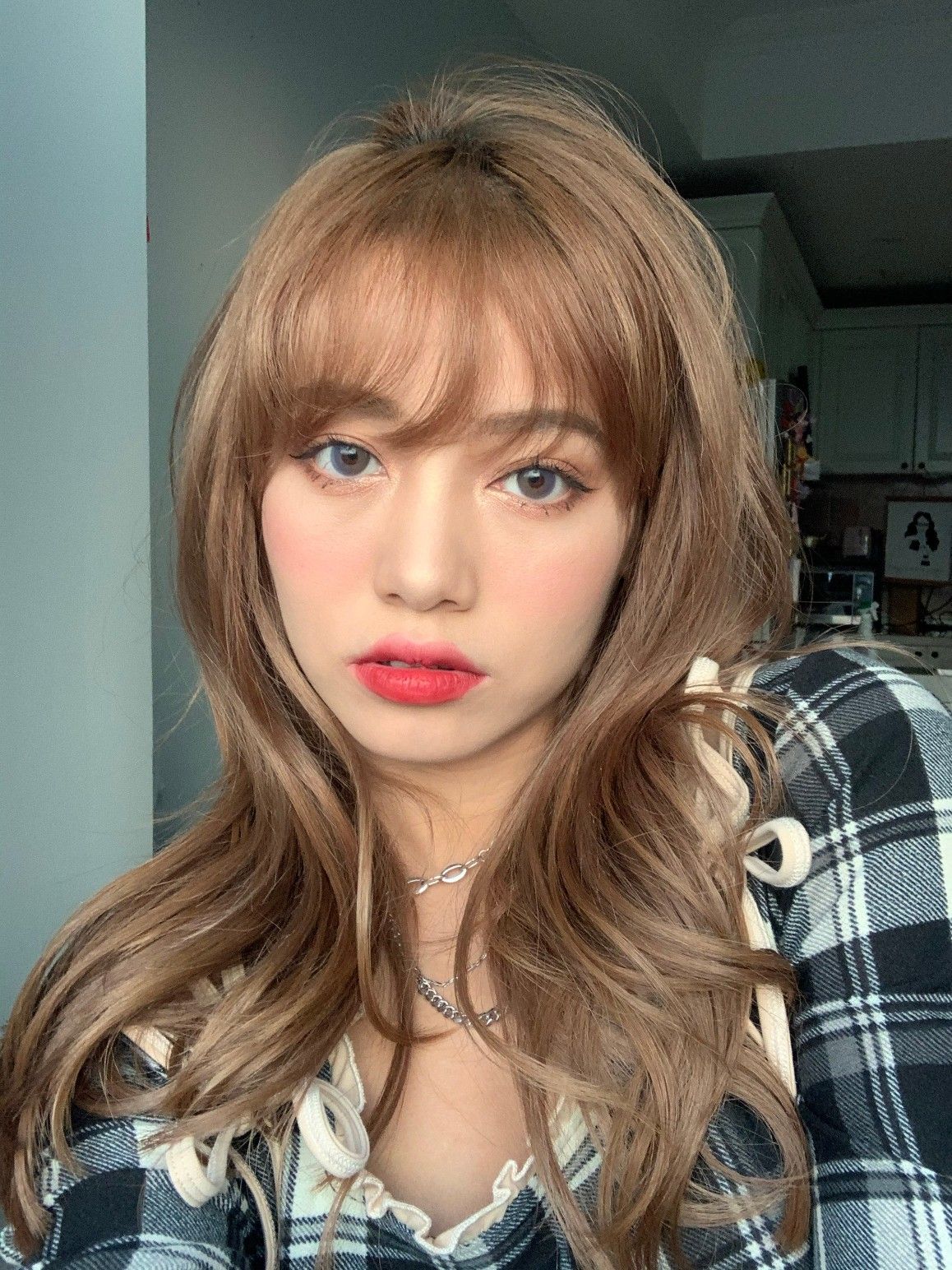 You can never go wrong with brown hair colours regardless of your skin tone or features. The brown shades are so versatile that it can make your entire look effortlessly ravishing yet not too basic.
10) Korean Balayage (Highlights)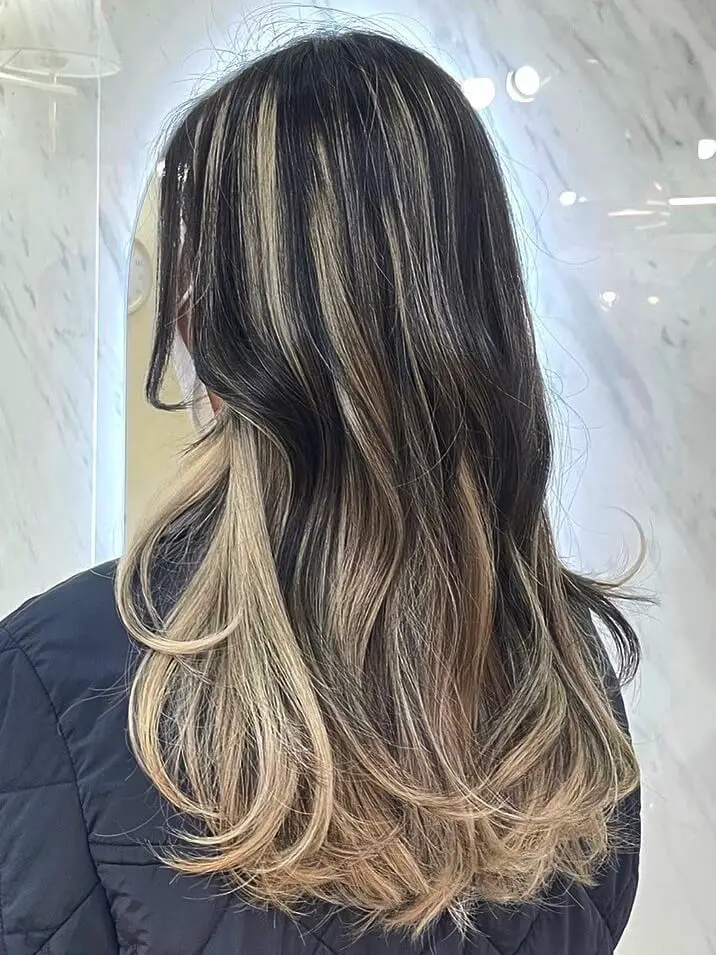 Balayage is amongst the most popular Korean hairstyles for women. It looks extremely eye-catching especially when it is highlighted with softer shades. It looks perfectly natural and suits well with any skin tone. 
12) Korean See-Through Bangs (Curtain Bangs)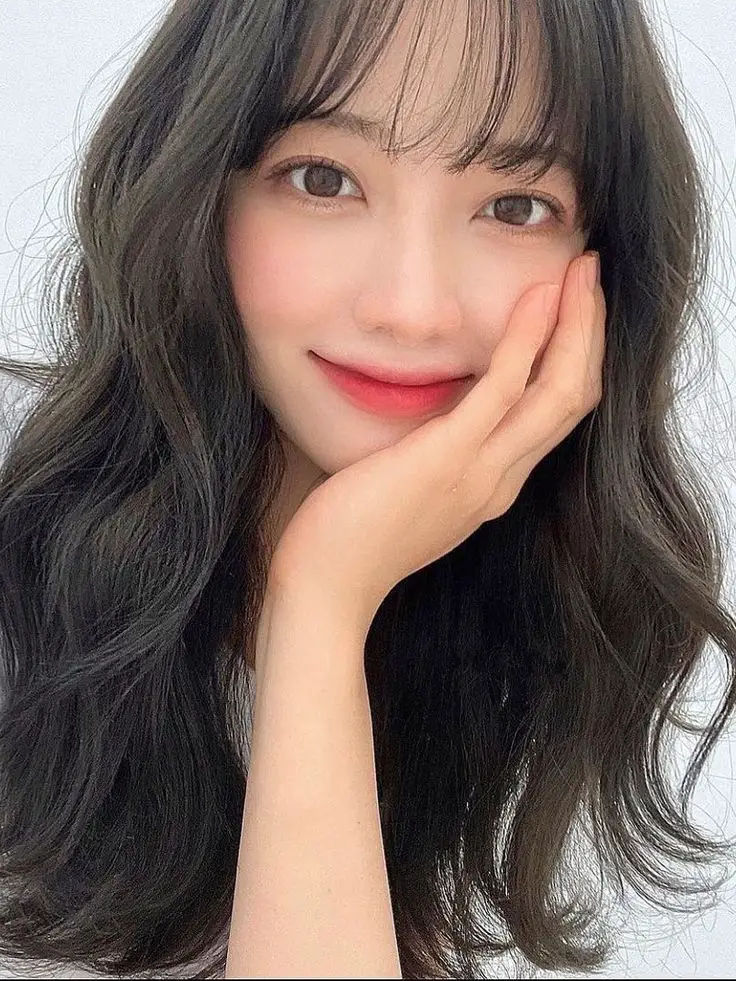 These wispy Korean curtain bangs are the best way to add a subtle twist in your hairstyle no matter the length.
13) Chic Hime Style Haircut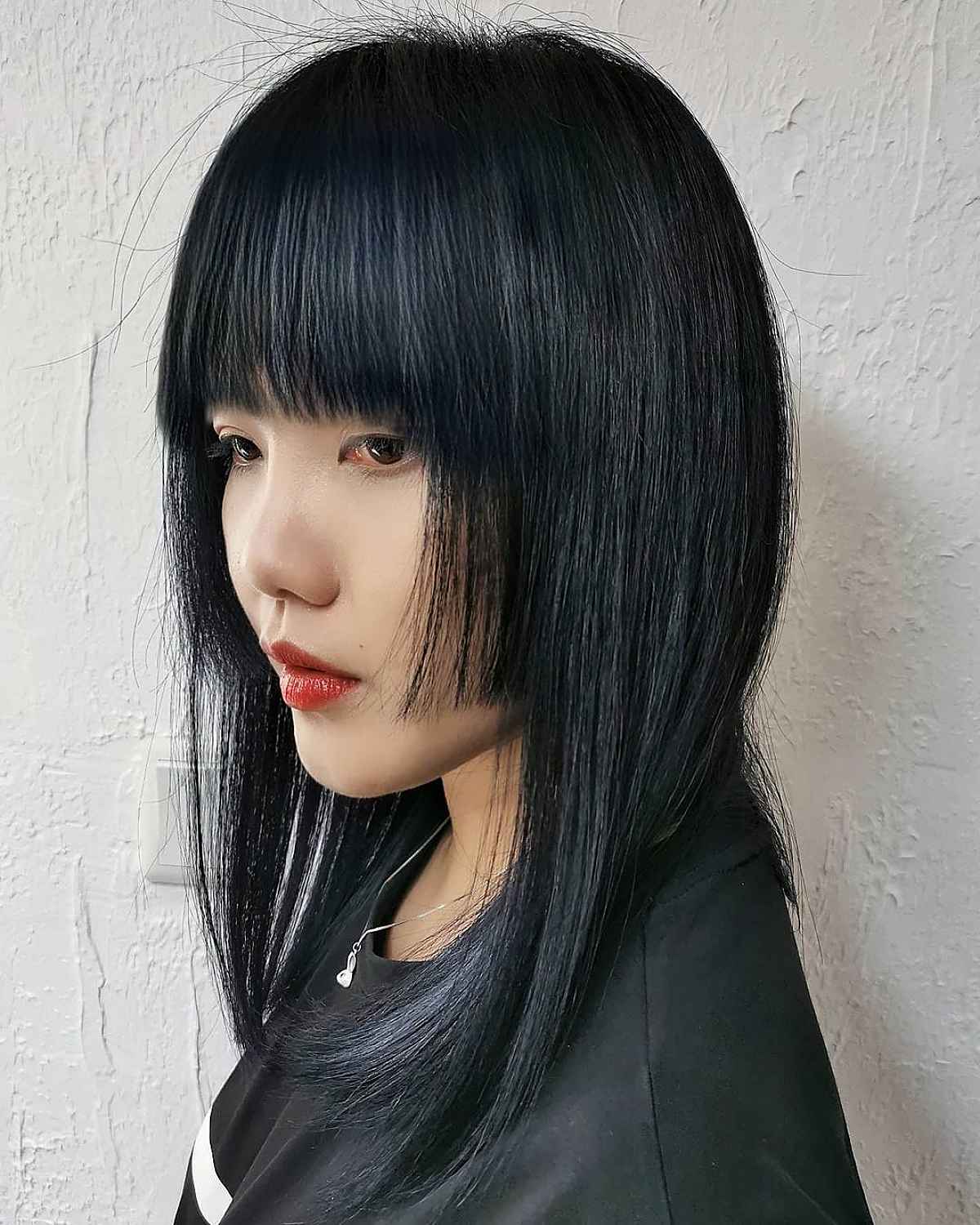 If you want to go for something that is slightly out-of-the ordinary, opt for this amazing Korean hime haircut style. Such a sleek shoulder-length hair cut is one that is super stylish and is fairly practical too. Styling it won't take you forever.
14) Korean Full Bangs (Front Bangs)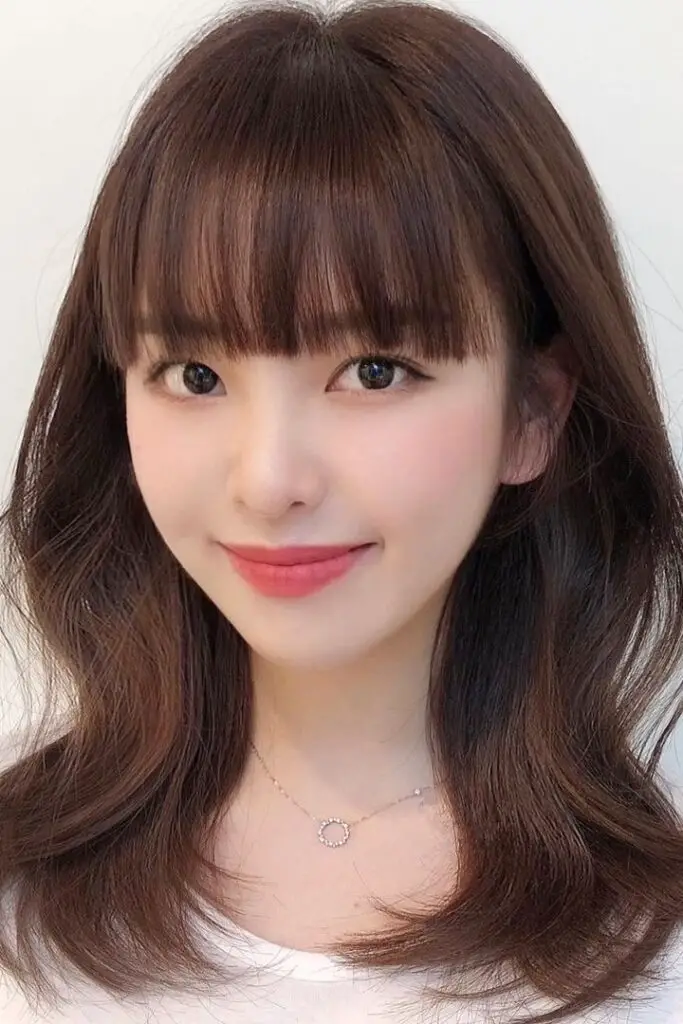 If you think wispy Korean bangs are not for you, you can always resort to trying full bangs, it embraces any asian hairstyle.
15) Korean Ashy Hair Colours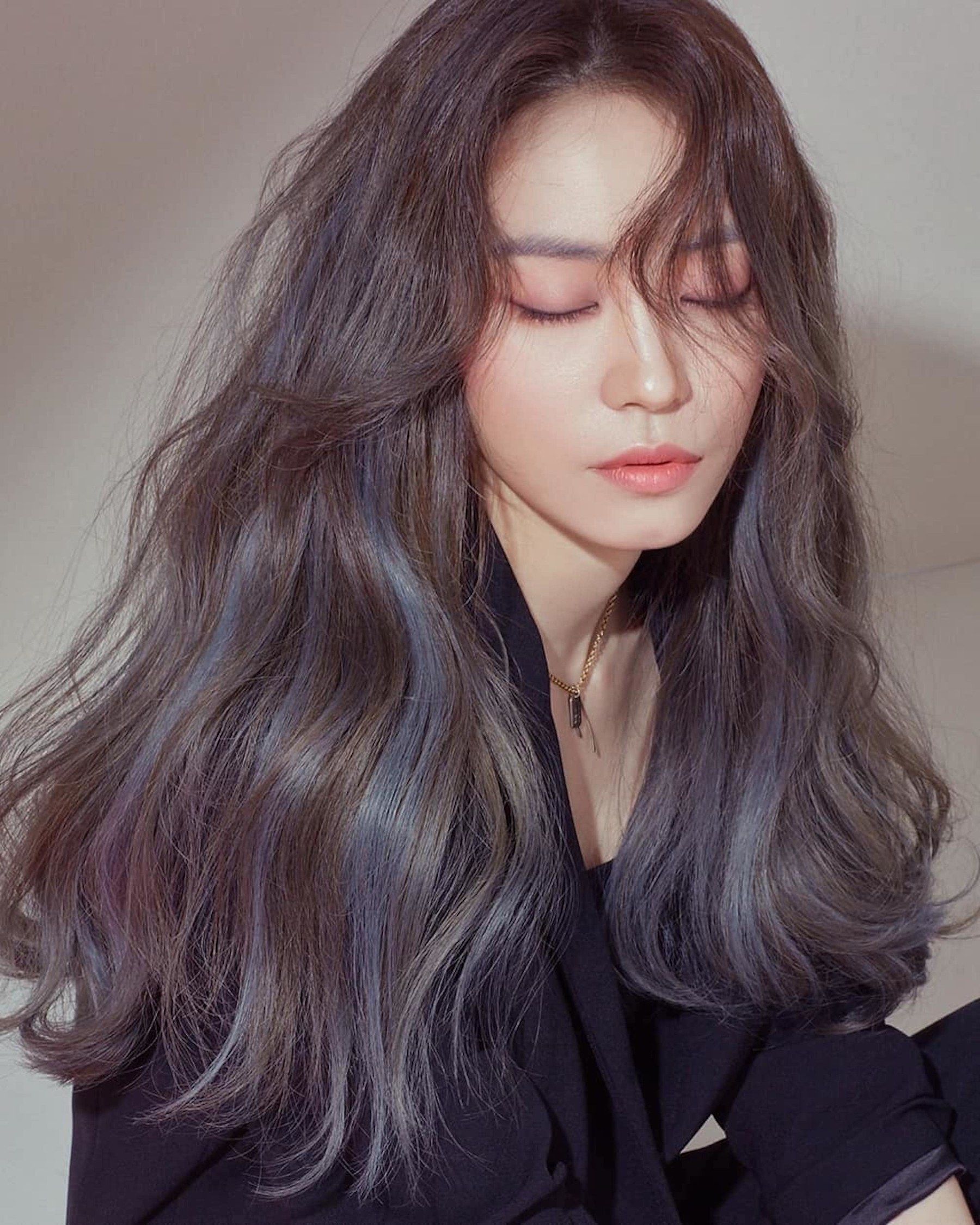 Simple, pastel-like ashy undertones are perfect for all Asian skin tones, making them extremely popular all year round. Opt for your favourite shades and rock that new look!
16)Ravishing Smoky Purple Ombre
17) Straight Shoulder-Length Hair with Bangs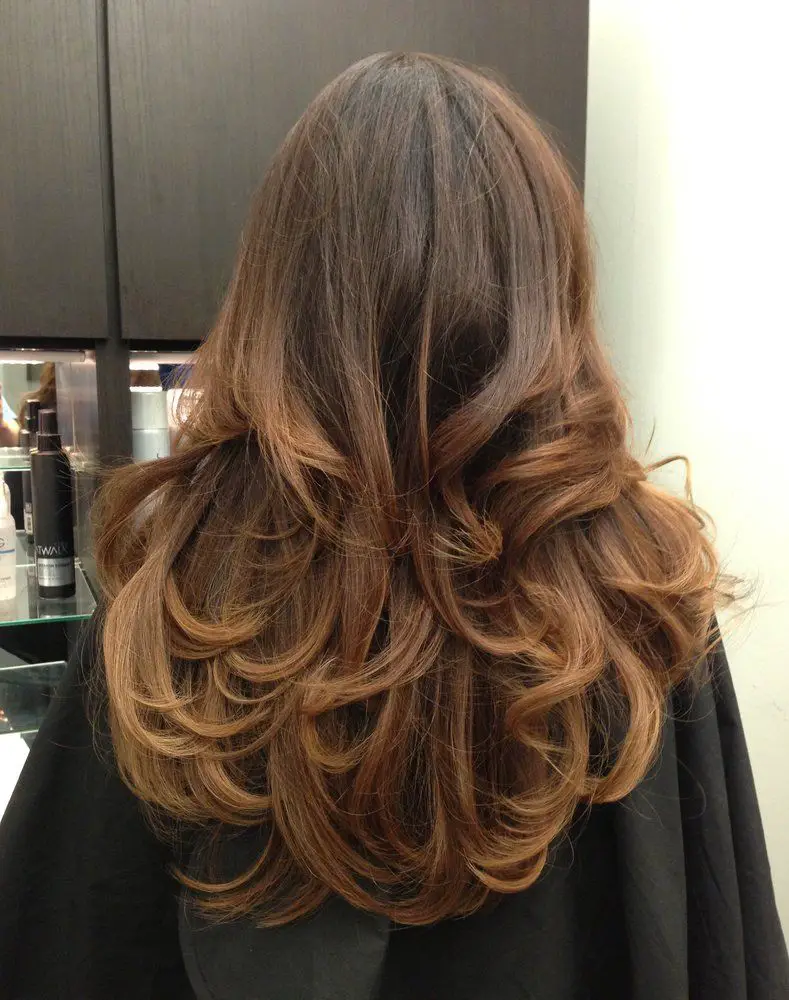 This cool korean hairstyle is amazing in hiding the roundest of faces. Style your hair in loose waves with a wet and slightly messy look if you will, to complete the look.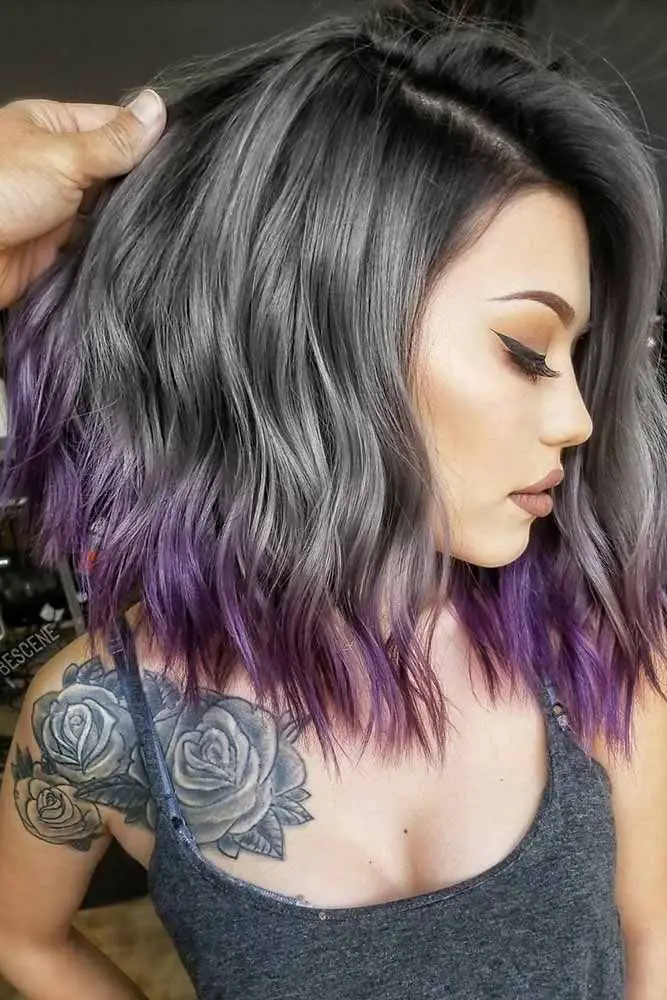 If you are a fan of wildly coloured hair, this is for you! The dip-dyed lob can definitely add to your personality, making it stand out from the crowd. Be sure to dye just the ends of your lob to achieve a different hue.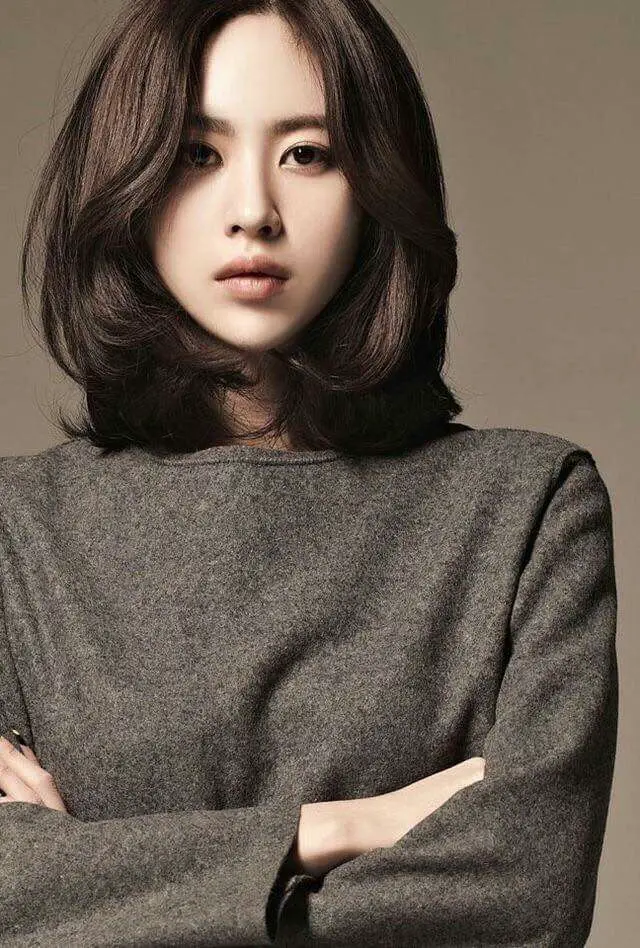 The biggest secret to a bouncy lob is lots of volume. It has to be really volumised to make the style look more defined.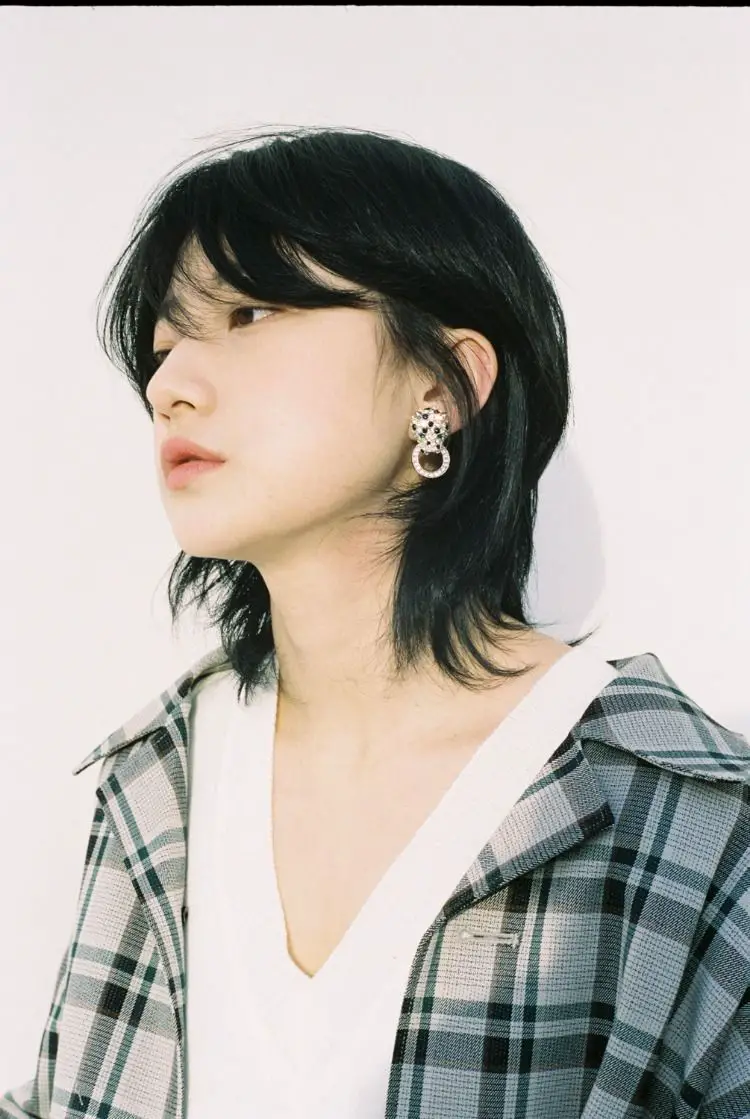 This option makes an ideal hairstyle for those with a relatively prominent jawline as the face-framing layers and fringe will make your face appear visually smaller.
22) Straight & Sleek Shoulder-Length Bob
23) Shoulder-Length Short Hair with Ends Curled Outwards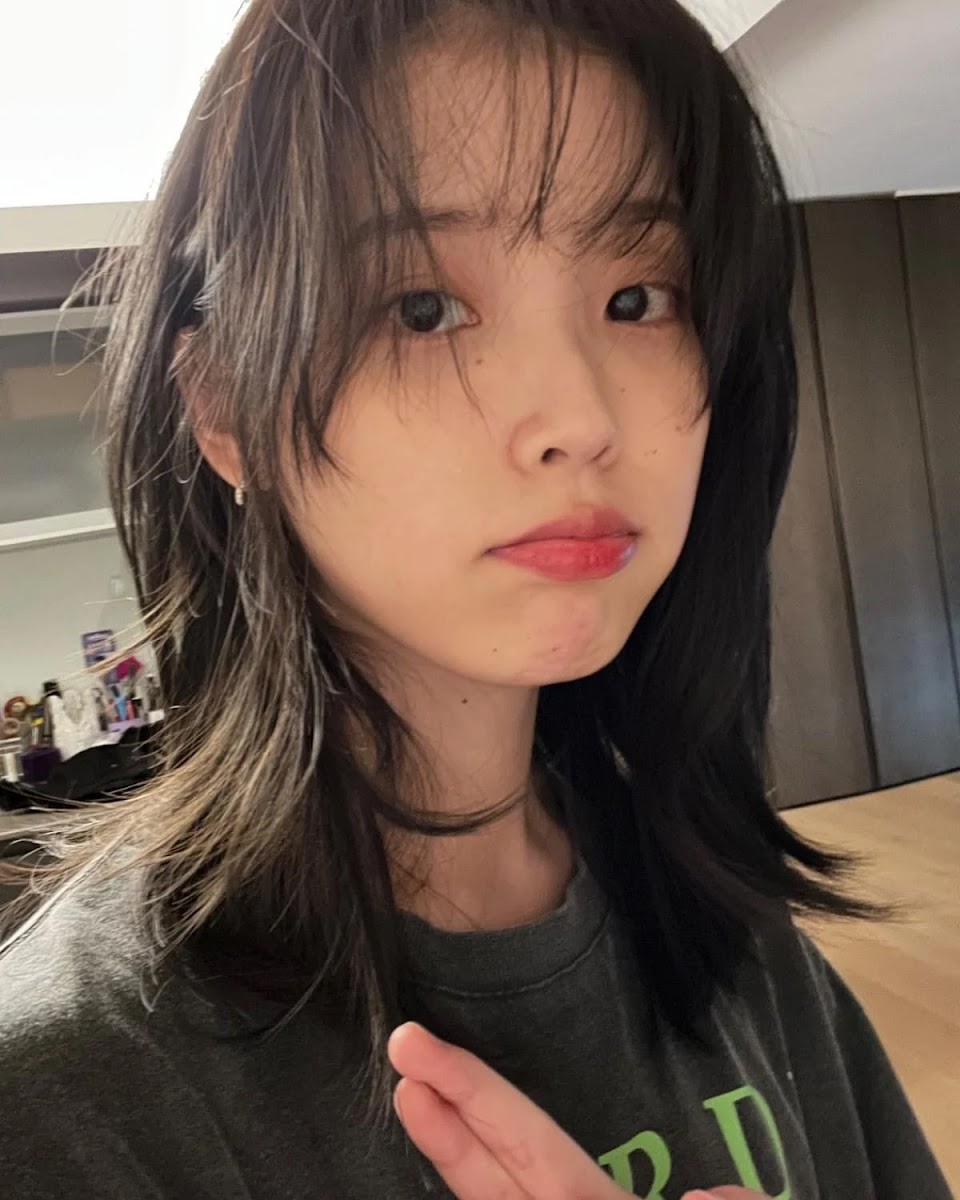 This is a less common medium length hairstyle that allows the ends to curl outwards like they naturally would when hitting the shoulders.
Treat Your Hair With These Best Color-Safe Shampoo and Conditioner:
1.Virtue Labs Recovery Shampoo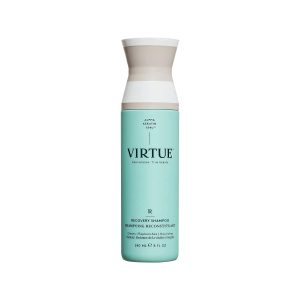 This cult-favourited colour-safe shampoo works to repair dry, damaged hair by infusing keratin back into the broken pockets of the hair strands that are caused by bleach, heat, and other chemicals alike. The results?It'll leave your hair feeling exceptionally soft and nourished.
2. Purely Hydrate Sheer Shampoo and Conditioner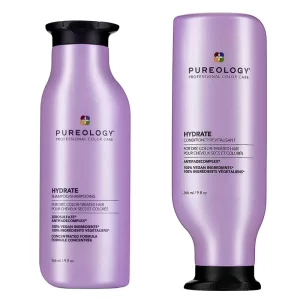 If you're searching for a quick moisture boost that doesn't weigh down your hair, look no further than this. Purely Hydrate's Sheer Shampoo and Conditioner is an in-shower combo specially made for those with finer hair types. Being silicone-free, they serve to soften and moisturize thin hair with the help of jojoba oil whilst offering color protection. 
3. Kérastase Chroma Absolu Shampoo and Conditioner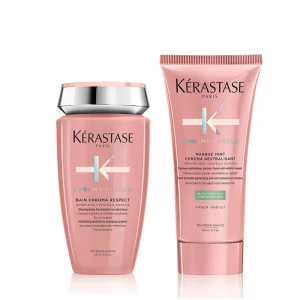 This another colour-safe shampoo and conditioner duo from Kérastase Chroma Absolu utilizes a powerful blend of acids — amino, lactic, and tartaric — to pinpoint hair damage whilst retaining color and avoiding brassy tones. This option is suitable for fine-to-medium hair types.
Have You Decided on Which Korean Hair Trends to Try Out This Year?
There you have it, 23 most popular hairstyles amongst Korean women in 2023. Whichever look you are opting for, make sure it complements your face shape well so you can own it and rock it confidently.
FAQs
1) What is The Most Popular Hairstyle in Korea?
As of today, korean hairstyles vary from long layers to short bob cuts—however, the most commonly worn hair look typically involve bangs or fringes that soften and frame the face.
2) How Can I Get Korean Hair Naturally?
While it's mostly genetic, you can follow  their haircare routine which involves scalp cleansing, the use of hair masks, and a nutritional diet. We highly recommend that you opt for the above products to achieve denser and stronger hair like the Koreans.
3) How Do Koreans Tie Their Short Hair?
To tie up short hair, Koreans usually opt for half ponytails by gathering a certain portion of their hair and clamping it with a hair claw. Alternatively, they will go for a small undo by gathering some of their hair and tying it up into a bun.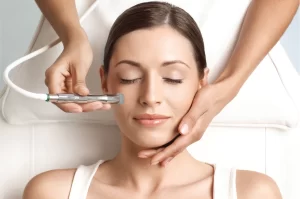 Skin Care
Editor's Choice Microderm Glo Mini Diamond Microdermabrasion and Suction Tool Latest price 2nd Best Choice
Read More
Subscribe to our newsletter