Honest Benefit They're Real! Mascara Review: The TikTok-Famous Magnet Mascara Everyone is Raving About!
At Beauty Signal Lab, we don't gate-keep information, ever. Like, as soon as we encounter the best beauty products we swear by, we race to publish an article about it. 
On February 18 2021, Benefit introduced the newest addition to its beloved lineup of mascaras, They're Real! Magnet Mascara. Believe it or not, it's hands-down one of the best mascaras for length and volume, tried and true!
This mascara works extremely well for many reasons. It's more than just any regular mascara as it's a piece of beauty technology. In brief, this mascara harnesses the power of magnetic force to coat, curl, and lengthen lashes in such a way that's never been done before. 
Useful Ball-Tip for Easy Application
The brush of this mascara is specially designed to be able to coat each single lash with the product, and achieve the voluminous effect of falsies. The bristles on the ball tip can be used to curl and separate individual lashes and deliver a fanned out lash look. 
Lengthening & Curling Abilities
As a matter of fact, Benefit They're Real! Mascara isn't just called "magnetic" for the sake of it. It's built with a magnetically-enriched formula and brush that has a magnet at its core. Simply put, it's scientifically created to extend the formula from your roots all the way to your tips, extending your lashes. 
In layman terms, just know that it works. It lengthens your lashes whilst giving them a little bit of curl in just one application. We are loving its wand that comes with extremely sturdy bristles that'll deliver a beautiful, naturally fanned-out lash look. 
It's one perfect mascara when it comes to rocking that "natural lashes but better" look. 
Long-Lasting Curling Effect
The reality about most mascara is that it can give you a serious WOW factor right after you put them on, but only a few of them can last up to hours of wear. The length in which Benefit They're Real! Mascara provided your upper lashes which can actually last through a long walk, salon appointment, and even a dinner date afterward. At the end of the day, the length stays the same, too!
Buildable Formula
Feel free to layer up the mascara until it gives you the voluminous finish you desired. Though, one single application suffices to deliver its effect. If you're looking for that dramatic, false eyelash look, you may go up to three coats. Otherwise, one to two coats already suffice to make a noticeable, impressive difference to your lashes.
Low-Maintenance 
We love the power of a water-proof mascara but not to the extent where it's impossible to take off. This mascara, particularly, comes off easily with just any makeup remover, making it suitable for use on sensitive skin or for people who prefer a rather low-maintenance skincare routine and low-key, natural lash look.
How to Apply Benefit They're Real! Mascara (Magnet)?
Using the applicator, gently brush the mascara onto your lashes and ensure that the product is brushed on each lash individually. You may stop at one single coat of mascara or go up to three coats if you're opting for the dramatic, falsie effect. 
Do note that the force of the magnet is rather subtle, so you can't actually feel it working. Though, you can see the instantaneous results. The result? You'll get longer and fuller lashes in just a fraction of time. 
The Amazing "Wiper"
Have you ever pulled mascara brush from its tube and realize that's way too much product, so you've got to wipe half of it off? Rest assured that'll never happen if you use Benefit They're Real! Mascara. The opening of its tube is made slightly smaller than usual so that it scrapes away all the excess product from the brush as it's being pulled out. 
The Value: Worth the Purchase if You're an Eyelash Obsessive!
Benefit They're Real! Mascara definitely deserves your vote of confidence if you're a lashes-type-of-person. The product is able to add an immeasurable amount of length to your lashes. Considering that mascaras need to be replaced every two to three months, the product can come off as slightly pricier for those who aren't an avid mascara wearer or prefer a soft, subtle coat on their lashes. However, if you love dramatic lashes or wear mascara nearly every single day, this product is worth every penny.
Where to Buy?
You may start off with the travel size priced $18.16 on Amazon and see how it works fine for you. Suppose it fits your liking, move your way up to the full 0.32 oz tube priced $27 on Ulta and Sephora.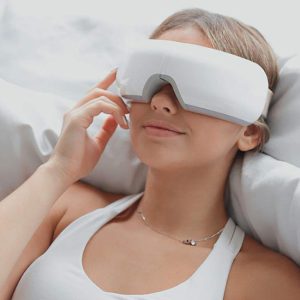 Skin Care
Editor's Choice Worxvell Eye Massager Latest price 2nd Best Choice SereneLife Eye Massager Latest price
Read More
Subscribe to our newsletter