Conair True Glow Moisturizing Mist Facial Sauna System
Okachi Gliya Facial Steamer
Facial steamers have become the hottest new beauty tool on the market as many people are starting to appreciate its usefulness. Packed with a lot of benefits such as hydration, better skin tone and improved circulation, facial steamers are a nifty addition to anyone's beauty regimen. 
The best part of my skin care routine is the alternate sensation of the hot and cold miss on my face. The greatest facial steamer will provide you with a pleasant spa experience in the comfort of your own home.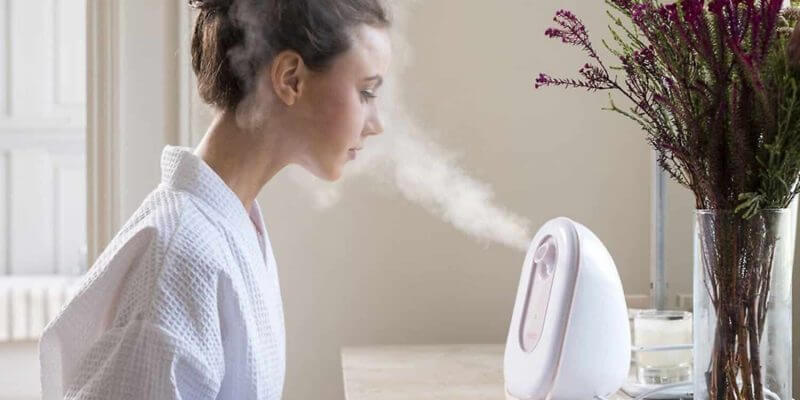 What are the Benefits of using a Facial Steamer?
Hydration
One of the main benefits of using a facial steamer is that it helps to hydrate the skin. The steam opens the pores and allows the skin to absorb moisture better which in turn helps plump the skin and give it a healthy glow.
Removes Dirt & Impurities
Any facial steamer will allow you to raise your skin temperature, which in turn will open your pores and aid in the removal of dirt and other impurities.As a result, your skin's overall complexion can be enhanced.
Prevent Acne
If you are prone to acne, using a facial steamer can help prevent breakouts. As the steam eliminates bacteria and calms reduces inflammation, the skin is left clear and less prone to subsequent breakouts.
Relaxation
Steaming your face is a wonderful way to unwind. Tense muscles are eased by the steam. After a stressful day, this can be a wonderful way to relax.
With all this in mind, we found 10 beautifying facial steamers that help you unlock your natural beauty. These devices will give you clear, radiant and younger-looking skin within minutes.
The top facial steamer on our list, Pure Daily NanoSteamer, is a new type of steamer that turns water into nano-ionic steam for 10x more skin penetration. It is a multifunctional device that also acts as a humidifier and has an additional chamber to warm towels for maximum refreshment.
Comes with a bonus of a 5-piece skin kit and a full sized steamer
2. Conair True Glow Moisturizing Mist Facial Sauna System
Conair True Glow Moisturizing Mist Facial Sauna System is the best facial steamer kit to get that post-spa glow at home! The three-step system helps open pores, deep cleanse, and moisturize your skin for a healthy,  beautiful look, from sonic cleansing brushes and facial steamers. Conair True Glow skin care tools help make every day a spa day!
Arrives with a nasal cone and a facial cleansing brush.
3. Okachi Gliya Facial Steamer
If you are looking for the best vanity facial steamer, look no further. The Okachi Gliya Facial Steamer is a powerful and consistent steamer that produces steam that covers the entire face, unclogging pores and blackheads. After steaming, you can use the mirror on the steamer to apply any finishing touches.
Features a LED cosmetic mirror to complement your skin care routine.
4. Panasonic Facial Steamer
Another gem right on our list is The Panasonic Facial Steamer. With a relaxing 6-minute steam cycle, it can help to soothe and refresh your skin in a spa-like facial treatment at home. This compact, easy-to-use steamer generates nano-sized steam particles that penetrate the skin to significantly increase moisture. It's the perfect way to start your morning skincare routine.
Has a stylish and sleek design for easy storage.
5. Vanity Planet Senia Hot and Cold Facial Steamer
Looking for an at-home spa treatment?
Vanity Planet Senia Hot and Cold Smart Facial Steamer! This luxurious facial steamer uses warm and cool Smart Steam Technology to purify your skin and provide a blissful sensory experience.
Features 6 customizable beauty modes.
6. Dr. Dennis Gross Skincare Pro Facial Steamer
This one is a tad a bit expensive but features terrific functionality. This compact and lightweight steamer is perfect for all skin types. It delivers micro-steam technology to infuse skin with hydration and clarify the complexion in as little as 9 minutes.
Features wide nozzle for full steam coverage.
If you are the type of person who hates waiting for a steamer to heat up, then Dizo Facial Steamer is the perfect steamer for you. It takes less than 1 minute to turn water into a strong steam
Instant heating up of water to steam.
8. TRUU Portable Nano Double-Hole Facial Mister
TRUU Portable Nano Double-Hole Facial Mister is an excellent product for people who want to keep track of their skin moisture levels. The double spray mist volume provides more facial mist than a single-hole design.
Features a double spray nozzle for more facial mist volume.
Seneryla Face Steamer has a separate attachment to refocus the mist to target the nose area only. For a more nuanced and spa-like experience, you can even add some aromatherapy oils.
Separate attachment for refocusing of the mist on the nose area.
10 .Newbealer 3-in-1 Nano Ionic Facial Steamer
This versatile steamer can be used as a facial steamer, household humidifier, or aromatherapy diffuser. For maximum convenience, the steamer features a quick-fog function and an adjustable nozzle.
Comes with an extra cleansing brush for skin exfoliation
This powerful and versatile face steamer produces steam for 10 times more skin penetration for greater effect. Use it as a steamer and also a perfect humidifier. 
Subscribe to our newsletter