Everything You Need To Know About Koken Barber Chairs From History To Their Value In 2023
More than just a utilitarian piece of furniture, antique Koken barber chairs are actually works of art. Thanks to their gorgeous materials and excellent craftsmanship, antique collectors now seek them out and are willing to pay thousands of dollars for them.
When it comes to vintage, antique barber chairs, the Koken barber chair has been a symbol of innovation. It was the world's first ever chair to have successfully integrated a hydraulic lift. This technology has since made it convenient for barbers to lift the chair up or bring it down whenever necessary. It can also stretch out so that the clients can comfortably lie down for a massage or have their hair washed. The barber doesn't even need to go to either side when cutting hair, as the chair can be rotated to the direction the barber intends to be. Believe it or not, it was a groundbreaking invention during the early 1900s.
Koken Barber Chair History
In the late 1800s and early 1900s, the Koken Barbers Supply Company crafted thousands of these chairs for barbers across the country. Located in St.Louis, Missouri, Koken was more than just the largest barber supply company in the United States; it was also the brand of barber chair. It was all the rage throughout the industry. The company's founder, Earnest E. Koken held patents for a range of important barber supply products. 
1881 – Koken patented a barber chair reclined, allowing barbers to shave clients more easily.
1885 – 1888 – Koken received a patent for barber chairs that revolved and reclined, providing barbers with added flexibility when serving their clients.
1892 – The company patented a hydraulic-powered barber chair, for which the Koken eventually became a household name. 
1926 – The company established the Koken Foundry, which allowed it to manufacture up to 100 chairs every day.
1950s – The Koken Barbers Supply Company went out of business. During a period of time, a Japanese company used the Koken name to produce their own barber supplies.


Identifying Koken Barber Chairs
So how do you identify a Koken barber chair? It's simple. The company marks most of their chairs with the name. You can examine the metal parts of the chair for the word "Koken". From there, you can learn more about it, including the date it was produced, the model, and the serial number can help you determine the chair's value.
A. Determining the Age of a Koken Barber Chair
"How to tell the age of a koken barber chair" you may ask. One of the simplest ways to determine the age of a Koken barber chair is by looking at the features it has. Reclining chairs without a hydraulic lift system may date to the 1880s and early 1890s. Koken has become famous for the lift system, and many of the chairs made after 1892 started having this feature.
Alternatively, you can also examine the styling for clues, since the company followed the trends of the time. Chairs made in the 1920s and 1930s boast a unique Art Deco look, and those manufactured near the end of the company's history gives off a mid-century appeal.
B. Finding the Serial Number on Your Chair
Most Koken barber chairs are stamped with a serial number. To find yours, look under the seat cushion. The number may be stamped on the underside of the wood or on the chair frame. 
C. Koken Barber Chair Materials
Craftsmen used only the finest materials to manufacture their Koken barber chair models. Multiple examples feature tufted leather seats, padded arm and foot rests, and frames constructed of quarter-sawn oak or walnut. The frame sometimes featured sophisticated wood carvings. On these chairs, even the metalwork was ornate. The seat brackets, parts of the footrest, and the base all have elegant scroll designs and premium-quality craftsmanship. Some of the most valuable antique Koken chairs come with working hydraulic lifts for which the company was renowned for. 
How Much is a Koken Barber Chair Worth Today?
These antique Koken barber chairs' price varies depending on their condition and age. They are valued anywhere from $500 to $6,000. 
Lower Value Koken Chairs
At the lower end of the value spectrum, a complete Koken chair with major condition issues might sell for less than $500. The chair might be experiencing some major upholstery issues, rust, or poorly replaced upholstery at this price range. On top of that, the chair would probably date from the 1940s or 1950s and wasn't stored properly. It would also likely not feature a working hydraulic lift or elaborate carvings. 
Higher Value Koken Chairs
On the other hand, a Koken barber chair in better condition could sell for $5,000 to $6,000. At this price range, the chair would be in perfect condition and would still feature sophisticated wood carvings, a functioning hydraulic lift, and the original leather upholstery, and comes in an ideal manner. It would probably date from the early 1900s. A fully restored chair can cost you up to $5,600, which would retain a perfect condition. 
Things to Consider When Buying a Koken Barber Chair
If you're shopping for antique Koken barber chairs, there are few things you should factor in. Get it appraised by a second source for the authentic product. Furthermore, be aware of the chair's current condition and history. These chairs were usually heavily used, and were exposed to hair care products regularly. As mentioned earlier, the value of these chairs varies by a great deal with their condition. If you're buying online, you should bear in mind that the photos don't always show water spots or any other damage. Therefore, you might want to add a contingency clause.
Where to Buy Koken Barber Chairs?
Koken barber chairs make an attention-getting display at a salon or private home. While they're extremely rare, you may have good luck finding one if you look at the following sources: 
Local antique shops
Online auction sites like eBay
Craigslist and local newspaper classified ads
Sales from old beauty schools and estate sales
It's important to note that an antique barber chair can weigh hundreds of pounds, so shipping these items across the country can cost you an arm and a leg. If you can find a local option for buying or selling an antique barber chair, you'll save on the cost of transportation.
Conclusion
Whether you're a collector or a barbershop owner, an antique Koken barber chair will add value to your collection with its unique design and story. You can also use a restored Koken barber chair in your salon to attract your customers and boost your business.
Check out this article for the best barber chairs.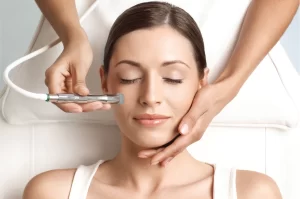 Skin Care
Editor's Choice Microderm Glo Mini Diamond Microdermabrasion and Suction Tool Latest price 2nd Best Choice
Read More
Subscribe to our newsletter