Beauty and technology. The two worlds aren't as miles apart as we expected, especially with the rise of beauty devices that promise spa-like experiences — a process that we can now recreate in the comfort of our bathrooms. And while we all know that every good skincare regime starts with cleansing your face, are things really as simple as that?
You'll be surprised! These days, washing your face with your bare hands isn't enough, not when we know how much better the alternative is.
That's where Swedish brand, FOREO, and their line of cherry silicone facial cleansing devices, come in. The compact LUNA mini 2, for instance, effectively removes 99.5% of dirt and oil on our faces, along with makeup residue and dead skin cells, all for smoother and cleaner skin.
What is the Foreo Luna Mini 2?
Essentially, it's a facial cleansing device, one that uses gentle micro-pulsations to thoroughly cleanse the skin. The LUNA mini 2 though, prides itself for its hygienic silicone design — the material resists bacteria buildup, especially for something that's left on your bathroom sink, and is 35 times more hygienic than nylon-bristled facial brushes.

What are Some of Its Strongest Points?
The technology here has to do with T-Sonic™ pulsations — 8,000 transdermal sonic pulsations per minute, to be precise — which remove 99.5% of dirt and oil, as well as makeup residue and dead skin cells. In this way, it deeply cleanses and helps exfoliate our skin, plus treats it to a gentle massage too.
There are also 3 cleansing zones on the device — the thinner touch-points cover most of the surface, and are used for normal and sensitive skin; the thicker ones at the tip help with precision cleansing in tough spots, while the broader touch-points at the back aid with more oily skin.
As an improved version of its predecessor, the face brush and massager is now 50% larger and made with softer silicone. You can choose from 8 intensities to customise your cleansing experience.
What Does It Do?
With your skin more effectively cleansed, you'll notice that there are fewer impurities and clogged pores that usually result in blemishes — yes, this means no pesky zits. Cleared pores also means that the later part of your skincare regime, toners and serums and moisturisers, get absorbed more easily. Use it for a minute, twice a day, and you'll see smoother, softer, and healthier skin that looks more vibrant.
Who Can Use It?
In general, the Luna Mini device can be used by everyone, including people with sensitive skin. They actually have a specific device for those of you that have really sensitive skin, with softer bristles that are less likely to irritate you or cause redness.
The device – or any other devices from the Luna range – shouldn't be used by people with active acne. It is an exfoliating device after all, and the bristles and pulsations can only make your acne worse. So, I'm sorry to disappoint you if you're dealing with acne and wanted to try out the Luna – you could use it on parts of your face that are acne-free, but I advise against using any Luna device directly on inflamed spots.
How to Use?
You wet your face, apply your cleanser and then massage the LUNA Mini 2 across your face for one minute. It pulses every 15 seconds so you can divide your face into 4 areas and do one area at a time for 15 seconds. It effectively but gently removes any dirt or oil and then you rinse your face and you're done. Simple! This activity doesn't take more than a minute of your time.
It's also recommended that you remove your make-up before cleaning with the FOREO Luna Mini 2. 
The Best Parts About this Sonic Facial Cleansing Brush?
The battery lasts up to 300 uses
It's available in 6 colours
It has 3 brush zones with different sized silicone brushes for different skin types or areas of your face
Final Thoughts on the Foreo Luna Mini 2
The main benefit of the LUNA Mini 2 is that it's easy. It isn't messy and doesn't take ages and doesn't need to be charged every other day. If you're really into skincare and are extremely particular about cleansing your face every single night, then this definitely is a device worth your investment. Not to mention that it makes a great device for travel and skincare on the go!
If you've gotten your eyes on it, you may purchase it on Amazon for $119 (as of 11th May 2022). Try it out and see if it works for you!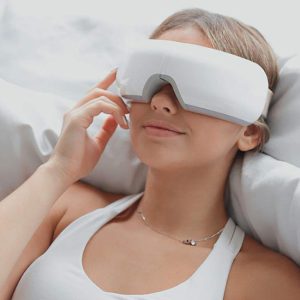 Skin Care
Editor's Choice Worxvell Eye Massager Latest price 2nd Best Choice SereneLife Eye Massager Latest price
Read More
Subscribe to our newsletter