The CHI deep brilliance titanium plated straightening iron prides itself on being a smooth and effortless glider that'll straighten your hair in fewer passes and in the shortest time possible. 
Black titanium is the technology utilised in this CHI hairstyling iron alongside a maximum heat delivery of 450 F and remarkably fast recovery. A smooth glide and even a high heat can be a promise given by manufacturers, and it's our duty to measure just how smooth their smooth is. 
Titanium plates, in general, are ideal for all hair types but will serve those with coarse and rough hair where ceramics can't. CHI makes a versatile hairstyling tools brand who aspires to make everyday use items that can perfectly satisfy all users—that's if you choose the right product that'll suit your hair type. This CHI Deep Brilliance 1" Black Titanium Hairstyling Iron review will help you determine if it's the right one for you.
It's not at all surprising that this hairstyling iron is a sleek looking styler as with other releases that CHI has granted the market with. The purple color on this model is an intense experience and we're hoping the gold on the hinge and button don't easily fade overtime.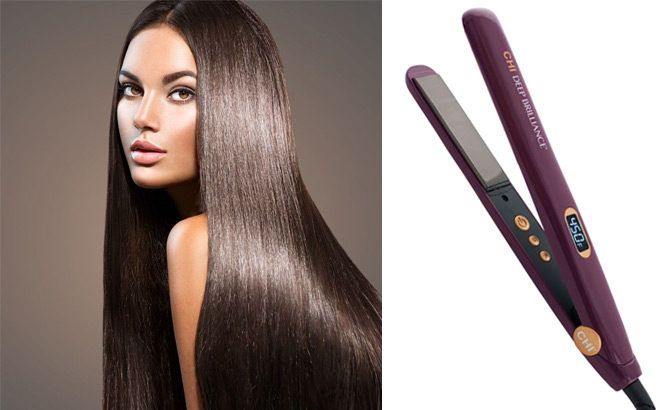 Design
The CHI black titanium deep brilliance black titanium hairstyling iron makes the perfect flat iron for those working with a wide range of hair textures, hence an ideal piece of equipment for salons. It comes in the right size, weight, together with a myriad of features you'll want in a professional flat iron without costing you an arm and a leg as with other luxury brands. 
We see this CHI hairstyling iron as a powerful one that delivers smooth and sleek curls for fine to highly textured hair types. 
It comes with ½ black titanium plates, which imparts even heat distribution and high heat-retention for faster styling and fewer passes. Thanks to its maximum heat setting of 450 Fahrenheit, rest assured it caters for you regardless of your hair type.
On top of that, it comes with an adjustable temperature scale which is displayed on an LED display for clarity and safe styling.
The plates are extremely smooth and the hinge mechanism is always parallel when clasped on hair, ensuring maximum contact at all times. This is their secret behind an even styling with a single pass because no sections of hair are left out in the first pass.
Heating Process
The Titanium technology used in this CHI hairstyling iron is backed by a reliable ultra-modern heater that's able to bounce back with every swoop to restore the heat for another pass. The titanium makes this process easy courtesy of the material that comes with an inherent aptitude for holding the necessary amount of heat for temperature stability and even heat distribution across the entire plate. In most cases, you'll have extremely hot points and slightly cooler parts on cheap metal plates but this won't happen with titanium plates.
Performance
We are obsessed with the output of the Brilliance Black Titanium ½" with its immaculate shine and volume as you would expect from a renowned brand such as CHI. 
This CHI hairstyling iron allows you to be in control though it's not as powerful as some of its other counterparts. Regardless, it's still a flat iron of the future thanks to its ultra-modern features and chic design. Its user-friendly features makes it easy to use and delivers more than what you'd expect on a ½" plated flat iron. 
In short, we can say the CHI deep Brilliance is on par with other professional grade salon items you can use at home and on the move. It is a gorgeous styler that imparts comfort and safety as you get a chance to explore beauty on your own as there's no limit to the number of styles or heat you can achieve on this iron. Of course, with such freedom comes responsibility.
Hair Damage
CHI along with his team of engineers and scientists have a lifelong aspiration to enable styling at the lowest heat possible. Heat treatment is pursued for its unnatural effect on hair and continuous is seen to cause hair damage. Thanks to modern technology such as that in this CHI hairstyling iron, you'll have less to worry about because it combines the best possible materials to deliver health and with the stringent safety regulations. At the most minimum, you can expect this styler to behave well with true temperature, the rest is up to you as the user.
Battery Life
The CHI Black Titanium Deep Brilliance doesn't come with an endowment of its own power storage. Feel free to bring it along with you to other countries because it's equipped with universal voltage around the globe below 240V AC together with the same heating and styling outcomes. 
Our Final Thoughts
If you have normal to extremely textured hair, trust us, you'll adore the CHI Deep Brilliance. It is highly versatile and doesn't limit your styling options and most importantly, keeps you ahead of the crowd as far as safe heating and healthing styling is concerned. Heats up quickly, comes with an adjustable temperature, features smooth gliding plates for faster styling, what more can you ask for? Try this CHI hairstyling iron for yourself today!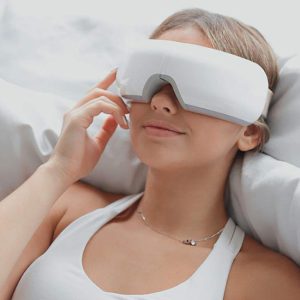 Skin Care
Editor's Choice Worxvell Eye Massager Latest price 2nd Best Choice SereneLife Eye Massager Latest price
Read More
Subscribe to our newsletter