Over the years, we've learnt that there's more than one way to apply foundation for coverage — a brush, a sponge or simply using your fingers. In most cases, makeup artists prefer using their fingers whilst celebrities love a premium foundation brush. Jumping on beauty bandwagons may be helpful, but it may also leave us even more confused. Which one is the most effective way exactly? Frankly speaking, there's no right or wrong answer. It all comes down to your own preference and the kind of look you're trying to achieve. 
But if you insist on knowing which technique works best, it's our job to dispel your doubts. Ahead, you'll also find a few of our favourite products that can totally take your coverage to another level. 
Fingers
First of all, the difference between foundation brushes, sponges and using your fingers have a lot to do with the product you're using at that time. To exemplify, fingers may come in handy for products that need to be warmed up a bit to blend. This includes cream eye shadow, primer, and concealer. 
So, how to apply foundation with fingers? Here's a tip! If you opt to use your fingers, we strongly recommend that you use your ring finger as it releases the least amount of pressure. On top of that, always tap and never rub. Also keep in mind that before applying any makeup with your finger, wash your hands first! The last thing you want is for your skin to break out courtesy of dirt, bacteria, and oil. 
Similar to your fingers, brushes make way for a concentrated application — except more. This makes them a perfect tool not only for foundation but also for shadows and powder. One important thing to remember when using a brush is that you shouldn't be too heavy handed. Build up the coverage gradually instead of brushing on the whole amount at once. With that, we recommend the following best foundation brushes:
1. Artis Elite Mirror Palm Brush
This may not seem like a traditionally-shaped brush, but you have to trust us and give it a go. As its name suggests, it's specially designed to fit into the palm of your hand alongside a grip pad and finger indent for complete control. The brand's proprietary synthetic fibers work extremely well with foundation, both applying the product and seamlessly blending it all in.
A foundation brush made of proprietary synthetic fibers.
2. EcoTools Wonder Cover Complexion Brush
If you love being on budget, not saying there's anything wrong with it, consider this pick. EcoTools' complexion brush makes a great deal for the price, boasting more than 100,000 bristles for a smooth application. Not to mention that it's made of renewable and recyclable materials, too!
Oval-shaped brush with shorter bristles, which goes better with liquid of cream formulas.
3. NYX Professional Makeup Can't Stop Won't Stop Foundation Brush
We love that the bristles on NYX's foundation brush are so soft yet dense, making them the perfect go-to for highly pigmented liquid bases. It features an angled top that glides seamlessly along the contour of your face, smoothly applying and blending in every final bit of product.
A foundation brush with soft yet dense bristles, and an angled top for seamless application.
4. Fenty Beauty Full-Bodied Foundation Brush 110
Fenty Beauty's foundation brush makes one of the best foundation brushes by 2022 for having over 140,000 extra-fine, synthetic bristles with a unique rounded shape. Brushes of this shape function equivalent to that of a traditional flat-headed in terms of application and finish. To make the most of it, follow Rihanna's go-to method: press the brush into the skin, roll, then repeat.
A foundation brush with more than 140,000 extra-fine, synthetic bristles. 
5. Anisa Beauty Pinnacle Foundation Brush
Aside from its densely-packed synthetic fibers, Anisa Beauty's foundation brush imparts an amazing medium-to-full coverage without ever leaving behind any streaks. This patented triangular brush head makes it easier for you to get into-hard-to-reach spots such as around your nose, and the bristles will help seamlessly blend along the curves of your face. As a bonus point, it works equally well with creams, liquids, and powders, too!
A foundation brush with densely-packed synthetic fibers for a medium-to-full coverage.
If a flawless finish is what you're trying to achieve, look no further than a sponge. It's by far the most ideal option amongst three for a flawless, natural foundation application. Buildable coverage, practically flawless result, rest assured that the makeup will also last you all day. 
Here's a tip for fellow sponge users! To avail yourself of it, be sure to wet it before use. This will ensure that the product is evenly distributed throughout the area of coverage. That said, we strongly recommend the best makeup sponges on Amazon:
1. Original Beautyblender Makeup Sponge by Beautyblender
A name impossible to leave out when we talk about sponges. This simple yet miraculous egg-shaped sponge seamlessly blends makeup into the skin to deliver an airbrush effect. Cleans easily and delivers to satisfaction, it's to no surprise that this ranks first on our list. 
Award-winning egg-shaped makeup sponge for an airbrush effect.
2. Wet n Wild Makeup Sponge
Egg-shaped makeup sponge with a pointed tip and a flatside.
3. L'Oréal Infallible Blend Artist Foundation
We're obsessed with L'Oréal's Blend Artist. This pear-shaped makeup sponge features rounded edges along with a pointed tip, making it easier for you to hit every single angle whilst blending liquid foundation and cream concealer.
Pear-shaped beauty sponge with rounded edges and a pointed tip
4. Beauty Bakerie Blending Egg Beauty Sponges
Comes in a pack of six, Beauty Bakerie provides you with a designated blender for each step of your glam regime. Each egg-shaped sponge is made from latex-free foam and boasts a pointed tip for seamless application and blending of liquid or powder products. We're also giving extra points for the brilliant egg carton packaging!
A six-pack egg-shaped sponge that completes your makeup routine
5. Kaja Love Beat Makeup Sponge
You need not be a Korean beauty fanatic to fall head over heels with this adorable heart-shaped makeup sponge. Plush and smooth as it boasts unique curves and angles, rest assured that it'll help you reach every corner of your face.
Adorable heart-shaped makeup sponge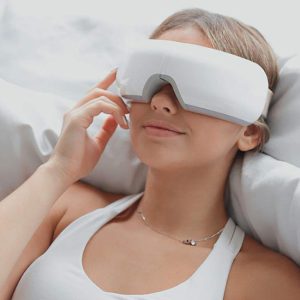 Skin Care
Editor's Choice Worxvell Eye Massager Latest price 2nd Best Choice SereneLife Eye Massager Latest price
Read More
Subscribe to our newsletter