Flashing sparkling white teeth leaves an everlasting impression. Teeth whitening is an important aspect of self-grooming and hygiene. After all, everybody wants whiter and brighter teeth. 
Professional teeth whitening by a dentist is helpful, especially for those with sensitive teeth. Besides that, you'll get a complete check-up of your teeth. 
However, you can avoid seeing a dentist as there are many teeth whitening products/kits for convenient home use. And it's easy and cost-effective. After careful research, we found a few brands that could do the trick for you.
15 Best Teeth Whitening Kits
1. Crest 3D White Whitestrips with Lights
Crest needs no introduction to the DIY at-home whitening world. Their latest innovation raises the bar to a whole new level. Comes in a handheld device form, Crest retains their popular strips and revs up its famous brand through the use of blue light effects.
Wear the strips for an hour. Then, hold up the light to the strips for further 10 minutes (five minutes each on top and bottom). Apply light to upper and lower teeth until it turns off automatically. You'll receive full results in 10 days.
Lightweight
Disposable
Water-resistant 
2. GLO Science GLO Brilliant Teeth Whitening Device
Made by one of the top aesthetic dentists in New York City, GLO Science is an FDA-registered flagship teeth whitening kit. Here's the best part. It is the most similar to the professional treatment you would get at your dental office.
Just apply the hydrogen peroxide gel solution onto the front of your teeth with the included brush, cover with the mouthpiece, and press GLO. Each treatment is just eight minutes with four recommended treatments a day. The kit is proven to brighten up your teeth after five days of treatment.
Uses a combination of warm heat and LED lights 
3. AuraGlow Teeth Whitening Pen
If you're shopping for a simple home teeth whitening product, the ideal AuraGlow on-the-move pen is a fantastic option. Just apply the 35% concentrated carbamide peroxide whitening gel onto each tooth. 
Next, wait for 60 seconds as the gel dries. Do not eat or drink for one hour post-application. You'll start seeing results within 7 to 10 days.
Portable and sleek pen contains a mint-flavored whitening gel
Over 20 applications included in one pen
4. Supersmile Professional Whitening System
Dump the plastic pieces. Brush as normal with Supersmile's toothpaste and whitening accelerator gel combo.  Both work together to combat cavities, strengthen enamel, and remineralize your bright pearly whites for fast results.
There's more. The enhancing accelerator can also be used with different types of toothpaste to remove surface stains. It is clinically proven to whiten teeth up to 4 shades over a 30-day period when used by itself. And up to 6 shades when used with Supersmile's Whitening Accelerator.  
Supersmile Toothpaste supports overall oral health and is 75% less abrasive than the ADA upper limit. Unusually, it also restores veneers, caps, dentures, etc to their original shade. 
No abrasives or harsh bleaches.

Also works on dental restorations (bonding, caps, veneers, and dentures) .

Simply brush your teeth twice a day. Don't change your daily routine
5. Zimba Professional Teeth Whitening Kit
Unlike some other whitening strips that have a prominent medicinal taste, Zimba uses all-natural flavors to make every 30-minute whitening treatment just a bit more enjoyable. 
The premium-grip white strips are boosted with either coconut oil or mint fragrance (you choose the flavor) for a great-tasting treatment without artificial sweeteners.
Each box comes with 28 strips—enough for the recommended 14-day treatment—making this a super affordable, easy-to-use treatment that's also gentle enough for sensitive teeth. 
Best of all, your noticeably whiter smile can last for months after the two week treatment—all for less than $25.
Includes 28 strips

Easily remove years of stains

Express teeth whitening; whiten teeth in 30 minutes

Includes natural teeth whitening ingredients

Suitable for those with sensitive teeth

Enamel safe

Includes coconut essential oil
6. Cali White Vegan Teeth Whitening Kit
While the end goal might be a brighter smile, it's just as important to feel good about the process that got you there. Luckily, this powerful whitening gel is not only strong enough to whiten your teeth at least two shades brighter in just one week, but it also uses a vegan, gluten-free, organic, and kosher formula that's free of parabens and sulfates.
You'll also rest easy knowing the mouth tray uses BPA-free plastic, has adequate ventilation, and is designed to minimize gum irritation. Plus, it can easily be attached to any LED light—including the five LED lights included in the kit.
Our most powerful whitening kit Removes stains from coffee, wine, tea, and smoking. Professional Results in as fast as 1 treatment. 
Experience a 2-8 Shade Whiter Smile in 7 days with the enamel safe Hydrogen Peroxide Formula.
High whitening level   
Low teeth sensitivity   
Active whitening Ingredient with 35% Carbamide Peroxide
7. Snow At-Home Teeth Whitening All-in-One Kit
Formulated by leading American dentists and engineers, the Snow Teeth Whitening kit is vegan, gluten-free, chemical-free, and safe to use on all kinds of teeth. You don't have to worry about sensitive teeth because the product has you covered. If you are allergic to gluten or are vegan, you are also covered.
This system is portable, which comes in handy for those who often travel for business or leisure. You can now whiten your teeth anywhere, either at home or in the office, using the Snow Wireless Teeth whitening system.
You can keep track of your teeth whitening progress using the shade guide. The guide will help you measure the whitening process results and motivate you to continue until you achieve your desired results.
The Snow Teeth Whitening kit's cleaning process is entirely painless, fast, and safe to use on all types of teeth. You can use the product over braces, caps, bridges, veneers, and crowns. In just a matter of minutes, your teeth will be whiter and more appealing than ever before.
8. Lumineux Whitening Strips
Clinically tested and professionally made, the whitening formula contains naturally-derived ingredients that also help to keep the treatments gentle enough on your teeth. It contains dead sea salt, or remineralizing sea salt, which delivers lots of minerals such as calcium, potassium, and magnesium to your teeth and gums. 
It also contains aloe vera, which works as a soothing agent, essential oils for combating bad breath as well as to lighten and brighten teeth, and coconut oil to completely reduce sensitivity and moisturize.
Not only are they safe on your enamel, but they'll also be compatible to use on most porcelain caps, crowns, and veneers; this means they're gentle enough to work with any sensitivity you might already have and will be sure not to give you any.
The whitening strips are made with top quality ingredients with no artificial flavors, colors, or SLS.  It includes a unique blend of Coconut Oil, Sage Oil, and Lemon Peel Oil.
The whitening strips bring results in 7 days with consistent use.  Note that to get optimal efficacy, you should not eat or drink within 30 minutes of using.
Whitens without sensitivity by using natural ingredients
Formulated with ProLuminous Technology to whiten faster
Certified non-toxic, SLS and preservative-free
Formulated with dead sea salt for proper oral care
9. Spotlight oral care dental teeth whitening strips
Many people find that whitening strips cause irritation to the teeth and gums. However, Spotlight Oral Care Dental Teeth Whitening Strips are a much gentler type of teeth whitening treatment, promising a more gradual but irritation-free whitening process. 
The entire product line was formulated by dentists, using dental quality ingredients. For example, these strips feature the active ingredient hydrogen peroxide, with the addition of a vitamin-E oil to soothe any gum irritation.
Complete oral care teeth whitening with strips and soothing gum oil
Includes hydrogen peroxide and no toxic additives
Easy, two-week treatment at one hour per day
Removes deeply-embedded stains from coffee, tea, and red wine
10. Peroxide-Free Oralgen New Pearl
While Weiner suggests whitening products with peroxide, if you want to shy away from the chemical then Oralgen NuPearl is an effective option. This whitening system complete with a whitening pen relies on natural botanicals activated by NuBright LED Technology to whiten teeth during 10-20 minute long treatments. Both the whitening gel and pen are 99 percent natural flavors.
100 percent vegan, free of fluoride, sulfates, GMOs, gluten, and artificial colors and flavors.
11. SuperNova Rechargeable At-Home Teeth Whitening Kit
Kits that deliver double the power always get our vote. This duo includes an easy-to-swipe-on hydrogen peroxide serum wand and a rechargeable LED tooth-whitening device, so you get the best of both worlds.
Give dull teeth a glow-up with CO. by Colgate's SuperNova Rechargeable At-Home Teeth Whitening Kit. A brilliant blast of stellar whitening to give dull teeth an intense glow-up. With the SuperNova system, Colgate fused 2 powerful technologies: their advanced hydrogen peroxide serum plus patented blue LED device – for a futuristic, luminous smile. Get ready to shine. Get six shades whiter teeth in 10 days* with this exceptional at-home tooth whitening kit designed for no tooth sensitivity.
Professional level whitening in just 10 minutes a day
6 shades whiter teeth
12. Go Smile Teeth Whitening Snap Packs for Sensitive Teeth
Commit to using these for one week to score teeth that are up to seven shades whiter. Snap open each individual pack and apply to the fronts of teeth post-brushing, morning and night, for seven days. Each one contains a special, non-sensitizing gel that won't hurt teeth or gums, but still works super effectively, with some results noticeable in as little as one day.
Contain 14 capsules of Hyperox Technology. This peroxide-based product reacts with the color compounds within the tooth, allowing the product to lift the shade of the teeth. The capsules are preserved in individual airtight containers to retain the active ingredients. Unlike some strips and trays, the formula is also dissolvable. This allows the peroxide to penetrate the tooth surface and break down compounds.
However, it is worth noting that Go Smile may not work for all cases. For example, gray teeth often require more specialist treatment as a result of their developmental – or tetracycline-based causes. If you are unsure of whether Go Smile will work for you, consult your dentist about possible options.
13. Spotlight Oral Care Dental Floss for Whitening Teeth
Breaking news: It's not just the stains on the front of your teeth that can make them appeared discolored. Staining in between the teeth also contributes to an overall dingy appearance. Flossing in general is super important in preventing this, but you can up the ante even further by using this floss, which is infused with hydrogen peroxide.
FYI, you get just the roll of floss (without the plastic holder that you typically get) so figuring out how to pull it out and cut it takes a little bit of getting used to, but it's well worth the extra effort.
Spotlight Oral Care Dental Floss for Teeth Whitening effectively cleans plaque, food and debris from between your teeth while gradually and safely whitening teeth over time.
14. Opalescence Teeth Whitening Toothpaste
If you are on the market for a slower, steady, more cost effective (yet efficient) whitening treatment, a toothpaste is the way to go. Dr. Weiner maintains that "you can't go wrong" with Opalescence, a dentist developed whitening toothpastes. "This toothpaste is gentle enough to be used daily and will whiten up to two shades brighter, and with the fluoride percentage fortifying your teeth further, it's a great product," she exclaims. In just one month of twice daily uses, this sodium fluoride infused toothpaste promises to lighten up your teeth two shades.
Results can be seen effectively
15. Hello Oral Care Activated Charcoal Teeth Whitening toothpaste
Activated charcoal is created from carbon-rich materials burned at high temperatures, like coal, coconut shells, and wood. In skincare, there are claims that it binds to and removes impurities from the skin, but more research is needed.
Charcoal can be found in a bazillion different skincare products these days, but it's also a popular ingredient in the oral care space. It's an effective abrasive, an ingredient that buffs off stains on the surface of your teeth. 
"This toothpaste does a great job at binding to the stains and discolored deposits and lifting them off to leave teeth brighter," says Dr. Marashi. He adds that he especially likes using it as a maintenance product after using a hydrogen-peroxide based product, like strips or a gel.
Certified Organic and Vegan.
Free from fluoride, SLS, peroxide, dyes and gluten.
Certified Cruelty Free
Now, many people think that even the teeth whitening toothpaste really work, or will work. But in reality, they do not help much, particularly if you have really badly stained teeth.
The teeth staining or pigmentation can be both intrinsic and extrinsic. Extrinsic is usually taken down by bleaching methods. But the intrinsic type is really hard to get rid of.
While teeth whitening can be dependent on the person, we can't go past the Crest 3D White Luxe Glamorous Whitestripes for their ease of use and American Dental Association's (ADA) seal of approval. 
And when it comes to minimal effort, maximum impact, the Crest 3D White Brilliance Toothpaste is gold class. Just switch your regular toothpaste out for this one and you're golden.
So, there you have it! The above are our teeth whitening reviews.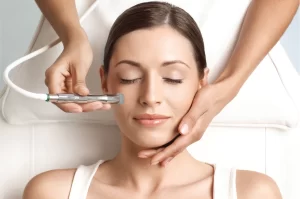 Skin Care
Editor's Choice Microderm Glo Mini Diamond Microdermabrasion and Suction Tool Latest price 2nd Best Choice
Read More
Subscribe to our newsletter