BYOOTIQUE 3 IN 1 Rolling Makeup Case
PROXRACER 5-In-1 Professional Rolling Cosmetic Case
Tense Edano Extra Large Rolling Makeup Train With Built-In LED Lights
When it comes to storing travel essentials especially when you're a MUA, it doesn't have to only be in your suitcase or toiletries bag. Amongst the most practical travel accessories—apart from a stylish suitcase—is a makeup bag or cosmetic case that can do it all. And by "do it all," I mean organize your products by ensuring zero leakage while looking cute on the bathroom vanity. You've spent enough money and time shopping for the best makeup products for your hard work to go to waste!
This article gives you a low-down of some of the best rolling makeup train cases. Becoming a chic and efficient MUA is now within your reach.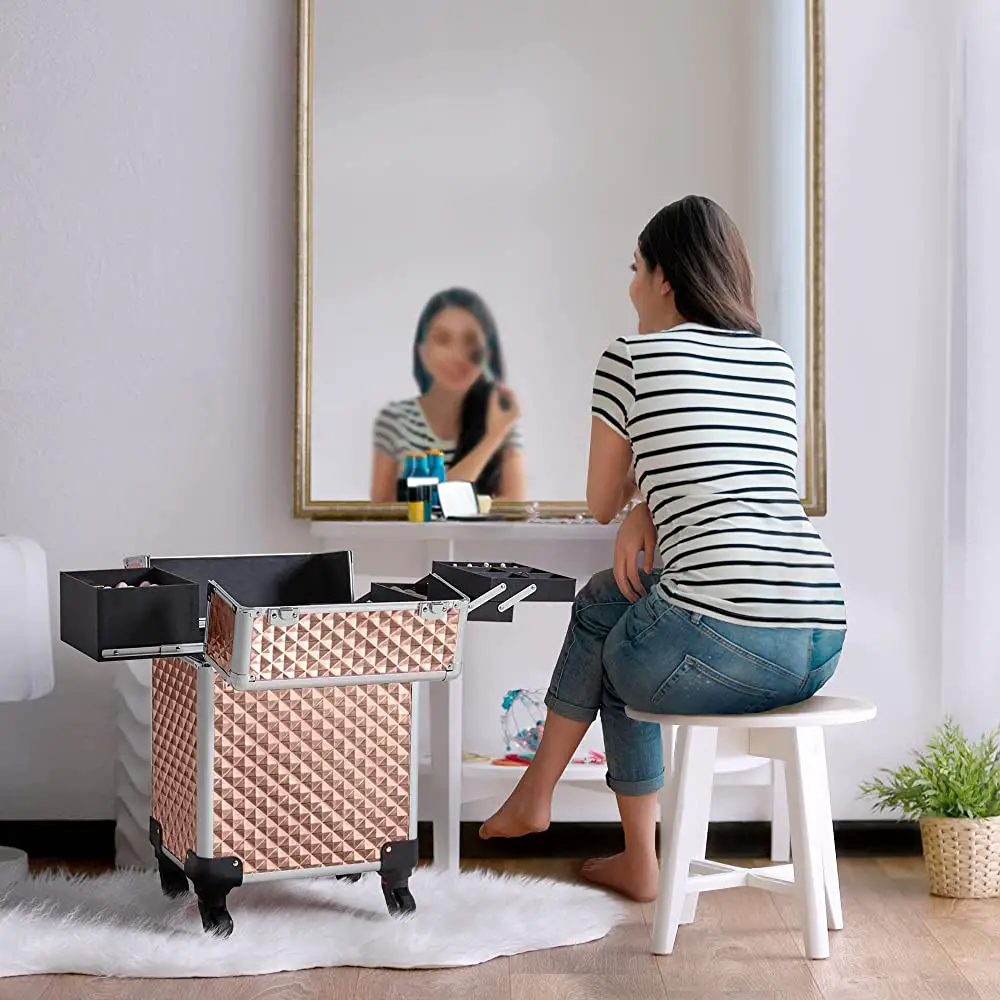 10 Best Rolling Makeup Train Cases That's Add-To-Cart Worthy
1. BYOOTIQUE 3 IN 1 Rolling Makeup Case
Are you a professional makeup artist looking for a heavy-duty and large-capacity rolling makeup train case? This Byootique Rolling makeup case will definitely be your best bet as it comes with wheels and plenty of drawers and compartments, enough to store all your makeup gigs.
3-in-1 travel makeup case with wheels and drawers.
2. PROXRACER 5-In-1 Professional Rolling Cosmetic Case
This large capacity 5-in-1 trunk case by PROXRACER includes 7 parts: 1 top section, 2 middle trays (with one divider and one lipstick/nail polish holder), 1 bottom section with detachable and lockable wheels and pull rod, as well as 1 extra lid. Feel free to attach or detach the baffle according to the size of your tools and items. We love that the case is manufactured with a high-quality Aluminium frame, ABS surface, velvet lining, and reinforced steel corners, making it well-protected and sturdy. It also allows multiple mobile ways, you can either carry it as a suitcase or pull it around as a trolley, however you want it. 
MUA-grade rolling cosmetic case with 7 parts.

3. Tense Edano Extra Large Rolling Makeup Train With Built-In LED Lights
The next best rolling makeup train case has to be this from Tense Edano. Not only is it large enough for you to keep all your makeup products, accessories, and tools in place, it also comes with 6 bulit-in LED lights! You're allowed to customize the colour of the lights (white, warm white, and yellow) as well as the brightness by using the touch switch. Open up the case and you'll have a complete setup—speaker, high quality mirror with LED lights, power outlet and USB port for electrical styling tools, and 4 adjustable legs.
The colour pigment of the tint can last you for up to six weeks
4. VIVOHome 4 In 1 Makeup Rolling Train Case
This 4 in 1 travel-friendly makeup rolling train case by VIVO home is made of premium ABS and high-density MDF, while the edge frame and corners are made of reinforced aluminium, both of which ensure an extended product lifespan. Equipped with 4 pieces of 360 degree caster wheels and a retractable pull handle, this case allows 3 different moving methods: pulling it as a trolley, holding it as a suitcase, or carrying it on your shoulders. 
Large makeup rolling train case with 4 extendable trays in the top case.
5. SHANY REBEl Series Pro Makeup Artists Rolling Train
The sturdy SHANY REBEL Series Pro makeup rolling train case features a dust-resistant interior to keep your products clean. It also has a detachable section and plenty of customizable compartments for you to play around with. Designed for professional MUA, this case is made of solid ABS plastic and aluminium to ensure excellent durability. Wherever you go, you're guaranteed a smooth journey carrying this case courtesy of its high-quality wheels. Not to mention its sleek design makes it an ideal gift, too!
Trendy MUA rolling train case with large drawers, cosmetic brush holders, and functioning locks.
6. SHANY Essential Pro Makeup
One can never go wrong with the SHANY professional makeup train case. Plus, it's one of the best cosmetic cases out there with many spacious compartments, enough to accommodate all your makeup accessories, nail polishes, cosmetic brushes, and beauty supplies alike. Made with quality solid aluminium and nontoxic ABS plastics, the interior of this cosmetic case features a dust-proof fabric for longtime wear and use. So rest assured that it's here for a long time. It also includes 2 easy-to-close latches with key locks and comfortable shoulder straps for easy portability.
Portable travel cosmetic case made with solid aluminium and nontoxic ABS plastics.
7. Happybuy 2 In 1 Nylon Rolling Makeup Case
The next best rolling makeup train case is about to blow your mind. The Happybuy 2-in-1 rolling makeup case is made of top-grade Oxford fabric, which is extremely thick, sturdy, and durable. Consists of 2 cases: the upper one features a PVC brush holder, a deep compartment, and 2 extendable trays whereas the bottom box contains eight pull-out grids and a storage box. With this capacity, trust us when we say you can take more with you than you ever thought possible. 
2-in1 rolling makeup train case with an upper and lower case for maximum storage space.
8. BYOOTIQUE 2 In 1 Soft Sided Rolling Makeup Case
The 2-in-1 soft sided rolling makeup case by BYOOTIQUE comes with a detachable top and bottom case which you can either use together or separately. The top case can be used as a hand- or shoulder bag with its attached shoulder strap whereas the bottom case can be used as a rolling suitcase with its telescopic handle. Features 8 removable drawers for you to store different cosmetics, from foundation to lipsticks, mascara to eyebrow powder, including large items like bottle sprays, hairdryers, straightening irons, and many more. It's also made with premium Oxford fabric for an extended durability and resistance to water, thus the long lifespan. 
Multipurpose 2-in-1 rolling makeup made of solid Oxford fabric.
9. Adazzo Professional Rolling Makeup Train Case
This extra large, best rolling makeup train case from Adazzo boasts a stylish matte design with 3 colours to choose from: matte black matte pink, and matte gold. The top layer features a huge PVC makeup bag and divided makeup box suitable for storing small items including makeup brush, nail polish, foundation, and so on. The second and third layer comes with two medium compartments to accommodate full-sized cosmetics such as palettes, setting sprays, hair dryer, and so on. We love that this case comes with a key for you to make sure you can easily move the trolley around and your items are protected from theft. 
Lockable rolling makeup train case with 3 layers.
10. ASCASE Rolling Lockable Makeup Train Case
The final best rolling makeup train case on our list is by ASCASE. This MUA-calibre cosmetic case is constructed with the finest, durable PVC leather and equipped with reinforced corners for added durability. It comes with 4 360-degree rotating castor wheels, retractable telescoping handle for easy transporting, as well as 2 sliding drawers for convenient storage. Classy and elegant looking, this large rolling makeup case continues to be a favorite amongst professional MUA, trainees, hairdressers, nail artists, and so on.
 Huge yet easy-to-carry rolling makeup train case with wheels and a handle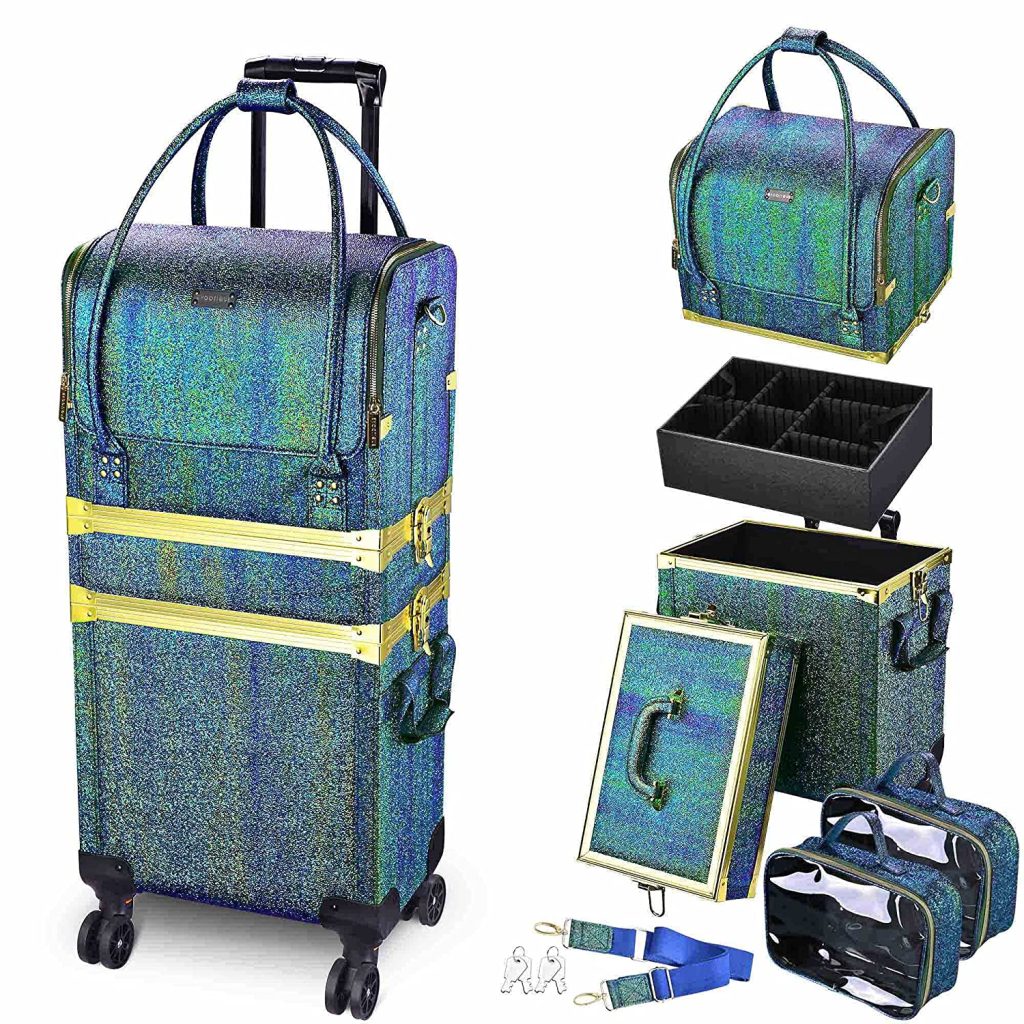 BYOOTIQUE 3 IN 1 Rolling Makeup Case
This heavy-duty and large-capacity rolling makeup train case comes with wheels and plenty of drawers and compartments, enough to store all your makeup gigs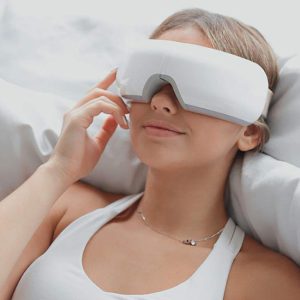 Skin Care
Editor's Choice Worxvell Eye Massager Latest price 2nd Best Choice SereneLife Eye Massager Latest price
Read More
Subscribe to our newsletter