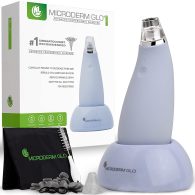 Microderm Glo Mini Diamond Microdermabrasion and Suction Tool
Spa Sciences Mio Diamond Microdermabrasion Resurfacing System
Trophy Skin MicrodermMD Sensitive
As much as we rely on a gentle skincare routine, we can sometimes be tempted to just scrub away all the dead skin cellsand shrink our pores overnight; but that's too far-fetched. Unless you don't mind destroying your face, opt for this realistic alternative: microdermabrasion—an at-home facial treatment that deeply exfoliates your skin to make it softer and brighter over time. Some of you may be unfamiliar with it, but we've gathered everything there is to know about this treatment, along with the best microdermabrasion machines 2023  you can try on your own.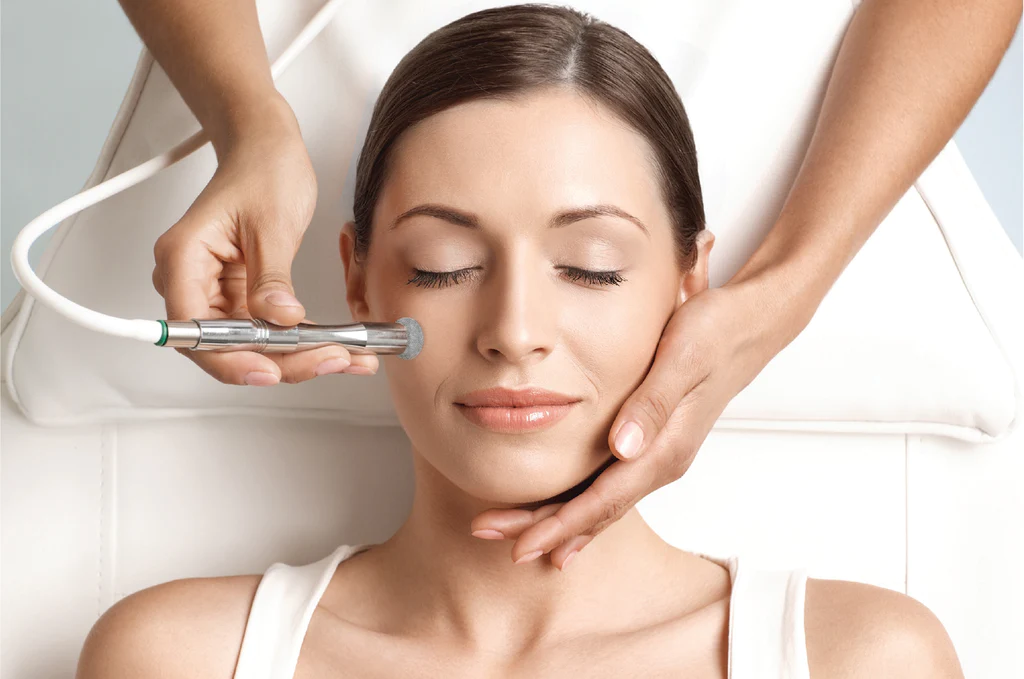 What Is Microdermabrasion?
Microdermabrasion is an exfoliating treatment that removes the outer layers of dead skin cells to achieve a more even skin tone, shrink pores, and fade pigmentation. It also makes a great option for people who already have healthy skin but are looking to heal their sun damage. 
The professional microdermabrasion machine your esthetician uses may be slightly different, but this facial treatment is generally performed with a handheld exfoliator that either blasts your skin with super-fine crystal particles or buffs it with a diamond coated tip. The result is smoother, brighter and more even-looking skin. 
Is Microdermabrasion Safe and Good For The Skin?
It all comes down to your skin type. This treatment may sound a little daunting, but microdermabrasion is usually safe and well-tolerated by most skin types; to certain extent, it can even promote skin health. Unless you have extremely sensitive skin, chronic acne breakouts, or other conditions such as eczema, rosacea, or keratosis pilaris, microdermabrasion is probably not for you. Though scrubbing off your skin may seem like a "logical" solution for zits, flakes, and bumps, it'll only make these problems worse and cause more skin irritation.
Does At-Home Microdermabrasion Really Work?
Performing a microdermabrasion at home is never going to be quite as effective as one that's done by your esthetician because they have access to top-notch in office microdermabrasion tools, not to mention a lifetime of skilled training that's just ireplicable. Having said that, we are presenting you with options today that'll help you achieve similar results at home. 
Though, we need to remind you to be extra vigilant when trying microdermabrasion on yourself—follow the directions closely and don't overdo it. In fact, using even the best microdermabrasion machine can wear off the skin layer, leaving skin burned and raw which eventually results in hyperpigmentation and scarring. 
Say Goodbye to Dead Skin Cells and Acne Scars with The Best Microdermabrasion Machines 2023!
With all the above information in mind, continue reading for what you really came here for: the whole list of the best at-home microdermabrasion devices ahead.
1. Microderm Glo Mini Diamond Microdermabrasion and Suction Tool
The Microderm Glo Microdermabrasion machine is amongst the top-rated, dermatologist-recommended microdermabrasion at-home tools on Amazon, and for the best reasons: it's rechargeable, waterproof, and boasts four diamond microdermabrasion tips (two for blackheads and two for deep exfoliating). Better yet, you can switch between a high and low setting depending on the intensity you prefer—and the sensitivity level of your skin. 
Clinically-proven, at-home microdermabrasion tool with spa-calibre results.
2. Spa Sciences Mio Diamond Microdermabrasion Resurfacing System
If you're planning to venture into microdermabrasion to treat clogged pores and clean skin debris, and you want to be gentle with your wallet, try this resurfacing tool. It's technically a pore vacuum with an added microdermabrasion tip, all so you can smooth out your bumpy skin whilst trying to suck away those blackheads. 
A resurfacing microdermabrasion vacuum with ergonomic handle.
3. Trophy Skin MicrodermMD Sensitive
The nicest thing about this Trophy Skin microdermabrasion machine is its diamond-tipped exfoliating wand which allows you to control the suction power. To use it, just switch it on and opt for "sensitive mode" for a gentle introduction to microdermabrasion. This machine even comes with a visual to follow and a timer to help guide you through the treatment. 
Microdermabrasion tool with a medical grade diamond tip for buffing away flaws.
4. PMD Personal Microderm Classic
The next best microdermabrasion machine 2023 on the list—PMD Personal is able to deliver results super close to what you'd expect from a dermatologist's office. It comes with this vacuum-like suction that removes dead skin cells and crystal-coated discs that deeply exfoliates your skin so it becomes softer and smoother over time. After cleansing and patting your face dry, simply pull your skin tight and gently glide the device in an upward motion. 
Microdermabrasion device with a vacuum-like suction and crystal-coated discs.
5. Michael Todd Beauty Sonic Refresher Wet/Dry Sonic Microdermabrasion System with MicroMist Technology
We're obsessed with this microdermabrasion tool that comes with a "wet" mode. As it exfoliates your skin courtesy of the diamond tip and extremely powerful suction, the device will release a fine mist which imparts a lighter, hydrating experience that leaves your skin soft and supple. 
Patented diamond microdermabrasion machine with three treatment heads.
6. Appolus Premium Diamond Microdermabrasion Device
This microdermabrasion device by Appolus works to retrieve your skin's natural glow by using a vacuum to suction out excess oil, sebum, blackheads, and whiteheads from pores. It also comes with a diamond tip to remove dead skin and allo new skin cells  to grow. With this device, the freedom is yours to decide its strength and speed. Either way, it'll give you softer and smoother skin afterward.
At-home Microdermabrasion machine with a diamond tip.
7. NuDerma High Frequency Skin Therapy Wand Machine
This best microdermabrasion machine 2023 from NuDerma will have you ditch your concealer and embrace your natural skin. It targets problems including clogged pores, blackheads, acne, wrinkles, enlarged pores and many more using the five wand tips it comes with. As an affordable facial in a box, each tip works to improve your complexion and tackle aging skin, leaving behind smooth, glowing skin in its place. Just when you think it couldn't get any better, you can even use this device as a hair and scalp stimulator!
At-home microdermabrasion device with five tips.
8. PMD Personal Microderm Elite Pro
You know what it means when the same brand made it on the list twice. This at-home microdermabrasion machine is cordless and easy to clean. It gives you everything from the classic option, and more. Added flexibility aside, it boasts three vacuum settings and three speed settings, along with a wider selection of tips and discs to play around with. 
At-home microdermabrasion device with exfoliating ultra fine crystals and vacuum suction
Albeit popular opinions on microdermabrasion, this pick by Silk'n Revit is powerful yet gentle enough for sensitive skin. The brand has been creating at-home beauty devices for over ten years now with millions of their beauty tools being used presently, you know their products can offer professional-grade results. This handset-styled microdermabrasion machine comes in three sterile diamond heads—precision diamond, fine diamond and coarse diamond—each delivering a different level of exfoliation. 
Dual-voltage, travel-friendly microdermabrasion machine with three different diamond heads.
10. Kelley West Microderm 360°
The Kelley West Microderm 360° is another handheld microdermabrasion machine that offers 2 diamond caps, but this time, with a 360° swiveling head for a higher precision. The device itself is pretty lightweight and though it feels rather plasticky, the tips are made of high quality stainless steel. It comes with two intensity levels that are demonstrated visually by LEDs which give you decent suction power.
Handheld microdermabrasion machine with a 360° swiveling head.
How to Choose the Best Microdermabrasion Machine 2023
There is no one-size-fits-all when it comes to performing a microdermabrasion at home, and what may be the best machine for you, may not be the best for other people, and vice versa. To help you make the most of your new beauty device, these are the features we think you should prioritise when choosing a microdermabrasion machine. 
a) Suction Power
We highly recommend that you opt for a microdermabrasion machine with at least two suction settings, as some areas call for gentler treatment, such as around your eyes, while others may require a bit more power, for example your nose. With that in mind, a machine with only one setting may not be suitable for every area of your skin. 
b) Tip Material
Microdermabrasion machines with diamond heads are most popular for their resilient and easy-to-use tip, while giving you gentle exfoliation. While diamond is considered the best, crystal microdermabrasion can also give you extremely effective exfoliation; in this case, you may opt for aluminum oxide crystals.
It's also worth having more than one tip size to accommodate different areas of your face and the variety of function, for instance, microdermabrasion versus suction massage.
c) Quality and Durability
You want your microdermabrasion tool to last, so pay attention to the materials it's made from. Would it be portable enough to travel with you? Would you prefer a hard case for maximum protection? Are the treatment caps made from durable stainless steel or plastic, cheaper ones?
d) User-Friendliness
All the best microdermabrasion machines 2023 we recommend are user-friendly. Consider if you want a chunky handheld device or a pen-sized wand with a table top microdermabrasion machine?
e) Display
Do you want a microdermabrasion machine that'll guide you through the procedure or one that you can customise your own treatment? Microdermabrasion machines with LCD screens may be bigger and bulkier than those without, but they can surely help you achieve better results.
Microderm Glo Mini Diamond Microdermabrasion and Suction Tool
This rechargeable and waterproof handheld microdermabrasion device boasts two diamond tips (two for blackheads and two for deep exfoliating), and two settings (high and low) to accommodate the intensity you prefer and the sensitivity level of your skin. 
Subscribe to our newsletter